21 Summery Beach Crafts to Make With Your Kids This Summer!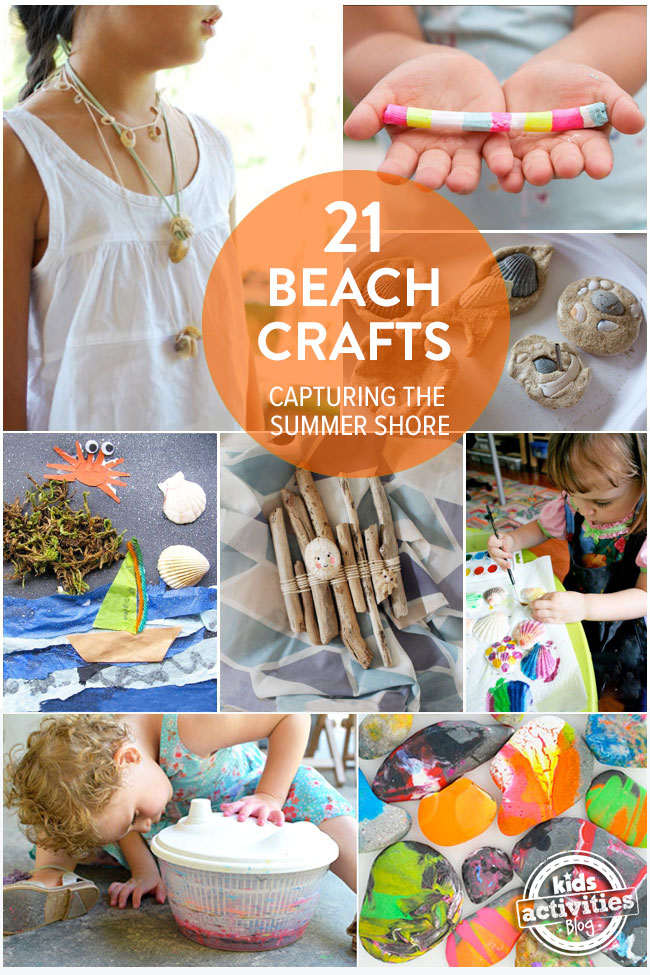 Today we have the cutest beach crafts for kids. They make great summer crafts for preschoolers, toddlers and kids of all ages. There is sure to be the perfect beach craft for your child!
A bucket full of sand, the prettiest shells, rocks worn smooth by the waves, as much driftwood as your pockets will hold – wonderfully free natural beach finds so perfect for timeless, treasured craft activities.
Continue reading to see and take inspiration from these 21 beach crafts.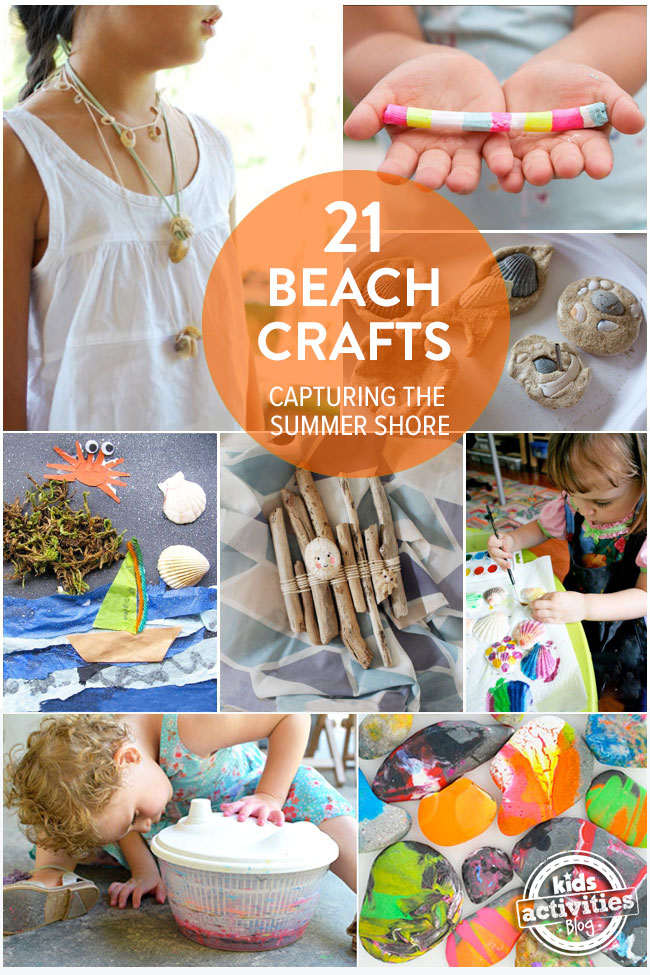 Summer and the beach make some of the best childhood memories. From under the sea inspired ocean crafts to sandy playful sand castles the beach is a place of unlimited creativity and exploration for children of any age. We love these nature inspired crafts that can make you feel like you are at the beach even if it is miles away.
This post contains affiliate links.
Beach Crafts for Kids
Before you gather all the supplies on your next beach vacation, you may want to look into the rules for collecting sand, shells and other beachy items before you fill up your sand bucket! Many beaches around the world have rules making collection of sand illegal. For instance, on California beaches…
Then, is it illegal to take shells from the beach in California?
No intertidal collecting of mollusks (living shells) is permitted in California without a fishing license. Consult the current California Fish and Game regulations. In general, there are no restrictions against collecting empty shells from California beaches. However, on some beaches, empty shells may not be collected.

Askinglot
Confused? Me too! Check signs and specific regulations for the beach you are visiting!

Seashell Craft Pets
The very best beach fun with googly eyes by Simple As That. Never leave home without a bag of googly eyes!
Spin Art Rocks
This glorious color-popping art activity is for children of all ages, using deliciously smooth beach stones.
Check out the tutorial on MeriCherry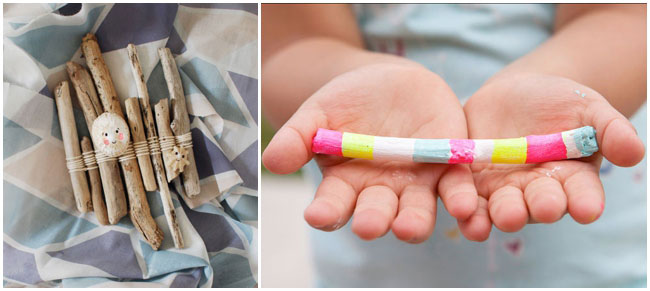 Driftwood Weaving Or A Little Raft For Shell People!
I just ADORE driftwood, and this cute weaving craft from theredthread. I need to make some right now!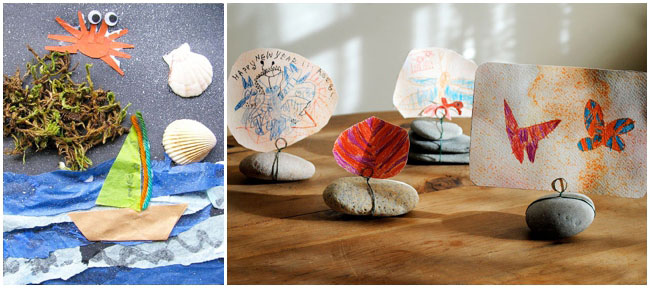 Ripped Tissue Paper Collage
How amazing is this mixed media collage art activity?! Kids can create masterpieces with their hoard of beach finds with this idea from Joy Of My Life. Also, check out her butterflies and insects made with shells in the same post!
Beach Stone Photo Holders
What a neat idea! These beach stone photo holders from Garden Mama are fun and easy to make, and the perfect way to display drawings and photos.

Seashell Craft Necklace
It's fun searching for shells with holes in them for making jewelry! Just loop, knot, and layer for pretty gorgeous results with this tutorial from theredthread.
Shell Dolls
Let's Do Something Crafty's wooden stick people are full of glitter and have shell skirts – what's not to love!

Rainbow Sea Shells
This gorgeous backyard activity is something that can be done with leftover egg dye. It's a science and discovery activity that can easily be turned into colorful artwork and sea shell jewelry when dry. Check out the tutorial on The Educators' Spin On It.

Sea Shell Snails – adorable!
Meet the Dubiens' Sea Shell Snails are just too easy and cute! Make them with shells, pipe cleaners, and pom poms!
Clay Sculptures
Buzzmills' Clay sculptures are such a sweet activity for small hands! All you need is a bucket of sand, shells, and some clay.

Salt Dough Shell Fossils
The Imagination Tree has the most beautiful idea for salt dough homemade fossils and nature print keepsakes!
Memory Craft: Shells
How lovely for children to create something special as a reminder of their fun family vacation. Check out this sweet plaster of paris and shell craft activity.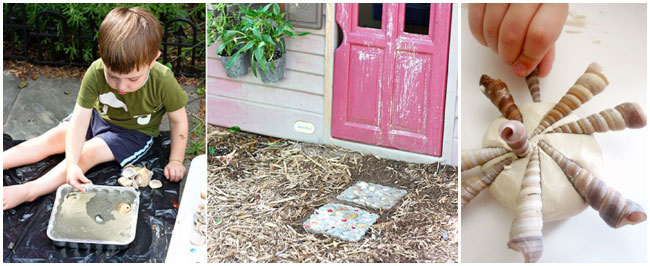 Sea Shell Stepping Stones
What a precious idea for fairy gardens and magic steps to a playhouse from buzzmills! If you put your ear to the sea shell stepping stones path, you'll hear the sea!
Exploring Sea Shells
B-InspiredMama has the most fun, sensory clay and seashell craft! Kids will love exploring the impressions that the seashells make when pressing them in the clay.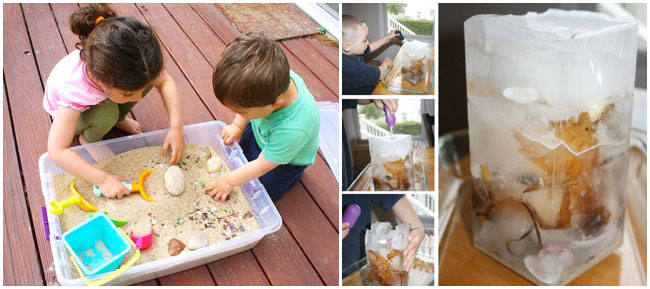 Beach-Themed Sensory Bin
If you don't have room for a sandbox in your backyard, then this beach-themed sensory box from Buggy and Buddy is the perfect sensory activity idea for your little ones!
If you are looking for more beach sensory ideas you can do at home, check out these:
Ocean sensory bin
Over 250 sensory bin ideas for kids including ocean and beach sensory bins
Make your own kinetic sand with beach sand!
Make edible sand for the little beachcombers
Beach Treasure Hunt Ice Tower
Bins for Little Hands beach treasure hunt ice tower is a fun frozen excavation activity that incorporates treasured beach finds.

Sandy Handprints
How can you take home and treasure something as ephemeral as a footprint in the sand, or the smallness of your child's hand the day that she first saw the Atlantic Ocean? Check out Crafting a Green World's sandy handprints tutorial!
Mermaid or Fairy Cups. Oh the cuteness!
All you need to make Blue Bear Wood's mermaid (or fairy) cups are: sea shells, pipe cleaners, and a hot glue gun!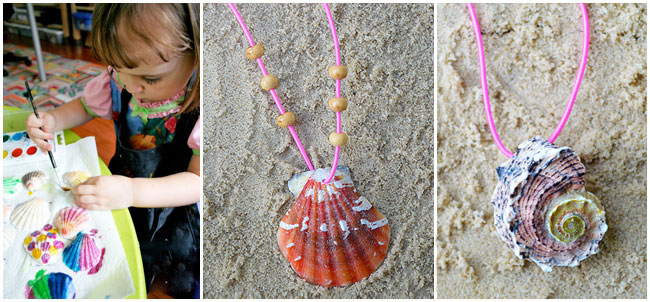 Painted Sea Shells
She paints sea shells by the sea shore… Painted sea shells is such a simple and engaging activity from Pink and Green Mama.
Make Your Own Seashell Necklace
Nothing says summer more than wearing a pretty seashell necklace!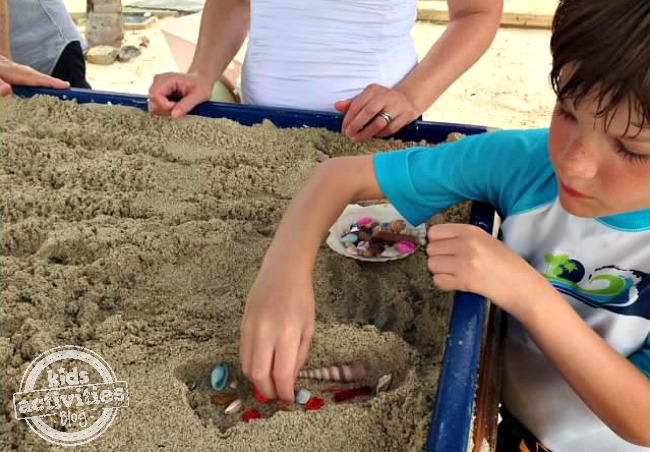 Sand Mold Craft at Home
This is one of my favorite beach crafts and we were introduced to this one at the beach. Use sand to create the mold for your next craft project with this sand mold craft.
More Beach Inspired Fun from Kids Activities Blog
Print these free beach coloring pages for kids for hours of wave, surf and palm tree inspired fun
Make your own personalized beach towels
Have you seen the coolest beach toy? A bag of beach bones!
Make a tic tac toe beach towel game
Check out these really fun picnic ideas that you can take to the beach
These camping activities for kids are perfect if you are seaside
This is a really fun beach word search puzzle
Check out these more than 75 ocean crafts and activities for kids.
Let's make our own fish drawing with this easy how to draw a fish tutorial
Or learn how to draw a dolphin!
Which of these beach crafts for kids are you going to do first?