Letter J Worksheets Free Kids Printable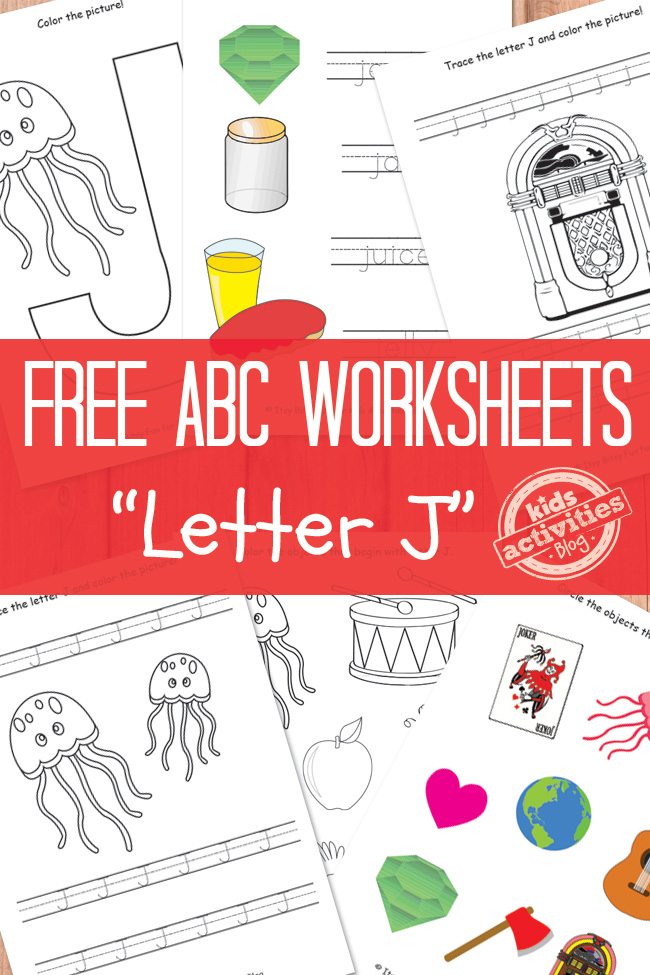 Today it's all about the letter J worksheets. These free printable worksheets are great for at home and in the classroom.
We are learning the alphabet pretty fast! We are already at the 10th letter! Our last letter was letter I, and we're off to J!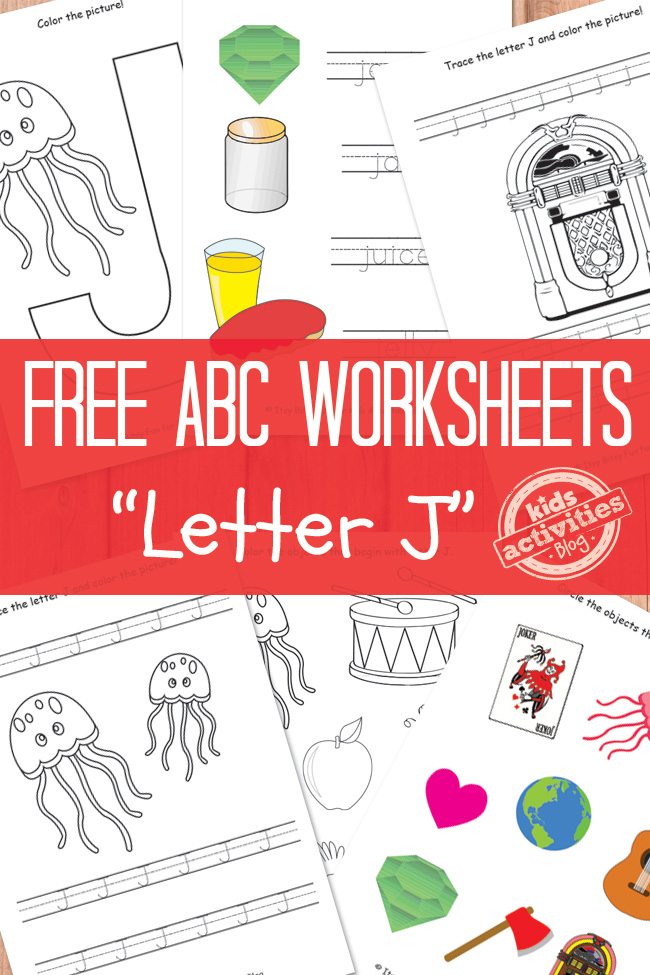 Letter J Worksheets
J is for jelly, jewel… J is also for joyful and jovial which mean basically the same thing! Now these worksheets are a bit different than other in the series.
A few objects that start with J also have different names (Joker can be recognized as a playing card, jewel as gem or a diamond) so there are multiple possible solutions to some of the sheets.
These 8 worksheets have varying levels of difficulty and teach the letter j in different ways.
They can learn both uppercase letters, lowercase letters, with tracing letter worksheets, and coloring sheets. Use them all, one a day, whatever works best.
While learning is the goal, the secondary goal is definitely to have fun!
Free 8 Page Printable Letter J Worksheets Set:
4 pages of upper and lower case tracing with pictures to color.
1 page of tracing words (starting with letter J).
2 pages of J beginning sound activities – one page to color the ones that start with H and one to circle the correct images.
1 letter J coloring page.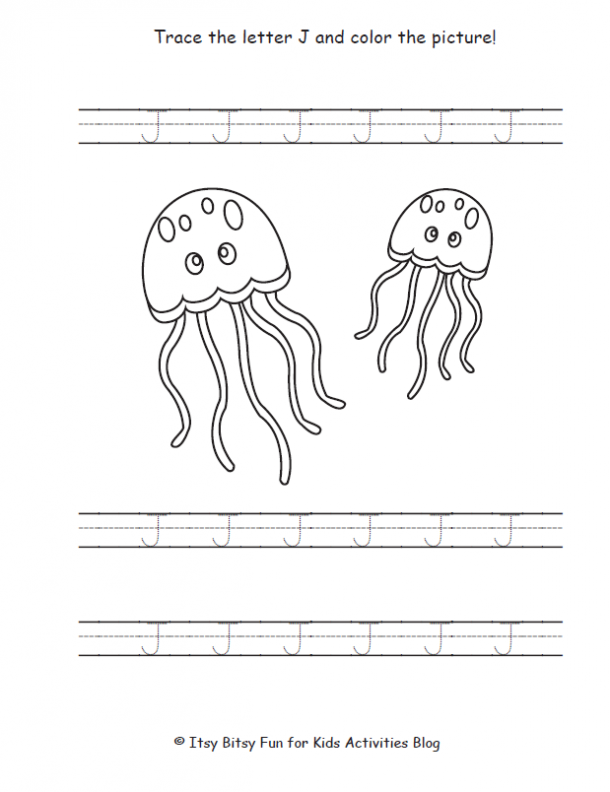 UPPERCASE LETTER J TRACING WORKSHEETS
There are two Capital Letter J tracing pages for practicing the uppercase J on the dotted lines. This one features a jellyfish you can color, and the 2nd upper case letter worksheet depicts a jukebox that can be colored.
Look at his dangly legs!
I love that these letter tracing worksheets double as coloring sheets. That and tracing letters will help you child with their letter recognition and early writing skills.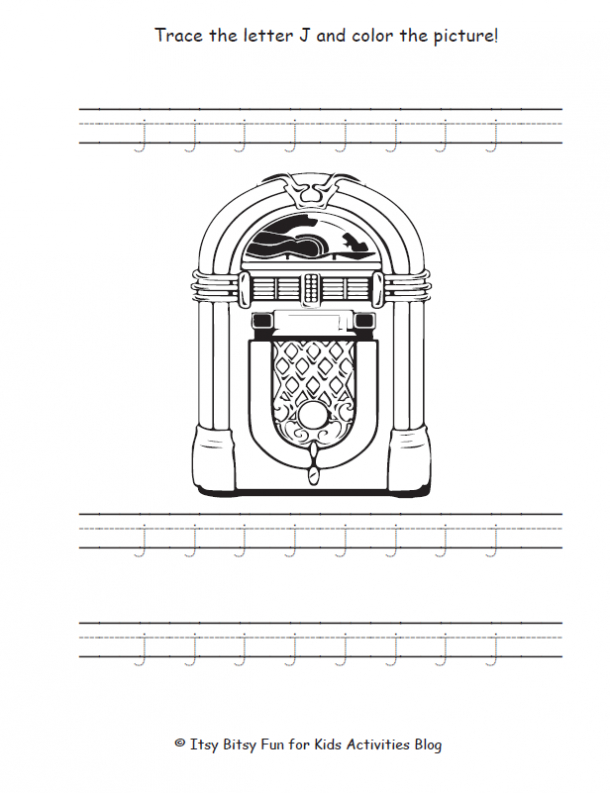 LOWERCASE LETTER J TRACING PAGES
There are 2 lowercase j tracing pages that are similar to the uppercase ones. This first page has a jukebox that can be colored, while the second page has a jellyfish.
A jukebox may be beyond your child, so make sure to explain that it used to be used to play music!
These lowercase letter j tracing worksheets also double as coloring pages. Plus, they're a great way to learn a lower case letter and remember it.
The two different worksheets were designed to help young learners recognize the difference between the capital letters and lowercase letters.
LETTER J COLORING PAGE WORKSHEET
This simple coloring page depicts the letter J and a big jellyfish! What a fun way to learn! Coloring printable activities are a fun way to learn in a creative way.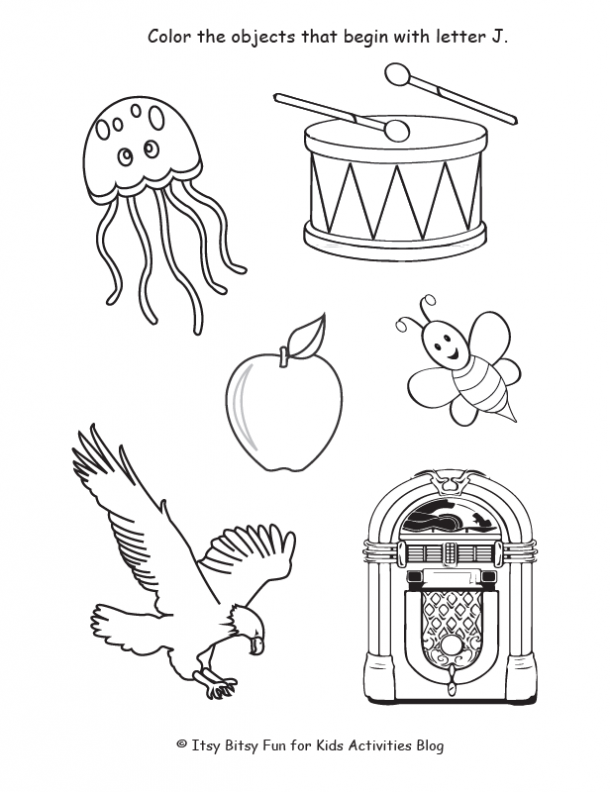 OBJECTS THAT BEGIN WITH THE LETTER J COLORING PAGE
This printable worksheet allows preschoolers and kindergarteners to color the objects that start with the letter J.
Grab your coloring supplies and color the: jukebox and jellyfish.
This practice sheet is a little trickier. You don't have the help of seeing the letters, but knowing the letter sound can be of huge assistance.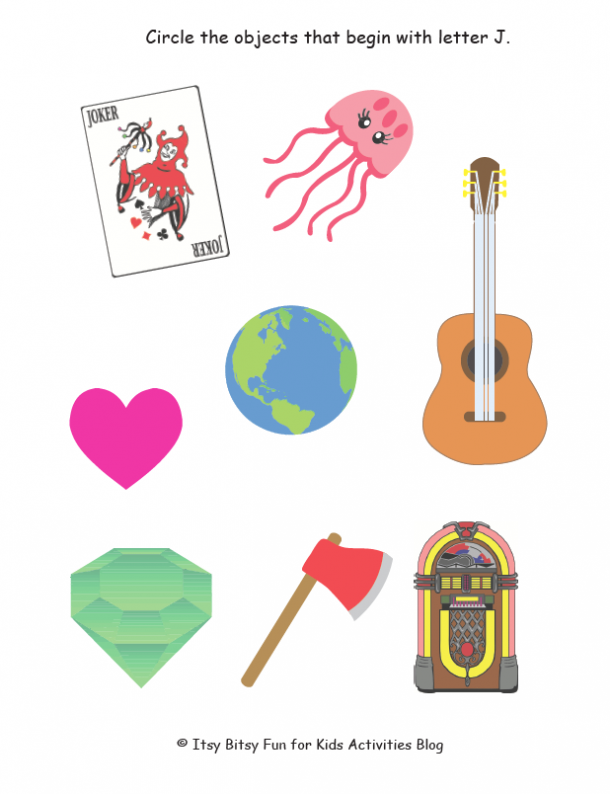 CIRCLE THE OBJECTS THAT START WITH J WORKSHEET
With this fun worksheet, your child will be circling the items that start with the letter j. Grab your pen or pencil circle the: jewel, jukebox, joker and… which one is missing?
This would also be a great time to learn letter sounds since they'll be looking for the letter j words.
These educational activities get a little harder as we go, but it is good to have varying levels.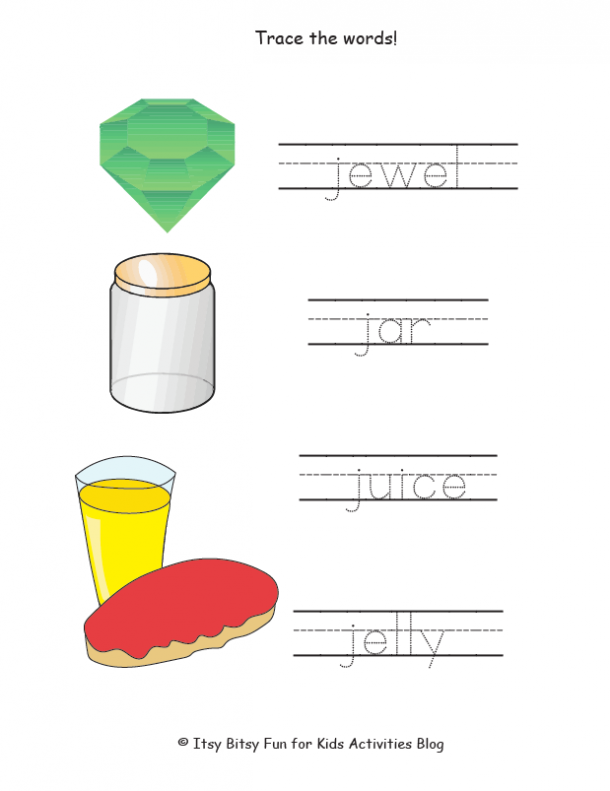 TRACE THE J WORDS WORKSHEET
With this fun preschool and kindergarten worksheet, your child will be able to trace the words that start with the letter J that is next to the picture of that object.
This is a great educational activity for younger children and emphasizes fine motor skills, but it helps the reader connect the letters and related words.
If your child is having a hard time with this page, use a page protector and let them use an erasable marker. That way they can practice multiple times with 1 sheet.
Download Letter J Preschooler Worksheets Here:
More Fun Alphabet Activities & Preschool Printables
Let's make learning even more fun with activities for kids that have something to do with letter j!
I bet kids won't have a hard time making this adorable Jelly Bean bracelet.
Also check this awesome tutorial on how to make jellyfish lights.
Now that you've had a treat you can have some fun with these coloring pages.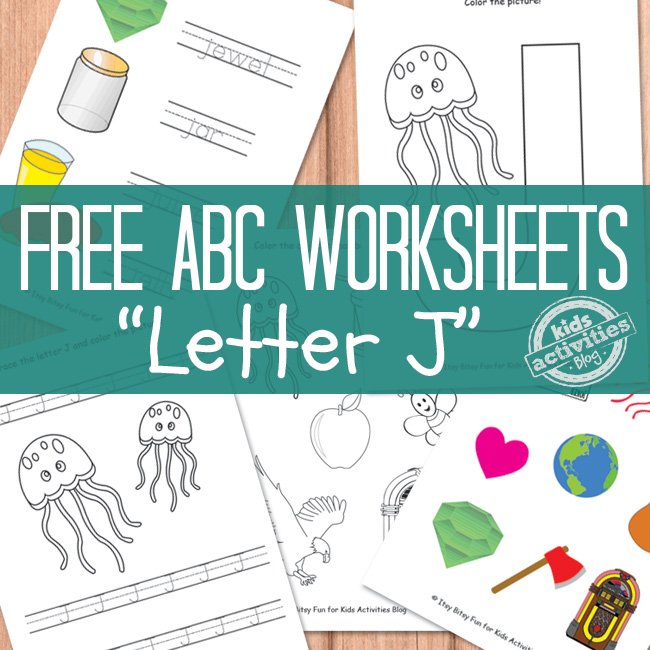 Crafts Starting With The Letter J
Want some more fun ways to learn the letter J? We've got some fun letter J crafts to try.
Make a jellyfish! Look at this jellyfish in a bottle, it's shiny and floats!
Spend time together and make jelly!
We have even more letter i crafts and letter i activities you will love! If you want other alphabet worksheets, click the different letters at the top for more free worksheets.
Did your kids love these free printable j preschool sheets?
Save