25 Back To School Crafts To Help You Make This School Year Fun!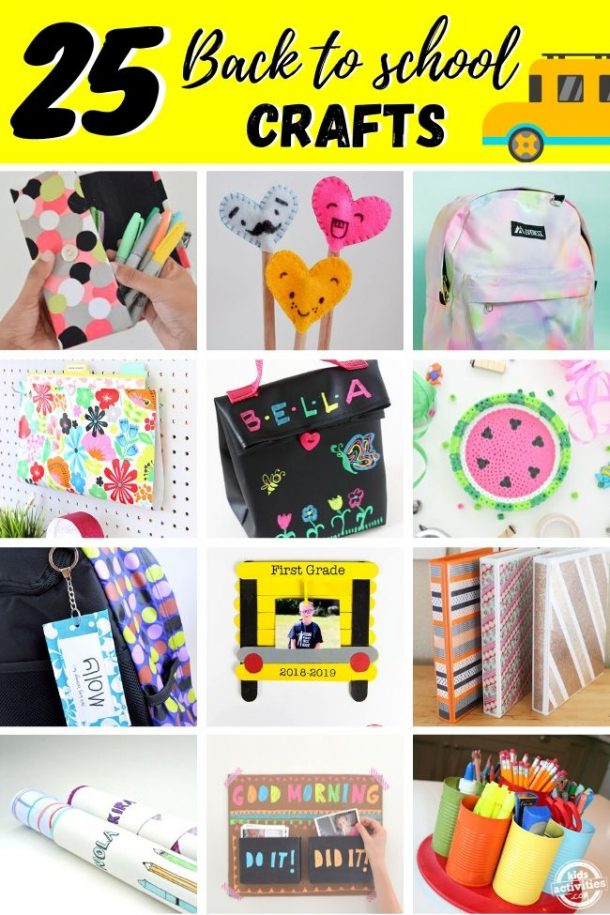 Try these simple and sweet back to school crafts to give your school supplies a fun and DIY twist this year.
From cute felt pencil toppers, DIY name tags, and cardboard box school houses to school bus frames and DIY notebooks, there's oodles of inspiration here for back to school themed crafts.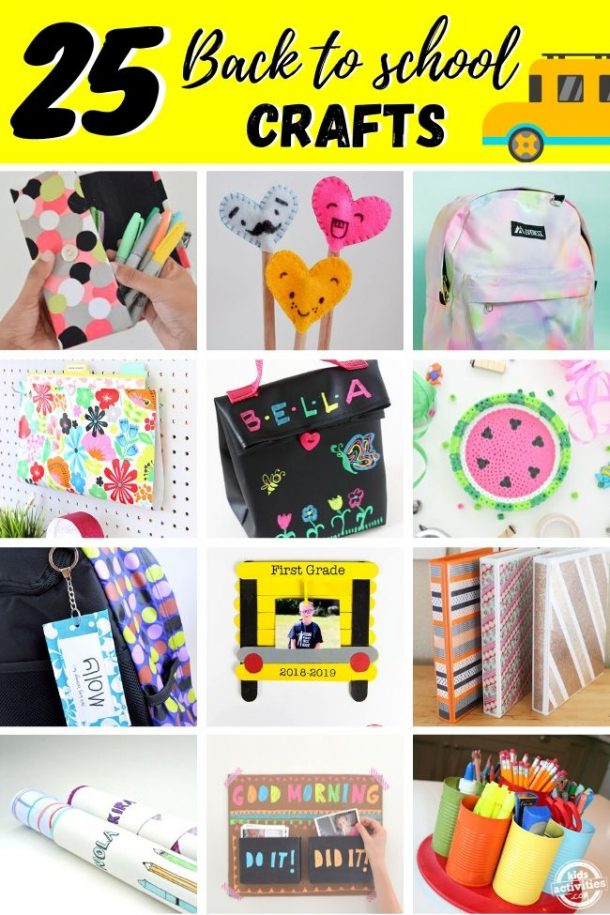 Back To School Crafts
Back to school time can be nerve racking, but make it fun with these amazing crafts. Not only are they fun, but many of them are useful and can help your little one stay organized during this new year of school.
A lot of these back to school crafts are even great ideas for the classroom like the can supply holder! We hope you love all these school craft ideas as much as we do.
25 Back To School Crafts For Kids
DIY Backpacks With Fabric Markers
Decorate DIY backpacks with fabric markers! This tutorial shows how to make a notebook backpack, neon animal print backpack, or galaxy backpack.
DIY Desk Organizer
This DIY desk organizer will sure add lots of colors to your desk. via Lovely Indeed
DIY Name Tag
Make some DIY name tags for kids' backpacks using this 5 min duck tape craft.
Hanging Wall Holder
Have a pegboard wall? Make this hanging wall holder for your files. via Damask Love
Cloth Napkins For The Lunchbox
Learn how to make cloth napkins for your child's lunch box. via Buggy & Buddy
Shoebox School
Make this shoebox school ahead of school opening for a fun way to pretend play. via MollyMooCrafts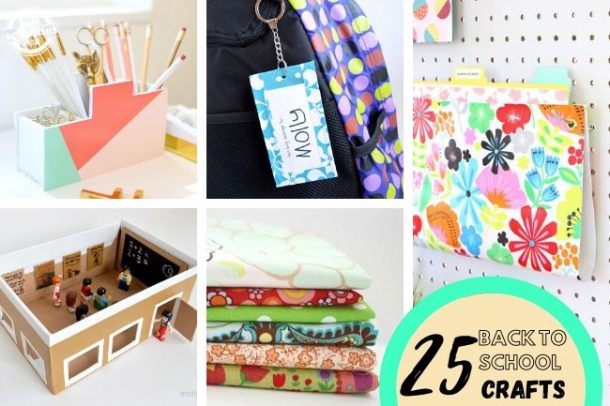 DIY School Supplies
Felt Heart Pencil Toppers
Jazz up pencils with our DIY Pencil Toppers. What a cute craft! This could also make a great gift for your child's friends or even their new teacher.
Make Your Own DIY Pencil Case
Make your own pencil case from a cereal box. This is a great way for making pencil cases on a budget. via Vikalpah
Easy DIY Erasers
DIY erasers combine art and design in a unique useable end product. via Babble Dabble Do
DIY Binder Covers
Add some bling to your boring binder for a fun back to school craft that uses washi tape. This is an easy way to make your child's school supplies look fun! It would also be a great way to reuse old binders. via The Inspiration Board
Make Your Scissors Colorful and Unique
Make your scissors unique and colorful! What a great idea! via Line Across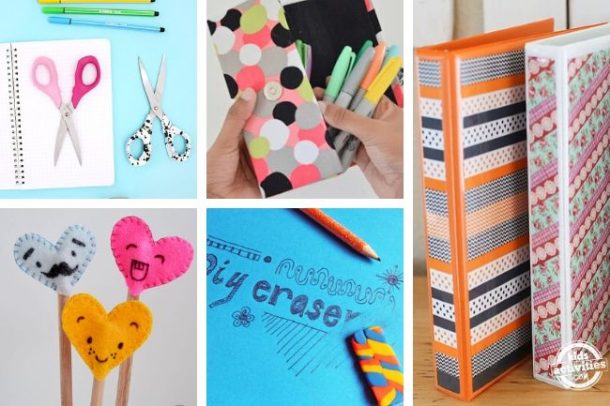 DIY Crafts for Kids – Back to School
Journaling
Instill the habit of writing in your kids through journaling. Make it a daily or weekly activity to journal all the things that happened and things that kids want to do. via Picklebums
Create Your Own Notebooks
Make notebooks from cereal boxes using washi tape, buttons and stickers! via MollyMooCrafts
Apple Bookmarks
Make your own apple DIY Bookmarks. This is the perfect craft for kids of all ages since all of them will be deep in their school books!
Watercolor Backpack
You may wanna run to the craft store because you will definitely want to make this one-of-a-kind DIY watercolor backpack. via Momtastic
Homework Caddy
Was last year a mess when it came to homework and your child's school project? A homework caddy helps to keep your school supplies organized so they're always on hand when you need them. via Sandy Toes & Popsicles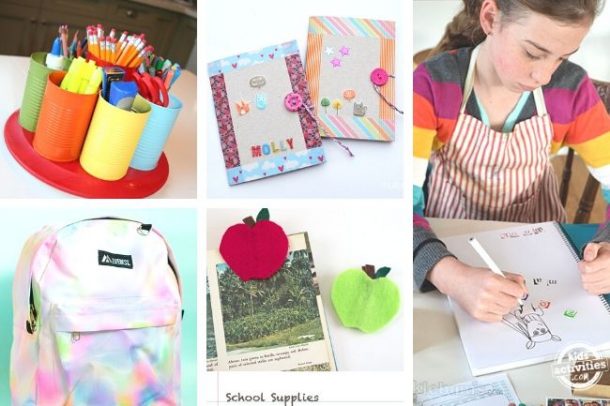 Back to School Art Projects
After School Checklist
Make a dry erase board after school checklist to avoid chaos when the kids get home. via Artsy Fartsy Mama
Locker Organizers
Your middle school kids will love making DIY locker organizers clips for their locker.
Chore Chart For Kids
Create your own chore chart for kids. via My Name Is Snickerdoodle
Morning Plans
Planning makes your morning better — so plan out your mornings with this idea from ArtBar.
Art Tubes
Make Art Tubes to so kids can carry their artwork home safely. via CurlyBirds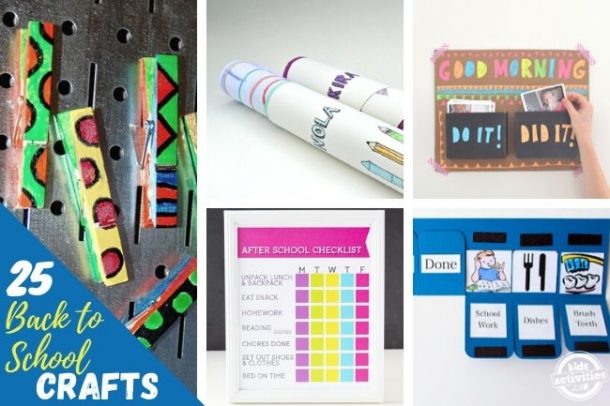 Back To School DIY Projects For Kids
Lapel Pins
DIY lapel pins are great to showcase your likes on your backpack or jacket. via Persia Lou
School Bus Picture Frames
Create your own school bus picture frames to display your first day of school picture.
Doodle Lunch Bag
Sew your own DIY doodle lunch bag. via Skip to my Lou
Perler Beads Organizer
This DIY perler beads organizer will add color and cheer to your home desk! via Vikalpah
Label School Supplies
Check this unique way to label your school supplies before you start using Sharpie markers on everything. via Artsy Craftsy Mom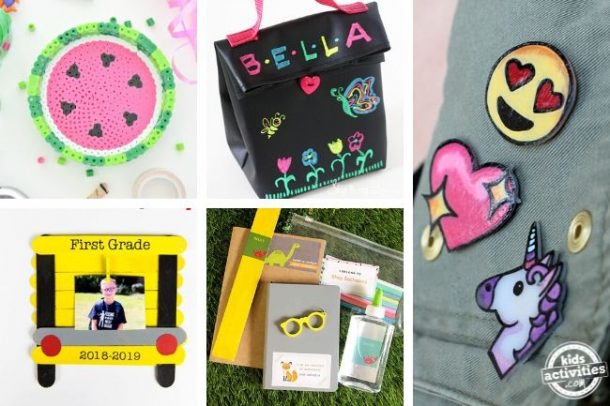 Looking For More Great Back To School Ideas?
Laugh out loud with these back to school jokes.
School mornings are hectic! This portable cup will teach your children how to eat cereal on the go.
I used these back to school coloring sheets to entertain my bored toddler while I discussed how this upcoming school year might look with my older children.
Help your children feel safe with these adorable crayola face masks.
Make the first day of school more memorable with these first day of school traditions.
Know what to do before the first day of school.
Your mornings can be a little easier with these middle school morning routines.
Have fun creating this school bus pictures frame to keep your children's school year photos.
Keep your kids crafts and memories in order with this school memory binder.
Help your child create a daily routine with this color coded clock for kids.
Bring more organization and stability in your home with these diy crafts for mom.
Need more organization in your life? Here are some useful home life hacks that will help!
What projects did you choose to make this year? Comment below. We would love to hear from you.