Colorful Warhol Inspired Fall Leaf Art Project For Kids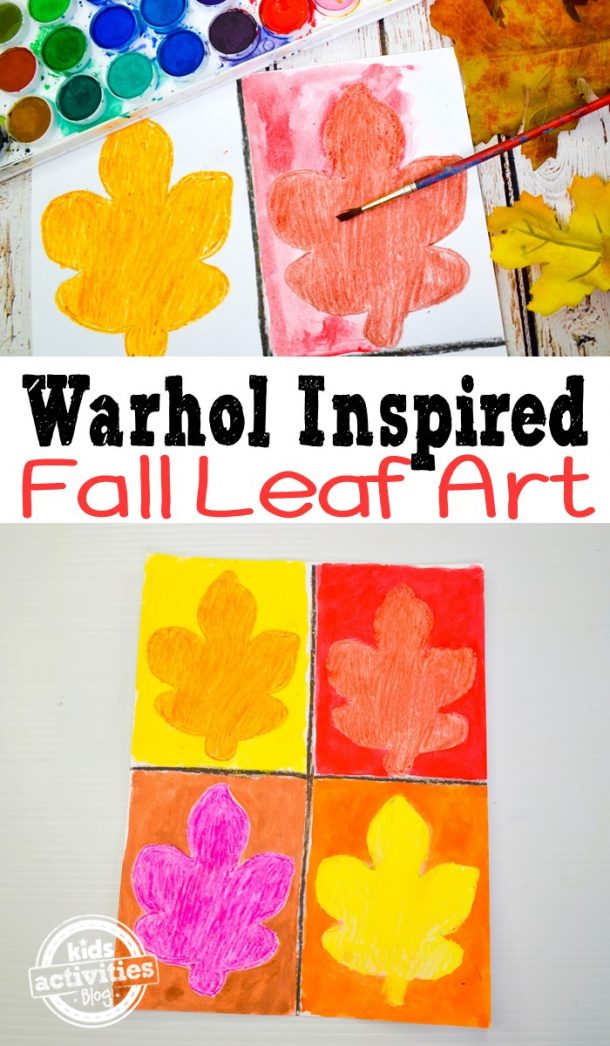 We love this Warhol fall leaf art for kids of all ages. Inspired by Warhol's art and kids innate love of color, this beautiful fall left art project is perfect for toddlers, preschoolers, kindergarteners and older kids. The supplies needed for this autumn art are things you likely already have around the house or classroom.
Create a simple, masterpiece of fall leaves!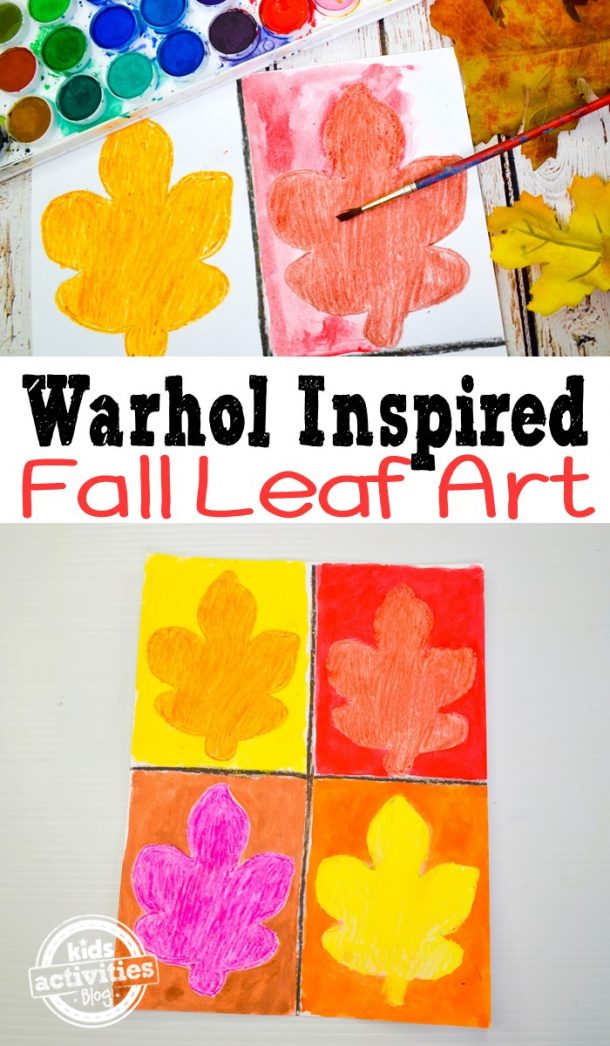 Today you can create your own coloring page – Warhol inspired! We at Kids Activities Blog hope you enjoy this fun way to create art.
This article contains affiliate links.
Fall Leaf Art Project for Kids
Fall is here in full effect, turning our neighborhoods into colorful, crisp arrays of yellows, oranges, reds, and browns.
When I think of bright, vivid colors in art, the classic artist Andy Warhol immediately comes to mind.
Here is some crayon/watercolor resist art that is inspired by the pop art that Warhol is famous for and that reflects the changing of the season.
Before starting the activity, take time to talk about who Andy Warhol is and about his multi-colored popart. Talk about how the same item in many of his pieces is portrayed multiple times in various color combinations.
Who Is Andy Warhol?
Andy Warhol is an American artist who was the leading artist in the visual art movement. His works explore the relationship between advertising, artistic expression, and celebrity culture that was flourishing in the 1960's. He is known as a pop artist and a cultural icon.
More than twenty years after his death, Andy Warhol remains one of the most influential figures in contemporary art and culture.

–The Andy Warhol Foundation for the Visual Arts
He has been the subject of a various retrospective exhibitions and featured in documentaries. There is even a museum dedicated to him in the city of Pittsburgh.
Make Warhol Inspired Fall Leaf Art
Then it's time to go in search of what item they will create their art around. They can go outside and find a leaf like in the example above or they can trace/draw a pumpkin, a handprint, an acorn shape, etc.
Maybe they'd like to do one of each item in each of the four frames.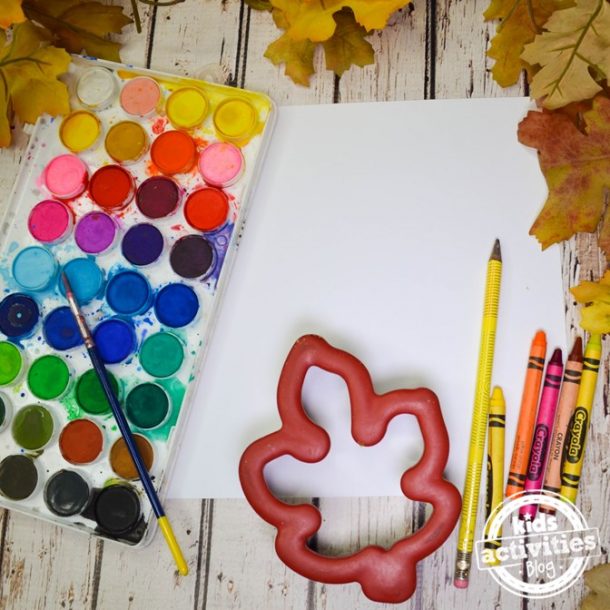 Needed Supplies
Watercolor Paints
Pencil
Leaf Cookie Cutter
Paper
Crayons
Ruler
If you don't have a leaf cookie cutter, consider using an actual leaf as a template or cut out one of the leaves from our leaf coloring pages and use it as a template.
Directions to Create Your Warhol Inspire Fall Leaf Art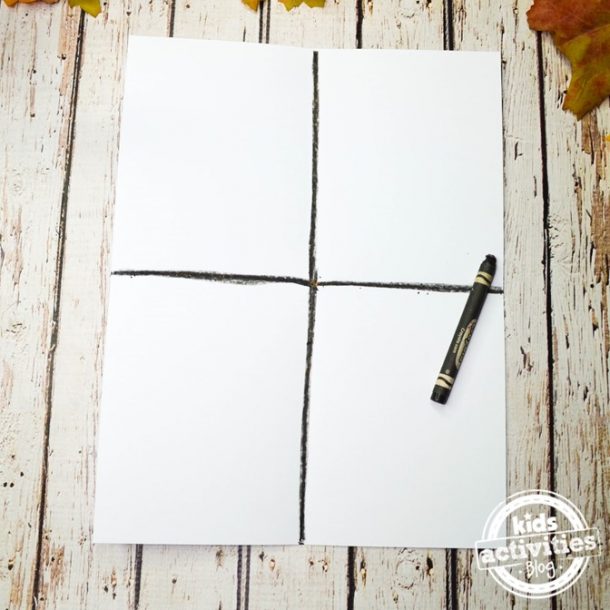 Step 1
After folding the paper into fourths, use a black crayon to outline the creases to create four frames. I like to use a ruler to get a straight line.
This will keep the watercolors in each frame from bleeding into each other.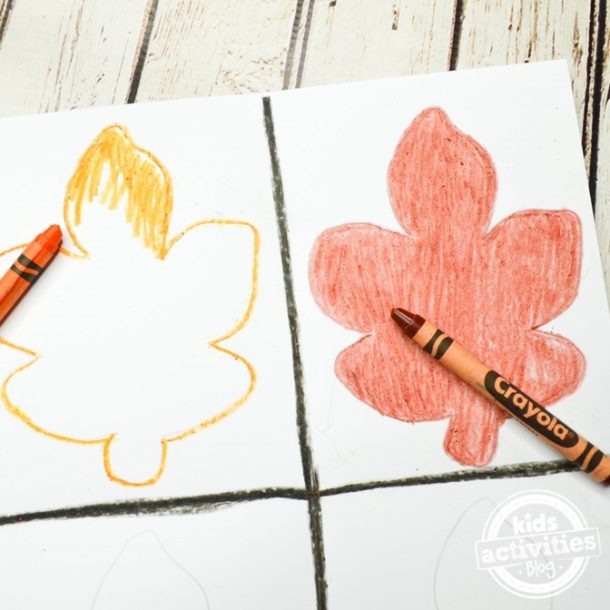 Step 2
Choose four crayon colors and four watercolors to work with.
Trace the leaf pattern lightly in pencil.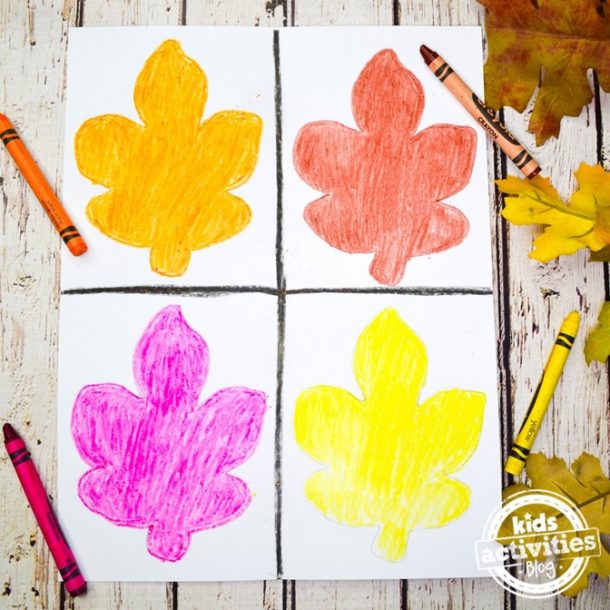 Step 3
Color each leaf pattern with a different color crayon with bold strokes. In order to provide the greatest resistance to the watercolors, the crayon should be colored on thickly.
Color each one and then maybe go over it to ensure that the crayon is on thickly on each leaf.
Don't push too hard though! You might break a crayon.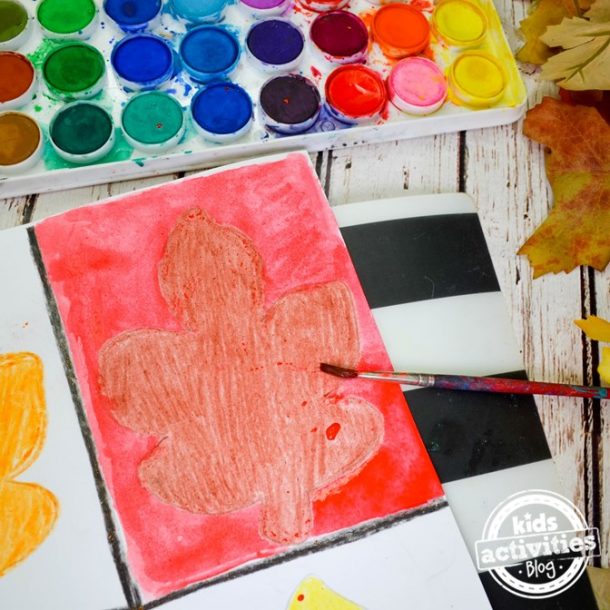 Step 4
Using the four watercolors, paint each square.
For this example, the same colors were used in squares that were diagonally-opposite of each other.
Ultimately, though, color placement is up to your little artist.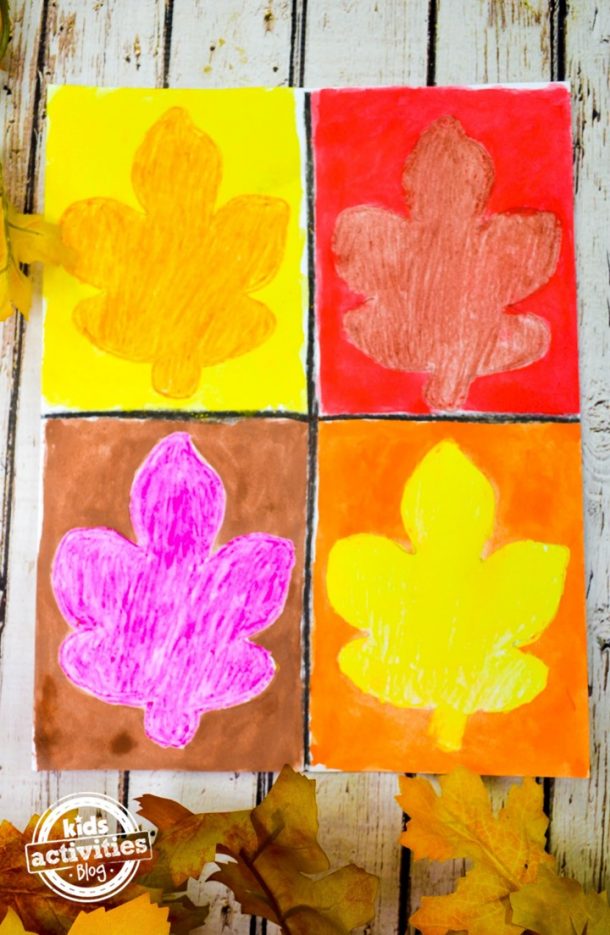 Variations to the Art Design & Color
You can change up the colors for each leaf or color coordinate the leaves and the colors, because they're different shades. Though the yellow on yellow may be hard to see.
This is also an art project that once the kids have done it once, they will want to repeat with different color combinations.
These look great as a classroom project hanging together because the colors will all be just a little different from each other even if the kids used exactly the same color palette.
More Art Projects for Kids from Kids Activities Blog
Have you ever made a salt art project? The colors of paint turn out incredibly vivid.
Let's make rock art with rocks we find outside and then create beautiful art from them.
Toddler ball art is a hoot and older kids can get in on the action too.
Math art inspired by the artist, Klee is colorful and fun just like this art project!
Have you seen the videos of the oil artwork? It is gorgeous!
Best preschool art projects for kids around…I love this simple list of great art.
Make shadow art with objects you have around the house. This project turns out so awesome!
These outdoor art activities are so fun and a great way to corral the mess.
Make marbled milk paper art with this simple technique.
Baking soda and vinegar art…yep! It fizzes.
How did your Warhol leaf art project turn out? What colors did you choose for the four squares?