65 Free Printable Lunchbox Notes To Brighten Your Kid's Day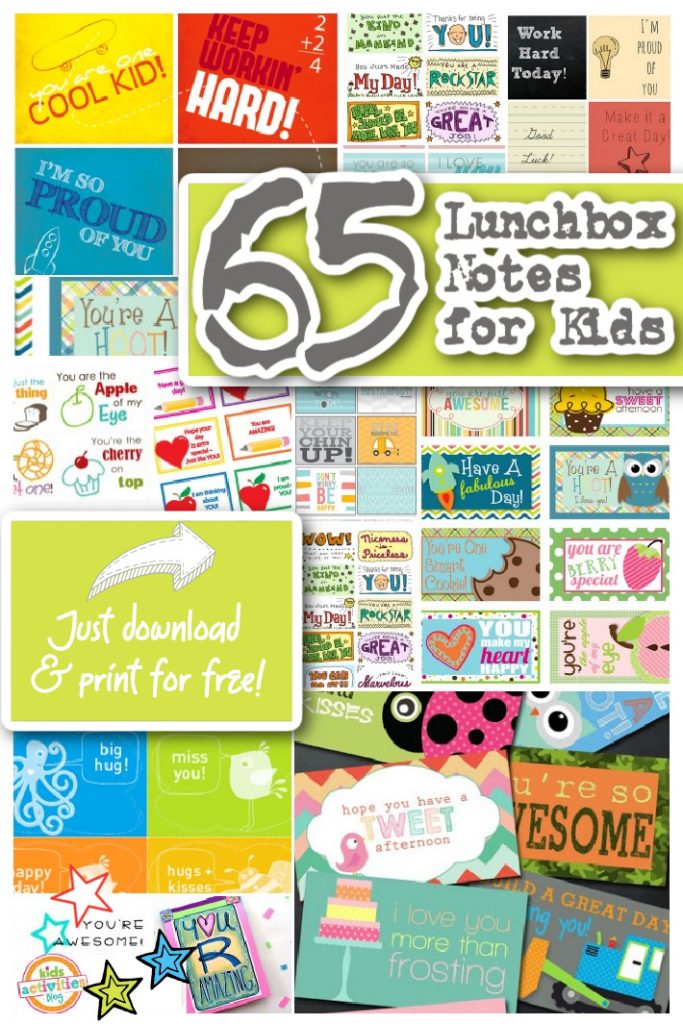 Lunch notes for kids are such an easy way to make sure your child knows you are thinking about them at school. It takes just a minute or two to create one with these cute free printable lunchbox notes we have collected all around the internet from our favorite sites!
A homemade lunch is comforting and delicious. The only thing that could make it better is the discovery of a note from home tucked inside! We've created a list of free printable lunchbox notes so you can create some personalized midday pick-me-ups for your kids.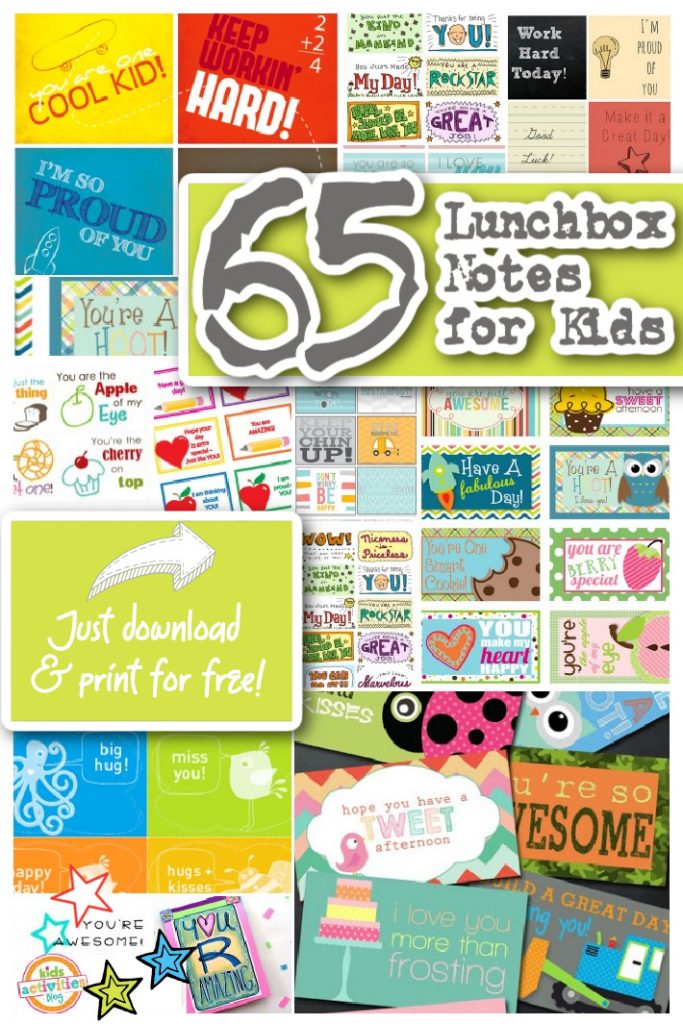 Words of encouragement written on a lunch note by a familiar hand can be all kids need to succeed. Have a wallflower? Use funny lunchbox notes to get the whole table laughing.
This list has printable lunchbox notes for animal-lovers, jokesters, and rainbow lovers, but any kid is sure to love them because of the personal touches you add.
Classroom Themed Lunchbox Note Surprises
Put a smile on your kid's face with these chalkboard lunchbox notes!
How Does She has apple themed lunchbox notes with plenty of space for encouraging notes, jokes, and pictures.
Nothing is brighter than a rainbow! Use the color-range in these school themed lunchbox notes from Reasons To Skip The Housework to turn your kid's day around.
Old Salt Farm has simple apple, heart, and pencil lunchbox notes with lots of room for personal touches.
Melissa Bennett Designs' are sure to spice up back-to-school with her wise owl lunchbox notes.
Kids will be tempted to take a bite out of these apple themed lunchbox notes from Catch My Party.
Lunch Notes that Have Sprinkles of Encouragement
The most important thing about these free printable lunchbox notes from Old Salt Farm is that they have plenty of room to craft a message of your own!
Chikckabug created these framed lunchbox notes!
Skip To My Lou has bright and simple printable lunchbox notes that are perfect midday boosts!
Love quirky doses of encouragement? Try these free printable lunchbox notes from Kind Over Matter!
Jones Design Company created simple fill in the blank lunchbox notes to praise kids and remind them of important events.
The praise is just as bright as the design in Whipperberry's free printable lunchbox notes.
Moms By Heart has beautiful pastel notes that are sure to put a smile on your kid's face.
Praise is the name of the game with these free printable lunchbox notes from While He Was Napping.
These chic silver and gold from Silverbox are perfect for older kids!
Spend With Pennies left lots of room to inspire your kids in these free printable lunchbox notes.
Rainbow lovers will die for these colorful lunchbox notes from 100 Directions.
Tell your kids everything you love about them with Makes and Takes' free "remember when" lunchbox notes.
These free printable lunchbox notes from Living Locurto are simple and bright.
Your praises will explode with these comic-book style conversation bubble lunchbox notes from Skip To My Lou.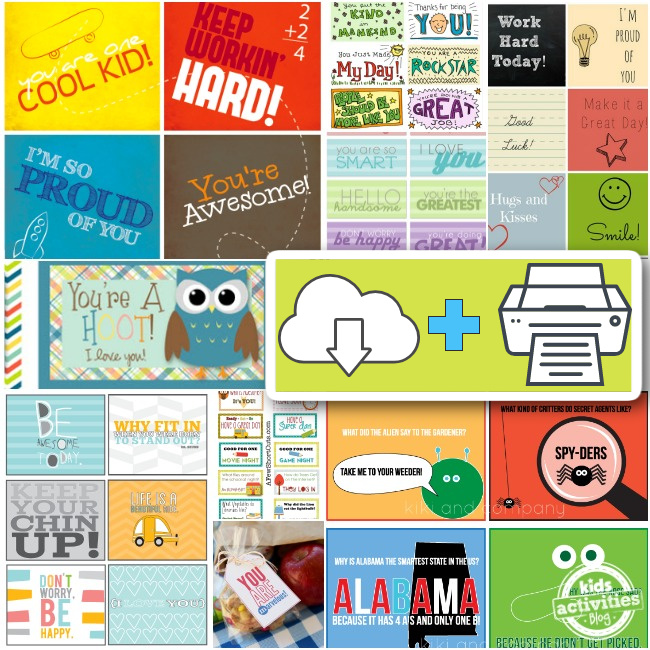 Animal Themed Lunchbox Notes We Love
These bird, bee, and octopus lunchbox notes by Living Weelife are colorful and have lots of room for personalization!
Change things up with these wacky patterned lunchbox notes that I Should Be Mopping The Floor made. They're sure to be a hoot!
Get Buttoned Up made these cute cupcake, sheep, and fill in the blank printable lunchbox notes.
These woodland creature lunchbox notes from the Tangarang Blog are perfect for your wild child!
Animals, cookies, cake– I Should Be Mopping The Floor has it all with these encouraging lunchbox notes.
These doodled lunchbox notes from Fresh Picked Whimsy leave plenty of room for notes from mom.
Kids will fly high with Picklebum's encouraging bird themed lunchbox notes.
I Am That Lady combines animals and jokes in these cartoon lunchbox notes.
Makoodle's bees buzz through simple sayings in her free printable lunchbox notes!
Parrots, elephants, and monkeys invite you to leave messages for you kid on these free printable lunchbox notes from Caps Creations.
These animal lunchbox notes by Kiki & Company include gators, spiders, and crabs.
Bears, bunnies, dinos–oh my! Get Buttoned Up has it all with these free printable lunchbox notes!
These patterned lunchbox notes from Frugal Coupon Living are too cute! Whales, owls, lady bugs, and gators decorate them!
Your kids will roar when they see these lion, owl, giraffe, and elephant notes from Honey Jumble.
Kids will dream big with Mama Miss' lunchbox notes. They include whales, octopuses, and rocket ships!
Set Your Kids Up On A Lunch-Date With Their Favorite Characters
Invite Mickey, Daisy, Donald, and Ariel to lunch with Family Go's Disney themed lunchbox notes.
Let Elsa, Anna, Sophia the First, Jake, the Neverland Pirates, and Doc McStuffins keep your kids company with these Disney lunchbox notes from Delicate Construction!
Tangarang Blog made these cute robot lunchbox notes for kids who look to the future!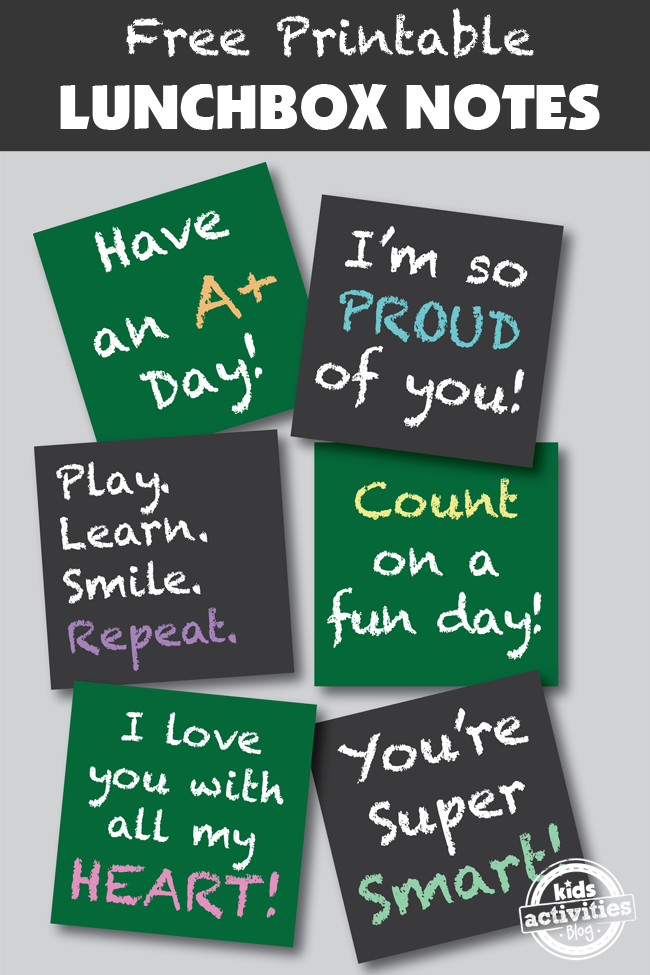 These cute printable lunchbox notes can be printed on post it notes and stuck anywhere inside a lunchbox!
Printable Lunchbox Notes Jokes & Dollops Of Comedy
Brighten your kid's day with a laugh! These lunchbox note jokes will send the whole lunchroom in uproar!
Darling Doodles Design's food themed lunchbox jokes are the perfect fit!
These simple free lunchbox jokes from Inspired By Family Mag are the perfect way to break up a dull school day.
Even girls will love All For The Boys funny lunchbox notes. They have enough room for mom to add her personal touch!
Happy Home Fairy's funny animal themed lunchbox notes are sure to make your kids' day!
Crafty Lunchbox Notes that are Colorful & Cute
These personalized lunch sack tags by Sissyprint are easy to make and a great way to personalize your kid's lunch. They're perfect for large families!
Alpha Mom created these punny lunchbox notes so that each fruit comes with a joke.
Does your kid love to read? Make a bookworm and apple with Fresh Family Meals' free printable lunchbox note.
Kids can color these printable lunchbox notes from Spotgirl-Hotcakes.
The Country Chic Cottage designed a lunchbox mini notebook that kids can color and draw in! It's easy to make and sure to please artsy children!
These lunchbox tags from Best Bites are a great way to label lunchbox goodies!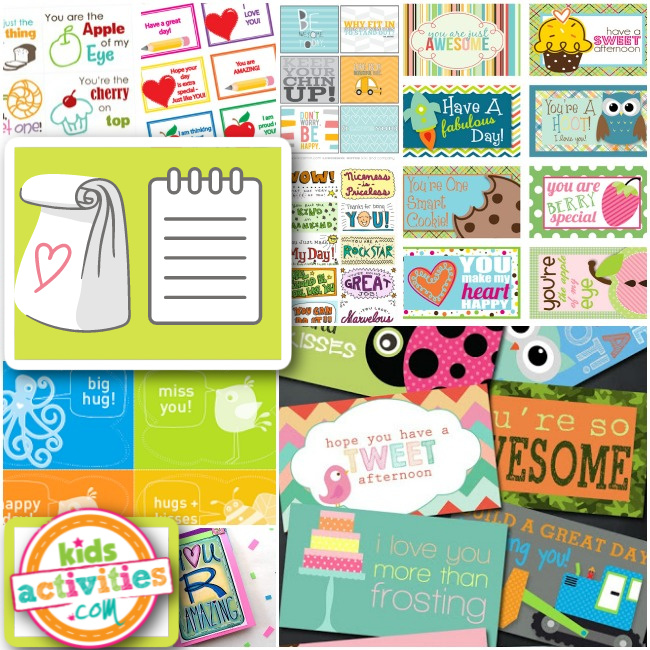 Educational Lunchbox Notes
Kori Clark came up with printable lunchbox allergen labels so you can teach kids about food allergies while keeping them safe.
Teach kids about surveys with this printable lunchtime survey by June Pfaff Daley.
These cute multiple choice lunchbox notes from Today's Mama lets parents have a turn stressing over the right answer.
Brush up on your Disney World Trivia with WDW Preschool's free printable lunchbox notes. They're perfect for an upcoming Disney trip!
Teach Mama made these hidden picture lunchbox notes. They're the perfect lunchtime puzzle!
Holiday Lunchbox Notes You Can Print
Can you feel it in the air? The holidays are here! Teach Mama's Christmas lunchbox notes are the perfect way to spread good cheer.
These funny Halloween lunchbox notes by Kiki & Company are anything but scary!
All For The Boys' Halloween lunchbox notes leave lots of room for mom to write her own scare!
Sprinkle your kids with leaves and laughter by hiding one of these Thanksgiving lunchbox notes from Darling Doodles Design in their lunch.
Kiki & Company made some Easter themed lunchbox notes and they're an explosion of bunnies, eggs, and carrots!
These Valentine's Day lunchbox notes from A Few Shortcuts come with puns!
These St. Patrick's Day lunchbox notes by Teach Mama are tiny pots of gold kids will love to find!
More Lunch & Dinner Fun from Kids Activities Blog
Is your kid sick of sandwiches? Here are some back to school lunch ideas that are sandwich free!
Kids will love the bugs and ghouls inside this halloween bento box!
These make ahead meals for busy moms shouldn't take more than fifteen minutes. If there's any leftovers, use them for lunch!
Kids are always hungry. Try these quick and easy afternoon snack ideas so they'll never be hangry.
Tortilla sandwich books are a great way to encourage reading!
School age activities are the perfect way to get kids hungry!
Lunch ideas for picky eaters are hard to come up with. Take a look at our list for inspiration!
Breakfast for school mornings has to make kids want to get up. Here are some ideas!
These back to school treat ideas are perfect for after-school snacks or to bring as treats for the whole class.
These back to school dinner ideas are quick and make perfect leftovers for lunch.
Do your kids complain about hot lunches? Try frozen sponges and other lunch box tips!
Let your kid's inner artist come out with these edible art projects. Who doesn't love art you can eat?
Which free printable lunchbox note are you going to download first?