28+ Best Easy & Fun Halloween Games For Kids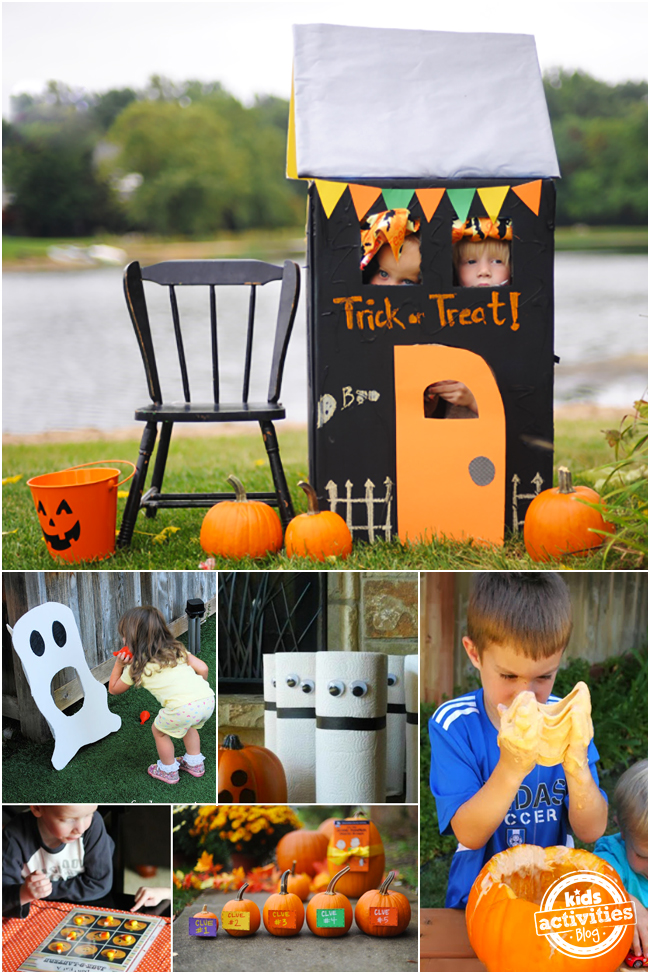 Halloween games for kids are so much fun!
Throw the ultimate thrill-filled (non-spooky) event for and with your kids this October with these 28 awesome Halloween Party games for kids.
We've got you covered here on Kids Activities Blog when it comes to fun DIY Halloween games, a classic game for Halloween, Halloween activities, spooky crafts, and homemade costume ideas this year = FUN. FUN. FUN!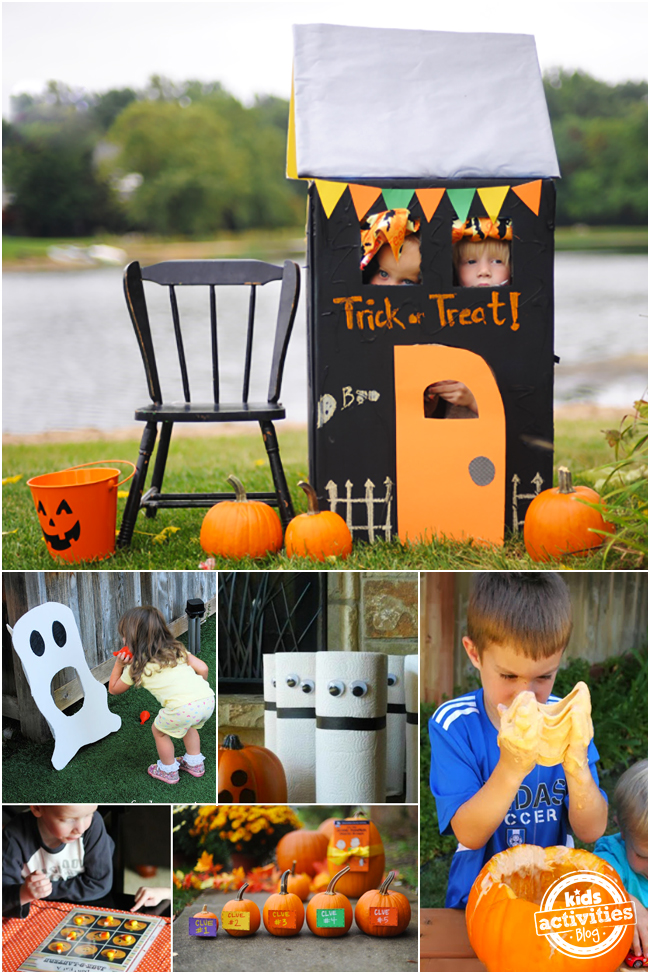 Best Outdoor Halloween Games for Kids
So many of these games for kids are the classic Halloween games that we all grew up enjoying. They are a tradition for a reason and I can't wait to share them with my kids this fall season. We used several of these outdoor Halloween games at my kids' school for their Halloween class party. The kids loved it!
Isn't part of the fun of being an adult at Halloween is handing down a classic game?
Fall House
Give a cardboard box a Halloween make-over with spooky black chalkboard paint and new curtains today!! This great game is so stinkin cute by KatherineMarie
Giant Spider Web
Our favorite activity every year is to weave a giant wool and twig web to hang outside the front door to frighten the neighbors! The size of the spider that would inhabit such a web is absolutely scary! (photo below) Oh so much fun via mollymoocrafts
Boo Bowling
You may have heard of pumpkin bowling, but this Halloween game is just plain adorable! Check out all the ghostly fun via its written on the walls
Ghost Bowling
This is a similar game to the boo bowling only the DIY Halloween game is made with different materials which can be great if your recycling bin is filled with stuff like mine!
Best Halloween Games for Your Party
Throwing a Halloween party for kids is one of my favorite types of kids' parties. It is so easy to theme, find cute and creepy decorations for, the food is awesomely silly and then everyone dresses up.
What more could you want from a Halloween party for kids?
Oh, games! Yes, that too…so many fun games to play and so little holiday time.
Mummy Wrap
Split the kids into two groups, each group picks a 'victim' to wrap up in toilet roll like a mummy. This Halloween game is perfect for older kids broken up into teams. Who wins?!! The first team that completes a mummy out of toilet paper! Just one of the shrieking great fun Halloween party ideas from mymixofsix
Spider Web Gross Motor Activity
As simple, spooky but not at all frightening game for kids, while working on their gross motor skills without them knowing! This is fun Halloween party games at their best via notimeforflashcards
(I've been waiting an entire year to write a Halloween post so I could include this activity.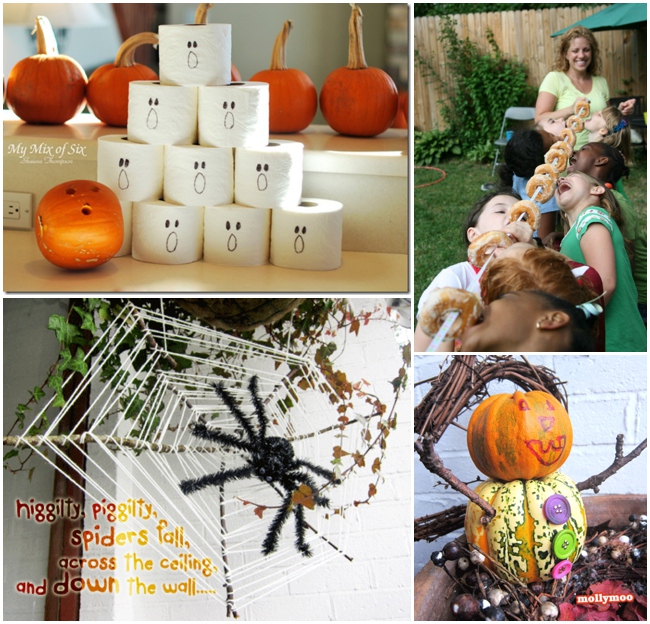 More Halloween Party Games for Kids of All Ages
Hello Mr. Pumpkin
Pumpkin decorating is 'classic' Halloween fun. Try this no-carve pumpkin idea which is great for toddlers, preschoolers and little kids who don't like getting messy (above) from mollymoocrafts
Donuts On A String
Here is an easy game that is a fun alternative to bobbing apples – hands behind your backs and "try" and eat the donut! Genius idea (and not just for Halloween) from Tiffany Boerner via madlystylishevents
This is one of the games we did at our school and it was a huge hit with younger kids as well as kids from other age group ranges!
Candy Corn Guessing Games
This is my all-time favorite…how many candy corns are in the jar? Take this fun party game inspiration from madlystylishevents
Halloween Gooey Guessing Games
One of my favorite games as a kid was the gooey guessing games often found in haunted houses. Reaching into the unknown and feeling something squishy is one of the ultimate Halloween experiences with a little fear factor involved…
Think of the fun and squeals with these Halloween games for kids.
Fun Home Science For Halloween
Slimy. Gooey. Green.
Gooey gross stuff so perfect for Halloween giggles.
– pumpkin slime by learnplayimagine
– eyeball soup by Fun At Home With Kids
– stretchy green slime by Fun At Home With Kids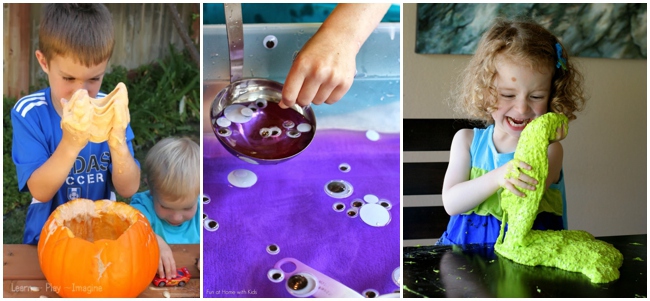 Creepy Halloween Games for Kids
Creepy doesn't have to be scary. These are more giggles than screams when it comes to Halloween games for kids.
Spiders Lair
This is a fun Halloween party game, or anytime game! Spiders just freak me out anyway! via chickenbabies (photo below)
Halloween Treasure Hunt
I wish I lived in KaterineMarie's house!! follow the clues to reveal the movie for Halloween Movie Night – what a fun idea for the entire family. This would make a really good adult Halloween game as well.
Goofy Hanging Spiders
This was such a hit at my friend's house last year. I gathered all the kids on the floor to make goofy spiders and the results were hilarious (photo below). via mollymoocrafts.com
Self-Inflating Ghost Balloons!
Ghost balloons are fun Halloween science magic from the lovely MamaSmiles
Ghost Races
Just like a traditional Potato Sack Race, except the white pillowcase is decorated like a ghost – simple outdoor fun for Halloween from firefliesandmudpies
Free Printable Halloween Bingo
Halloween bingo is such a great party game for a group of kids (or adults)! 4 different designs to download from makoodle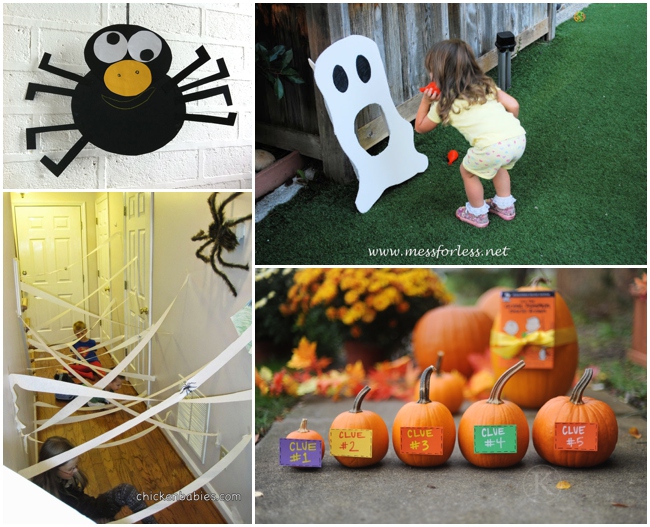 Halloween Games for Toddlers and Preschoolers Too
Nearly any of the Halloween games for kids can be adapted for the younger players. Halloween games are so fun for toddlers and preschoolers…they live their lives in perpetual holiday-mode! They won't miss a beat joining in.
Ghost Bottle Bowling
Have fun knocking down a few ghosts with No Time For Flash Cards
Ghost Toss
Great for Halloween party fun or just playing with your kids. via messforless
Pumpkin Lego Treat Bag
Halloween fun that won't rot their teeth! via repeatcrafterme
Fall Candy House Fling!
Decorating candy houses is such a fun group activity for friends and cousins. Make it an annual not-so-spooky fun game at Halloween (photo below). via KatherineMarie
Pumpkin Tic Tac Toe
So simple and genius, via itsoverflowing
Happy Halloween Mail
Open if you DARE! via KatherineMarie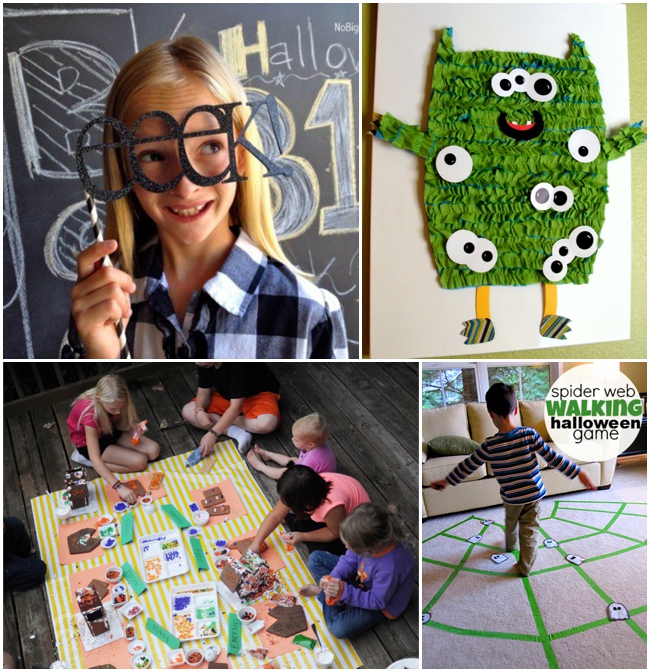 Indoor Halloween Party Games
Looking for some games that kids can do inside? Sometimes the October weather doesn't cooperate with outside fall party plans…
Halloween Party Guessing Game
Add a little creepy to your Halloween party fun with this guessing game! via The Idea Room
Witchy Finger Puppets
Make mini witches hats for goofy finger puppet conversations via Classic-Play
Halloween Photo Booth
If you're planning on throwing a Halloween party then here's some fun (free printable) photo booth props your kids will love – it's Halloween selfie time!. photo above via No Biggie
Paper Bag Puppets
Paper bag puppets are a classic Halloween activity! crafty fun for a Halloween party and handy for taking the treats home. via Make and Takes
Pin The Eye on the Monster
No party is complete without this classic blindfold game. The extra eyes add a perfect Halloween twist! photo above
via Lil Luna
Halloween Bingo
This free Halloween Bingo game is an easy hit at any gathering with kids (and grown ups)! via The Crafting Chicks
More Printable Halloween Games
Try this Halloween dot to dot printable game as part of our Halloween free printables.
So many fun uses for this printable candy coloring pages set that features Halloween candy.
Use these Halloween tracing worksheets competitively as a Halloween printable game.
These printable scary Halloween masks could be the foundation of a fun dress up game at your next Halloween party.
This may not be a Halloween printable game, but it works great as a party goodie bag…check out printable ghost poop!
Halloween sight words can be made into a fun holiday game!
These Halloween color by number pages make really fun party entertainment.
These Halloween puzzles for kids make for a fun competition.
We also have a fun Halloween bingo worksheet you can download & print.
Halloween Math Games
I know this doesn't sound like your classic Halloween party game, but math can be fun too when it is combined with a Halloween theme and a competitive spirit.
MORE HALLOWEEN GAMES & FAMILY FUN FROM KIDS ACTIVITIES BLOG
Are you hosting a Halloween party this year at home or in the classroom? Or do you just need to keep your kids busy long enough to make dinner?! These Halloween activities are loads of fun and a great way to spend some time as a family game night or with Halloween parties.
Easy Halloween drawings that kids will love and even adults can do!
Need some more Halloween food ideas for kids?
We have the cutest (and easiest) Baby Shark pumpkin stencil for your jack-o-lantern.
Don't forget Halloween breakfast ideas! Your kids will love a spooky start to their day.
Our awesome Halloween coloring pages are scary cute!
Make these cute DIY Halloween decorations…easy!
Hero costume ideas are always a hit with kids.
15 Epic Dollar Store Halloween Decorations & Hacks
Don't miss out on these fun Halloween drinks at your next Halloween kids party!
Check out these really fun Halloween crafts for kids!
Need some really easy Halloween crafts? We have you covered!
Which of the Halloween games is your favorite? What Halloween games for kids will you be playing at your Halloween party?