Spooky Cute DIY Halloween Paint Chip Puzzles for Kids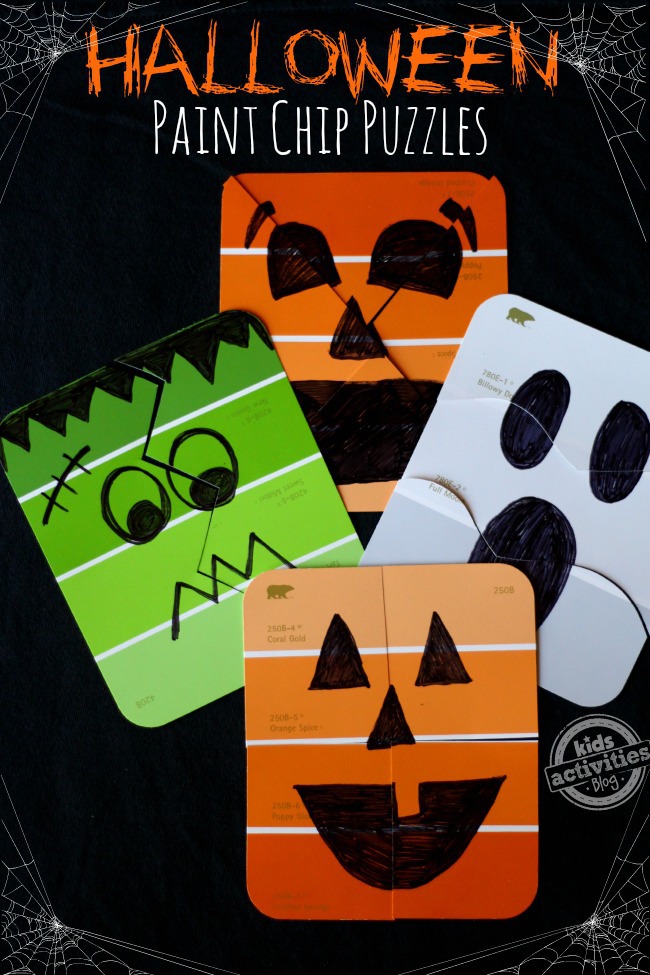 This incredibly simple DIY Halloween craft for kids turns into a Halloween puzzle. These Halloween puzzle games are so adorable that kids of all ages will want to make one with simple supplies and a Halloween colored paint sample or paint chip from your local paint store.
These easy Halloween kids crafts turn into Halloween games and are perfect for the classroom, an afternoon at home or to make or give as a goody bag at a Halloween party or for trick-or-treaters.
Make a Halloween Puzzle Game from Paint Color Samples
Did your school ever throw a Halloween carnival packed with simple Halloween games for kids? This simple Halloween DIY game is the perfect idea to add to a craft table or as a prize.
This article contains affiliate links.
Supplies Needed
Paint Chips or Paint Color Samples
Sharpie
Scissors or preschool training scissors
Directions to Make Halloween Paint Chip Puzzles
Step 1
Draw Halloween inspired faces on the paint color samples with a sharpie marker. Grab some inspiration from our easy Halloween drawings printable tutorial or start with some pencil lines and then move to the permanent marker when you have more confidence in the drawing!
We drew:
Jack-o-lantern on orange paint sample
Frankenstein monster on a green paint chip
Ghost on a white paint color sample
Step 2
Cut the puzzles in different ways.
I chose to cut the pumpkins into fourths – one pumpkin was cut with vertical and horizontal lines and the other pumpkin was cut diagonally. Then, I cut Frankenstein in half with a zig-zag line and the ghost into thirds with a wavy line.
I love sneaking in a little extra math! 🙂
Your kids can enjoy them at home or you can add them to some Halloween goodie bags for friends this year! How cute would that be?!
If you love playing during Halloween, be sure to check out how you can make the perfect Halloween gift ~ the gift of snot!
Our Experience with this Halloween Craft Turned Puzzle
My elementary school threw one every year and I was always amazed with how creative the halloween games were. My favorite games were the ghost lollipop hunt and the ghoulish cake walk! While my kids aren't in elementary school yet, my daughter and I had made some diy puzzles that she loved, so I decided to make a quick, Halloween version!
Although these Halloween games were for my daughter, there was a bonus: my 18 month old loves visiting the hardware store!
Visiting the Hardware Store Paint Sample Area
The high ceilings, the tools, the huge amount of space…he just loves it all! So, it's easy for us to pick up a few paint chips while we go on our favorite "field trip" for the week. Even though my four-year-old doesn't love to visit the hardware store as much as her brother, she loves putting together these quick and easy paint chip puzzles. We take them to restaurants or use them as a quiet time play activity!
More Halloween from Kids Activities Blog
Take the stress out of Halloween with these Halloween hacks!
Keep your little one busy with these fun Halloween ideas for kids.
Make science festive with these Halloween experiments.
Show your friends that you have an "eye" for good decor with these diy Halloween eyeball decorations.
Light up the spooky Halloween night with these diy Halloween luminaries.
These Halloween cats crafts will leave you "feline" good.
Just "wing" it with these super adorable bat crafts!
This Halloween sensory activity is perfect for kids!
Help your little one make this glowing shaker ring for lots of musical fun.
Make your Halloween extra by learning how to make glow in the dark invitations!
Wind down with these jackolantern coloring pages.
Make learning festive with these fun Halloween maths games.
Your kids will love this slimy crawly Halloween sensory box.
Learn to read with these Halloween sight words.
Take time to wind down with more scary Halloween coloring pages.
How did your Halloween puzzles turn out? Did your kids have fun making paint chip puzzles and then putting them together?