Out of this World Free Printable Galaxy Board Game for Kids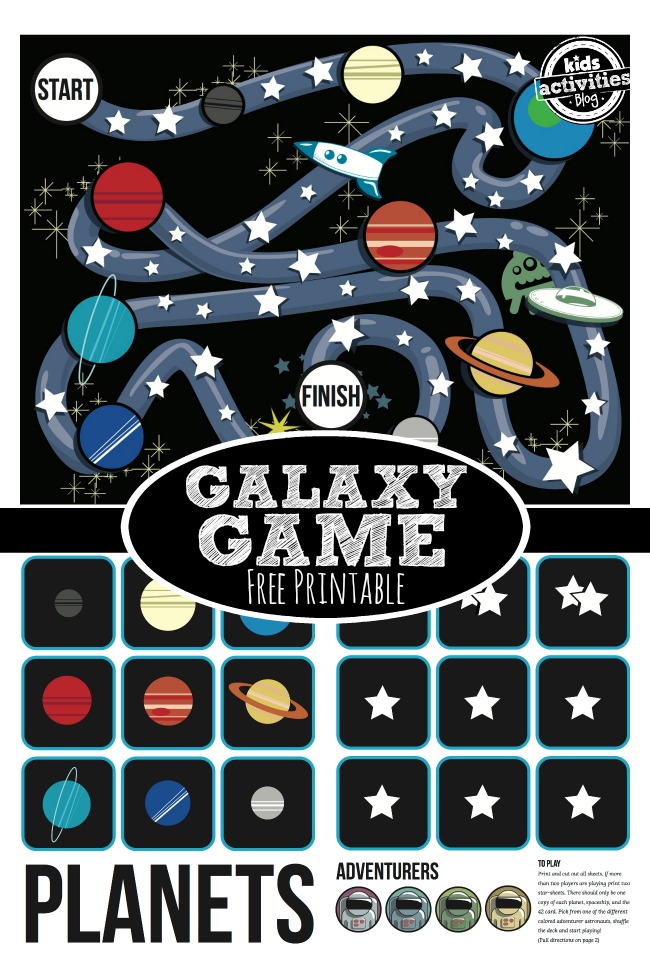 Today we have a really fun printable board game for kids that revolves in outer space. The stars and planets galaxy game is quick to download & print then play together. Playing this free printable game is fun for kids of all ages, but kids ages 4-6 are best suited to the style of game play.
The easy board game directions are outlined below. Before you know it, you will be playing your new printable board game!
We just started family game night with my four year old and we don't have a large selection of games.
So, we play go-fish….a lot!
I've been trying to find fun and colorful printable games that we can easily download and play right away. So, I'm thrilled to share this adorable galaxy game that is perfect for lots of different ages – even my preschooler (and me, too)!
This article contains affiliate links.
Free Printable Stars & Planets Board Game for Kids
The wonderful thing about free printable games is that you can save them to play later. I like to paste the game board into a file folder or keep them in a binder. I use ziploc bags for the loose parts.
You will have entertainment for hours!
Download & Print the Board Game pdf File Here
How to Set Up Galaxy Board Game
Put the Board Game Together
Print all four printables (if more than two people are playing, print out two star sheets)
Cut out all of the game piece squares
If you think you'll be using the game frequently, we recommend printing the board and all of the pieces out on heavy cardstock.
Laminating everything will make it hold up to game playing longer and you won't have to print it out over and over again. You can store everything in a handy file folder, pocket folder, or even in a gallon size zippered plastic bag – whatever works best for you and your game storage solutions!
Set Up the Board Game
Pick out your game piece astronaut.
Shuffle the deck of cards and start playing!
The instructions also appear on the printable sheets
How to Play the Printable Board Game for Kids
Game Directions
Interstellar travel is easy. All you have to do is get from start to finish. Draw a card then go to that destination. if you draw a destination which is behind on the intergalactic highway, you may have to travel backwards. Single stars are for advancing one space on the intergalactic highway. Double stars advance two spaces. you must draw the exact number of stars to advance to the finish. If you draw 42 the nearest alien spaceship will pick you up as hitchhikers! Don't despair, if you are on the alien ship and draw 42, you will be transported to the end of the intergalactic highway and win.

-Game instructions
More Games from Kids Activities Blog
Indoor games for kids don't have to be quiet, sit down type of games!
Let's play some really fun Halloween games!
Ever wondered how to keep all the board game clutter under control? Check out board game storage ideas that really work.
These science games or math games for kids are super fun and sneak in some learning during play!
Play some letter games!
Need some fun virtual games for kids? We got 'em!
These Fortnite party games are active and so fun!
If you have a 2 year old, you need games for 2 year olds.
Check out fun girl games which work for boys or girls who like fun games!
We have the best board games for kids!
Did you have fun playing the printable board game for kids? Who won?Save