Letter G Worksheets Free Kids Printable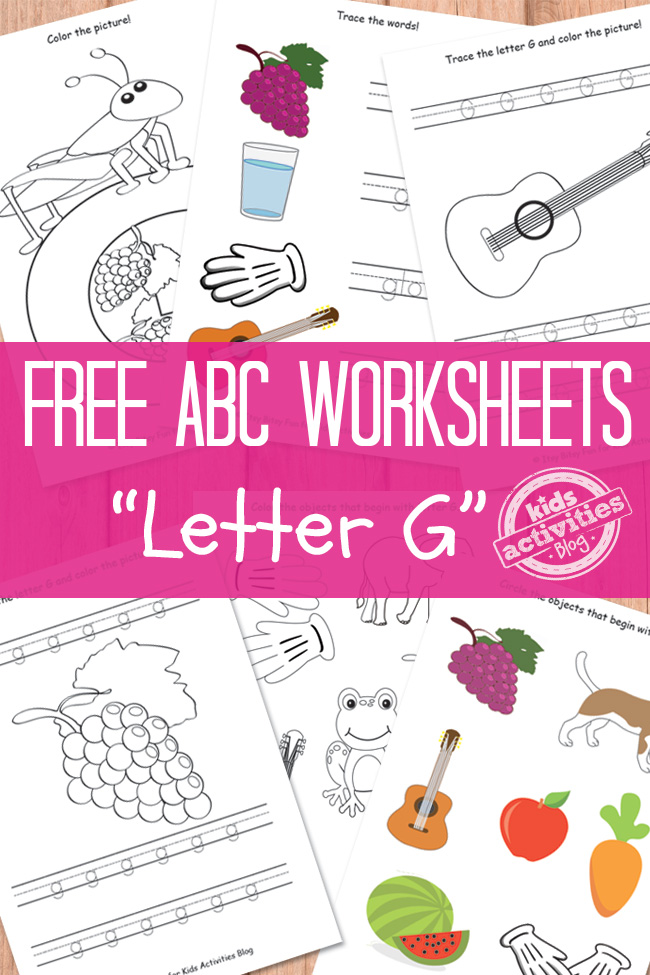 This week we're doing letter G worksheets! We've already completed letter F worksheets, so let's move forward!
These letter g activities will come in handy if you are doing letter of the week activities with you kids!
So grab your handy crayons and let's get to learning with these fun educational activities!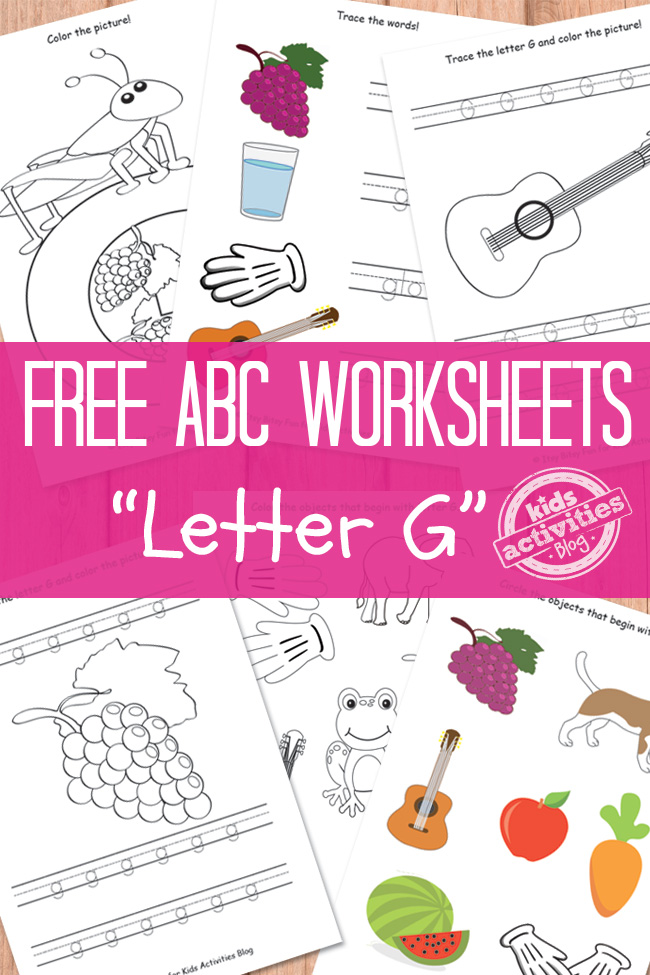 Letter G Worksheets
G is for giraffe, grapes… G is also for generous, something we all want to teach our kids to be, and if we succeed that will be great (another cool G word)! We don't want them to be greedy (bad, bad G word)!
These free printable worksheets include: uppercase and lowercase letter practice and teaches words that start with the letter G.
There are 8 worksheets in this set and you don't have to use them all at once. A few minutes of worksheets a day will do more good than a long session. Unless your preschooler just loves them!
The Letter G Worksheets for Kids set includes:
4 pages of upper and lower case tracing with pictures to color.
1 page of tracing words (starting with letter G).
2 pages of G beginning sound activities – one page to color and one to circle the correct image.
1 letter G coloring page.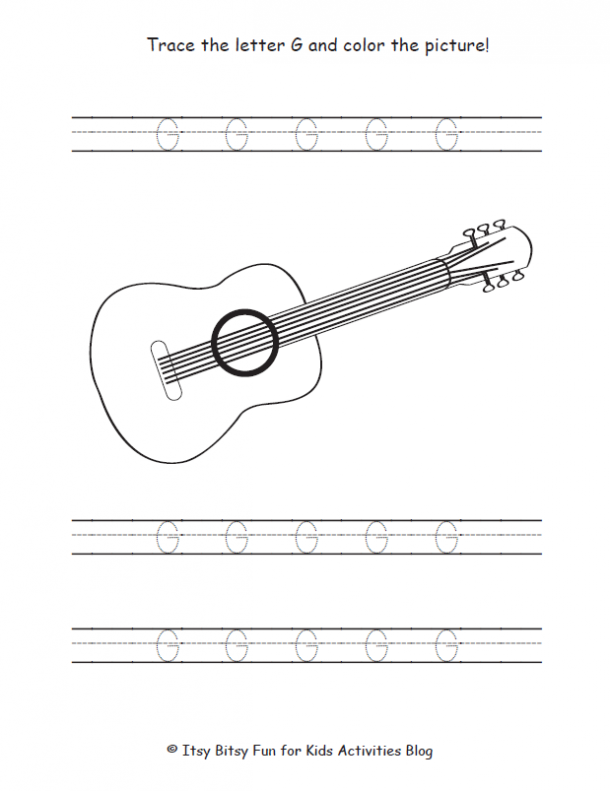 Uppercase Letter G Tracing Worksheets
Check out these free letter G worksheets that includes 2 Capital Letter G tracing pages which will give your child lots of practice! Learning the letter G is super easy with this activity sheet.
This one features a guitar which you can color. The second capital letter G tracing page has a bunch of grapes on it and also doubles as a letter G coloring page.
Tracing letters helps your child with letter recognition, writing skills, and fine motor skills!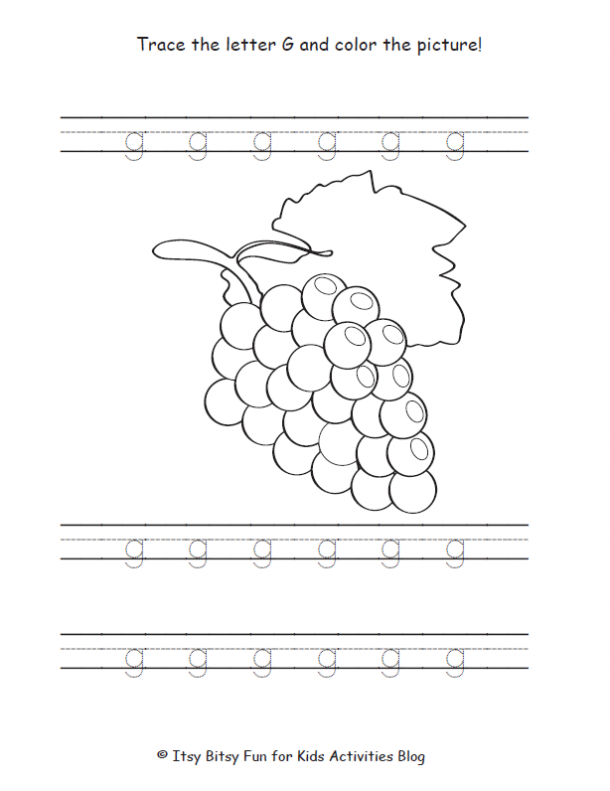 Lowercase Letter G Tracing
Yum! Grapes are delicious! Are you going to make red grapes? Purple grapes? Or green grapes?
We also have 2 free lowercase letter f tracing pages available. These are similar to the uppercase ones, however, this one has grapes instead of a guitar. These free printable letter g tracing worksheets double as coloring pages.
Learning lowercase letters can be so easy! My daughter likes to call lower case letters "small letters."
This free printable practice worksheets were created so that younger children can see the difference between capital letters.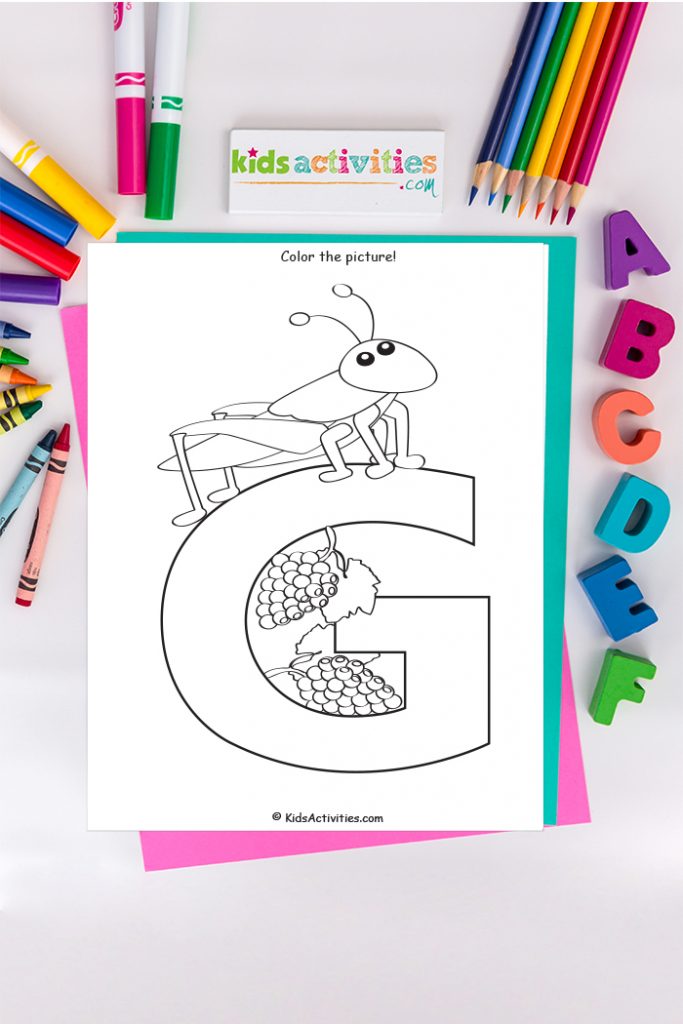 LETTER G COLORING PAGE WORKSHEETS
Letter G coloring page worksheets are the best! Let you child learn while being creative! So grab your water colors, crayons, or pencils to color not only the letter G, but bunches of grapes and a big grasshopper!
Reinforce the letter G with different activities. This will help preschoolers and kindergarten students to not only the letter, but also words that start with the letter G.
What a fun way to learn!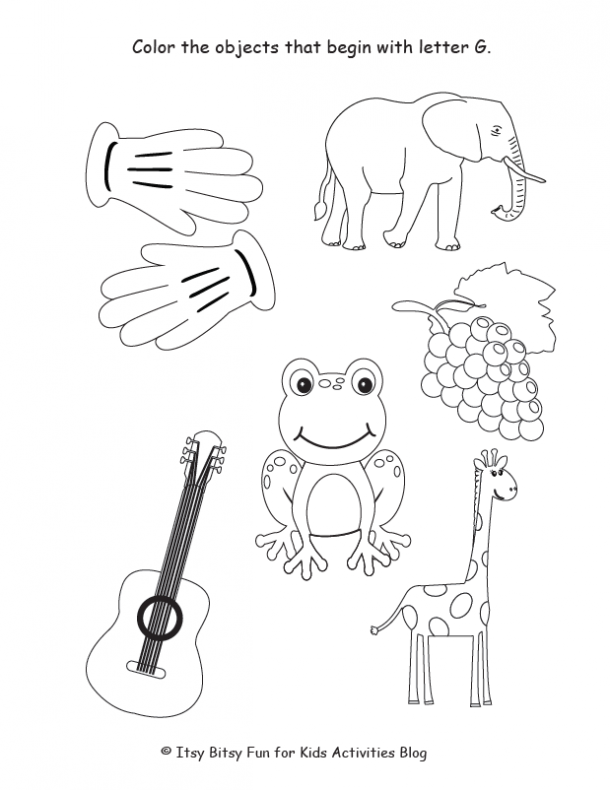 OBJECTS THAT BEGIN WITH THE LETTER G COLORING PAGE
Don't put your coloring stuff up just yet! Your preschooler or kindergartener will have to color all the pictures that start with G.
I count 4 pictures that start with the letter G! Guitar…giraffe…grapes…gloves. Is that all of them?
All of these letter G words are simple, and so are the pictures! That way they can be easily recognized by your child.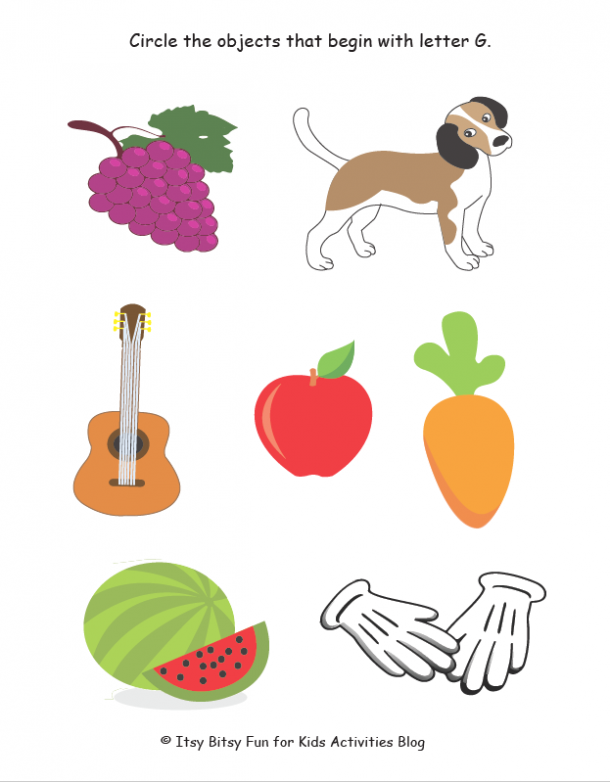 CIRCLE THE OBJECTS THAT START WITH F WORKSHEET
Ready for a challenge? This free printable worksheet will help your preschooler learn the sound of the letter as they have to figure out all the words that start with the letter g.
How fun!
Circle all the pictures that start with the letter g. Let's see, there is a guitar, gloves, and grapes!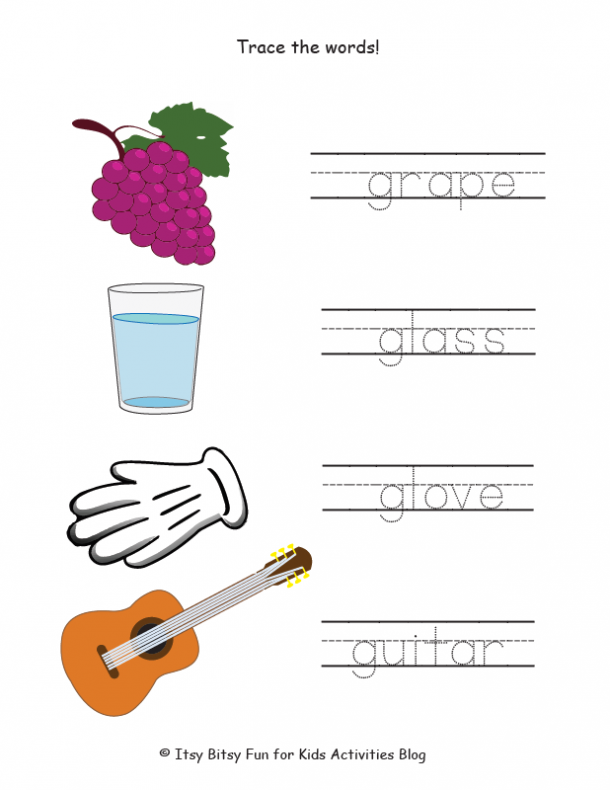 TRACE THE G WORDS WORKSHEET
Learn how to write and spell! Your child will be learning words the begin with the letter G!
This is a great way to learn words, your letters, and how to write. Plus, it is a great fine motor skill activity as well.
Download Letter G Preschool Worksheets Here:
More Fun and Learning Printables
We've done quite a few already! If you missed any of the previous printable packs you can find them all in one place – check all the alphabet worksheets.
That's why I adore this DIY alphabet crackers idea!
Learning the alphabet is one thing and numbers are a whole other thing! These super fun 1 to 10 counting printable activities to color.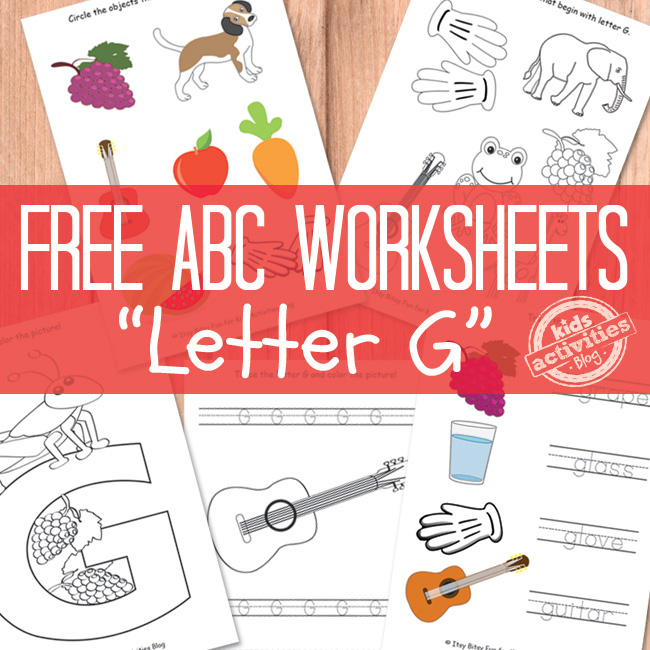 Crafts Starting With The Letter G
These crafts will make learning the letter G great fun!
What else starts with G? Ghosts! Try some of these fun ghost crafts!
Glow starts with the letter G. Why not make GLOW in the dark slime?
We have a lot of fun G crafts and activities!
Which worksheet was your favorite? We'd love to hear from you down in the comments below!
Save