100 Super Fun & Free Activities for Kids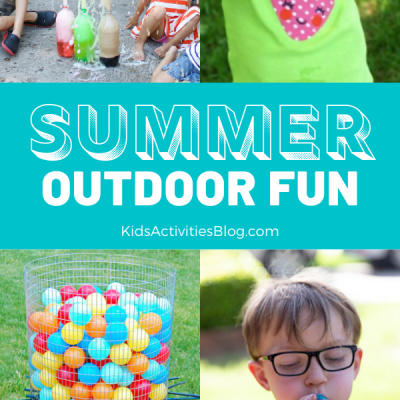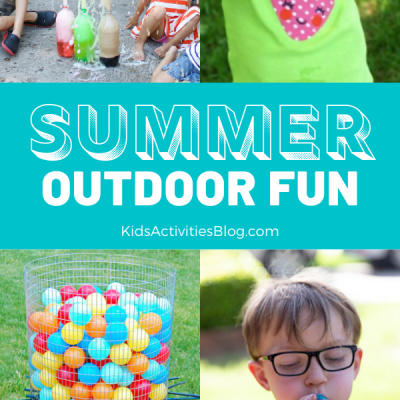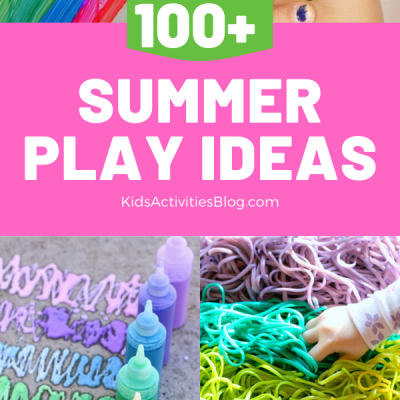 Finding free kids activities that you can do at home can be challenging. We have put together a collection of free activity ideas that are not only easy to do at home, but they are all screen-free and TV-free as well! These fun play ideas are great for kids of all ages alone or in a group.
Let's keep kids' boredom at bay… and these 100 free kids activities that are great at keeping kids active and playing.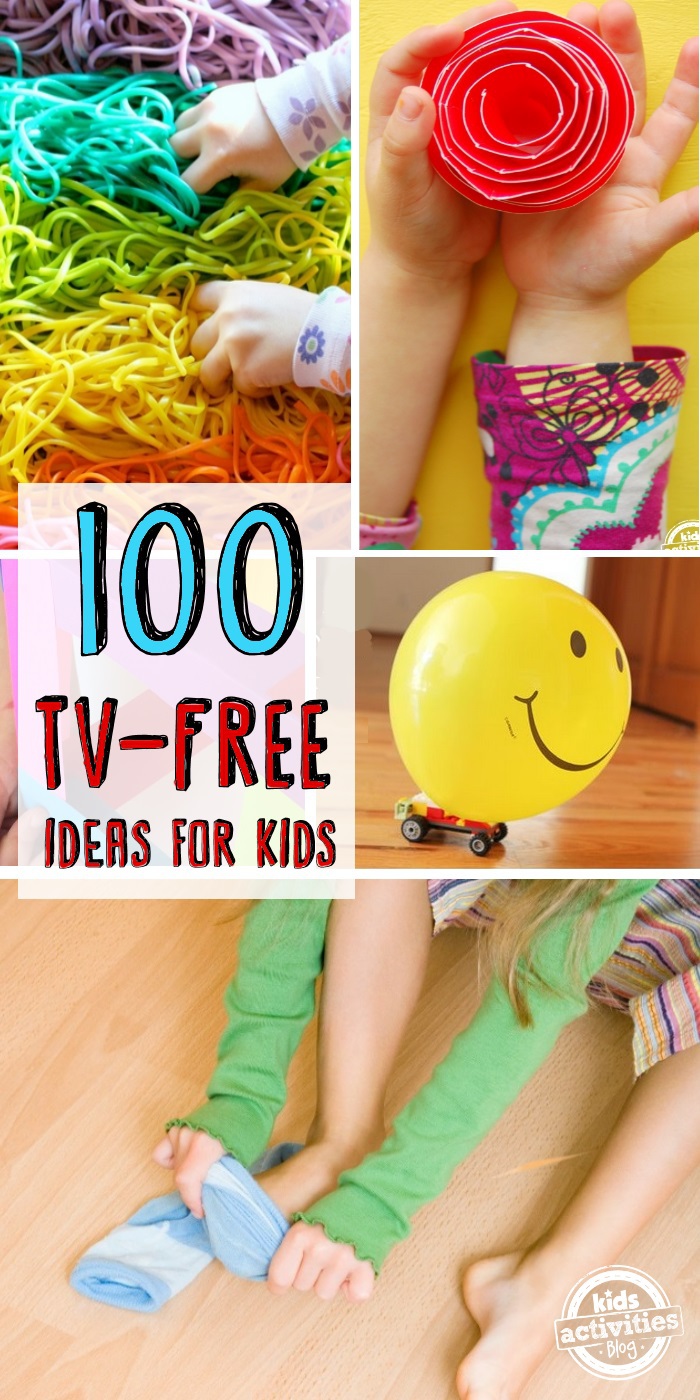 This article was inspired by the Kids Activities Blog kids activities books with over 220K copies sold and counting…
NEWEST BOOK: The Big Book of Kids Activities: 500 Projects that are the Bestest, Funnest Ever
The 101 Coolest Simple Science Experiments: Awesome things to do with your Parents, Babysitters and Other Adults
101 Kids Activities that are the Ooey, Gooey-est Ever!
101 Kids Activities that are the Bestest, Funnest Ever!
As you can see, every moment can be filled with fun if you just think a little about it!
100 Fun Free Kids Activities that are TV-Free & Screen-Free
Screen-time has its place, but many of us get too much sometimes, so these 100 fun activities are great for keeping kids busy. From education, crafts, to activities, and more we have a little bit of everyone!
You will need some stuff to do some of these awesome crafts for kids so you may want to grab some supplies beforehand. Missing some? That's okay we can help!
This post contains affiliate links.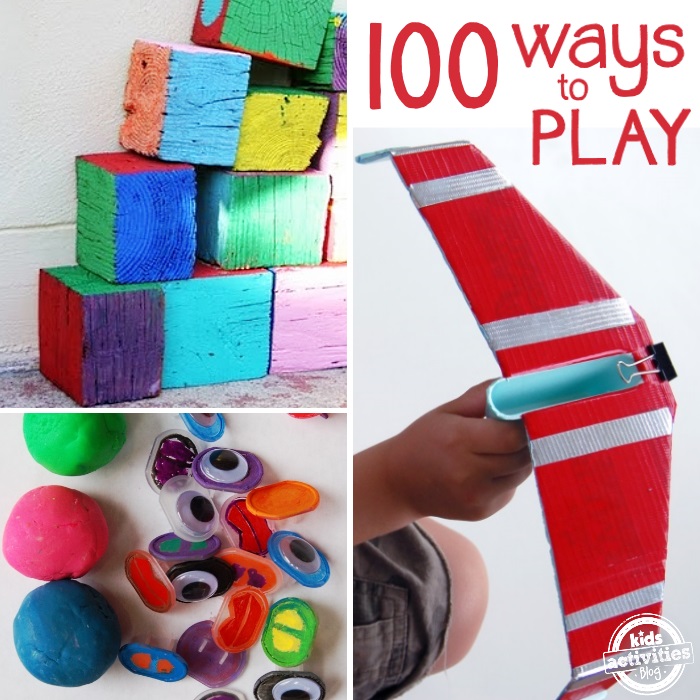 Free Kids Crafts with Stuff You Already Have
Paper Plate Flowers
Create a bouquet of roses – all you need are some paper plates! This one might require some adult supervision as it also involves scissors and a stapler.
Upcycle Old Toys
Want to know what to do with old toys your child no longer plays with? Upgrade some treasured toys – use stickers, foam and paint to redecorate them.
Sew A Toy
Sew a pillow buddy for a friend. It is simple to do and a great gift! Pick out your favorite fabric, thread, stuffing, and scissors, and you're ready to go.
Star Wars Toilet Paper Roll People
Make TP tube people, put on a play! Like these Star Wars toilet paper roll people!
Giant Blocks
Create giant blocks, and make a backyard tower. All you need is wood blocks, paint, and paint brushes!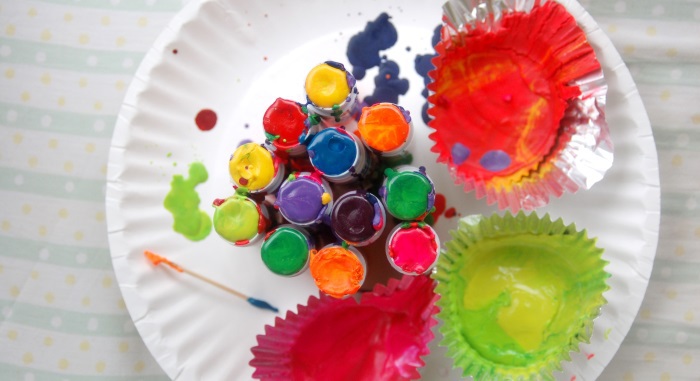 DIY Play Dough Toys
Decorate old outlet covers to be eyes, noses and mouths for play dough play. Fun and easy to clean.
Toilet Paper Roll Crafts
Collect all the cardboard tubes and bottle caps that you can find. Make a tube train. There are a ton of toilet paper roll crafts.
Melted Crayon Art
Chop up your crayons and heat them in the oven on low – paint with your melted crayon bits!
Fake Snot
Play a prank on a family member. Make a batch of the grossest fake snot – ever!
Video: How To Make Oobleck
Sensory Bottle Ideas
Make a bedtime sensory bottle, and count the stars in the dark. What a great way to relax, plus you get to recycle!
3 Ingredient Edible Playdough
Gluten-free, safe play dough for kiddos who have gluten sensitivity – your kids can even eat this play recipe!
Giant Dry Erase Mat
Go BIG. Make a ginormous dry erase mat for your kids to doodle over using a shower curtain.
Peeps Candy Playdough
How fun! Make playdough for your kids out of marshmallows! You can eat it afterward for a sugar rush.
Frozen Painting Ideas
Frozen Sparkly Paint – Making ice paints is a great way to cool as you play.
Soft Playdough Recipe
Whip up a batch of super soft playdough – you only need two ingredients.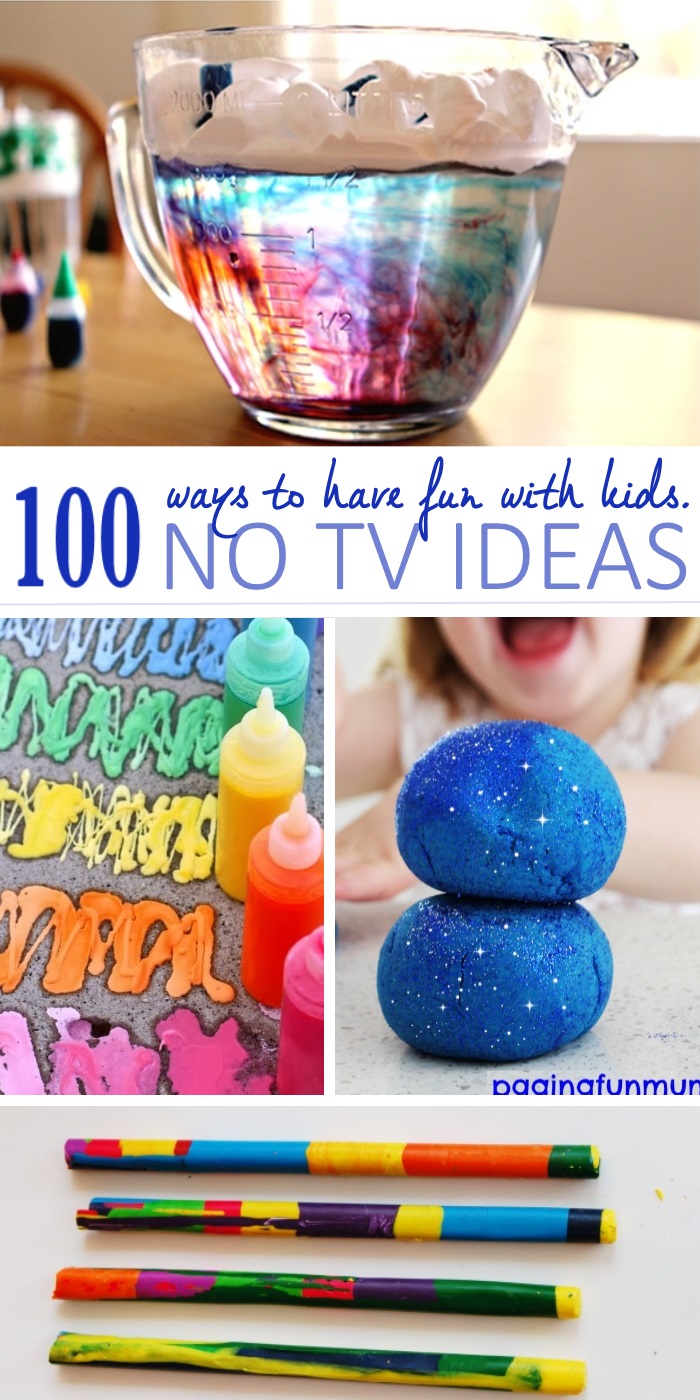 Peanut Butter Playdough
Peanut butter Play dough is super tasty and fun to play with. Your kids will love it!
Hanging Skeleton
Make puppets – and have a show. These wiry puppet skeletons are fun and easy to make.
Playdough Recipes
Whip up a batch of play! There are more than 50 recipes of fun for your kids to choose from! Boredom is banished!
Homemade Paint
Get colorful. Make a batch of mom-made paint for your kids to play with and create.
Sidewalk Paint
Paint the colors of the rainbow, on your driveway. These sidewalk paints are easy to make. Cornstarch and baking soda are the main ingredients.
Broken Crayon Crafts
Make crayon wands! Melt your crayon scraps and fill straws to make these fun instruments of creativity.
Glasses and Mustache
Create a set of mustache clings – you can decorate your face on the mirror.
Bathtub Paint
Paint… in the bath tub! The perks of this recipe is that there is no clean up. Genius! This is great for toddlers and preschoolers!
DIY Lightsaber
Dual with the forces. Transform the pool noodles into lightsabers. Great for cooling off and pretend play! This is probably good for preschoolers and older kids since a lot of people like Star Wars.
Peppermint Patties
Enjoy peppermint patties – in play dough form! This edible recipe is tasty (make in small batches – you'll get a sugar rush).
Small Monster Art
Ink Blot Monsters are a super easy and fun craft for kiddos! Grab paper, markers, paint, and yard…and maybe some googly eyes for this one.
How To Make A Drum
Transform a set of old cans into a banging machine – all you need are some balloons. DIY Drums!
Video: Painting With Balls
Make a Rain stick
Raid the recycle bin. Make a set of wacky characters from the clean trash in your bin. Like this homemade rain stick!
Pretend Cookies
Make a pretend cooking stove from a box. Have fun making magical meals. You can even make pretend cookies!
Cloud Dough
Cloud Dough. This stuff is great, so light and fluffy but it acts a bit like sand. You can build with this dough.
Fairy Crafts
Love fairies? Make a fairy condo building! Use random boxes and bits of wrapping paper to make it a home.
DIY Jump Rope
Jump and skip – with a DIY jump rope. This classic is a blast and great to get kids moving when they are solo.
DIY Globe Sconce
Make a globe, from straws. Who knew you could make such a cool looking sconce with drinking straws! I wonder if colored straws would make it look cooler.
Toilet Paper Tube Crafts
Build with TP tubes. Decorate them to look like houses, cut slits and stack. Or make it to look like a super cool wizard's tower.
Chalk Drawings
Make a sidewalk mosaic with items you can find in your yard. Love textures! This is great for small kids to practice fine motor skills.
DIY Finger Paint
Finger Paint! Mix up a batch with your kids favorite colors. All you need is sunscreen and food coloring. This is perfect for toddlers, just make sure they don't put their fingers in their mouth.
How To Make A Paper Cube
Fold paper to make boxes. You can build towers with them!
Origami Eye
Create origami. This is an origami eyeball that you can make – it actually blinks.
Glowing Slime
SLIME!! Make it glow with this fun recipe. It is easy to make! All you need is corn syrup, glow in the dark paint, water, glitter, and borax powder.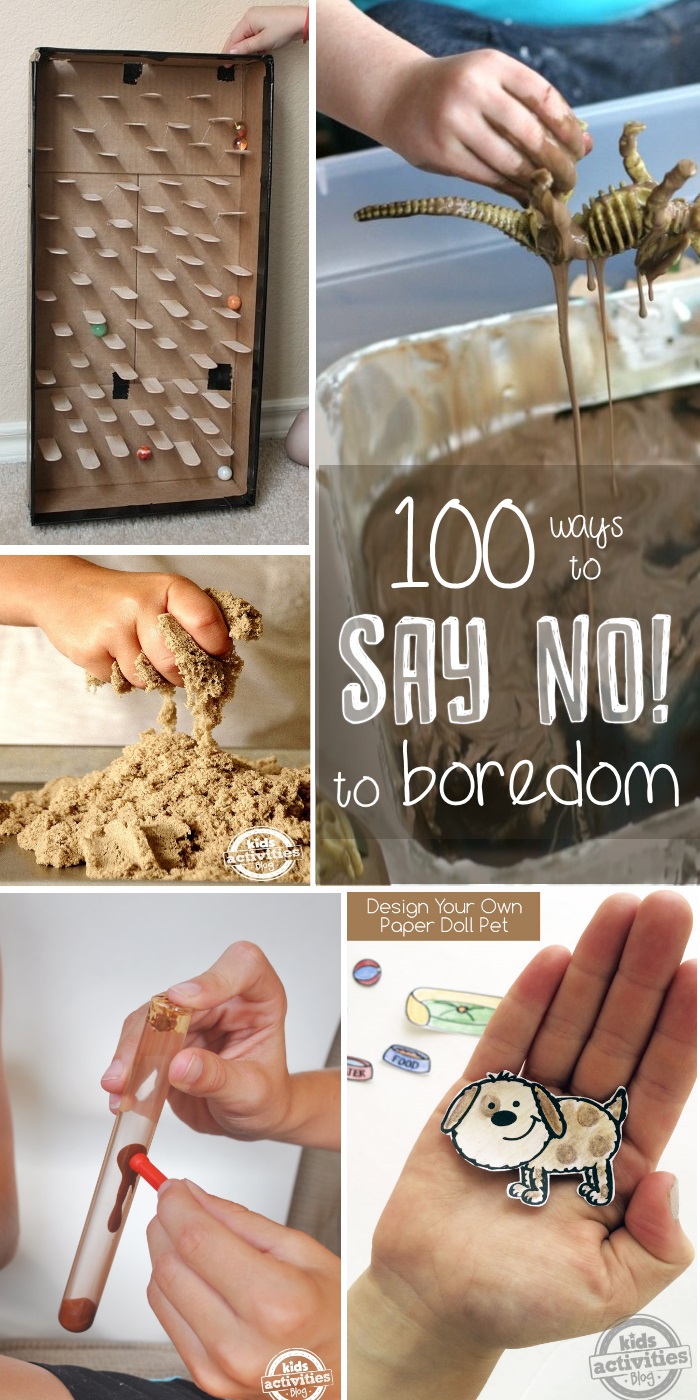 Fun Kids Activities To Try Right Now
Pasta Sensory Bin
Gather the rainbow! Mix up a batch of colorful fun. Add food dye to pasta for a fun sensory bin.
Rocket Balloon Races
Race your cars, powered by balloons, across a room. Rocket balloon races are the perfect family activity!
Mop The Floor With Your Socks
Mop the floor – in your socks. It cleans, it is fun, and it gets you up and moving! Don't slip though!
Egg Carton Plane
Go fly a plane! Make one from an egg carton. You can cut and then decorate your carton to be a fun glider.
Monster Puzzle
Go get a handful of paint chips and make monster puzzles. They're so easy to make! All you need is a marker and scissor.
Build A Pillow Fort
Build a fort. Too cool and your kids are learning about geometry and developing spatial awareness at the same time! You're never too old for a pillow fort.
Pretend Aquarium
Play with cardboard boxes. Make an aquarium for all the imaginary fish you can come up with!
Dart Game For Kids
Build a tower out of disposable cups. Use straws and Q-tips and blow darts at your tower to watch it topple. What a cute dart came for kids! This is great for kindergarteners.
Paper Dolls
Paper dolls are fun to create, color and decorate, and then to play with in pretend worlds. Print up a set for free.
Kerplunk
Play Kerplunk – only make the game yourself using a metal side table and plastic balls! The best part is you can get some sun, this is an outdoors version.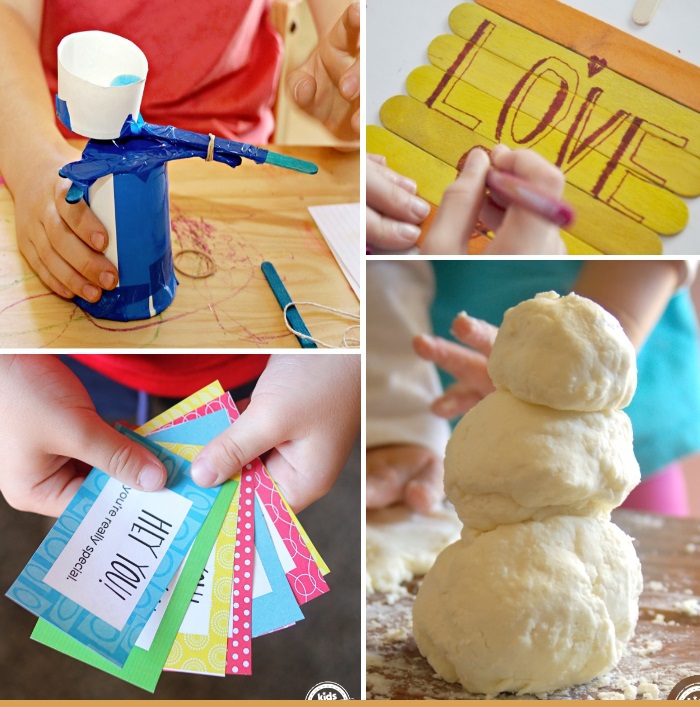 Yarn Maze
Make a yarn maze in a laundry basket – your tots will love fishing items through the leveled web of yarn. This is perfect for preschoolers and kindergarteners.
Mystery Bag Ideas
Give your kids a challenge – fill a bag with random supplies and sit back and watch the marvels your kids will make!
Craft Stick Puzzles
Create puzzles from Craft Sticks for your kids to exchange and solve with each other.
Printable Kindness Quotes
Say no to boredom with the help of smile coupons. Ask your kids to think of ways to make others smile.
LEGO Zipline
Send your toys on an expedition! Make a LEGO zipline across a room in your house, fasten your toys and watch them soar across the room.
Aqua Sand
Aqua Sand – it's mesmerizing and will keep your kids entertained pouring sand into water and pulling it back out again – dry!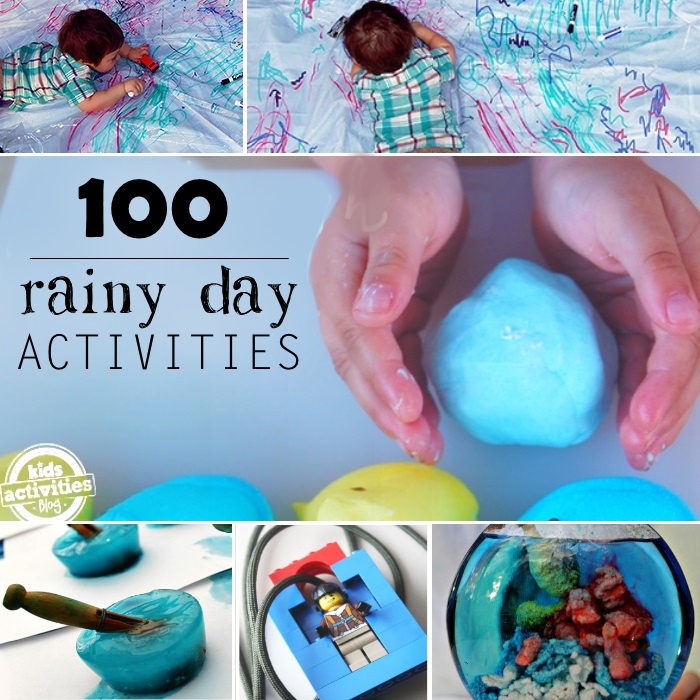 Free Bunny Sewing Pattern
Sew. Fine motor skills are gained through sewing. Create a sewing project for your kids from cardboard.
Garden
Garden. Plant some seeds in your backyard and watch them grow. It is good to get outside and in the dirt sometimes! Kids of all ages will love this.
Video: Pool Noodle Light Saber
Crash Mat
Go Big! You can transform giant foam blocks, recycled from old furniture cushions, into a giant crash mat. Hours of fun!
Dominos
Play line dominos – make a set of cards or stones with wiggly lines for your kids to line up into a train.
Silly Songs
Sing a song together – one that requires whole body motions! These are fun for the whole family! This is perfect for young kids!
Activity Book Ideas
Make a busy bag for your kids to create and explore. This is great for toddlers and preschoolers.
Geoboard
Get crazy with a DIY Geoboard. Use colorful bits of yard and even elastic and other textures to make shapes.
Unicorn Cookies
Get Colorful!! With your cookies. Make a batch of Unicorn Poop – your kids will think it's hilarious!
Cardboard Box Car Ramp
Simple play ideas are the best! Line a set of stairs with boxes and drive your cars down them.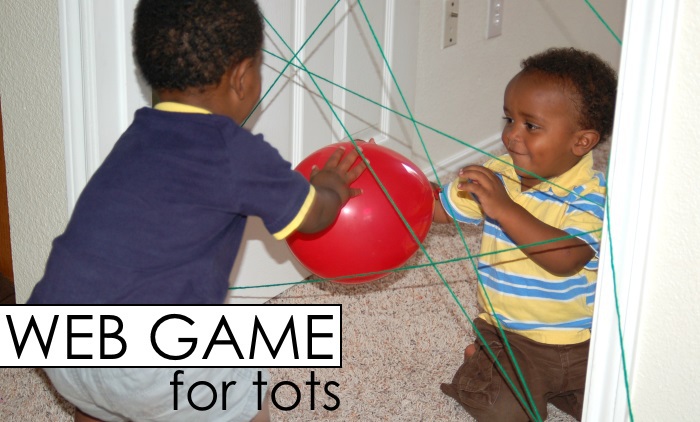 Ping Pong Roller Coaster
Watch balls drop with a ping-pong roller coaster. You can make this one from cardboard tubes and magnets and put it on your fridge.
Rube Goldberg Machine
Rube Goldberg machines are fascinating! Look around your house and see what you can use to create your own giant machine.
Hopscotch Board
Make a mat to play hopscotch on! You can roll it out for play and clean up is a breeze!
Dance Party
Turn up the music and exercise together. If possible, try bringing your family-friendly workout outdoors. Everybody loves a dance party. This is great no matter how old.
Chore List
Refuse to listen to your kids say I'm Bored. You can make a list of chores or even activity ideas. When your kids are bored they can draw from the jar. There are lists for toddlers, preschoolers, older kids, and teenagers.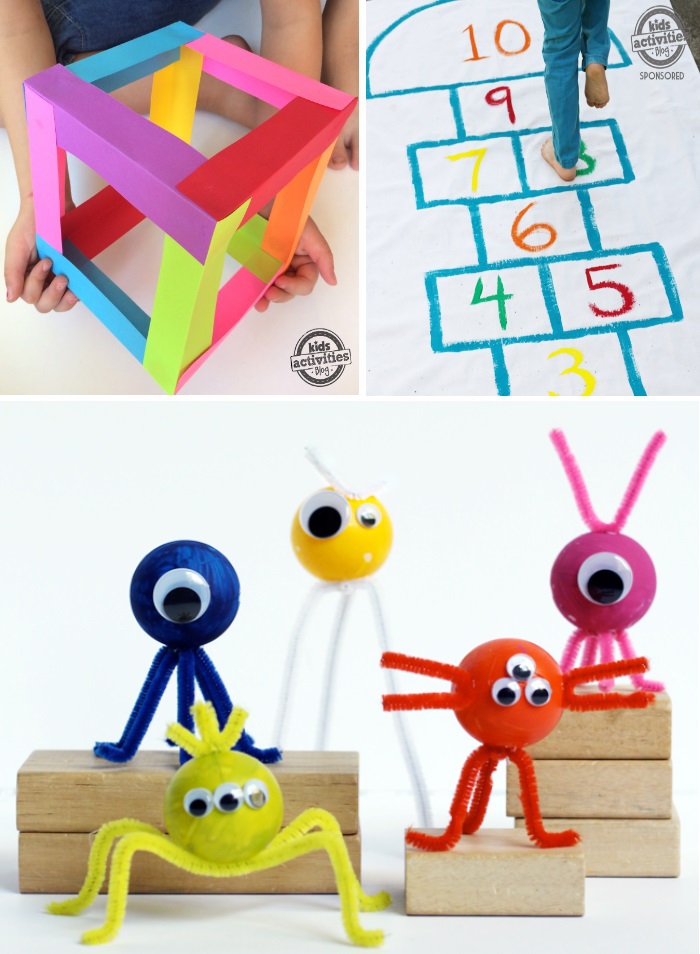 Take Selfies
Be silly together. Take selfies with your phone, print them out and doodle on your faces.
Watch It Fall
Watch it fall. Create a set of funnels that dump into a box and drop stuff through them. Fun!
Paper Dolls For Preschoolers
Create a set of paper dolls for your child to decorate and play with! I love these, such a classic "toy".
DIY Ball Pit
Make a ball pit!! Or a balloon Pit! Your kids will be lost in the balls for hours.
Candy Ink
Candy Ink. Yum!! Fill a glue bottle with concentrated Jell-O and paint away – it's edible art!
Exercise
Exercise!! It's easy to be fit with these ABC moving games. It will make you feel great and burn off that extra energy.
Making Music
Got Rhythm? Want it? Look around your house for different surfaces to bang on – like trash cans, or even the washer machine.
Fold Away Doll House
Make a foldable doll house. You can bring this toy with you anywhere for on-the-go-play.
Exploding Popsicle Sticks
Explore kinetic energy with exploding popsicle sticks. Stack the sticks and watch them blow!
Melted Ice Cream Play Dough
Whip up a batch of melting ice cream play dough. This recipe tastes horrid, but is tot safe and smells and acts just like ice cream.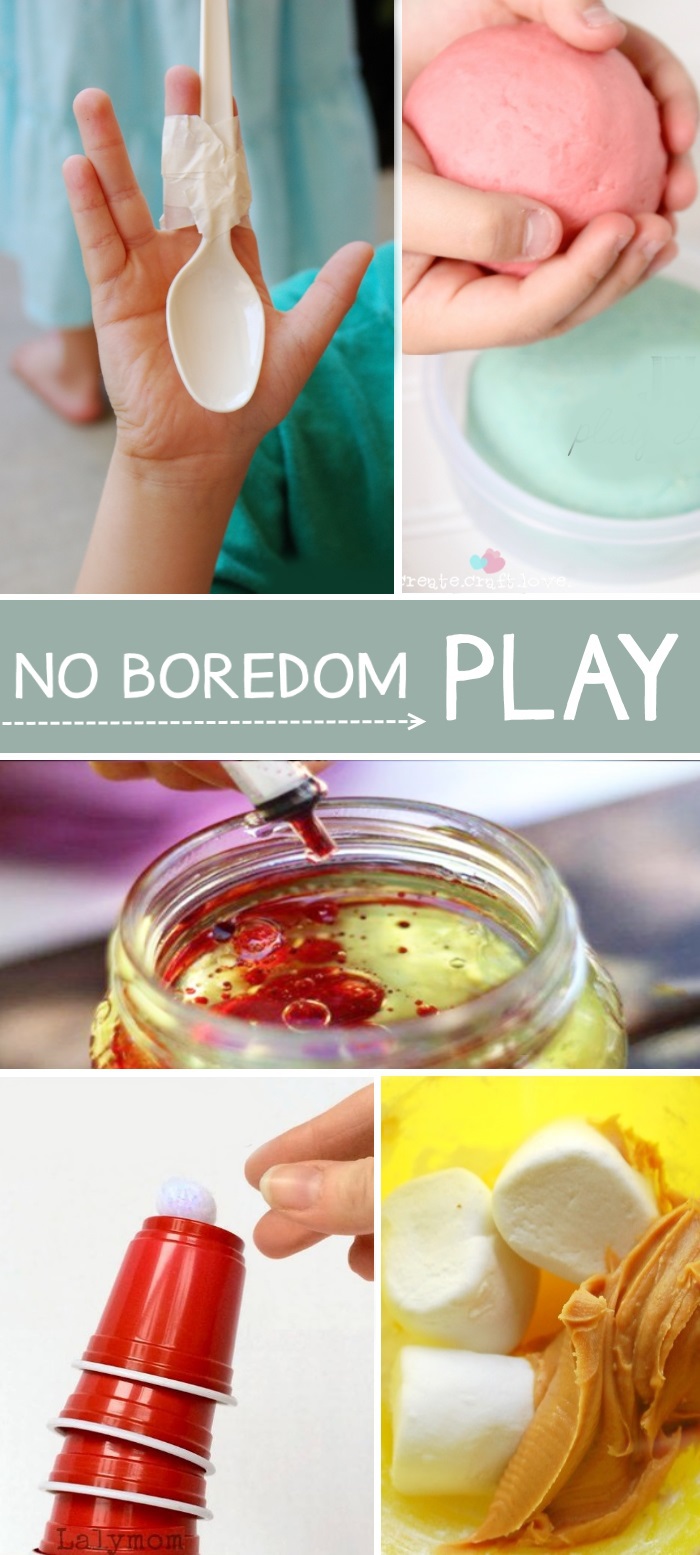 Easy Kids Science Experiments
Marble Maze
Make a pinball drop for a ping pong ball to drop from. This one is made from a box and craft sticks! Making a marble maze is a great STEM activity.
Dig Up Dinosaur Bones
Pretend you are an archeologist and dig up dinosaur bones from a tar pit.
Kinetic Sand
Create Kinetic Sand and pick one of these ten ways to play with it! It is easy to make all you need is slime, sand, and a container.
How To Make Ferrofluid
What is ferrofluid? It's magnetic mud! Magnetic Mud is easy to make, if you have the supplies, and mesmerizing!
Making New Brain Connections
Don't let the brain cells die during summer brain. Keep building neurons (and develop empathy) with this brain-building trick.
Science Experiments With Water
Mix oil and water together with whisks. Watch how the globs stay separate. Add a couple eye droppers and food dye for an afternoon of play.
Video: Fizzy Drops Art Activity
Cup Stacking Game
Practice spatial awareness and fine motor skills by building a cup tower with your kids. It's harder than it looks!
Building Contest
Bust out the Legos and have a brick building contest. To contain your bricks use a kiddie pool. Another fun STEM activity.
Rain Cloud Experiment
Be a rainmaker. Fill a cup with water and top with shaving cream. Drip food dye onto the top of the fluff and watch it rain through to the water.
Food Coloring Experiments
Watch your milk explode with color! Add some food dye and soap and of course milk.
Melting Ice
Ice! It's cold and fascinating! Fill cups with colored water, freeze them, and watch the ice mix and melt as you add salt to the blocks.
Bubble Tent
We did this and it was a blast!! Make a giant bubble tent. Tape ends of a sheet together and add a fan, The result is fun!
Video: Dinosaur Break Out!
Balancing Contest
Have a balancing battle. Stack a book on your head and walk around an obstacle. Try it again with a pencil on your nose. Or holding a basket on a ball.
Another DIY Marble Maze
Solve a puzzle, like this DIY marble maze. Your kids can make them and then swap to solve the maze puzzles.
Deck Of Cards House
Build a house with a deck of cards. It is harder than it looks! This was my favorite thing to do as a kid.
Lemon Juice Experiment
Watch lemon juice bubble and pop! This experiment smells delish, is taste safe, and is a great example of chemical reactions for kids.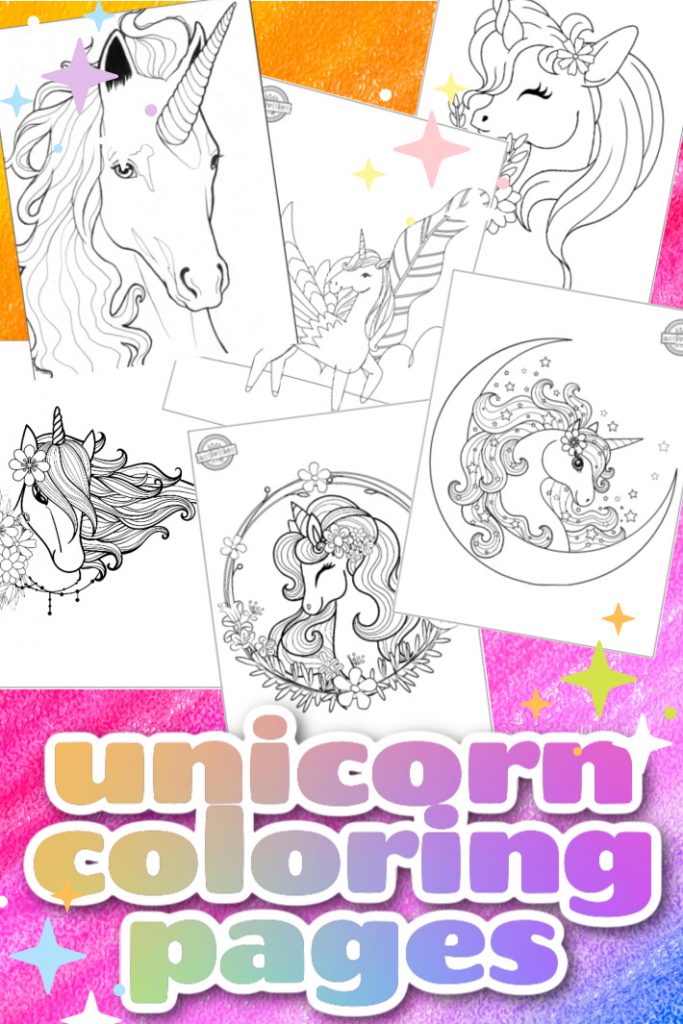 Free Printable Activities for Kids
Free Coloring Pages
We have 100s and 100s of free coloring pages for kids.
Here are some of our free printable coloring sheets you can download and print right now:
Unicorn coloring pages
Christmas coloring pages
Halloween coloring pages
Pokemon coloring pages
Cute coloring pages
Flower coloring pages
Dinosaur coloring pages
Butterfly coloring pages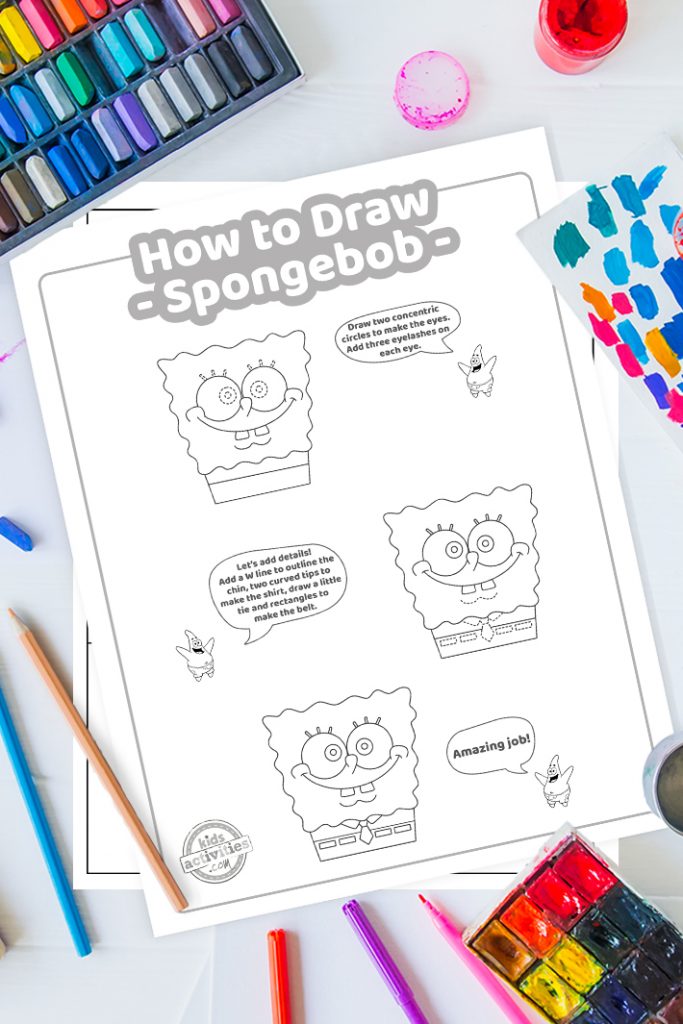 Free Learn How to Draw Lessons
We have free printable step by step tutorials on how to draw a ton of different things.
Here are a few of our favorites:
How to draw Spongebob
How to draw a rose
How to draw a dog
How to draw a dragon
How to draw a flower
How to draw a butterfly
How to draw a unicorn
How to draw a tree
How to draw a horse
Crafting Supplies to Have on Hand
Crayons
Markers
Glue
Tape
Scissors
Paint
Paint brushes
Oh so many things to make and do for free. We hope you have a really fun time today playing together!
What free kids activities are you going to try first? What is your favorite way to keep boredom away?