Best Paw Patrol Printables of All Time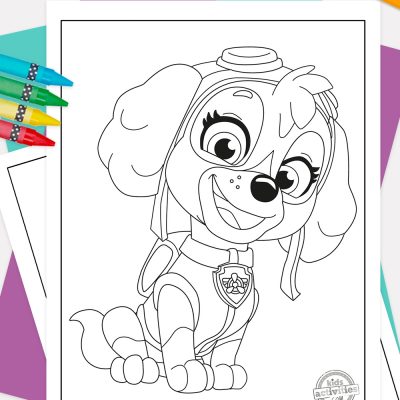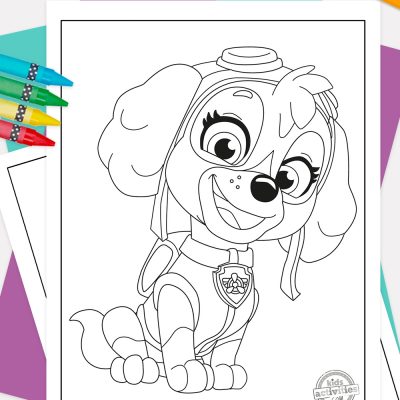 New week, new fun Paw Patrol coloring pages for kids. Download & print our coloring set, grab your coloring supplies, and enjoy your coloring fun time.
These unique Paw Patrol printable pages are perfect for kids of all ages that love the Paw Patrol team!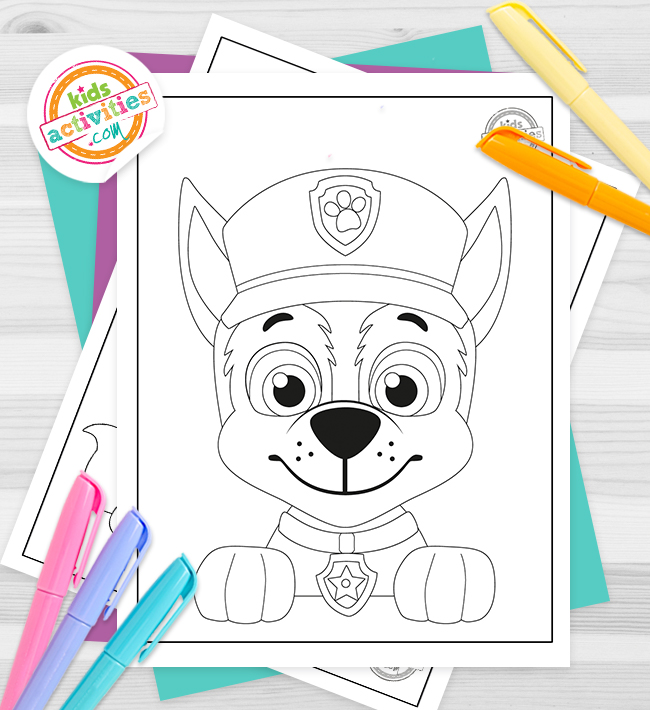 Free Printable Paw Patrol Coloring Pages
Let's color our kids' favorite pups! Today we are coloring this awesome team of rescue pups in blue police uniform. Our fun coloring set includes Chase and Skye, two of the main characters of this kids show that everyone adores. They work together on missions to protect the community of Adventure Bay along with a young boy named Ryder.
Let's start with what you might need to enjoy this coloring sheet.
This article contains affiliate links.
SUPPLIES NEEDED FOR PAW PATROL COLORING SHEETS
This coloring page is sized for standard letter printer paper dimensions – 8.5 x 11 inches.
Something to color with: favorite crayons, colored pencils, markers, paint, water colors…
(Optional) Something to cut with: scissors or safety scissors
(Optional) Something to glue with: glue stick, rubber cement, school glue
The printed Paw Patrol coloring pages template pdf — see button below to download & print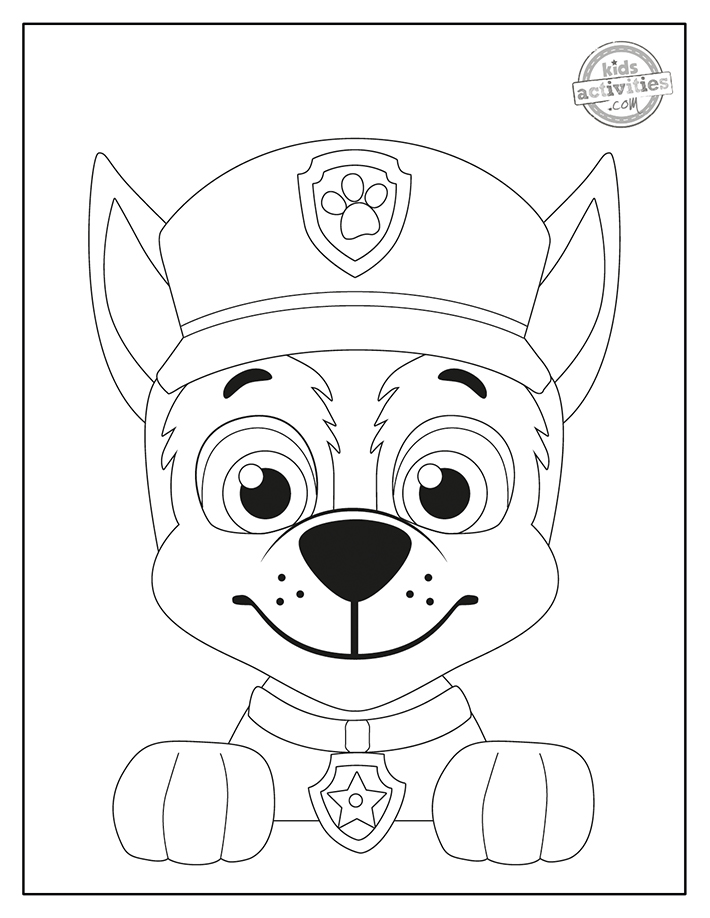 Chase Paw Patrol coloring page
Our first coloring page features Chase, a police and traffic cop dog, and a super-spy police dog too. Grab your most vibrant colors in crayons or watercolor paints, and enjoy coloring him. Here is a cool idea: Use glitter to make his Paw Patrol badge shine!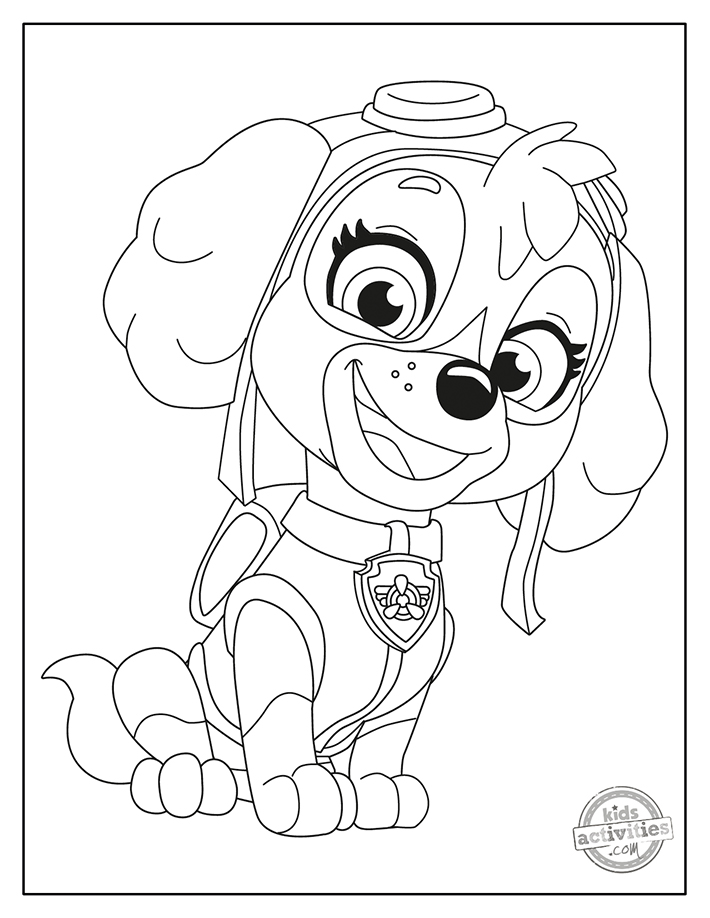 Skye Paw Patrol Coloring Page
Our second coloring page features Skye, a cookapoo (a mix of cocker spaniel with poodle). My favorite thing about her is that she uses her helicopter to save people. Skye uses pink goggles and a pink vest, so make sure to get your pinkest pink crayons (giggles).
Both coloring pages work great for kids of all ages, from toddlers to elementary school kids.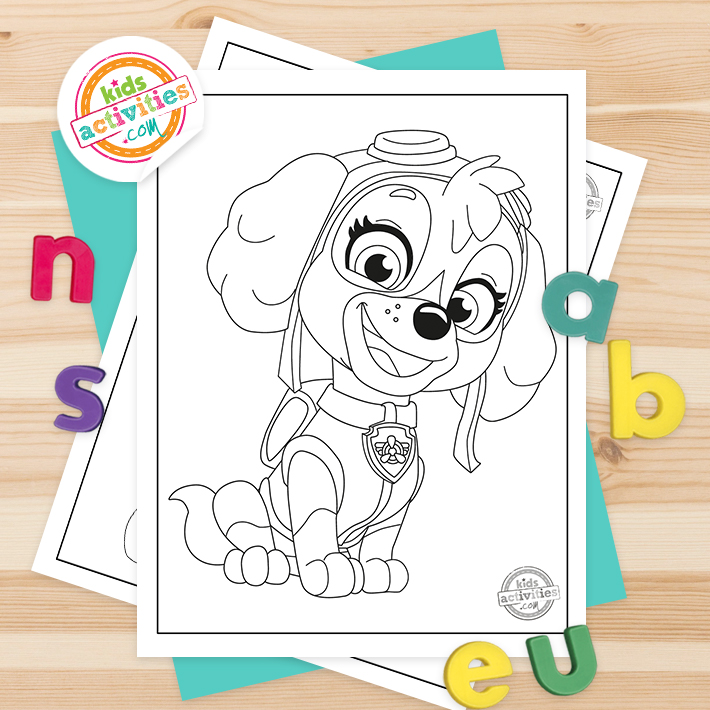 Download & Print Free Paw Patrol Coloring Pages pdf Here
Download:
Developmental Benefits of Coloring Pages
We may think of coloring pages as just fun, but they also have some really cool benefits for both kids and adults:
For kids: Fine motor skill development and hand-eye coordination develop with the action of coloring or painting coloring pages. It also helps with learning patterns, color recognition, structure of drawing and so much more!
For adults: Relaxation, deep breathing and low-set up creativity are enhanced with coloring pages.
More Fun Coloring Pages & Printable Sheets from Kids Activities Blog
We have the best collection of coloring pages for kids and adults!
Want more cute baby animal coloring pages? We have what you need!
These cute puppy coloring pages are my favorite coloring sheets.
These corgi dog coloring pages are the cutest ever.
Learn how to draw a dog with this easy dog drawing tutorial!
Zentangle dog coloring page you can download & print…
Did you enjoy these Paw Patrol coloring pages?