21 Homemade Gifts for 3 Year Olds {They Can Help Too!}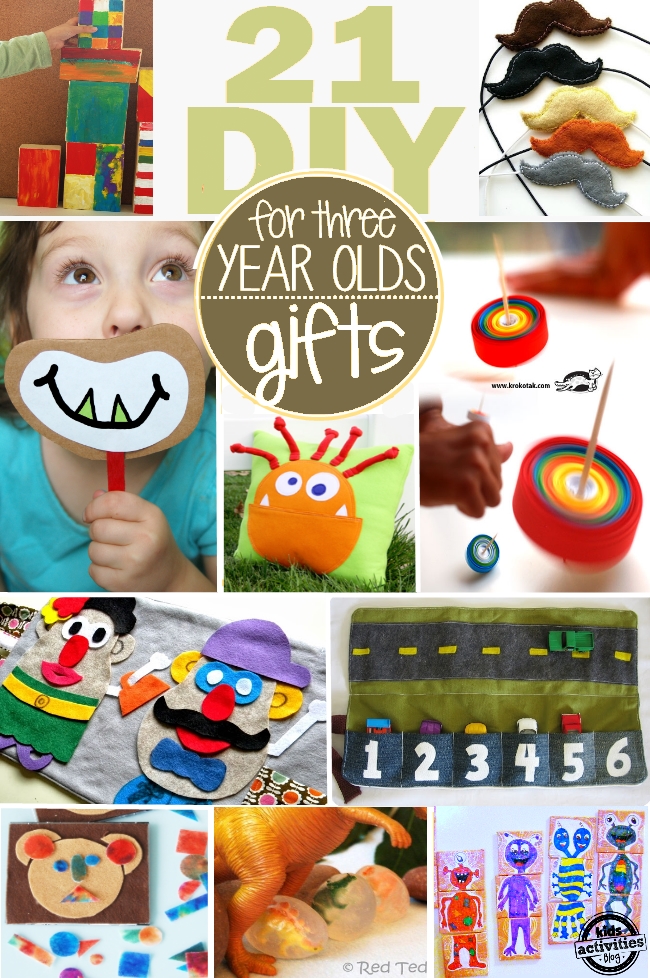 It is so easy to over spend at Christmas time, when often kids enjoy the more simple homemade gifts as much, if not more than the store-bought gifts. We have featured homemade gifts for 1 year olds, homemade gifts for 2 year olds and now…
21 ideas of gifts that you can make for your three year old!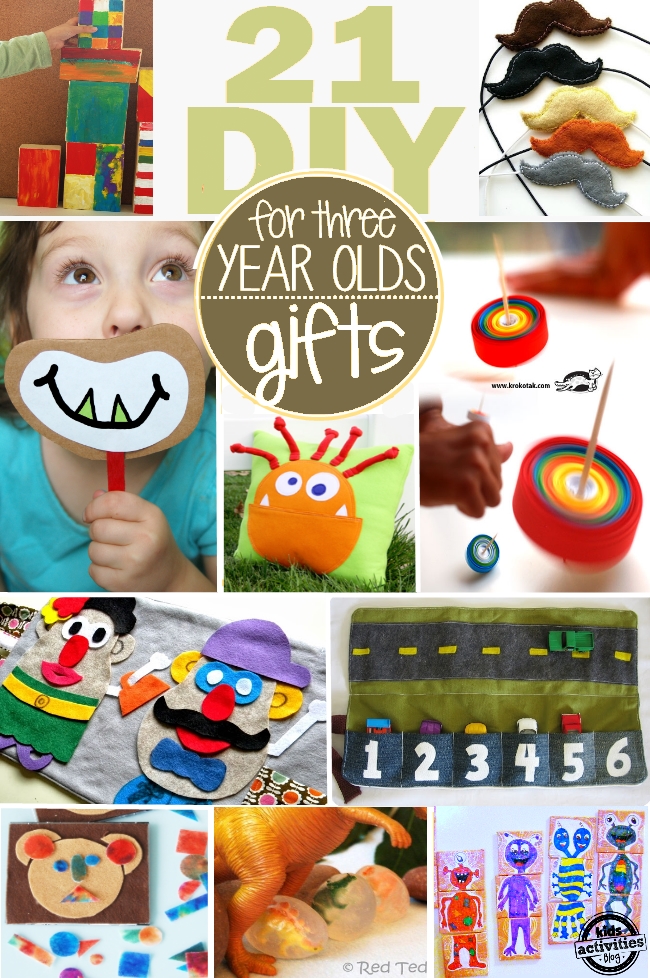 Homemade And Unique Gifts For 3 Year Olds
Being 3 years old is an adventure which is why all these homemade gifts are full of colorful fun! Many of them are simple to make and you could use a 3 year old assistant for the gift making silliness!
Silly Pillow
Keep the monsters at bay with a silly character pillow.
Potato Head
Play potato head, anywhere with this DIY felt board game. Super cute!
Sparkly Playdough
Add some sparkle to average playdough with items you have in your bathroom – sparkly shiny playdough is a great gift!
Spinning Top
Make a spinning top from a toothpick and strips of colorful paper. Your kids will love watching it wind up and spin.
Sock Horse
Transform a sock into a horse – these are just adorable, easy to make and perfect for the cowboy/girl in your home.
Go Fishing
Go fishing with your kiddos " in your living room " Make a set of fish for your child to catch.
Velcro Balls
For an active three year old, especially one with siblings, make a set of Velcro Balls for them to play ball with.
Stilts
A set of stilts will fascinate your child as they attempt to navigate the world at new levels.
Pretend Play With Dr Kit
My three year olds love playing pretend. You can create a Dr. Play kit for them to help heal all the boo-boos and owies.
Bubble Blower
Create a Bubble Blower from straws for your kids to make the best bubble snakes. Include a jar of homemade unbreakable bubble juice.
Silly Faces
Create a set of silly face sticks. These are a great gift for the kids who love to play pretend or for photo booth props.
DIY ABC Mat
Your kids can learn the alphabet as they exercise with a DIY ABC mat.
Homemade Car
This is a great toy to make and bring out and about. Car lovers will love getting to play with their cars on-the-go.
Monster Magnets
A hilarious set of mix-and-match monster magnets will add some color to the fridge and entertain your tots.
Craft Stick Puzzle
This is a great gift for kids to make for others – craft stick puzzles. Half the fun is creating them for friends to solve.
Bouncing Board
Help your kids develop balance and spatial awareness of where they are, with a bouncing board.
Felt Mustache
Be super silly with disguises. These felt mustaches are sure to put a smile on all three year old faces (and their older pals).
Surprise Eggs
Make washing hands a fun experience – make surprise "eggs" of soap for your kids to wash with.
Family Of Rocks
Make Rock People using pebbles around the yard. You can gift your child a set of decorated pebbles, and a set of paint pens with extra rocks for them to make their own "family" of rocks.
Puzzle Gift
This is an awesome puzzle to gift to a young preschooler in your life. The felt squares make it perfect for an on-the-go activity.
Goop
Goop! Make your own. Your kids will love how slimy it feels and moms will love how it does not leave a residue like playdough, making clean-up easier.
Did we miss any that you would recommend?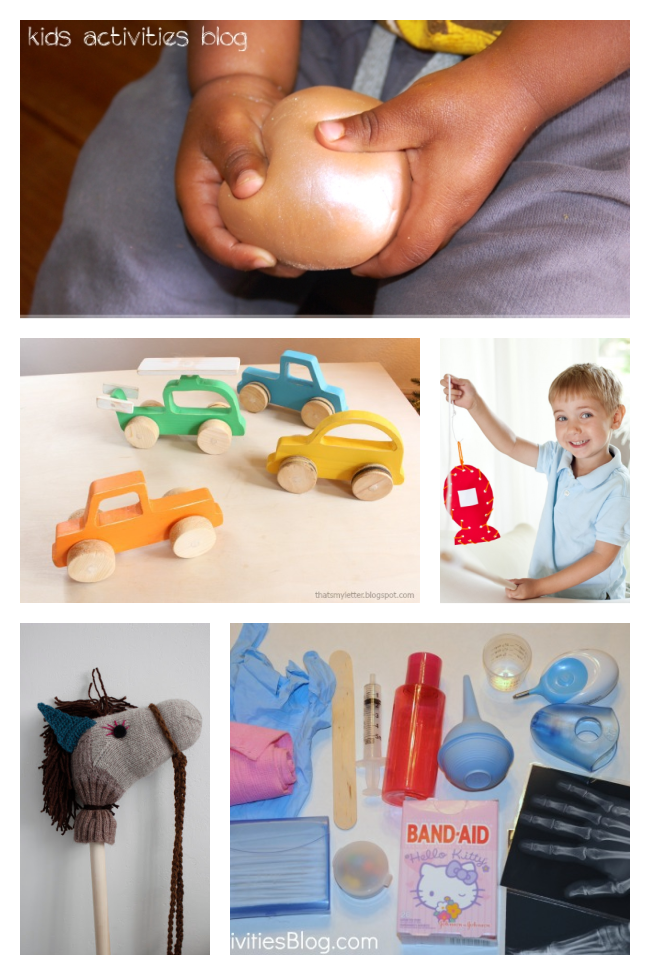 More Homemade Gifts To Make
Looking for more homemade things for your kids to make? What about these homemade Christmas ornaments?
We also have awesome diy gifts you can make using mason jars!
Looking for more gift ideas? We have them!