Preschool Math: Learning With Dominoes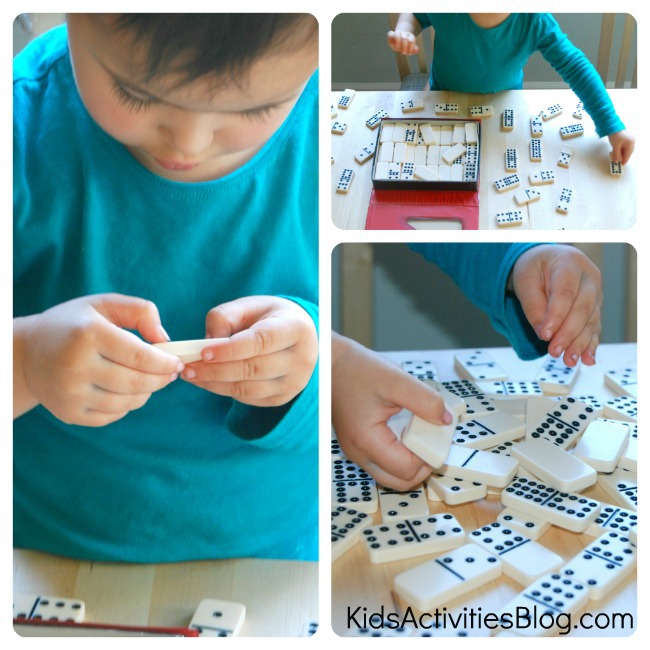 Preschool math activities are exploring the world paying attention to numbers. Kids Activities Blog is completely head-over-heels when these things can be done with stuff you already have at home. We just feel like life is too short to have to make another trip to the store.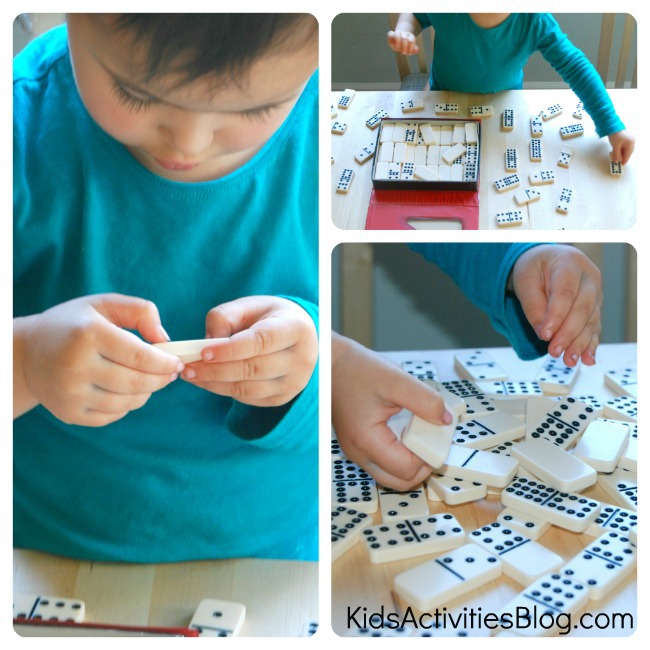 Digging around in a forgotten cupboard drawer, I found a dusty old box of dominoes. My preschooler had never seen dominoes before and I realized that even though she wasn't ready to play the actual game, that didn't mean she couldn't use the tiles as a fun math learning tool.
Just taking each one out and counting how many she had in her pile was fun enough for her.
After a while, she discovered she could count the black dots and match up tiles with the same number of dots – both lying flat and standing upright.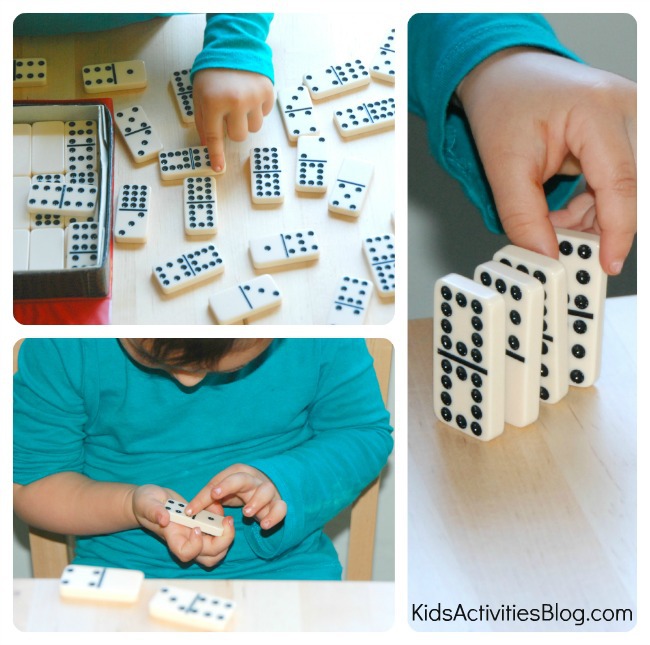 We also snuck in some letter and shape building, to work on our fine motor and spatial skills.

The best thing about this activity was that we were able to use something we already owned and there was no prep time required.  Plus, we're on our way to learning a new game!
Ideas for Introducing Preschool Math Concepts With Dominoes
Count the number of dots on each tile
Find matching tiles and stack them together
Line up tiles end to end by matching up the number of dots on each tile
Form stacks of a set number of tiles (1, 2, 3, 4, etc.)
Write numbers on pieces of paper and ask your preschooler to place the correct number of tiles on the corresponding piece of paper
Create shapes or letters with the tiles
Construct 3-dimensional shapes or towers with the dominoes
More Preschool Math Activities
The Quirky Mommas love to make learning fun.   Check out these other fun math ideas for preschoolers:
Introduction to Geometry for Preschoolers – Use some simple pattern blocks to show your preschooler how some basic shapes are formed from other shapes.
Fraction Game: Cookie Math – Cookies aren't just a tasty treat.   Slice them up and sneak in a little math lesson on fractions.
Play with Math and Play Dough – Ten fun math ideas that use play dough.   There is even a link with easy-to-make play dough recipes.