23 Ice Crafts, Activities & DIY Decorations For Winter Fun. Cool!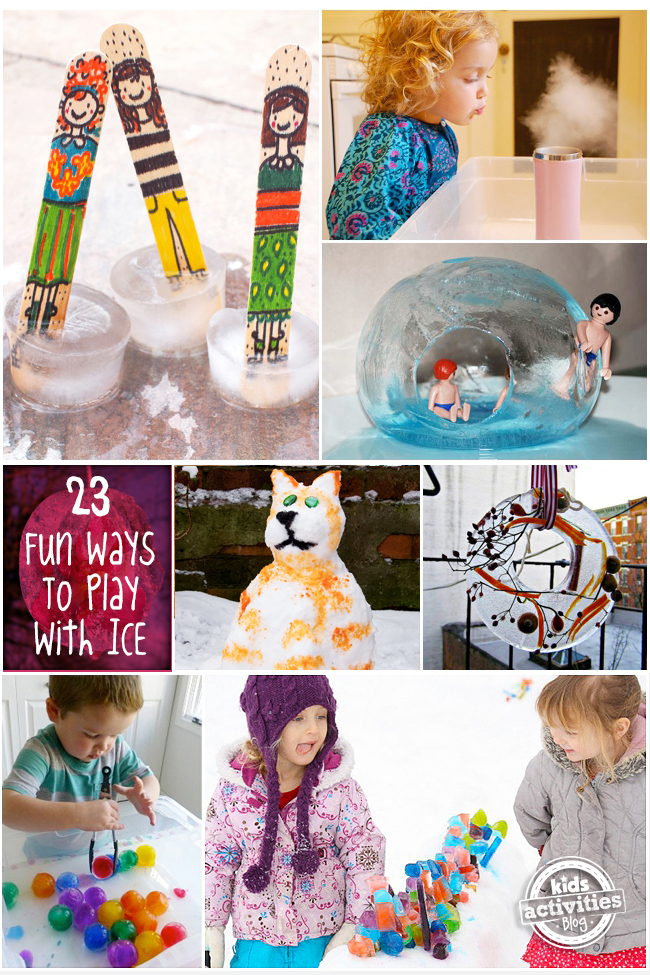 From colorful melting ice experiments, to frozen ice castles, ice caves and pretty ice sun catchers for your garden, we have ooodles of ice crafts inspiration to take you right through the winter months.
Use your freezer to create if the temperatures aren't cold enough outside!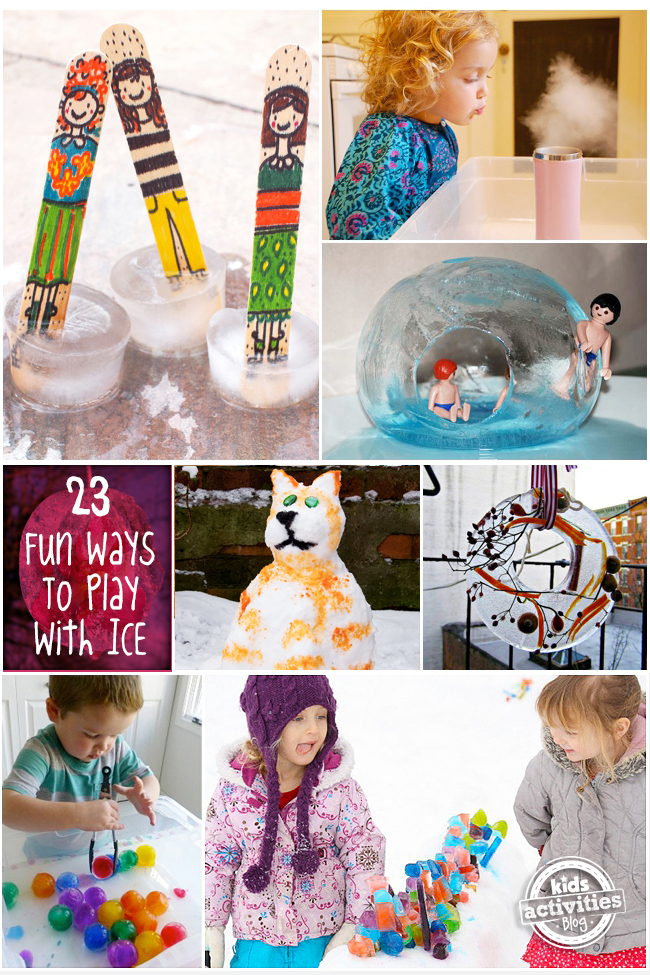 Ice Crafts & Activities
Popsicle Stick Dolls " that Ice-Skate!
Do you have extra craft sticks lying around and are wondering what to do with them? Well this is an exciting new spin on this ever popular classic craft that your kids are going to absolutely love making and playing with. See how to make it on MollyMooCrafts
Experimenting with Dry Ice
Dry Ice is way cool!! Curious kids will love this exciting experiment that they can make, but not touch. See how to make on Tinkerlab
Make An Ice Cave
One of my favorite Ice activities!! It's definitely on my to-do list this winter! They make fantastic homes for the Lego, Playmobil, and plastic animals. Use your freezer to create if the temperatures aren't cold enough outside. See how to make on Blue Bear Wood
Beautiful Ice Decorations For Your Garden
Take your time as you and the kids explore your environment and search for pretty goodies to freeze and hang from trees in your winter garden! So beautiful. Kind of like an "I Spy" game encased in ice! See how to make on Sun Hats & Wellie Boots
Snow Painting
Forget the Snowman!! I want a cute painted snow cat like this guy – soooo cute by Kids Craft Room
Ice Wreaths
This will fast become one of your favorite winter crafts! Cake tins at the ready! via What Do We Do All Day
Rainbow Ice Ball Sensory Bin
This is a fun and engaging sensory activity. Great to play with, just pick up and watch the colors run into each other as the ice balls melt. via Craftulate
Colored Ice Sculptures in the Snow
This winter build some colored ice sculptures in the snow – the best outdoor fun.
See the magic on Happy Hooligans
–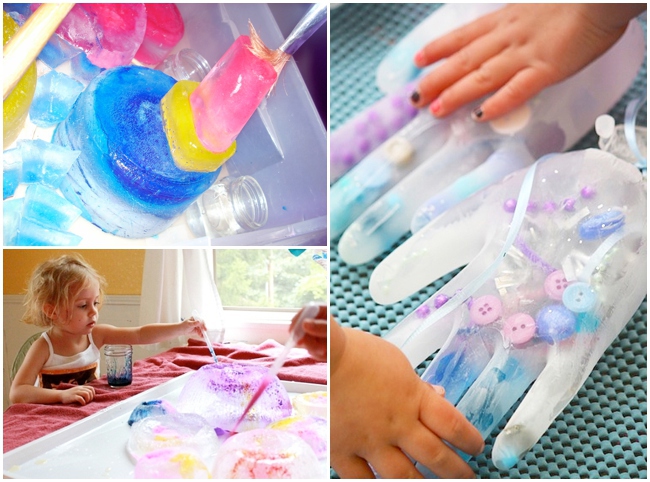 More Icy Fun
Ice Sculptures
The best frugal fun to keep your kids engaged. Watch the colors mix and change as the ice melts. via Not Just Cute
Melting Elsa's Frozen Hands
Fans of Disney's Frozen or not, this activity is so so fun for kids. It will definitely go down as one of your all time favorite simple science activities. via Happy Hooligans
Melting Ice with Salt and Watercolors
Your kids will just love to watch the ice melt, pop, crack and split apart when the salt and watercolors 'do their thing'. A really fun and colorful science experiment for kids via The Artful Parent
Winter Wonder Ice Votives
Water + Glitter + Disposable Cups = peaceful and elegant string of nature candles to light up your drive or patio.
So so beautiful from This Heart of Mine
Ice Train Play
I need to but more cake molds after seeing this idea! and I love how she little 'engineer' stretched out a long sheet of paper to draw his train track on – so special from Jessica Petersen of Play Trains
Vanilla Snow Ice Cream
Simple for the kids to make, and tasty too! This is a fun activity for a cold winter day using a batch of fresh snow and simple ingredients from the kitchen. Especially when it is too cold to play outside! See how to make with Tag and Tibby
Colored Ice Cube Play
Perfect for indoor winter play or outdoors on hot summer days. via Kids Activities Blog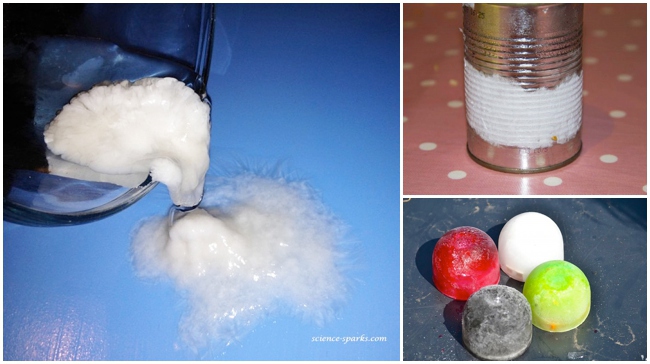 Cool Ice Science Experiments
Science experiments that appears like magic tricks! guaranteed hit with kids via ScienceSparks
The Illusion of Hot Ice!
Making Frost!
Fizzy Frozen Baking Soda Ice Cubes!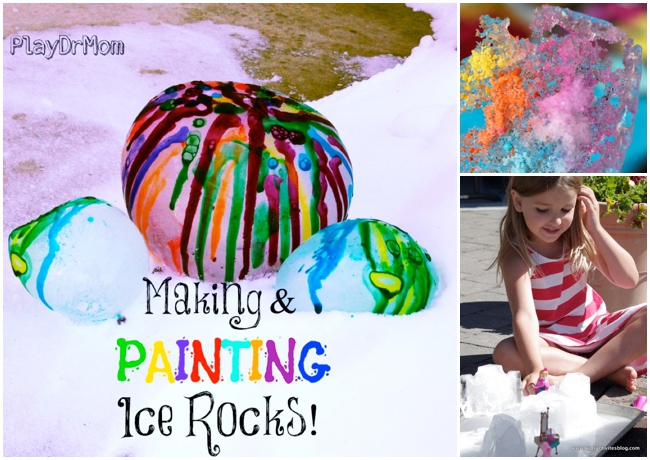 –
Even More Ice Activities
Printing Ice Rocks
I adore the idea of making ice rocks with balloons and painting them with liquid watercolors. This just went straight to the top of my to do list!! See the process unfold on Play Dr Hutch
Frozen Ice Castles from Sand Castle Molds
These are so easy to make and will inspire your kids to re-create scenes from what, I'm sure, has become a favorite movie in your house. See the magic right here on Kids Activities Blog
Ice Boats
Winter fun for basins, bowls, or even in the bath. So simple, so fun from Alpha Mom
Exploring Ice!!
Ice + colored salt = wow! How amazing does this look? See how to replicate in your home or classroom on Nurture Store
Build Your Own Frozen Ice Palace
I never thought of adding glitter to the molds before pouring in the water and freezing – so cool!!! See the glory of making and storytelling on Nurture Store
For more magical activities please like our Facebook page!!