12 Fun DIY Fidget Toys for Kids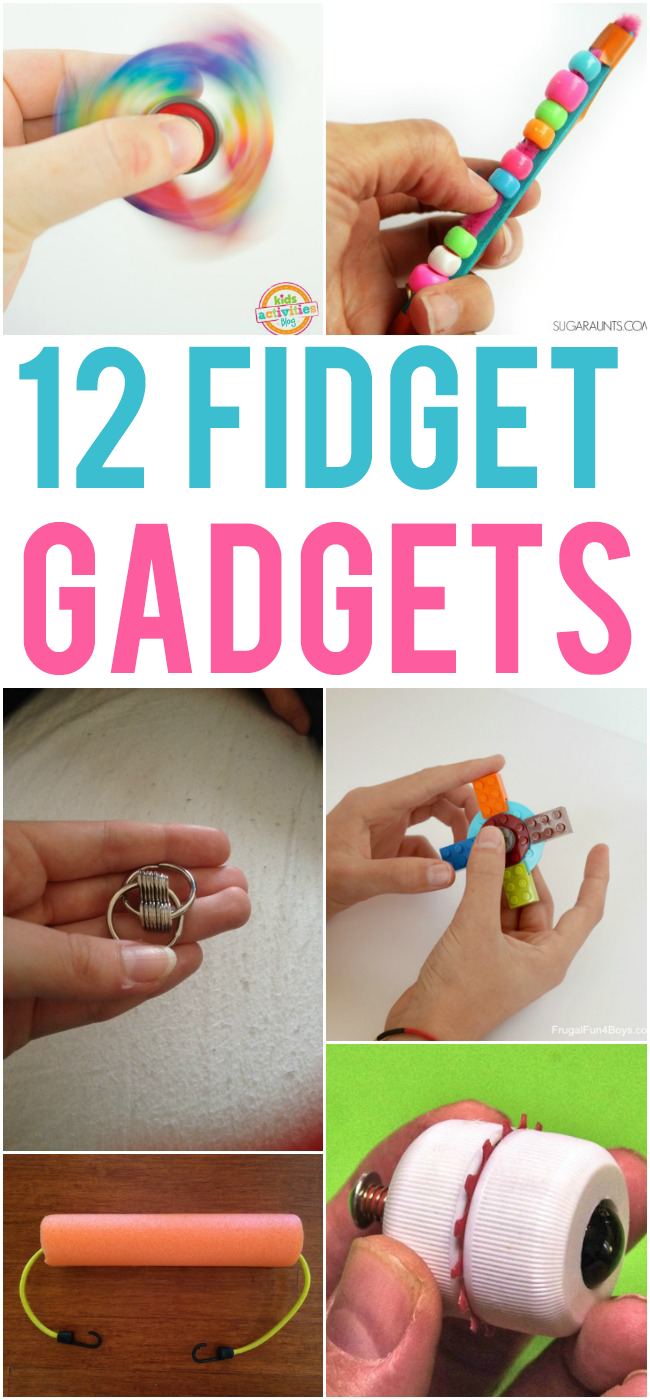 Let's talk DIY fidget toys that you can make at home.
When you think of Sensory fidget toys, you might just think of the ever-popular fidget spinner, but there are a lot of really great fidget toys that can help expend nervous energy in little hands (or big hands…adults love these too!).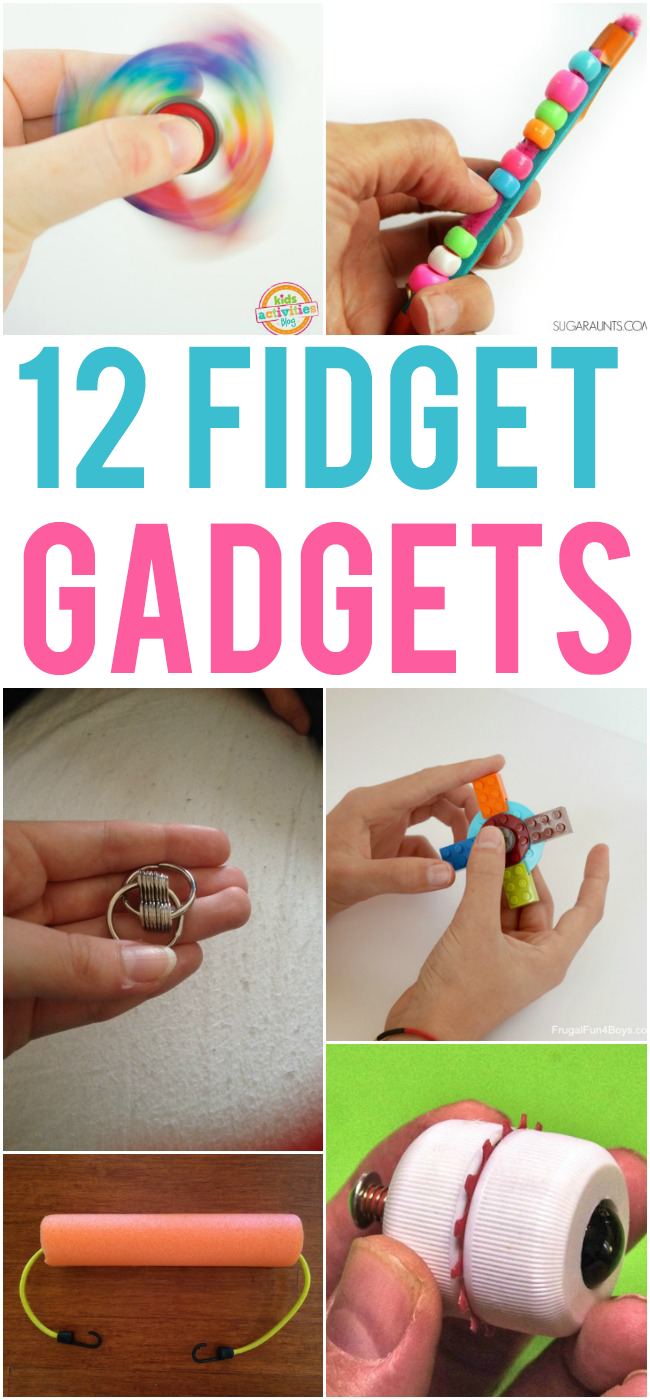 The idea of little fidget tools is not new at all. Caregivers and teachers have been coming up with great ideas to give sensory input in a quiet fidget way for some time. These fidget toy ideas are not only calming, but pretty fun as well!
You can find some fun fidget toys to buy (see end of this article), but what we have collected here are some homemade fidget tools you can make yourself. <–Kids can help!
This article contains affiliate links.
DIY Fidget Tools for Kids
We first started to use fidget toys at our house as a toy and then noticed that it seemed to allow my boys to focus a little better while they were playing so I handed them out strategically! Long car rides went more easily, waits at the dentist office and even emotional times that might get more volatile.
What is a Sensory Fidget Toy?
A fidget or fidget toy is an object that aids with focus and attention by allowing the brain to filter extraneous sensory information. By keeping the hands engaged in simple, repetitive motor movements, the user is able to "tune out" what would otherwise be distracting — lights, sounds, smells, movement, close proximity to other people.

Adapt and Learn
DIY Fidget Spinners
Fidget spinners have become super popular in the last few years. They are fun to use as a sensory aid, but also make a great toy…and something kids can trade. The homemade ones are even more fun…
Craft Stick Fidget Spinner
This DIY fidget spinner is one of our favorite sensory crafts. You can customize the look – we love the black and white racing theme with colors that spin. Using craft sticks and decorative duct tape with a ball bearings center…it is easier than you might think to make.
Build a LEGO Fidget Spinner
You can also make a fun LEGO spinner via Frugal Fun for Boys & Girls. What I like about this craft is that you probably have all the bricks you need to create it…which means you can make one right now…
Watch Short Video on How to Build a LEGO Fidget Spinner
Homemade Metal Fidget Spinner
Use the bearings from and old, broken skateboard to make a DIY metal spinner via All For The Boys.
Make a Wooden Spinner
If you're feeling especially crafty, you can build a wooden spinner! via Instructables
More Fidget Spinner Fun…
Make sure to check out our favorite fidget spinners, too!
DIY Fidgets
Pencil Size Quiet Fidget
You probably already have everything you need to make this simple fidget like pipe cleaners and plastic beads of different colors via The OT Tool Box. What I like is that it could easily and discreetly be used in the classroom because it is not noisy or obvious.
Homemade Putty
Make your own thinking putty – a slime/silly putty type of substance which is the perfect way to work out nervous energy via Natural Beach Living You can also buy it here!
DIY Fidget Bracelet
Wear this fidget bracelet so it's always ready when you need it via Dejong Dream House. Someone looking at the bracelet would never guess that it has a secret…inside are hidden marbles or pony beads that make it the perfect self sensory therapy tool.
Interlocking Rings Fidget
The interlocking rings tutorial is no longer available online. The idea was to use craft rings and jewelry making supplies to create a small item that could be worn on a child's finger in between uses while tucked away into the hand or left in the pocket.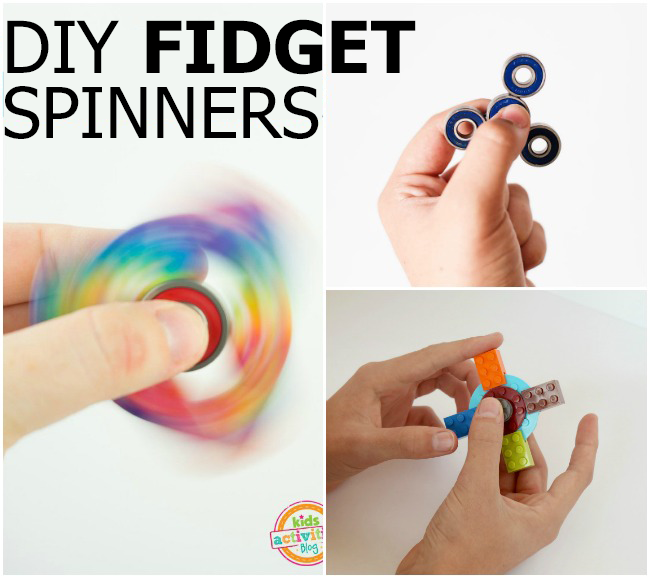 Homemade Pencil Topping Fidget
These pencil toppers are a quick and easy fidget tool you can make at home via The OT Tool Box. I love the idea that the fidget is ready at school whenever needed!
DIY Foot Fidget…YES!!!
This fun foot fidget attaches to your desk chair and is made from a pool noodle via Adapted World. This is super fun!
Make a Fidget Cube
You can also make your own fidget cube via Tex Workshop!
Homemade Water Bottle Fidget Toy
This simple fidget toy is made from a water bottle lid via Instructables.
Fidgets We Like
If you don't have time or energy to make a homemade fidget, here are a few that might do the trick…
If you ever loved popping bubble wrap, this sensory bubble popping toy might be exactly what you need!
The Fidget Cube has all sorts of buttons for play and maximum stress relief!
This sensory bubble fidget keychain is really cool and easily slips away in a pocket or bag.
Check out these water sensory toys!
If you don't know exactly what type of fidget would be best, check out these big sensory packs that have a whole lot of choices!
More Sensory Fun from Kids Activities Blog
Looking for sensory processing disorder parenting tips? We got 'em!
There is a connection between sensory processing and fight or flight in kids.
Check out these fun sensory aids.
Make a weighted lap snake for kids!
The best sensory bins!
The best of all sensory bottle ideas!
Which fun DIY fidget toys are you making first?