Adorable Back to School Coloring Pages for Preschool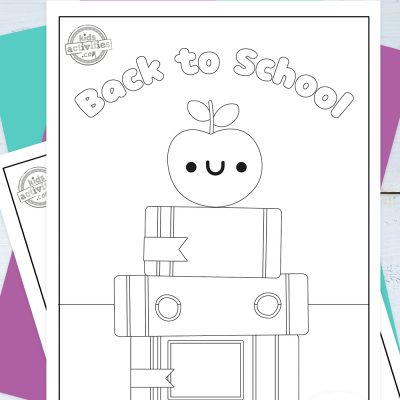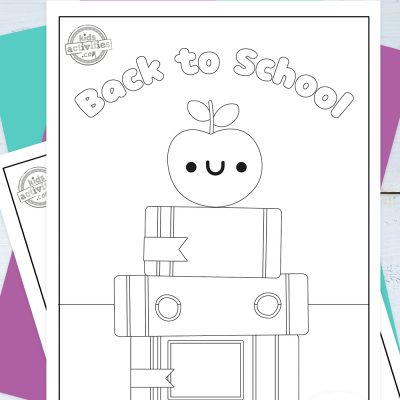 Make going back to preschool more fun for your little one with these back to school coloring pages for preschool! Download our pack and grab your favorite coloring supplies to enjoy to the max these pictures.
Get instant fun and ease their back-to-school jitters with this printable pack, which includes two free back-to-school coloring pages for preschool, all ready to be downloaded and printed.
The Kids Activities Blog coloring pages have been downloaded over 100K times in just the last year or two!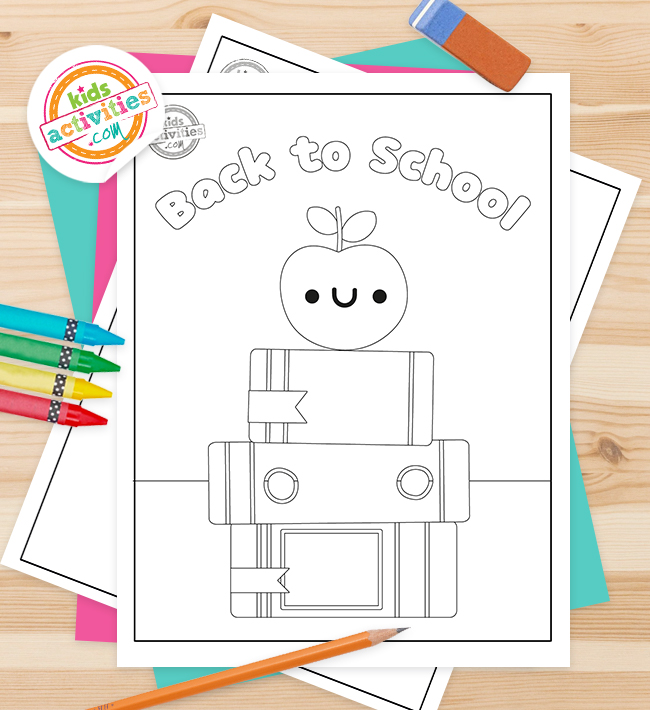 Free Printable Back to School Coloring Pages For Preschool
Back to school days are challenging for kids, no matter how ready they are. A good way to calm your kid's jitters and prepare them for an exciting day is with relaxing coloring sheets, especially our back-to-school coloring pages for preschool, which show everyday supplies used in school, like a ruler, notebooks, pens and pencils, clips, tape, and other cute doodles.
Besides being a good way to help kids relax, coloring pages also help kids improve their fine motor skills, encourage focus, and nurture creativity. So let's get coloring!
Let's start with what you might need to enjoy this coloring sheet.
This article contains affiliate links.
SUPPLIES NEEDED FOR BACK TO SCHOOL COLORING PAGES FOR PRESCHOOL
This coloring page is sized for standard letter printer paper dimensions – 8.5 x 11 inches.
Something to color with: favorite crayons, colored pencils, markers, paint, water colors…
(Optional) Something to cut with: scissors or safety scissors
(Optional) Something to glue with: glue stick, rubber cement, school glue
The printed back to school coloring pages for preschool template pdf — see pink button below to download & print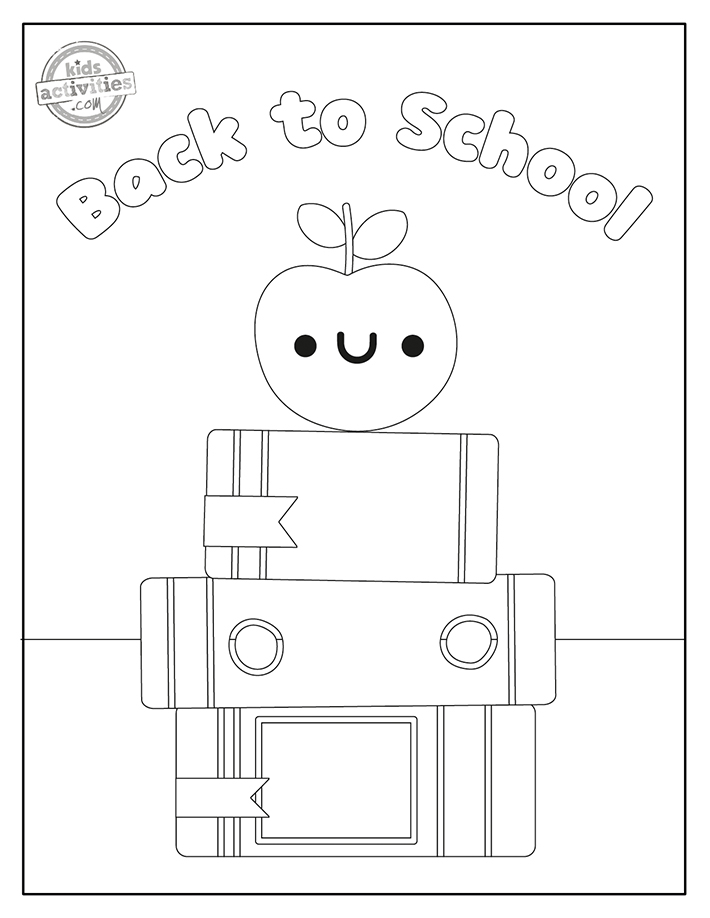 Back to school coloring page for kids
Our first coloring page features a happy apple, typically like the ones our kids give teachers on the first day back to school. I'd suggest using a super bright red for this apple, and then fun colors for the two-ring binders. This coloring page is a great activity for younger children thanks to its big spaces.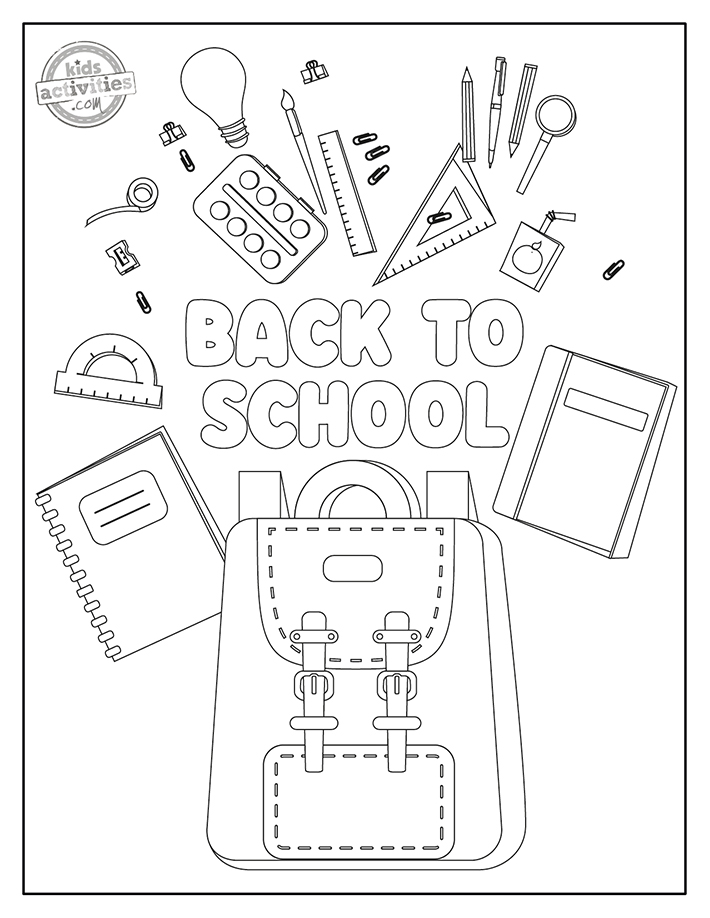 Back to school supplies coloring page
Our second coloring page includes many school supplies used by kids of all ages. Make it a game and try to see how many your little one can recognize! I see a backpack, a notebook, a book, watercolor paints, a pencil sharpener, a magnifier, a ruler… Use your favorite crayons to make this page super colorful and cute!
We made these coloring pages with preschoolers in mind, but as we always say: anyone can color them! Older kids and adults included.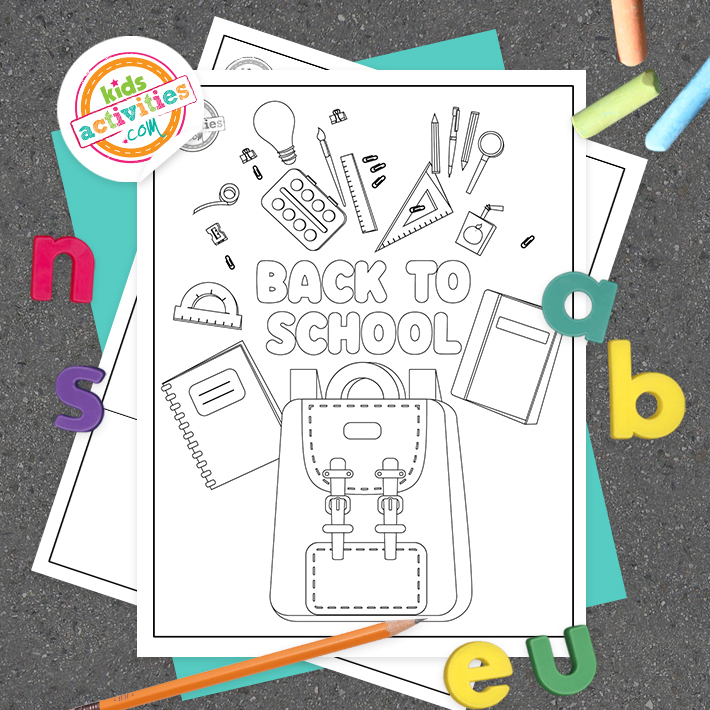 Download & Print Free Back to School Coloring Pages for Preschool Here:
Developmental Benefits of Coloring Pages
We may think of coloring pages as just fun, but they also have some really cool benefits for both kids and adults:
For kids: Fine motor skill development and hand-eye coordination develop with the action of coloring or painting coloring pages. It also helps with learning patterns, color recognition, structure of drawing and so much more!
For adults: Relaxation, deep breathing and low-set up creativity are enhanced with coloring pages.
More Fun Coloring Pages & Printable Sheets from Kids Activities Blog
We have the best collection of coloring pages for kids and adults!
You need to check out these first day of school fun activities.
We have more first day of school free printables for you here!
This printable back to school checklist is a must-have for kids.
These printable back to school crafts are a sure way to keep your kids entertained.
Did you enjoy these Back to school coloring pages for preschool?