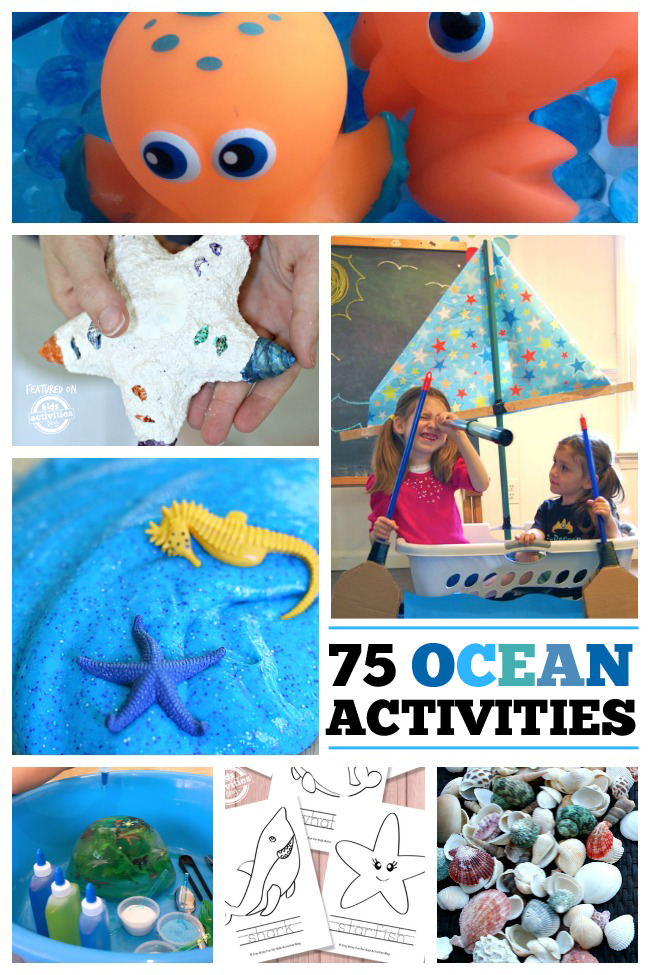 Ocean activities are so much fun to explore at home, especially for those of us that live nowhere near a shoreline.
Our most favorite way of learning and teaching is through play and these activities are so much fun!
Below you will find a huge selection of ocean activities that cover everything from shells, to ocean zones to fish. These activities really get your kids exploring and thinking about the sea life!
75+ Ocean Crafts And Activities For Kids
The ocean is so diverse and exciting. We have only explored a small fraction of the ocean. I believe we've only explored about 20% of it in fact.
But it is full of so many cool habitats and animals and these fun crafts and activities are sure to keep your kids entertained and learning!
We broke up this huge list into a few different sections to help it easier to navigate. They are:
Ocean Themed Crafts For Kids
Ocean Themed Activities
Ocean Themed Games
Under The Sea Themed Games
Ocean Themed Printables
Ocean Themed Sensory Play
Ocean Themed Snacks
Ocean Playdough
Fun Shark Activities
Supplies Needed For These Fun Ocean Crafts and Activities
You probably have quite a bit of crafting supplies in your repertoire as is and that's great! But for those who don't these are some of the more basic supplies you will need. Each craft is different so I'm sure there will be some that are missing from this list.
Don't have what's on the list? No problem! We can help! (This post contains affiliate links.)
Some of the supplies you'll need are:
Crayons
Markers
Colored Pencils
Paint Brushes
Paint
Glue
Sharpies
Scissors
Paper Plates
Pom Poms
Pipe Cleaners
Glue Sticks
Tissue Paper
Ocean Themed Crafts For Kids
Origami Fish
Grab your colored paper and googly eyes! Your little one will be able to manipulate colorful and decorated paper to make these super cute origami fish! This ocean animal craft is based on the Dr. Seuss book, One Fish, Two Fish, Red Fish, Blue Fish.
Ocean Painting
Grab potatoes and paint to do some ocean painting! Make water, fishes, starfishes, sea turtles and more! Who knew potatoes could be used as a stamp!?
Rainbow Fish Craft
Remember the storybook Rainbow Fish by Marcus Pfister? This rainbow fish craft is based on the story book! Use tissue paper to make your colorful fish as you enjoy the beloved children's story.
Giant Squid Craft
Learn about giant squids while you're doing this giant squid craft. All you need is an old t-shirt, fabric paints, ribbon, stuffing, scissors, and of course the giant squid template.
Clown Fish Painting
Ever hear of tape resist? You use tape to keep paint clear of a certain area which is perfect since this clown fish painting is orange, white, and black.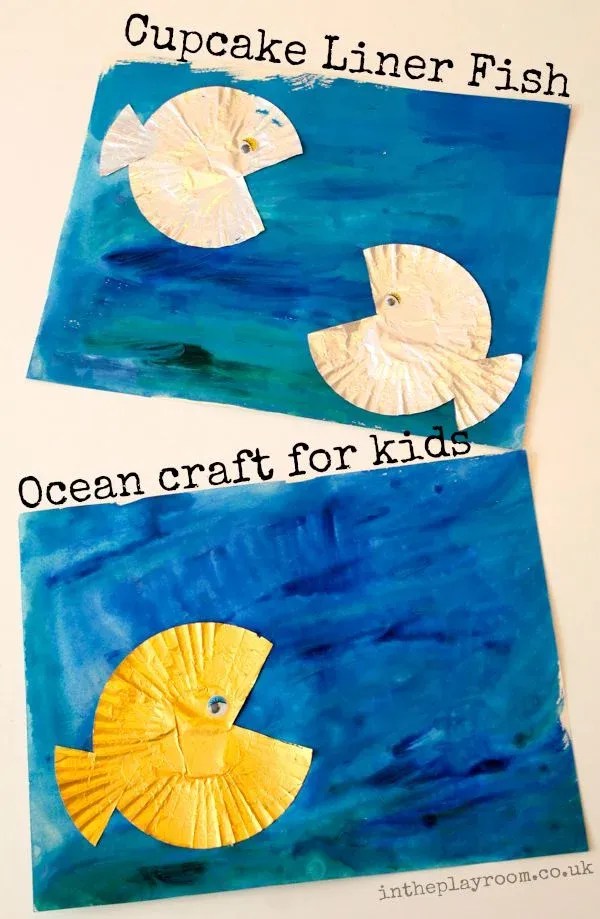 Cupcake Liner Fish
Cupcake liners are such a versatile item. They're used for cooking and crafting! You will be using them to make a cupcake liner fish! Don't forget to paint a pretty background for them! They need a home too.
Tide Pool Craft
I actually really like this tide pool craft. It's super cute. Grab your water colors, crayons, glue, and sand!
Ocean Craft For Kids
This craft is based on the book If You Want To See A Whale by Julie Fogliano. This ocean craft for kids is perfect for toddlers and preschoolers! You may need to cut out the boats and sun, though stickers would be great here.
Rock Painting
Find the perfect stones to paint and then paint them to look like fish! Make them all of your favorite colors and don't forget to add shiny fins so they get go to and fro. Rock painting is a lot of fun.
Sea Painting Ideas
Looking for some awesome sea painting ideas? We found one for you! Ice painting! Freeze paint and plastic sea creatures to create awesomely messy art.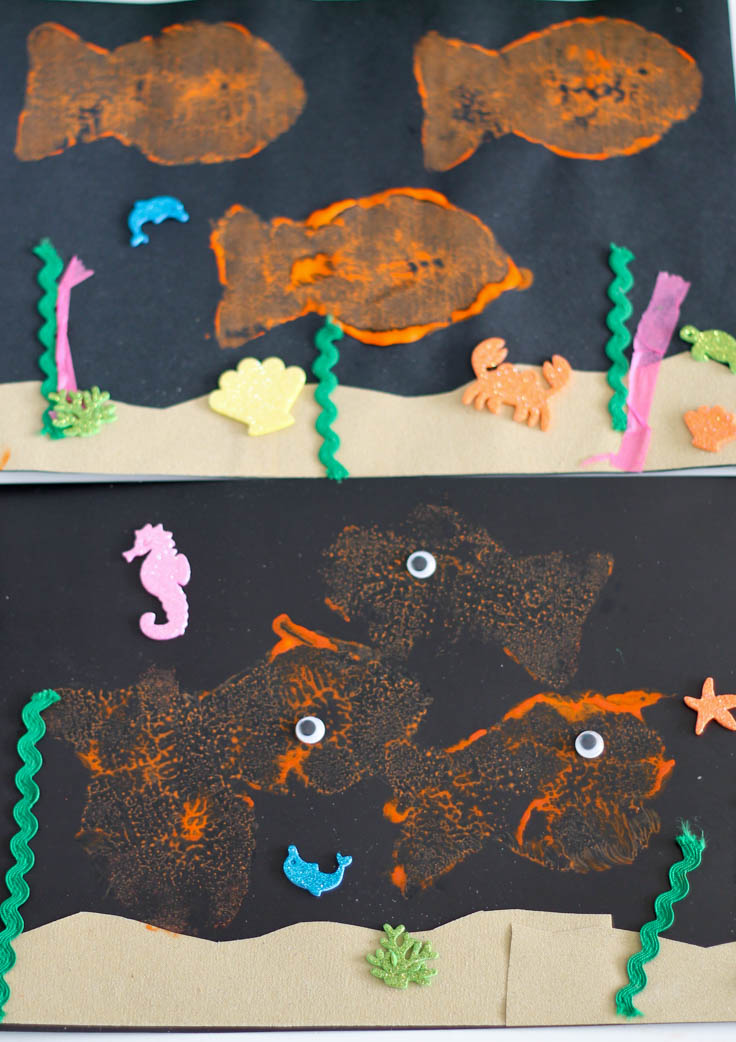 Under The Sea
Paint pictures under the sea! Stamp big orange fishes, add seashells, dolphins, starfish, crabs, seaweed, and even kelp!
Toilet Paper Roll Octopus Craft
Save your empty toilet paper rolls! Your little one will love making this toilet paper roll octopus craft! So grab your paints, markers, glue, and googly eyes!
Handprint Turtle
Making a handprint turtle is super easy. All you really need is a hand, green paint, blue paint, white paper, and a black marker!
Rainbow Fish
Another rainbow fish craft! This is a great craft for preschoolers and requires very little prep time and only requires a few supplies. Cut out the outline of a fish with black construction paper, stick it on contact paper and let your child rip up construction paper and add in the scales.
Orca Craft
Orcas get a bad rep, and….it's a little deserved in some instances, but this little guy looks so friendly and happy! This orca craft is super easy to make, all you need is paint, a paper plate, googly eyes, and some scrap paper.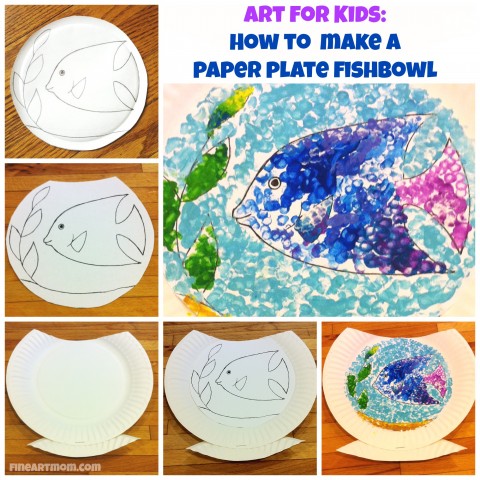 Paper Plate Fishbowl
Want to know how to make a paper plate fishbowl? It's super easy, however this ocean craft will require a little help from mom or dad. All you'll have to do is cut the paper plate in the shape of the fish bowl and draw a simple fish, the ground, and maybe a piece of kelp.
Boat Craft
Animals are not the only things in the water. Boats float in the water too! This boat craft let's you make a great big ocean liner! The best part is, it is made with recycled stuff like toilet paper rolls and boxes.
Fin-tastic Fish Crafts
Looking for some fin-tastic fish crafts? Here are 28 to choose from and they all look like a lot of fun.
Jellyfish Craft
We talk about fish, sharks, whales, and dolphins, but I feel like jellyfish get overlooked! Make this paper plate jellyfish craft with super long legs.
Handprint Lobster
Lobsters are another sea creature I feel like doesn't get a lot of love…unless it's being eaten, yum! This handprint lobster is super cute and is a great keepsake.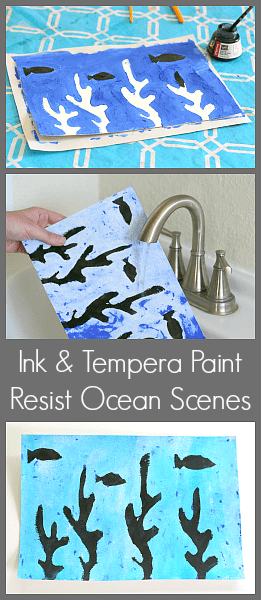 Resist Painting
Make a beautiful ocean scene using ink and tempera pain. This is a really unique craft, one I think better suited to older kids. Probably first grade and up as pink can be a little unforgiving.
Jellyfish Craft and Fine Motor Skill Practice
Practicing fine motor skills is important and you can with this jellyfish craft! You'll be lacing the jelly fish craft to make its long legs with ribbon.
Toilet Paper Roll Octopus With Pom Poms
Save those toilet paper rolls to make more octopus! Except this time you'll be giving the colorful tentacles using pom poms.
Paper Plate Octopus Craft
Paper plates are so versatile which is why they're great for crafting. Which is great, because you will need one for this paper plate octopus craft. It also doubles as fine motor skill practice as you'll be lacing the legs and adding colorful shells.
Sand Painting
Have you even painted with sand? If not you're missing out. This sand painting is not only ocean themed, but doubles as a sensory craft as well.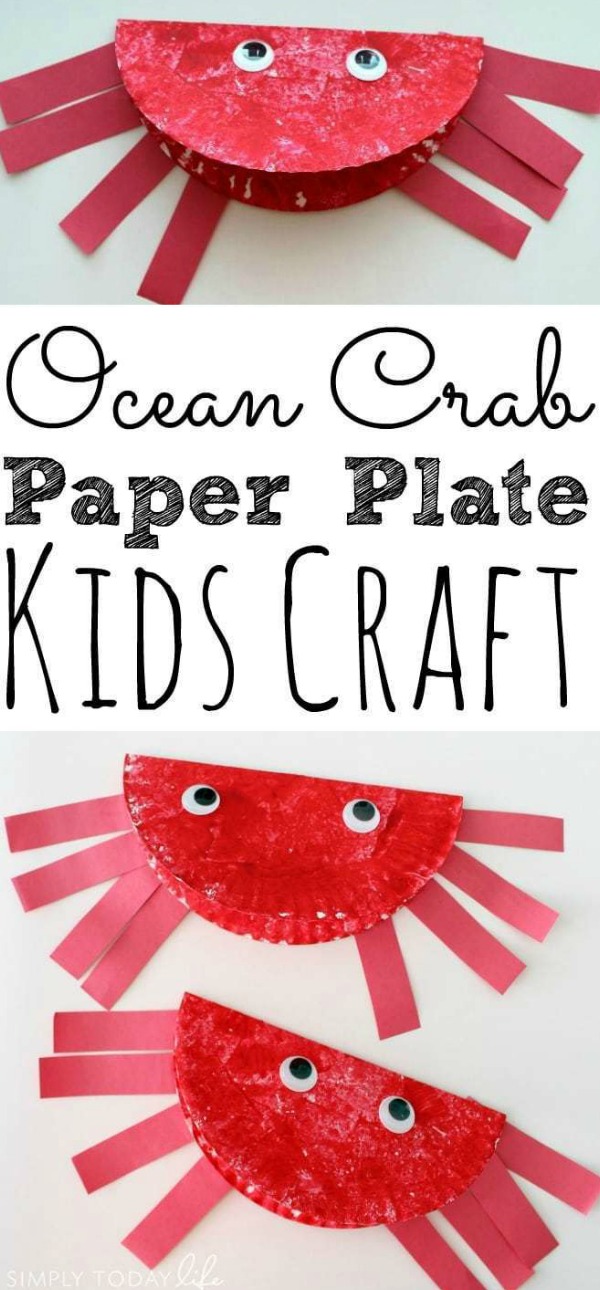 Paper Plate Crab Craft
Crabs are such odd critters. They're very funny looking. So why not make one using paper plates, google eyes, and construction paper, and red paint. This paper plate crab craft is perfect for preschool kids and kindergarteners.
Fingerprint Shark Art
Make a family of sharks using your fingers! I actually really like this because it allows your child to easily make 5 cute little sharks. This fingerprint shark art is super cute, but will take a little work to make them perfect!
Fingerprint Fish Aquarium
I adore this craft. It's super cute, colorful, and can be used as the most precious keepsake. Look at all the little fishies! And the crab looks so surprised. This fingerprint fish aquarium may be a little easier for older kids in kindergarten and up, but can be done with younger kids with a little help.
Starfish Craft For Kids
Starfishes are super easy to make. Cut out a star, paint it, and then add little star noodles for textures! It's actually super cute, and simple. This starfish craft for kids is perfect even for smaller kids.
Handprint Fish Tile Keepsake
Keepsakes are the best and I love this particular one. It would be a great gift for mom, dad, grandma, or grandpa. Paint your little one's hand and then stamp it on the tile and turn it into a colorful fish. Everyone will love this handprint fish tile keepsake.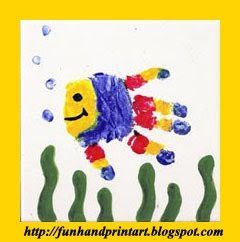 Fish Paper Craft
It is not quite origami, but very close, these paper fish are so cute and fun to make. You can even use this fish paper craft as decorations.
Sea Animal Crafts
Fish are not the only crafts to make! There are so many sea animal crafts from crabs, urchins, fish, octopus, pufferfish, and more!
DIY Sand Mold
Try making this beautiful sand mold craft without ever having to go to the beach.
Ocean Themed Activities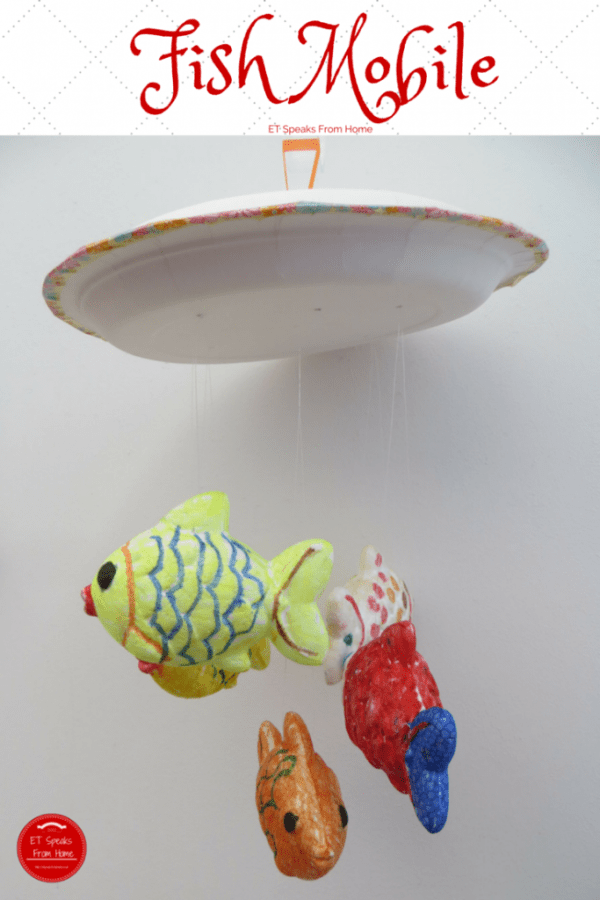 Fish Mobile
A fish mobile is super easy to make. All you need is clear string, paper plates, tape, glue, pens, and polystrene fish.
Aquarium Shoe Box
What is an aquarium shoe box? Well, it is your own personal aquarium made from a shoe box. It's super cute, grab your paints, paper, seashells, buttons and more. Then you'll be stringing up the sea animals and fish so they "float."
Ocean Books For Kids
Reading is a great activity and an important one. Here are 10 ocean books for kids! Each one has fun ocean facts for kids.
Ocean Theme Fine Motor Skill Practice
Help your child practice their fine motor skills with these under the sea lacing cards.
Ocean Yoga Book
There is an ocean yoga book called Commotion In The Ocean by Giles Andreae. This would be such a fun way to get your kids moving and stretching!
Life At Sea
Life at sea is a fun way to educate your toddler and preschool kids. Letter writing practice, phonogram sorting, phonogram writing, nautical nomenclature cards, counting and more…is what your child will be learning.
Preschool Ocean Counting Activity
Teaching your preschooler numbers? Then you'll love this preschool ocean counting activity. Stamp out the numbers into the sand and provide them shells to count. This would be a fun way to teach addition and subtraction as well.
Beach Scavenger Hunt
Get moving at the beach with this beach scavenger hunt! Can you find everything on the list?
Ocean Montessori Trays
Using trays to learn with these ocean activities are such a cute idea. Each ocean tray has a different theme whether it's figuring out patterns, sensory, fine motor skills, using stencils.
Ocean Animals
Learn about the ocean and ocean animals with these fun activities. Books, coloring sheets, lacing cards, and color matching ocean animals are just a few fun ocean activities that will help your little one learn about the animals of the ocean.
Pirates At Sea
Pirates are also in the sea! So if you're child loves pirates then they will love these activities! There are 16 fun activities your child will enjoy! Learn vocabulary words, phonograms, spelling words, match ups and more!
Ocean Animals
Learn about ocean animals with this fun card matching game! Match the pictures with the plastic ocean animals and their names spelled out.
Sorting Shells
Teach art and math by sorting shells! Sorting shells can help teach your child shapes, sizes, and colors.
Jellyfish Costume
Promote pretend play with this super cute jellyfish costume. You could also use it for Halloween or a costume contest.
Children's Books About Ocean Animals
Learn about the ocean and all the habitants that live there with these 40 children's books about ocean animals.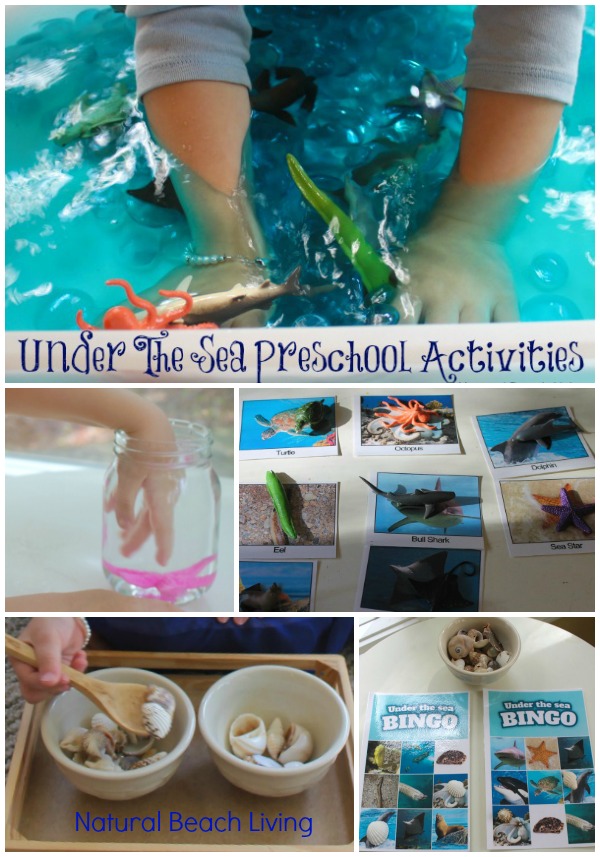 Under The Sea Preschool Activities
Bingo, sensory play, matching games, and shell sorting are just a couple of the fun under the sea preschool activities!
Shell Activities
Explore shells a little more closely with magnifying glasses! Look at all the different edges, ridges, colors, and textures! Sort them, match them, touch them, listen to the ocean through them, there are so many shell activities!
Beach Yoga
When the weather is nice, there is no better time to go to the beach. Swimming and building sand castles isn't the only thing you can do. Spend time doing beach yoga, it is good physical exercise and good for mobility.
Ocean Scene
Using double sided contact paper let your little one create ocean scenes. Use stickers, foam, pictures, shells, and more to make the ocean.
Seashell Alphabet Activity
Use seashells, sand, and markers to put together this engaging seashell alphabet activity. Your child will have to dig for the shells and as they find them they can practice recognizing what letter it is.
Ocean Play Box
Put on a play with this ocean play box. This is a super cute craft and activity. Add animals, their homes, and even a mermaid.
Ocean Themed Games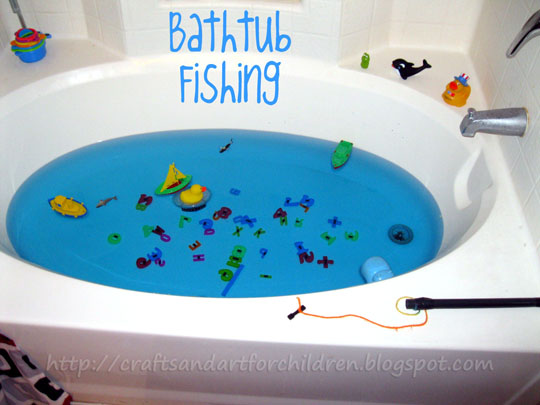 Bathtub Fishing
Make bathtub fun with this fishing game! Bathtub fishing is easy to do. All you really need are magnets and a magnet attached to a homemade simple fishing pole.
Throw Fish Into The Ocean
What a cute game that gets your little one moving! This will take some DIY on your part making the "ocean" aka swing, but as your child swings back and forth they'll have to toss fish into the bin (ocean.)
Beach Themed Bath Play
Make your bathtub beach themed! Let your child decorate and paint with foam sheets, shaving cream, sea salt, bath toys, and a bath bomb.
Fishing Game For Kids
Looking for a fishing game for kids? Look no further! This DIY pipe cleaner fishing game is super easy! All you have to do is make super cute sea critters out of pipe cleaners and then catch them with a magnet.
Letter Learning Game
Learn about letters and words with this beachcomber game. All you need is large sea shells, chalk, scrap wood or driftwood, alphabet stickers.
Ocean Fine Motor Play
Practice fine motor skills with this super fun ocean activity. This one will need some prep to it. You will need to make these colorful fish made from baking soda. Then your child will use squeeze bottles full of vinegar to make them fizz.
Under The Sea STEM Activities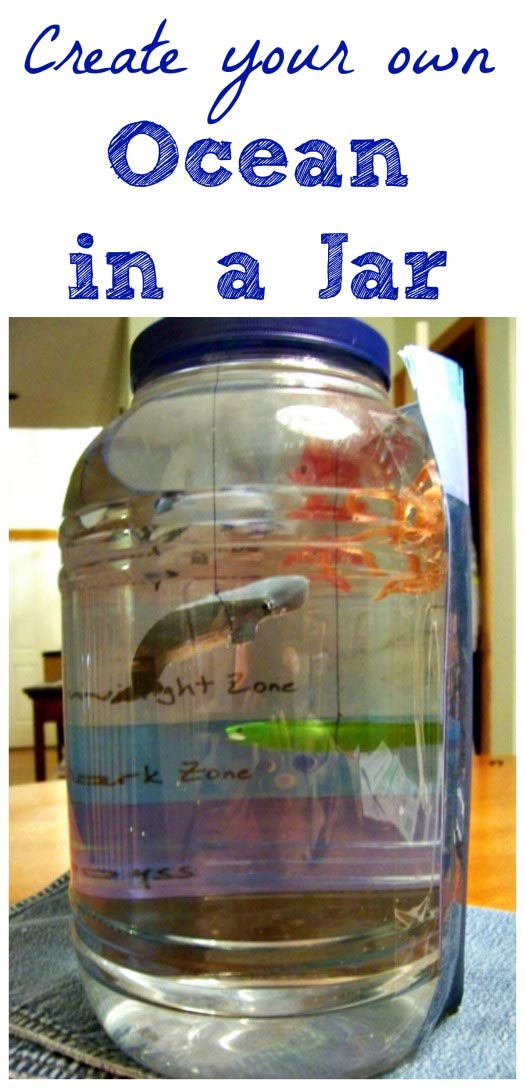 Ocean Habitats For Kids
Learn about the different zones of the ocean with this ocean habitat project. They will be learning about the 5 layers of the ocean: sunny zone, twilight zone, dark zone, abyss, and trench as well as what animals live in each level.
Ocean Water
Ocean water is salty and more dense than fresh water. Make salty ocean water and teach your child about density and then, using a water bottle, make waves!
Salt Water Experiment
Want to know why freshwater fish can't survive in the ocean and why saltwater fish are able to survive in saltwater? This salt water experiment will teach you why!
What Is A Tide Pool?
Learn about tide pools and the tide with this fun science experiment. You'll be making your very own tide pool and using water to simulate the tide so you can better understand how it works.
Science At The Beach
Science and the beach go hand in hand. It is the greatest place to learn about marine biology after all. Here are 5 ways you can help teach your child science while you're at the beach.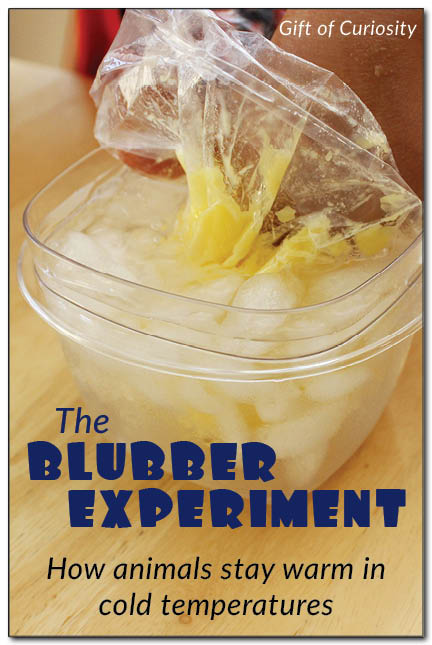 Blubber Experiment
We know that blubber keeps animals warm and whales have a ton of it! Well, your child can learn about blubber in this blubber experiment.
How Big Is A Blue Whale?
Ever wonder just how big a blue whale really is? Well you can get the answer with this fun stem activity. On average they are between 70-90ft. Now, and make sure you're careful, you'll be measure and drawing the blue whale out on the street using chalk.
Ocean Themed Printables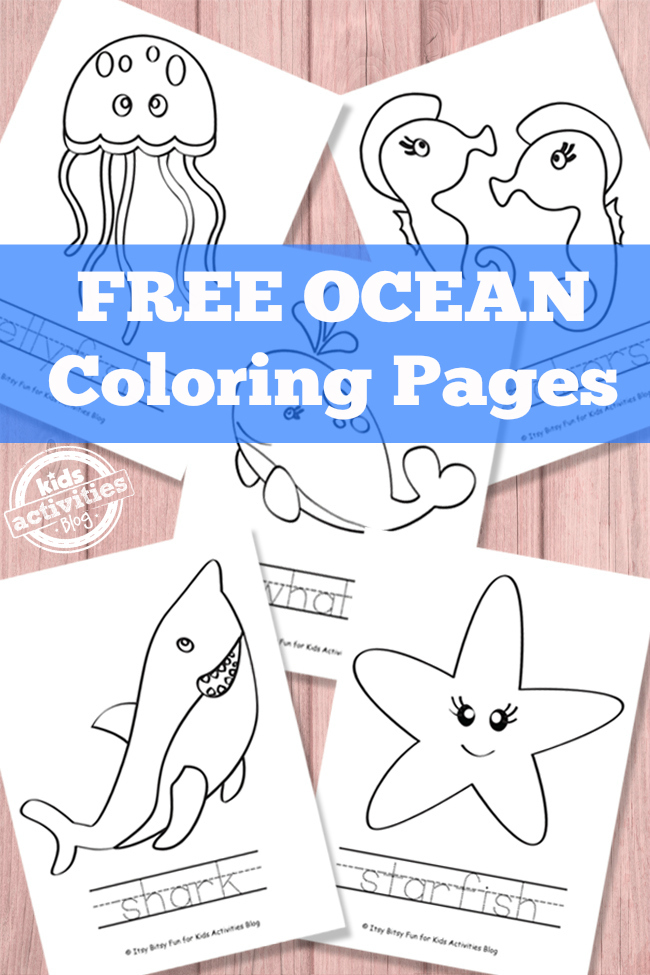 Ocean Coloring Pages
We love these ocean coloring pages including a starfish a shark and much more!
Ocean Lesson Plans Preschool Kids Will Love
This ocean pack is free and it is a fun way to teach your preschoolers! With these ocean lesson plans preschool kids will totally enjoy you get: 3 different parts with over 20+ worksheets! Math, fine motor skills, reading, problem solving, your child will be learning it all!
Ocean Animal Counters
These ocean animal counters are a great way to teach your toddler, preschooler, and kindergartener how to count! These free number mats for lots of math fun! Your little one will be counting up to 10.
Ocean Mazes
Print out these super fun ocean mazes to play with. Help the fish get to his friends!
Ocean Printables Pack
This ocean printables pack is for children ages 2-7 and includes 73 activities! From practicing fine motor skills to problem solving, counting, games, and more…it has it all.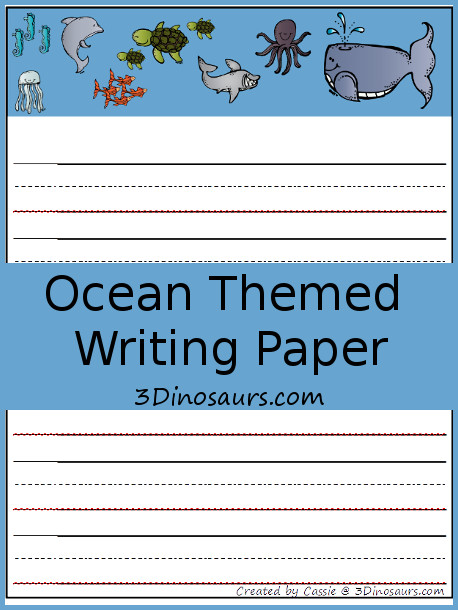 Ocean Border Writing Paper
Learning to write can be tedious and boring, but it doesn't have to be. This ocean border writing paper is a lot fun! It has dolphins, fish, sharks, octopus, whales, jellyfish, and more!
Montessori Ocean Unit
Jump in with this Montessori ocean unit! There are 2 different levels, each level has 20 pages. There are ocean themed worksheets for preschool kids and kindergarteners.
Under The Sea Worksheets Printables
Looking for some under the sea worksheets printables? Then you'll want these ocean dot a dot printables. All you need is a dot a dot marker to get started! Learn your ABC's, numbers, and more.
Ocean Word Cards
The ocean has so many different animals in it! Learn about the different animals with these free printable ocean word cards.
Sea Turtle Printable
Learn counting, lacing, and see actual sea turtles with these free sea turtle printables.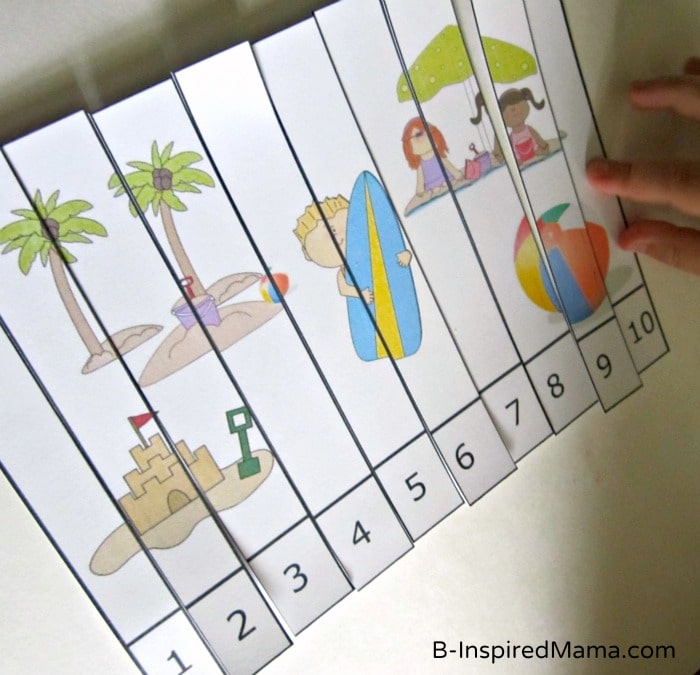 Printable Number Puzzle
A printable number puzzle that is beach themed, how fun! Print it out, cut it out into the appropriate strips and then let your child figure out how to put it together in order.
Ocean Puzzles
Print off these ocean puzzles for your child for your child to explore the ocean and numbers! There are simple puzzles and even harder numbers!
Ocean Kindergarten Math Worksheets
Practice counting, addition, and subtraction with these ocean kindergarten math worksheets. Each worksheet is themed with fish, whales, sea turtles, starfishes, squids, and more.
Whale Printable
Have fun with this whale printable and a book about whales called Breathe by Scott Magoon.
Under The Sea Bingo
Bingo is one of my most favorite games ever, so I really really like this. Plus, it will help your little one recognize sea creatures…and mermaids. This under the sea bingo is colorful and delightful.
Mermaid Printables
Mermaid printables is a great way to learn! This mermaid unit includes 16 different activities and a number of fun mermaid printables, including a mermaid coloring sheet that allows you to make your own mermaid.
Ocean Themed Sensory Play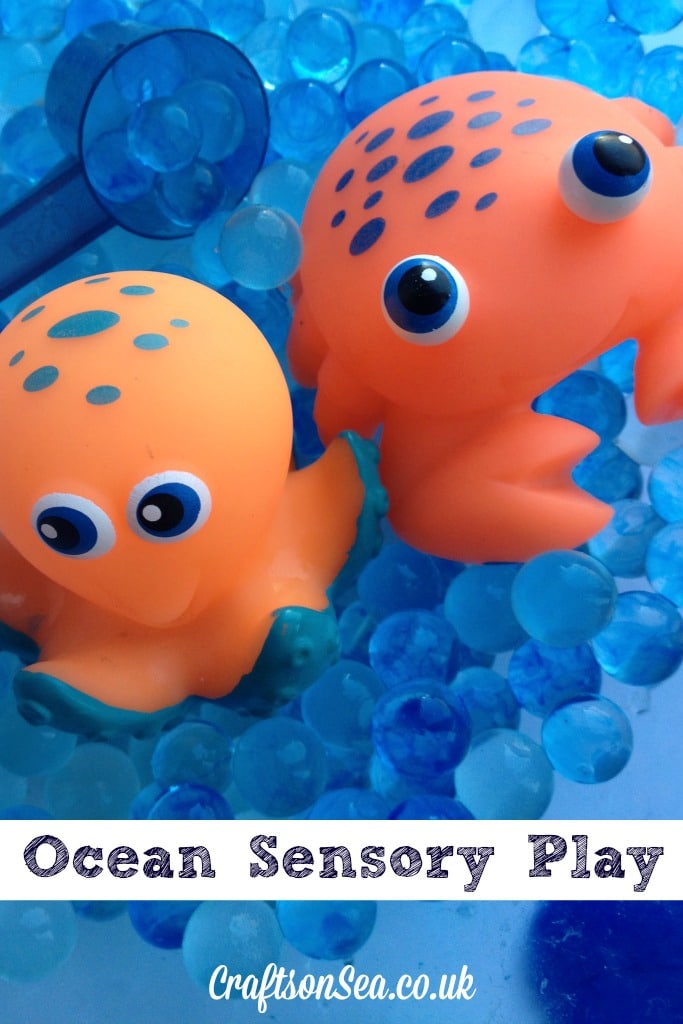 Ocean Sensory Play
I love this and it is so simple to set up! Grab some scoops, shovels, plastic sea animals (bath toys.) Now, this isn't a water sensory bin, rather, you will be using blue bath beads! Simple, easy, and is still fun ocean sensory play.
Ocean Sensory Bin
This is really cool and has so many different textures! Between blue Jell-O, cookie crumbs, spaghetti, shells, and toys, there are so many different things to touch (and taste). What a fun ocean sensory bin.
Fun Ocean Sensory Bin
This is a rather elaborate ocean sensory bin. It's made with fish tank pebbles, different types of toys, beads, pom poms, shells, buttons, and more. It's really cute.
Number Counting Ocean Sensory Bin
This ocean sensory bin helps teach your child counting while engaging different senses!
Coral Reef Sensory Bin
How unique! While this is an ocean sensory bin, it focuses on the coral reef. So what all is in this coral reef sensory bin? Shells, stones, pasta shells, figurines, coral, and scoops.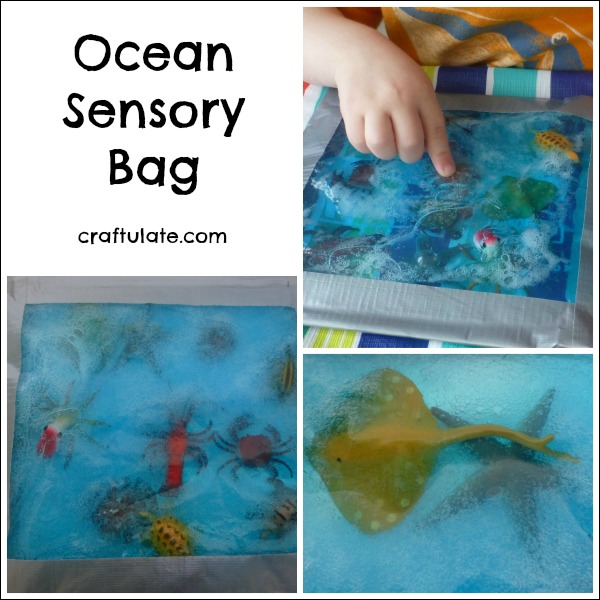 Ocean Sensory Bag
Sensory bags are great when you want a mess free alternative to a sensory bin. Plus, this ocean sensory bag is just as fun! All you need is a Ziploc bag, blue shower gel, plastic sea animals and tape to ensure that sucker stays closed.
Shaving Cream Sensory Bin
Shaving cream sensory bins are so much fun because one, it is a fun texture. But two, you get to dig through the foam and find the hidden items. In this bin you'll be adding seashells and plastic ocean toys.
Water Play
Fill the sink with blue water and use foam to create pads and boats. Then let your child play with plastic ocean figurines, fishes, and seashells. Water play is so much fun.
Jello Sensory Bin
Jello is perfect for an ocean sensory bin. This Jello sensory bin is made with blue Jello and has all sorts of sea critters hidden within it!
Ocean Sensory Play
Grab an old mirror, sand, glass pebbles, plastic sea critters, and and seashells. They'll be able to play, touch different textures, and even see their reflections. They'll have to play gentle with this ocean sensory play though. Glass pebbles on a mirror could be a little rough.
Fish Sensory Bag
This fish sensory bag is super easy to make. Grab a Ziploc bag, duct tape, hair gel, liquid colors in blue, glitter, and wooden ocean shapes.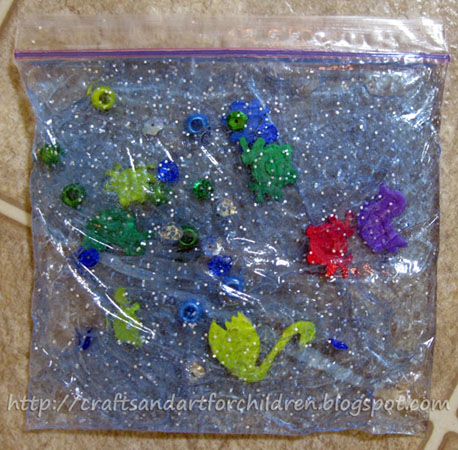 Beach In A Bag Craft
Enjoy the beach without travelling and without the mess! Blue hair gel, glitter, beads, and foam ocean animals are all you need. This beach in a bag craft is super easy to put together.
Ocean Floor Sensory Bin
This ocean floor sensory bin is filled with different types of beans, scoops, and plastic sea animals. Dig and search for them. Can you find them all?
Blue Ocean Sensory Bag
This blue ocean sensory bag really embodies the deep blue sea. Color the hair gel with pain to get the deep blue loveliness that is the sea. Don't forget sparkles and fishies!
Ocean Sensory Bottle
Calm down with this ocean sensory bottle. All you need is an old water bottle (They used Voss), glow in the dark aquarium shells, and water. Watch as the colored shells go to and fro in the water.
Sensory Octopus Bin
These silly octopus have long rubbery legs. They are perfect for a water sensory bin with green water! You could also add other toys to your sensory octopus bin too if you wanted.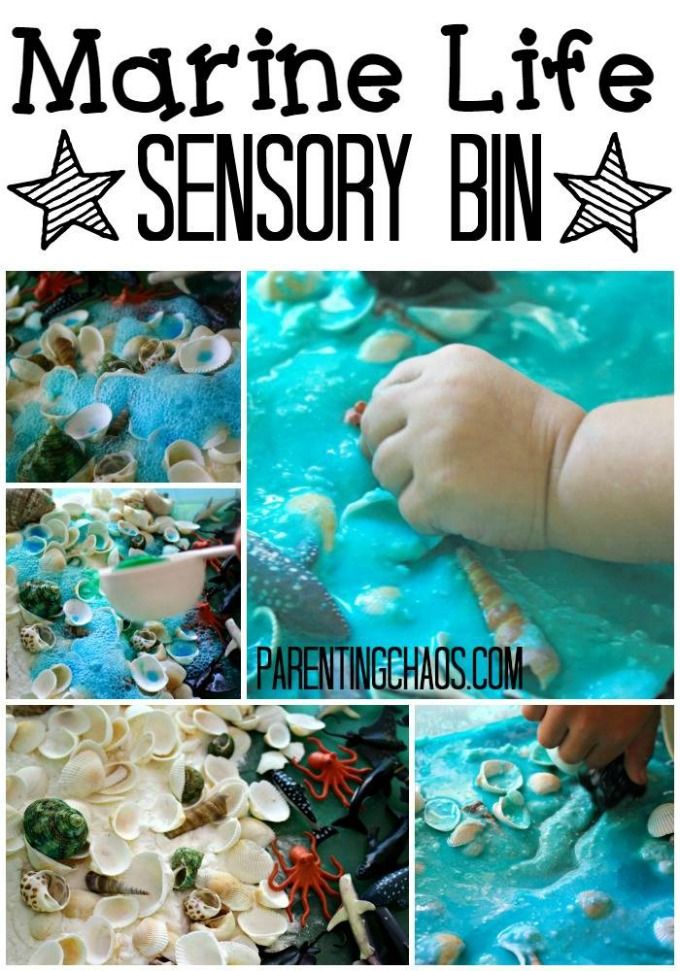 Marine Life Sensory Bin
This is such a fun sensory bin. This marine life sensory bin is filled with shells, plastic sea toys, scoops, buuuuut, it is also a lot of fun because it fizzes! It has baking soda and vinegar and blue food coloring acting as the ocean.
Ocean Squishy Bag
An ocean squishy bag is perfect for smaller kids. All you need is a baggie, hair gel, blue food coloring, and coral reef and underwater figurines.
Beach Sensory Bin
Yellow rice and brown rice look like sand in this beach sensory bin! Don't forget to add vegetation, shells, and other things you'd find on the beach.
Ocean In A Bottle
Help your little one relax with this ocean in the bottle. It works as a calming bottle and your child can watch the seashells swish back and forth and watch the glitter settle.
Turtle Themed Water Table
Love turtles? Then turn this little pool into a water table using toy turtles, flora, and stones….don't forget the water. This turtle themed water table is a ton fun.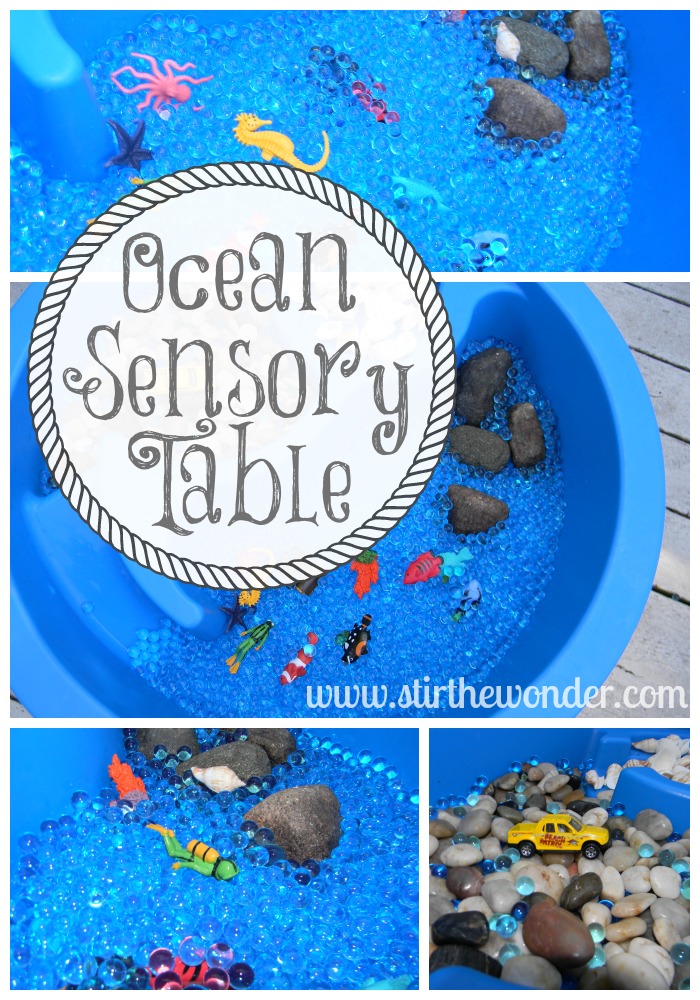 Ocean Sensory Table
This ocean sensory table is filled with bath beads, rocks, fishes, divers and even a truck!
Seashell Sensory Bin
Seashells are the perfect item for a seashell sensory bin since they're all so different. You can add aquarium rocks, plastic sea animals, and don't forget about the small fish nets.
Sensory Play With Water Beads
Water, water beads, and mechanical fish is all you need for this simple, but fun ocean sensory bin.
Ocean Themed Snacks
Octonauts Fish Biscuits
If you have a preschooler or toddler you have probably seen the show Octonauts. During the show they sometimes enjoy fish biscuits, and while these may not be the exact same, your kids will love eating these Octonauts fish biscuits.
Earth Sensory Table
Learn about the ocean as well as land and air with this fun sensory table. This earth sensory table explores (most, no fire for obvious reasons) elements of the earth. This is a fun way to not only learn about the Earth, but about the elements as well.
Under The Sea Themed Lunch
Make your child's lunch fun with this under the sea themed lunch. Turn pitas into boats, pastas into waves. Turn their veggies into fishes!
Devilled Egg Sailboats
These devilled eggs look like little sail boats. They're tasty, with a touch of paprika, and have pepper sails.
Ocean Snack
This healthy ocean snack is perfect for lunch time or snack time! It looks like a sea turtle but has delicious fruit and bread! I won't lie I would probably add some delicious nut butter or a smear of cream cheese or yogurt to make it even tastier.
Fish Bowl
Make a fish bowl for dessert! Use blue Jell-O as water and fill it with Swedish fish and sour candies into it. You could even add a little Cool Whip on top so it looks like waves.
Ocean Bento
Pitas that look like the ocean with a whale? Fruit and veggies cut up to look like an ocean habitat? Yes please! This ocean bento is super adorable.
Ocean Friends
Make another ocean bento box with ocean friends. Use little toothpicks with whales on them to make it look more festive. Make couscous with little carrot fishes and top yogurt with star sprinkles.
Ocean Jell-O
Ocean Jell-O is a great dessert. Blue Jell-O and gummy fish candies is all you need.
Ocean Playdough
Ocean Play Dough
This blue ocean play dough recipe is fun to make and play with seashells or other sea toys.
Play Doh Shark Food
Feed the DIY shark puppet with this Play Doh shark food! This is such a cute game, perfect for younger children.
Play Doh Ocean Adventures
Your little one will love this sensory playdough project. Ocean playdough can be so much fun! Grab some different shades of blue playdough, pebbles and rocks, and plastic sea creatures and let your child take off on their play doh ocean adventures!
Seashell Clay Sculptures
Make your own seashell clay sculptures with this fun activity! Grab some air dry clay, sea shells, glass pebbles, and pearl beads to make beautiful sculptures.
Play Doh Surprise Balls
Play Doh surprise balls is an exciting activity! Fill different balls of play doh with a surprise in the middle! Use toy sharks, whales, and fish!
Ocean Slime
I love this ocean slime! It's blue and sparkly. I love all things sparkly though. Don't forget to add little sea creatures and then stretch, pull, and squish the slime!
Shells And Playdough
Take playdough and squish it out. Then use seashells as stamps! Look at the patterns they leave behind. Shells and playdough are a fun combination.
Fun Shark Activities
Shark Crafts For Kids
Does your child love sharks? Celebrating shark week? Then you'll love these shark crafts for kids. You'll be making sharks out of pool noodles! Don't forget the googly eyes and sharp teeth!
Fun Shark Activities For Kids
Looking for fun shark activities for kids? There are plenty of them! From shark bingo, to shark sensory bins, shark crafts, and more!
Shark Unit
Is you little one obsessed with sharks? Then use these shark themed activities to help them learn with this shark unit. All together there are 14 different activities.
Shark Birthday Party Ideas
Throw the best shark birthday party ever! Avoid the shark with a fun balance game. Do a shark bean bag toss, keep the shark away, and other fun party games!
Shark Learning Activities
Learn about sharks with this fun activity and printable. It doubles as a sensory activity, a game, and an education activity. These shark learning activities are perfect for any kids who loves sharks.
Shark Crafts and Activities
Speaking of shark week, you'll want to check out these fun shark activities. From crafts, to games, sensory bins, and more…Elemenop Kids has all the sharks crafts and activities.
Easy Shark Week Activities
Shark week has been going on for over 30 years and is beloved by many. So if you're kids are as excited about it as mine are you'll want to check out these 10 easy shark week activities.
More Ocean Fun Your Kids Will Love!
Love the ocean? Love ocean animals? We have so many awesome crafts, activities, and printables for you!
Ever want to draw a shark? We can show you how to draw step by step.
Check out this baby shark puzzle!
Want to more about the ocean? There are so many cool apps to help you learn!
Here are 14 ways to bring the ocean inside!
This ocean themed free printable hidden object picture puzzles.
Fish are so easy to draw. We can show you step by step how!
Which ocean craft or activity is your favorite? Which one will you be trying out?