Child scared to use the potty?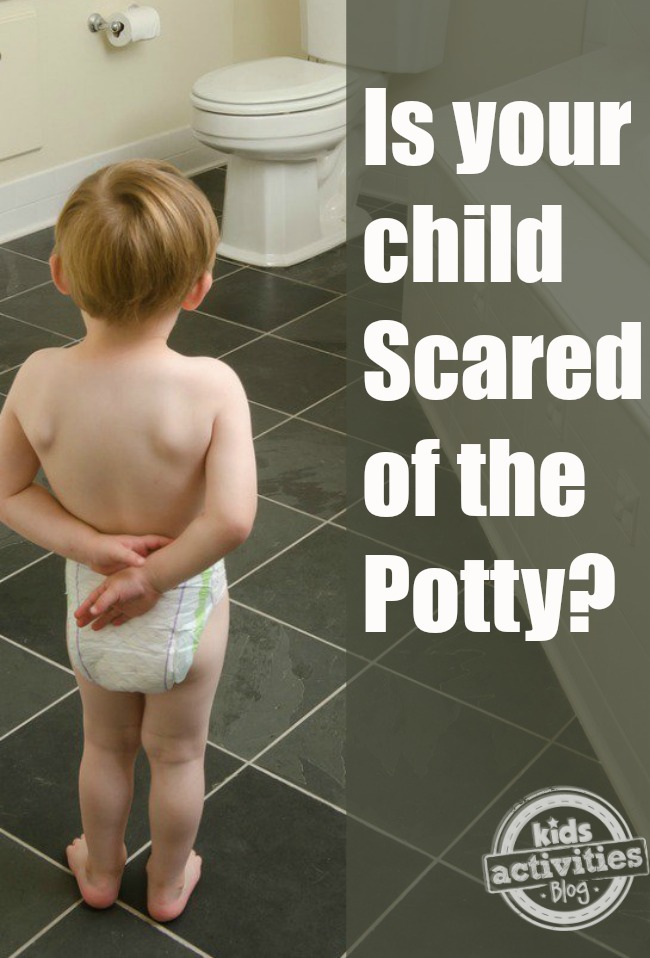 Last week, I read an e-mail about a child that was scared of the potty. I know it FEELS a little crazy that your toddler is afraid of the toilet, but it is way more common than you might think!
We talk about toilet training a lot around here, so I had to ask for advice from other families… and the advice was perfect.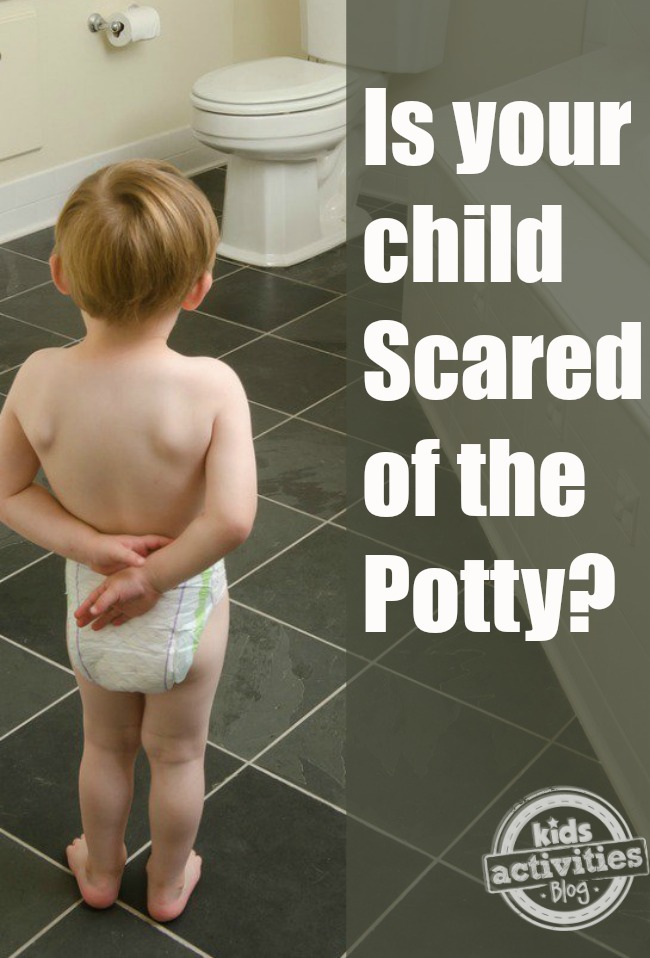 We went to our vast community of parents, teachers and experienced care-givers with this question and got a variety of responses. The cool thing is that this is something others have successfully tackled and you can too!
This article contains affiliate links.
What to do when your child is scared of the potty
Make the Toilet Seat Hole Smaller
The little seats that sit on the big potty help little ones feel more comfortable. They make them with fun designs on them, so you could find one that would fit your child's personality.
Toilet Solutions to Make the Potty Seat More Secure
Mayfair NextStep2 Toilet Seat with Built-In Potty Training Seat – This is one of the best solutions because it doesn't change the look of your toilet and it is still functional for adults as well! This traditional style toilet seat has an additional smaller ring that folds down with a slow-close hinge and can be removed when no longer needed.
Potty Training Seat with Step Stool – This solution feels really solid and secure for little ones. If your child is having balance issues or a fear of being up high on the toilet, this will help because it comes with an attached step tool and handles along with a narrowing on the toilet seat opening.
Potty training seat with handles – This is what I used for my three boys and it worked well. It has a non-slip surface and attaches securely to your home toilet. The handles are great for when kids are sitting down or when you need to remove it for an adult to use the toilet.
Potty Chairs are Less Intimidating
Start with a training toilet. They are less scary, they are small and they are less intimidating. This totally makes sense! A child-size toddler potty usually has bright colors and kid themes and are scaled to fit their body size perfectly.
Our Favorite Potty Chairs
This EasyGoProducts potty training seat works for both boys and girls with an ergonomic design and anti-splash feature. It is easy to empty and clean.
This child size Nuby My Real Potty Training Toilet with Life-Like Flush button is just like the real thing! It has realistic training toilet noises that feels just like the adult version.
The First Years Training Wheels Racer Potty System is easy to clean and easy to use.
The Minnie Mouse 3-in-1 Potty system includes a potty seat, potty ring and step stool.
Potty Stools to the Rescue
Provide a stool near the potty. We found that our son liked having the security of a place to rest his feet and to help him get onto the potty by himself.
Favorite Toilet Step Stools
This Squatting Toilet Stool is foldable and comes in a bamboo material with natural color, ergonomic design and is non-slip.
The original Squatty Potty Stool is adjustable with a 7 or 9 inch height and fits around the toilet allowing both kids and adults to use the toilet.
Distractions While on the Toilet
Give your kids a lot of books, crayons or even a tablet while sitting on the toilet (distraction is key here). Think about things he/she likes to do and make a play station in the bathroom around those items. A TV tray or small table might come in handy!
Put together a little basket of books for her to keep by the potty. She can feel a little ownership over the time.
Bathroom Tour
Before you officially start potty training, bring your little one with you to the bathroom and show them how you sit and go potty and how easy it is. I know this sounds super simple, but we often overlook the simple when it comes to problems!
Stuffed Animal Potty Schedule
Role play using the potty by using their stuffed animal or dolls to "go potty". Set a timer and have their favorite animal go on a schedule for awhile.
Cool Reactions
Do not get upset when your child shows fear about the potty, it may take time for them to get used to the idea and there is no point in pushing them too hard.
Encourage her, and remember it may take time, but she will eventually overcome her fear. It is something new and can be intimidating for them.
Read a Potty Book
Get some books on using the potty. There are some fun options that encourage little ones in potty training.
Fun Potty Training Kids Books
Pottysaurus – Childrens padded board book about potty training
Let's Go to the Potty! – A potty training book for toddlers that comes in paperback
Dino, The Potty Star – potty training older children, stubborn kids and baby boys and girls who refuse to give up their diapers.
Potty Time with Daniel Tiger's Neighborhood – Interactive Take-Along Children's Sound Book
Potty Patrol – A PAW Patrol board book about potty training
Watch a Potty Show
As silly as it may sound, our son loved Daniel Tiger's episode on potty training. The little son gets in your head, and your child's, and it was actually very helpful!
Daniel Tiger Potty Song Video
Potty Train in a Weekend…Really!
Follow the tips in the book Potty Train in a Weekend. We loved the chapter on getting over hurdles like this one. And yes, I didn't believe it was possible…but it is.
More Potty Training Information from Kids Activities Blog
Grab this really cool toilet step stool to make it easier for kids to use the potty!
Toilet training? Get a Mickey Mouse Phone call!
Try this toilet target for boys!
Toddler potty training tips from moms who have survived it!
Portable potty cup for kids can be soooo helpful when you have to be in the car for a long time.
What to do when your child is bedwetting after potty trained.
Help for potty training special needs.
Grab this target potty training…genius!
How to potty train a reluctant and strong willed child.
5 SIGNS OF POTTY TRAINING READINESS
And finally what to do when your 3 year old won't potty train.
What about you? Was your toddler afraid of the potty? Do you have advice for others?