15 Amazing Kids Toys to Make with PVC Pipes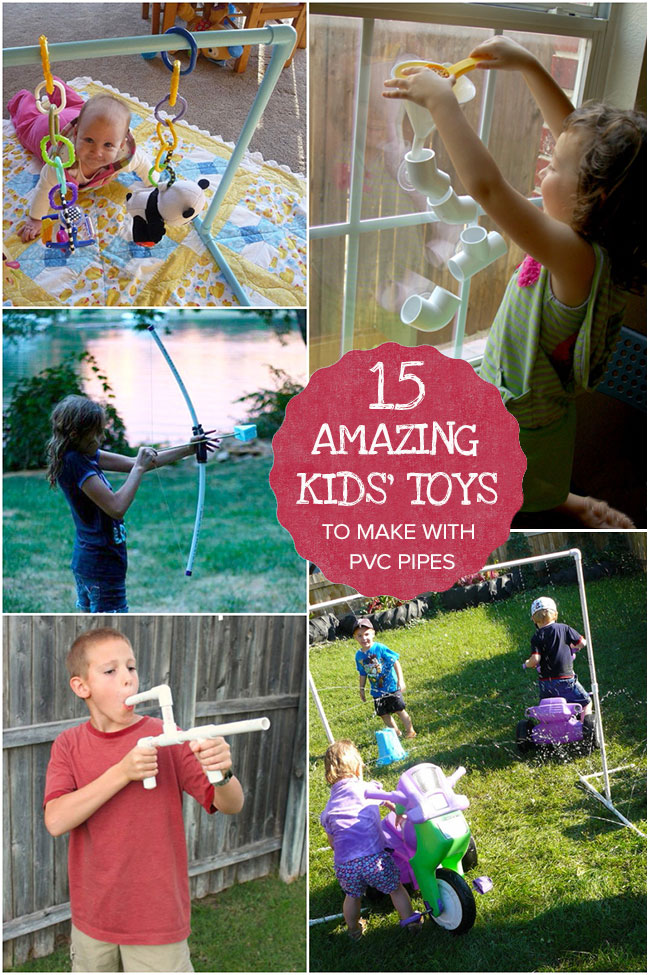 Let's do some surprisingly simple PVC Projects today that make homemade toys with PVC pipes.
From DIY baby gyms to fall walls, play periscopes and marshmallow shooters to backyard water play these 15 fun and fabulous toys to make with PVC pipes will guarantee in hours of fun.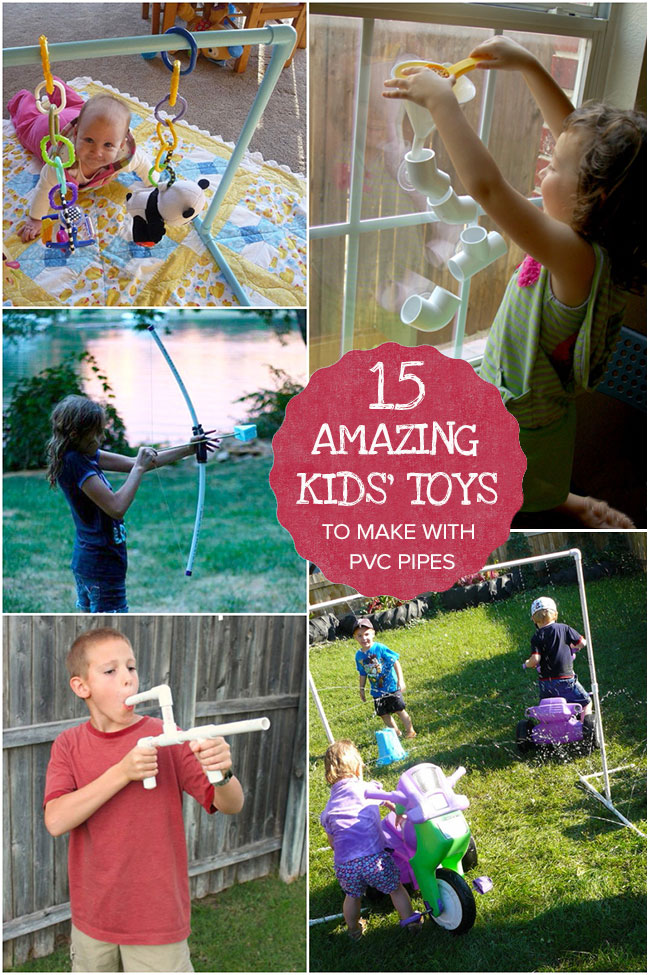 PVC pipes are the white plastic plumbing pipes you can find at the hardware store in multiple diameters and lengths. They can be connected together with elbows, tees, crosses, unions or capped.
See how simple these low-cost ideas are to construct for parents and kids.
This article contains affiliate links.
PVC Projects that are PVC Toys
My first PVC project was the tent project you will see below. I went to the local big box hardware store and purchased some straight PVC pipes, some connectors and a PVC pipe cutter.
I started building the tent with the straight PVC pipes and adding the connectors. It was like a big Tinker Toy set! I couldn't believe how easily this all could be accomplished even if you aren't skilled at carpentry, repair, etc.! Putting these pvc projects together are part of the fun.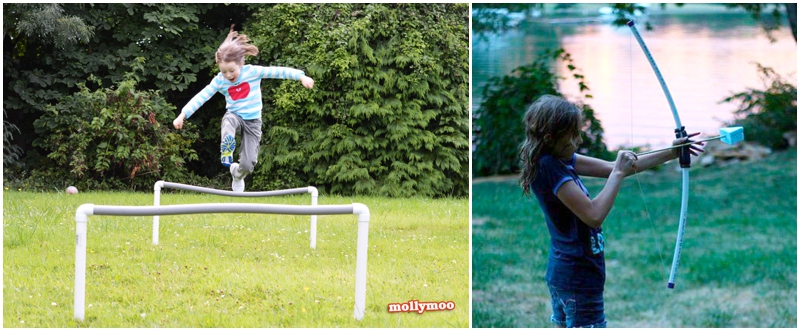 DIY Backyard Obstacle Course
Keep the kids active with simple DIY PVC Pipe obstacles. See how easy they are to make on MollyMooCrafts. I love how creative you can get with each of the obstacle course stations and this one has safety in mind with a foam cross bar.
PVC Pipe Bow And Arrow
Your Brave boys and girls will be kept happy for hours with this DIY PVC bow and arrow. via Skip to my Lou It is amazing to me how some pvc piping and a few other household items can create this really workable bow and arrow.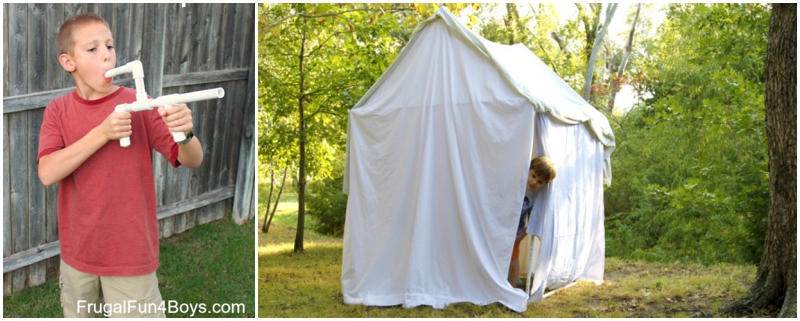 Make a Marshmallow Blow Gun out of PVC Pipe
This marshmallow shooter gun would definitely make a great project for a scout group, church group, or after school club, or just as a family activity! see how to make on FrugalFun4Boys
Make a Summer Reading Tent
Make a summer reading and hangout tent with a simple PVC pipe frame! This is the original pvc project I was mentioning above. It is really easy to learn how to make a tent out of pvc pipe and some old sheets.

Transform PVC Pipes into an Indoor Fall Wall
Make this pvc pipe wall attached with suction cups to a window for hours of fall wall fun. Tubes + Kids = Hours of play! This pvc pipe project uses mostly connectors and elbows. You could also cut some of the long, straight tubes for some longer runs of the fall wall.
PVC Pipe Sensory Table
Make your own PVC Piping sensory water table. What a great, low-cost idea for an outdoor sensory tub/table! spotted on Indulgy. I like how it is a simple rectangle made out of pvc pipes with a lower area to set plastic bins in. Once it is set up, you could have one area for water play and one area for sensory toys.
PVC Sword Light Sabers
Do your kids (boys in particular) love swords and/or light sabers? Try this one using PVC piping via The Idea Room. The good news is there is plenty of pool noodle padding so your little Jedi won't injure others.

DIY PVC Pipe Soccer Goal
Turn the backyard into a playing field, and you will be ready to score with this surprisingly simple pvc pipe project for your backyard via Six Sisters Stuff. Grab some soccer goal netting and pvc pipes and joints and soon you will be yelling…gooooooooooal!
PVC Bike Wash
The children will have a fantastic time cooling off and tinkering with the pvc pipes for this diy bike wash. What happens when you put your finger over the hole? Let's find out via childcentralstation. This also doubles as a kid wash since kids can run through the pvc pipe sprinklers.
Puppet Theatre Made of PVC Pipe
This DIY PVC Pipe puppet theater is so easy and fun! Here's to even more drama in your home via she-wears-flowers. Get some curtains and your favorite puppets ready for the big puppet show in your pvc theater.

PVC Pipe Baby Gym
Throw this sweet baby gym together with the most basic of backyard supplies via craftymama. All of baby's favorite toys can hang from this homemade baby gym created with pvc pipes.
DIY PVC Pipe Ladder Golf
Ladder golf is a very fun game and you can build your own with this handy tutorial via Mom Endeavors. Ladder golf seems like the obvious choice for a pvc pipe project for your backyard because the structure of the goal can so easily be created from the popular piping and joints.
DIY PVC Pipe Periscope
For your Spy Kids to spy on the neighbors…. or watching movies from a different perspective via Instructables. This simple PVC project uses the larger pvc pipe size and just two elbow joints. Pretty easy DIY!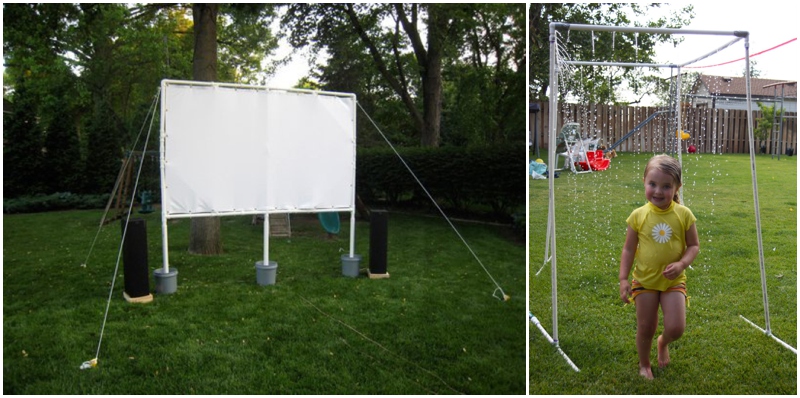 Backyard Movie Theater Screen Created with PVC Pipes
How cool is this large scale pvc pipe project to bring an outdoor movie theater courtesy of pvc pipes to your backyard By Dave Banks on Wired. I love this pvc project and think it would be something you could use for years to come for the entire family…or neighborhood to watch movies.
PVC Pipe Sprinkler Kid Wash
Let's get soaking!! This pvc project is good clean backyard fun for keeping the kids cool ¦. and smiling via sixsistersstuff! I think this is the first one we are going to try and build at home after a trip to the hardware store for supplies.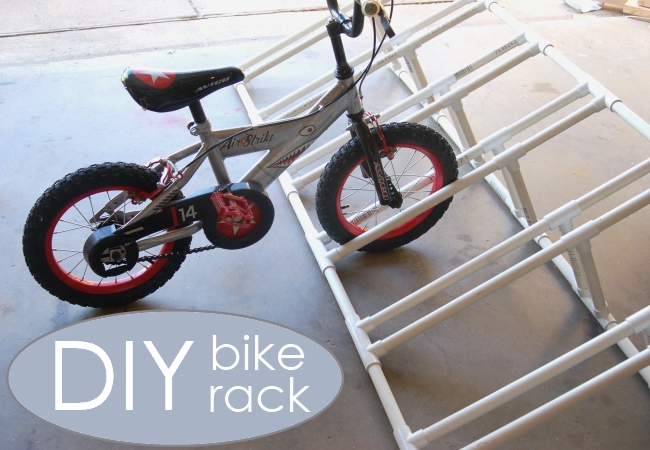 Make a PVC Pipe Bike Rack
This is another pvc project we tackled here at Kids Activities Blog. It is a DIY bike rack which can be very helpful as those bikes pile up in the driveway or garage! It is a simple DIY that you can do even if you don't have mad pvc skills and you can build it for as many bikes as you might need.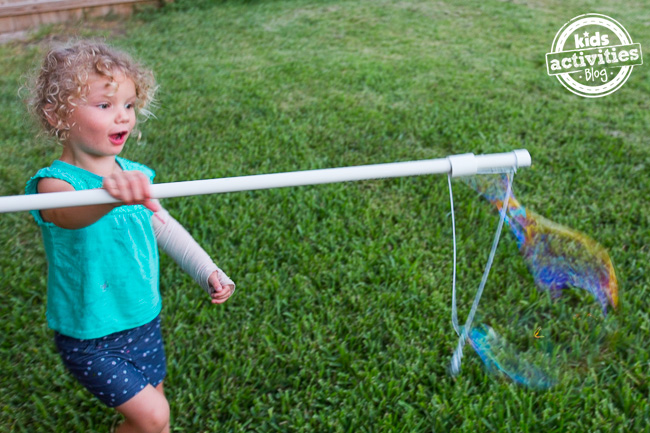 Giant PVC Pipe Bubble Wand
Make this big bubble wand from a pvc pipe and create huge bubbles with the giant bubble recipe…oh the popping fun you will have in your backyard with this pvc project!
More Fun & DIY from Kids Activities Blog
Oh so many family time games you can play in your backyard together.
Here are some fun homemade toys…more ideas for play!
Here are some genius organizing ideas that might or might not include a little pvc piping here and there!
Here are some fun and easy kids indoor fort ideas.
Check out our homemade pool ideas and you won't want to put away the pvc pipes.
Which pvc project are you going to make first?