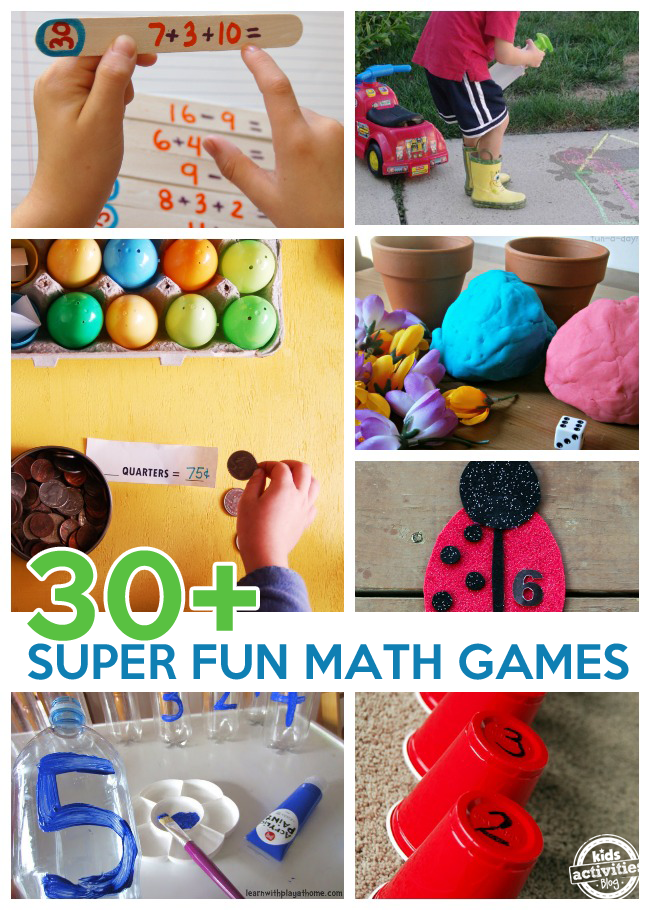 Math games are a great way to practice your math skills while having fun.   There are plenty of ways to start introducing your kids to math skills without using a workbook.   We love to have fun!
We found these and so much more fun over on our  Facebook page  and our  activity link-ups.  Head over and share your activities, too! Also be sure to check out our preschool math activities for more educational fun!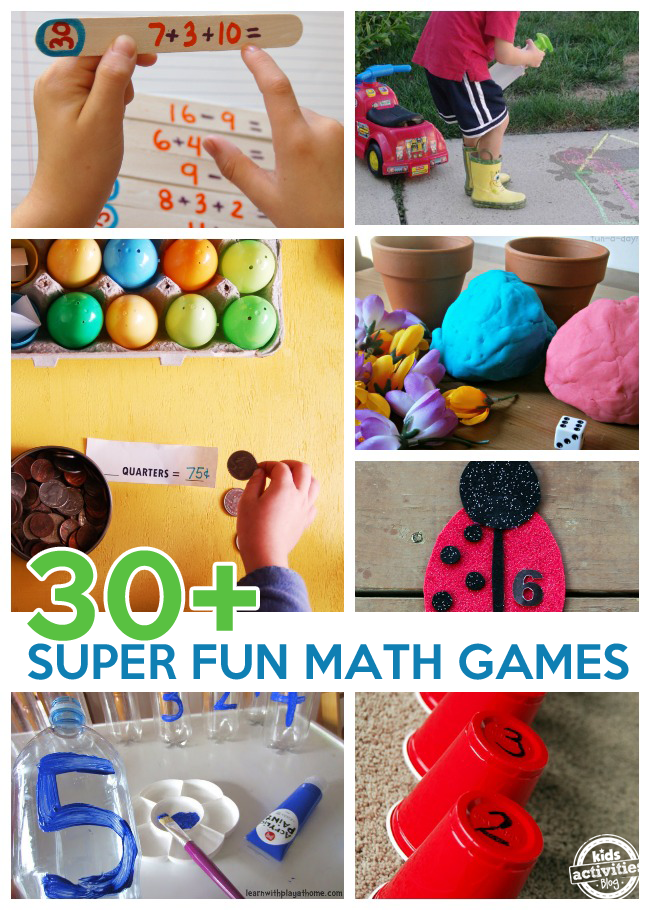 30+ Super Fun Math Games
1.   These money math worksheets are a great way to not only learn about math, but money! – via Kids Activities Blog
2.   Post it note sudoku is a fun way to get your child to not only learn their numbers while working on their critical thinking. – via School Time Snippets
3.   Outdoor skip counting will help your child learn to count by 10's and active. – via Life with Moore Babies
4.   This quilt math game is a super simple and cute board game that your children will love. They won't even know they're doing math. – via Pre-K Pages
5.    This shopping vegetable math game will help teach your children to count with things you have already in your kitchen! – via Fantastic Fun & Learning
6.   Dice, buttons, bugs, the ladybug roll and cover math game is a blast. – via Fun Learning For Kids
7.   Little Bunny printable math games are a great way to be creative and learn math with adorable little critters. – via Kids Activities Blog
8.   Learning takeaways is difficult, but it doesn't have to be. This subtraction game will make your child forget they're learning! – via A Mom With A Lesson Plan
9.   Ping pong counting is a great way to not only learn numbers, but work on your child's matching skills as well.- via Where Imagination Grows
10.   This dollar tree game teaches money and math through fun! – via School Time Snippets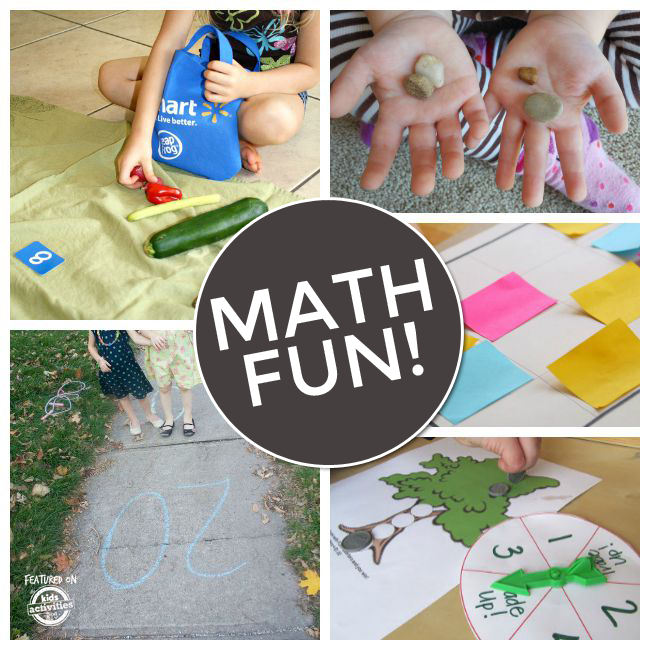 11.   This math board game is a great way for your child to learn while spending time with you.- via Life Over C's
12.   Find the coin under cups works on your child's memory skills and makes them focus a little harder. – via Meaningful Mama
13.   Love being outside? This preschool number recognition is a great educational outdoor activity. – via Creekside Learning
14.   Bear math is a great math game that involves gummy bears! Who doesn't love gummy bears? – via Fantastic Fun & Learning
15.   Gin Rummy is a classic card game that involves quite a bit of math. – via High Hill Homeschool
16.   Number bowling is a great way to learn math, be active, and recycle plastic bottles. It is a win win!- via Learn with Play At Home
17.   This spring flower math game is super cute and involves flower picking.  – via B-Inspired Mama
18.   Thecandy kiss game is super sweet! – via Fantastic Fun & Learning
19.    Get moving with this 'Stomp It!' game. – via Creekside Learning
20.   Have some old dominoes? This simple domino math for preschoolers will put them to great use. – via Teach Preschool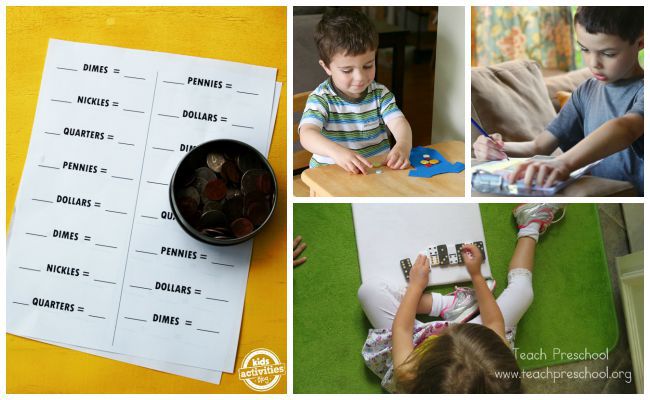 21.   This number maze is an excellent stem activity. – via Hands On As We Grow
22.   We live in a technology dominated world. Put that screen time to good use with these multiplication apps for kids. – Kids Activities Blog
23.   You'll want to "catch them all" with this Pokemon math activity using Pokemon cards.- via No Time for Flash Cards
24.  You don't have to spend a lot of money to help your child learn. You will love these budget friendly math games. – via The Educators' Spin On It
25.  Legos and Baseball? It doesn't get much better than this lego baseball math game. – via Teach Mama.
26.   If You Give A Mouse A Cookie game is based on the children's classic book so your child can learn both reading and math! – via Rainy Day Mum
27.   Remember all the different games at the fair and how much fun they were? Recreate that fun with this educational ring toss for preschoolers. – via Love and Marriage
28.   Have some extra file folders in your office? Then you have what you need for these preschool file folder math games. – via File Folder Fun
29.   This math flower power game is great for anyone who loves flowers. – via Not Just Cute
30.  This subtraction math game is great for multiple players. – via Buggy and Buddy
31.   Your kids will love this diy math puzzler! –  via Kids Activities Blog
32.  Math doesn't have to be difficult. Here are the easiest ways to practice math with kids. – via  Kids Activities Blog
We Have Even More Educational Games We Think You'll Like:
Remember that fortune teller we made out of paper back in the day? Now you can use it to teach your child math by making it a math fortune teller! How cool?!
Learn math with this glittering snowball playdough.
Make learning festive with these Halloween math games.
These super fun math games will make your child love learning.
We also have ocean math activities for preschoolers that involve sharks.
Roblox is a popular game. But did who know there are Roblox math games for kids who hate math?
Take a break from math to put together these Halloween puzzles games.
This dinosaur puzzle printable is is the best! Who doesn't love dinosuars?
Your children will love these free printable Valentines worksheets.
The spooktacular Halloween math worksheets are a scream!
Learn math and reading with these math sight words flashcards.
Make math fun and unique with these math crossword puzzles printable.
Long division can be very difficult to learn. However, make it easier with this fun long division game.
Have a hopping good time with these Easter math worksheets.
Here are 10 ways to show your kids math is fun.
Need a break? Check out these zentangle coloring pages.