Christmas Preschool & Kindergarten Worksheets You Can Print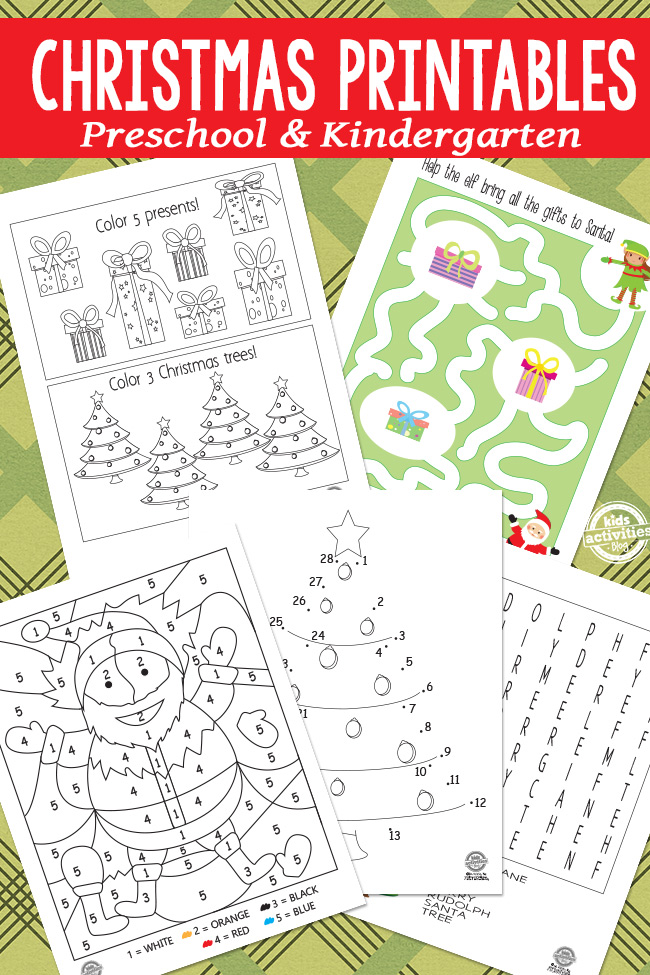 There are a million reasons to need Christmas Preschool worksheets or Christmas Kindergarten worksheets you can quickly download and print.
At my house we like to use printable themed worksheets as boredom busters, learning boosts and something super quick and easy to hand to a kid at a moment's notice. These make a really simple after preschool or after Kindergarten Christmas activity.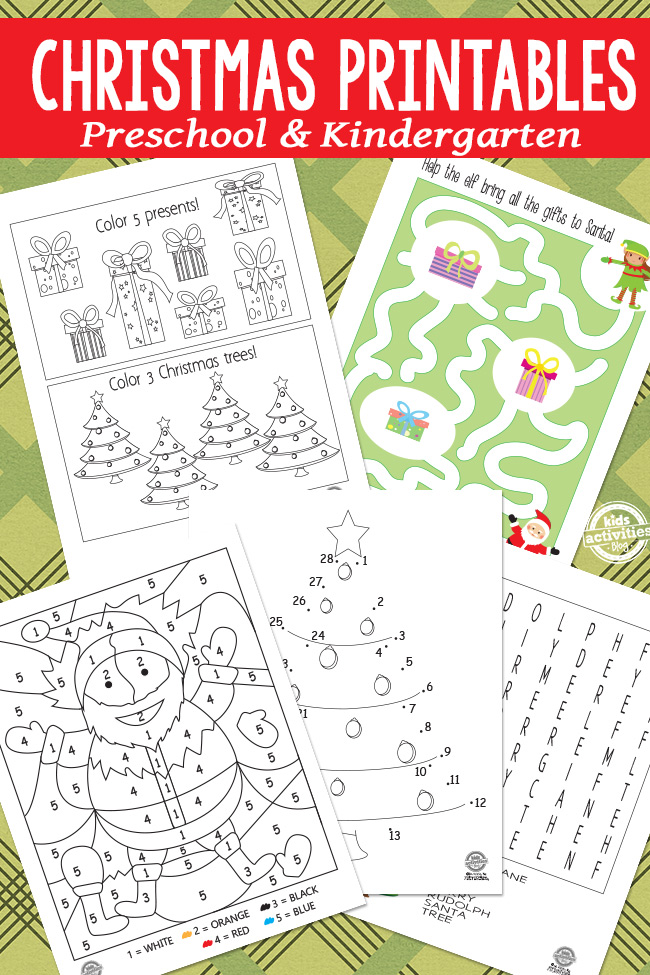 The Christmas season is full of quiet moments that having an easy preschool worksheet to hand a preschooler or a simple Kindergarten worksheet to hand a Kindergartner will be a life-saver! My favorite are the Christmas tree worksheets…but you decide!
Wait…I really like the Christmas search and find worksheet too…
Christmas Printable Worksheets for Kids
This pack has 5 fun learning pages:
There's one fun color by number page – can you tell what the Christmas themed hidden picture is?
There's a Christmas tree dot-to-dot page that can also double up as a coloring page once finished.
You'll also find a fun count and color practice page in this pack where preschoolers and Kindergartners can count presents or Christmas trees.
My favorite is the Christmas maze to get Santa to the presents.
Last but not least there's also a simple word search puzzle with a holiday theme using words like: Rudolph, Santa, Tree
Free Christmas Preschool Worksheets
Since kids are always at different levels, we put this printable worksheet package for Christmas together with both preschool and Kindergarten age kids in mind (ages 3-6). When using these with preschool kids, pages like the maze, color-by-number and count and color will be right on target for their skill level. If they are just entering preschool, you may want to print just those pages.
For the more complicated pages, you may want to assist them or create a learning experience together. The Christmas tree dot-to-dot is a fun place to practice number recognition…even if they can't count and recognize the number that high. And the Christmas word search is challenging, but word searches are simply letter pattern recognition skills. You may be surprised at how well they do if you work on one word at a time.
Free Christmas Kindergarten Worksheets
For kindergartners, these worksheets will likely be devoured quickly! They have seen all of these worksheet types and are probably familiar with the rules of each Christmas activity. Encourage kids to decorate the Christmas tree dot-to-dot with some ornaments they create themselves. And if the Christmas word search is challenging, do it together.
Download & Print these Christmas Worksheets:
More Fun Christmas Printables for Kids
This fun and engaging Pre-K and K printable packet has 10 pages of activities to include:
Color by Letters
Letter Tracing
Image Recognition
Line Drawing
Counting
Number Recognition
Number Tracing
Letter Recognition
Coloring
Early Phonics
and more!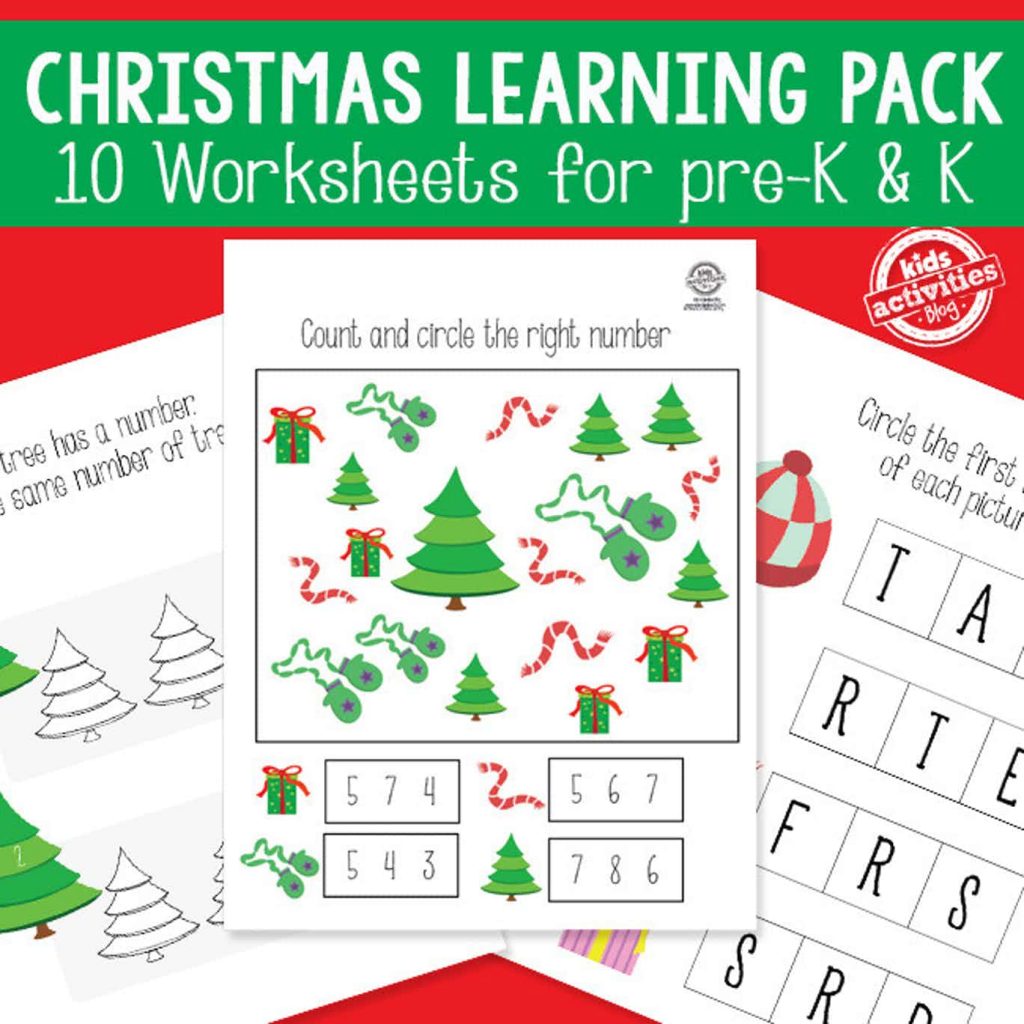 Have you checked out our beautiful printable DIY Christmas Advent calendar yet? This is a fun way to get your children excited about the holiday season. This year we used this to do 12 acts of kindness and it turned out great.
Looking for even more Christmas printable fun?
Check out these 70 free Christmas printables. Here you will find anything from Christmas coloring pages to Reindeer Vocabulary Cards. Be sure to head on over and see all the amazing holiday printables you can grab.