Yummy Snickers Blondies Recipe – Great for leftover candy!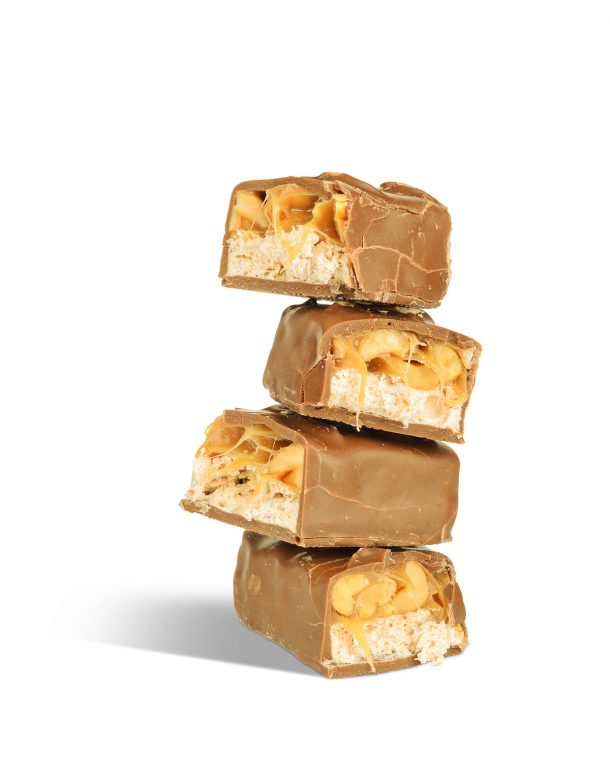 This yummy snickers blondie recipe came to me this morning after I was trying to figure out what to do with all this candy.
Halloween may have come and gone, but the remnants remain. I don't know if you're like me or not, but I get tired of eating the same thing over and over, so sometimes I need to switch it up.
Snickers Blondie Recipe
So, is that bowl of Halloween candy staring at you today as well? Did your kids bring home more candy than they could possibly eat? What should we do with all this leftover Halloween candy?
Let's get creative & try this fantastic snickers blondie recipe…you'll use up some of those tasty Snickers candy bars!
This Snickers Blondie Recipe Can Help You Spend Quality Family Time Together
Bringing kids into the kitchen creates the perfect time to bond & learn together.
Younger children can help chop the Snickers, measure & sift the dry ingredients, & help spread the batter in the pan. Older children can follow this simple recipe themselves & create their own special dessert! This blondie recipe is perfect for quality time.
And the best part about cooking with your kids?
It seems to open the door for conversation…especially with older kids…when your hands are busy together, tweens & teens seem to open up.
I think that's my favorite thing about bringing kids of all ages into the kitchen. From big to little, there are so many warm fuzzy moments!
What Is A Blondie?
Before we start, some of you may be wondering what a blondie is. People tend to think blondies are like cookies, but they're actually more similar to brownies.
They're gooey, rich, and chewy, however, the difference being brownies are super chocolatey and blondies aspire to a sweet rich vanilla flavor instead.
Which makes them perfect for add ins like snickers and they won't be overly rich and bog you down with chocolate.
---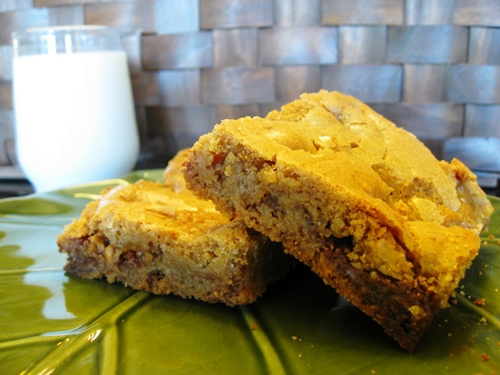 Supplies You Will Need For This Fantastic Snickers Blondies Recipe
Materials
1 cup flour, sifted
1/2 teaspoon baking powder
1/8 teaspoon baking soda
1/4 teaspoon kosher salt
1 cup packed light brown sugar
1/3 cup unsalted butter, melted
1 large egg, room temperature
1 Tablespoon vanilla extract
6 Fun Size Snickers Bars (chopped into 4 pieces each)
(Affiliate links.)
How To Make These Delicious Snickers Blondies
Preheat oven to 350 degrees & grease an 8×8 baking pan.
Sift together the flour, baking powder, baking soda, & kosher salt.
In a large mixing bowl, combine brown sugar, melted butter, & vanilla extract. Once these ingredients are well blended, add the egg & mix until everything is combined.
Add the flour mixture very slowly and mix until barely combined. Using a spatula or large spoon, continue mixing ingredients until completly mixed. Fold Snickers pieces into the batter.
Spread the batter into baking pan. Don't worry if it seems like there's not much batter…it all works out!
Bake for about 25 minutes at 350 degrees, or until a toothpick inserted in the center comes out clean.
Allow to cool completely, then turn baking pan upside down onto a cutting board.
Cut Blondies into squares & enjoy!
Switch Up The Chocolate In Your Blondies
If your family doesn't like Snickers, just about any chocolatey candy will work. Reese's Peanut Butter Cups are some of my favorites to throw in!
And if you really want to be good, give them away as treats to a neighbor or your child's teacher. You'll make someone's day, & the candy stash will have grown smaller!