Healthy Rainbow Snack – Perfect for St. Patrick's Day!

If you're looking for a colorful and healthy St. Patrick's Day snack, then look no further!
My kids loved helping me create this healthy snack, and they loved eating it even more. What's a better springtime snack than your very own edible rainbow?
This just might be the perfectly sneaky way to get your kids to eat their veggies!

The first thing to come up with was a rainbow arch.
I wish I would've thought to grab a green bell pepper because I think it would've made this healthy snack even more colorful. If your kid doesn't like peppers, then presenting them in a fun and colorful way might just be the key to get them to try them again.
This recipe is super simple to whip up after school, and the hummus can even be made ahead of time. This recipe makes a lot of hummus, so you might want to have your favorite chips ready for dipping!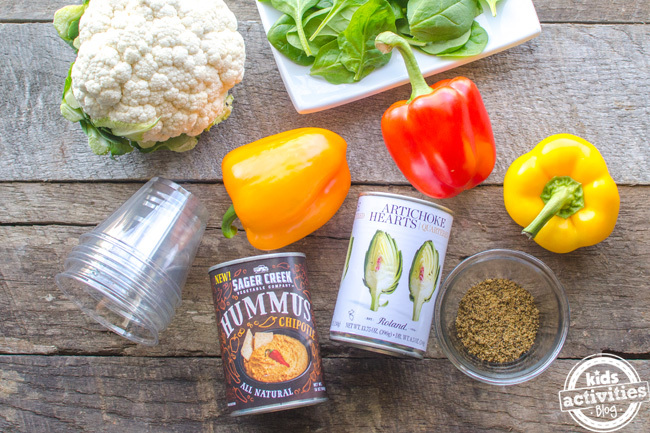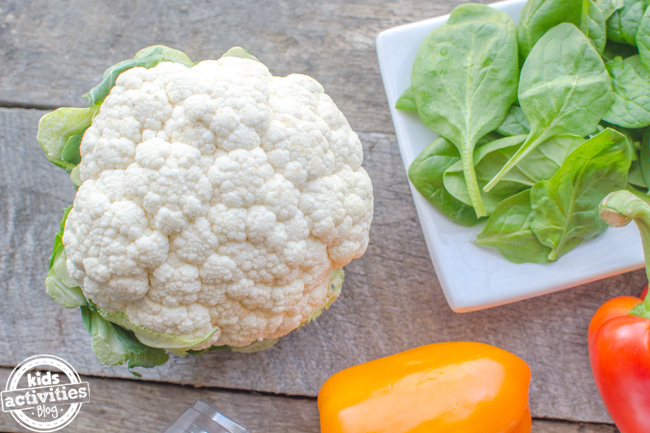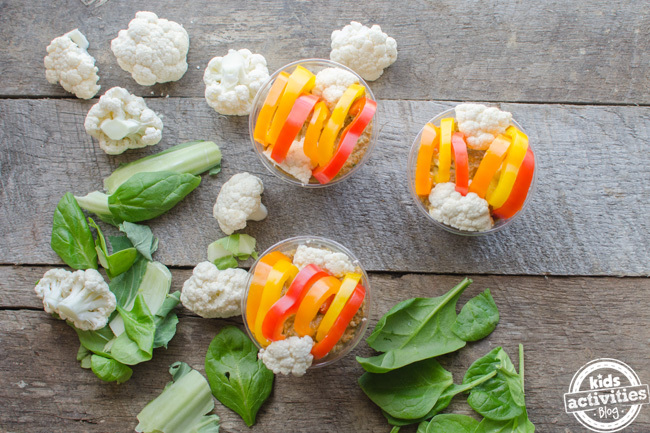 Edible Rainbow Craft: A Healthy St. Patrick's Day Snack!
Ingredients: (affiliate links)
16 oz hummus (grab your favorite, or make your own!)
13 oz can of artichoke hearts, drained
1 cup fresh baby spinach
1 Tablespoon lemon pepper
4 bell peppers (red, orange, yellow, and green)
1 head cauliflower
Directions:
First, in a large bowl using a stick blender, blend together the hummus, drained artichoke hearts, baby spinach, and lemon pepper.
You can also use a counter top blender for this part–in fact, your children will probably enjoy pushing the buttons and helping you!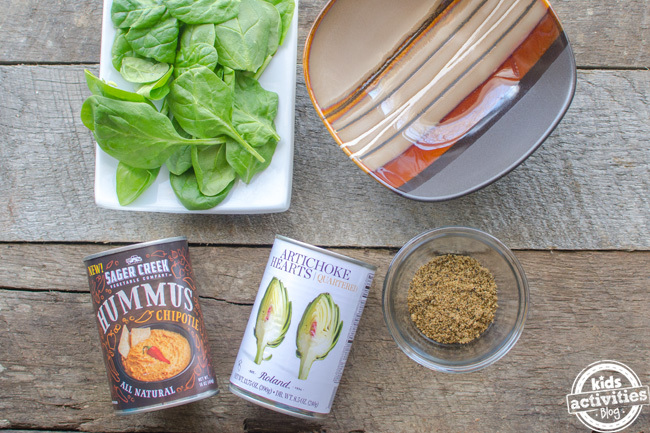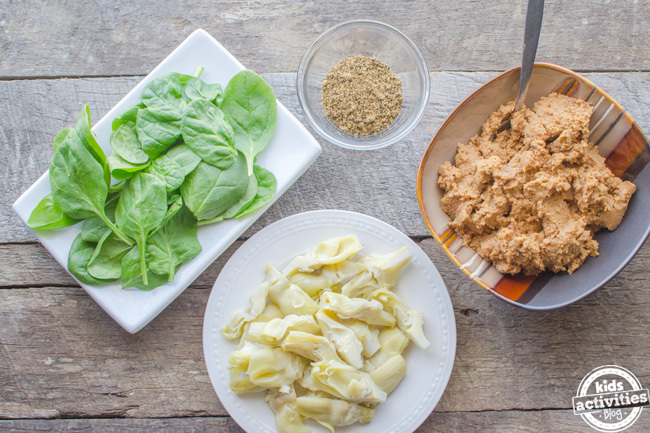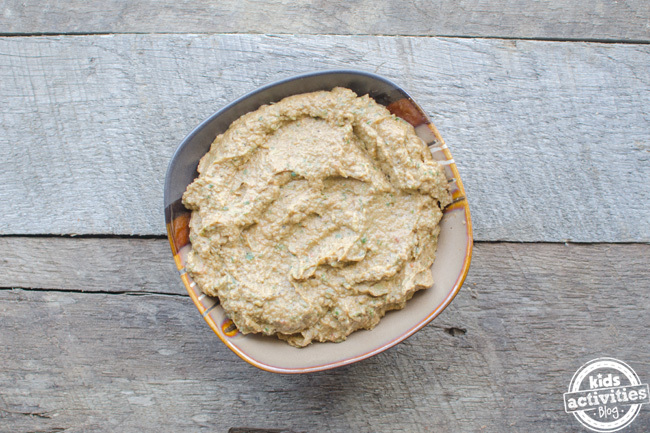 Next, using a sharp knife, carefully slice the bell peppers into rings and then cut those rings in half.
Then chop the cauliflower into florets.
Now it's time to arrange the rainbows for this healthy St. Patrick's Day snack!
To arrange, just fill small cups with hummus, then take two small cauliflower florets and place on opposite sides of the top of the hummus inside the cup.
The cauliflower becomes little clouds for the rainbow you're about to make.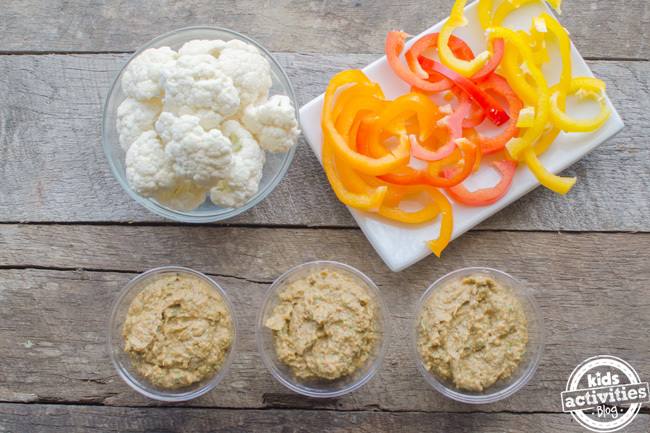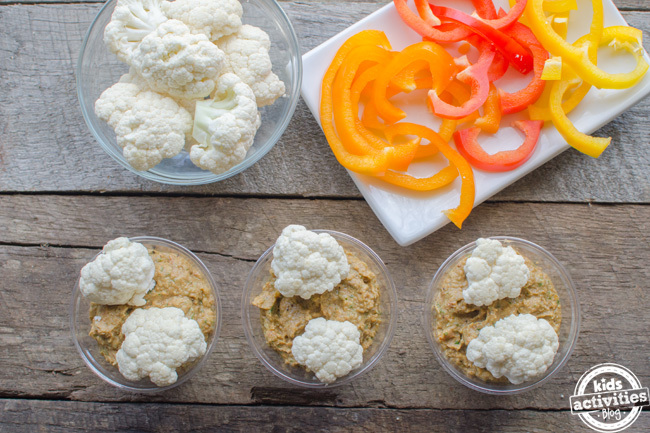 To create the rainbow, take the halved bell pepper rings and arrange them in this order: red, orange, yellow, green.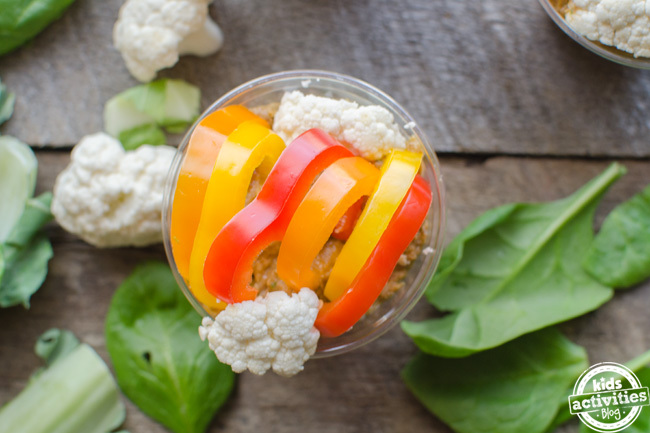 Finally, serve this healthy snack all by itself with a spoon, or give kids a bowl of chips to dip into the hummus after they're done eating their veggies.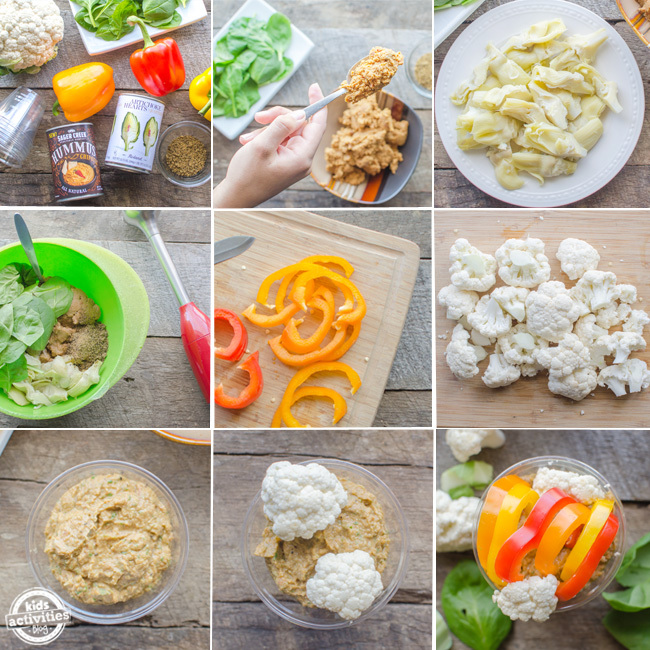 So fun and yummy!
MORE ST. PATRICK'S DAY ACTIVITIES FOR KIDS
St. Patrick's Day Snack
St. Patricks Day food for kids…and adults too!
Really easy & fun Irish flag craft for kids!
Host a simple & fun St Patrick's day tea party with these green tea party ideas!
Make a leprechaun craft for kids
St. Patrick's Day crafts for everyone from preschool to adults!
Make a green jello poke cake to celebrate…yum!
Download & print this free leprechaun coloring page
Make shamrock eggs which is the best St. Patricks breakfast idea!
Oh the yummy…St. Patrick's Day desserts you don't want to miss!
And make this copycat Shamrock shake which is the best St Patricks day shake!
Need some green food ideas? So many fun things to eat!
Check out the over 100 St Patrick's Day printables for kids!
We have all the best shamrock crafts for kids!
Did your kids love eating this rainbow snack?