Snoopy and The Peanuts Gang Have Free Coloring Pages and Activities For Kids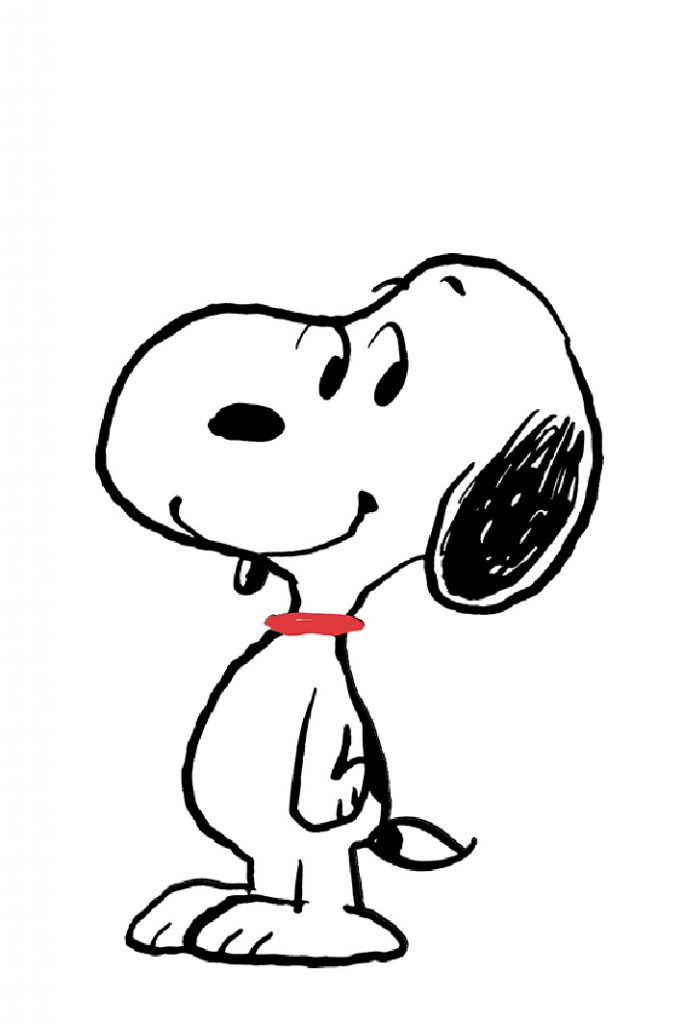 We discovered the motherlode of free Peanuts activities for kids including Snoopy coloring pages, Charlie Brown coloring pages, Peanuts coloring pages and lesson plans that kids of all ages can get excited about!
We are huge fans of Charlie Brown, Snoopy, and the Peanuts gang around here.
At Halloween, we always watch "It's the Great Pumpkin, Charlie Brown." At Christmas, we never skip "A Charlie Brown Christmas."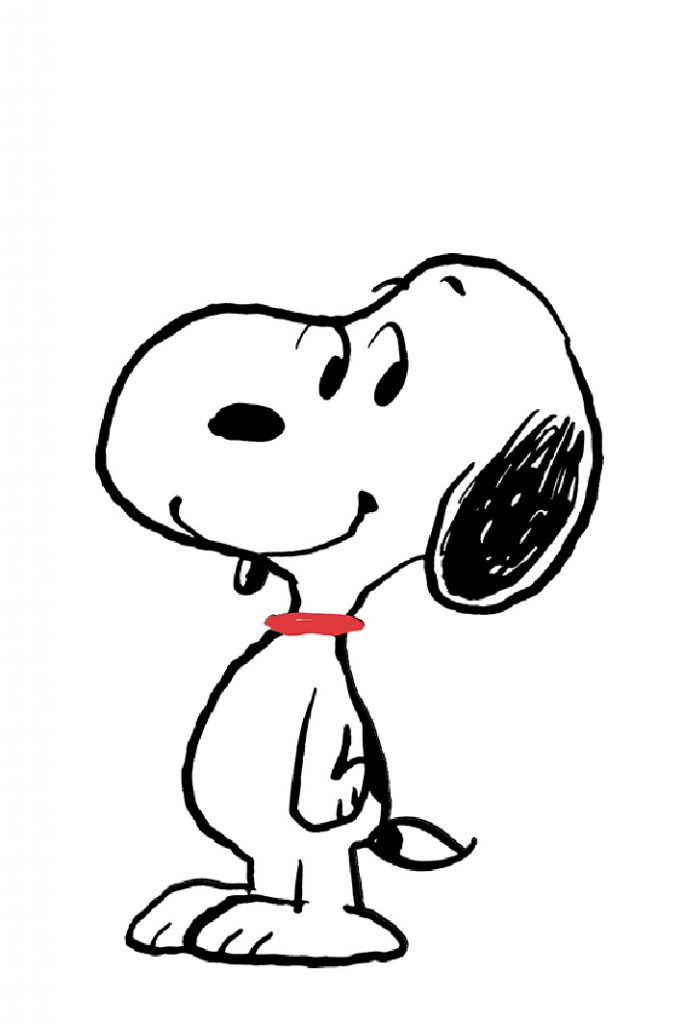 Free Peanuts Coloring Pages, Worksheets & More
Now I get to encourage their love of our favorite cartoon dog with some more fun: free printables and activities!
Keep kids busy at home with all sorts of printable fun from Peanuts.com who is offering a bunch of freebies, some educational and some just for fun:
Snoopy, Charlie Brown, and the Peanuts Gang keep kids engaged and entertained while sharpening STEM, Language Arts, and Social Studies skills. These free resources, created for students ages 4–13, are available in 11 languages.
This article contains affiliate links.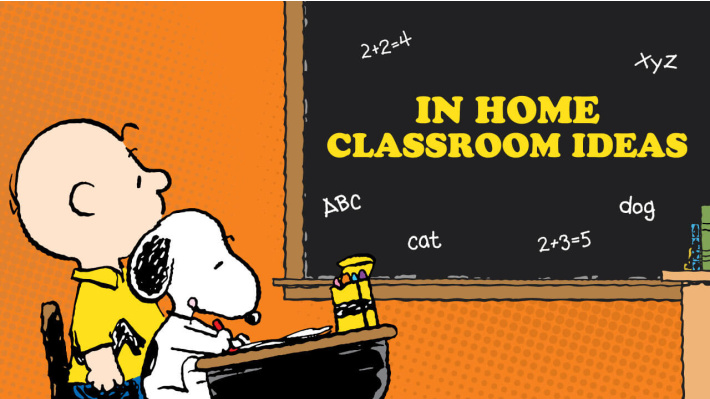 Snoopy and Friends Learning Resources
I love their idea behind their free learning resources.
Kids often respond super well to educational activities that are related to a favorite character, like Snoopy, and a favorite activity, like sports.
While these activities were originally created for classroom use, parents can use them at home as lesson plans or enrichment activities.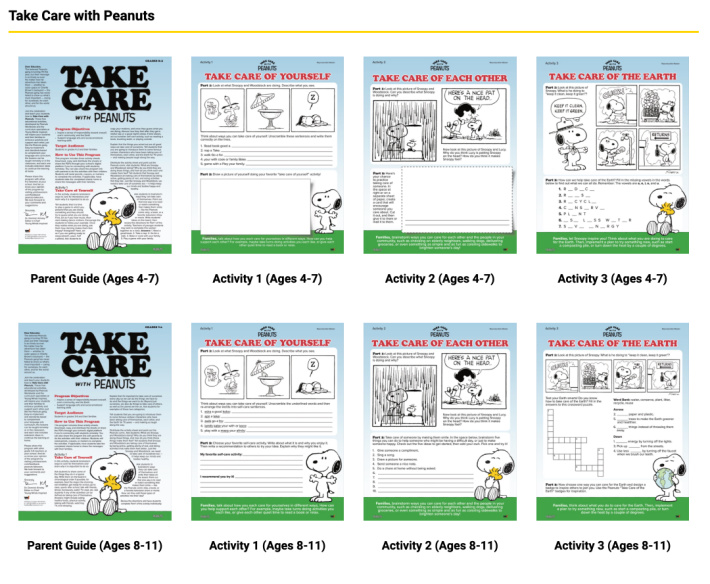 In all of the ready-to-use activities, kids see Snoopy's adventurous spirit shine through.
Not surprisingly, there are a whole lotta outer space and moon activities for kids in Kindergarten through 5th grade.
But let's be honest, even preschoolers will get a kick out of some of the activities.
Free Printable Peanuts Lesson Plans Include
Earth Day with activities for kids ages 4-7 years old and 8-11 years old
It Takes Perseverance! about the Perseverance Mission to Mars with lesson plan activities for ages 4-7 and 8-11
Take Care with Peanuts has lesson plans for kids 4-7 and 8-11
Snoopy and NASA: Celebrating the Space Station has activity guides for ages 4-7 and 8-11
Snoopy in Space has activity guides for ages 4-7 and ages 8-10
Peanuts and NASA has activities and lessons for ages 4-7, ages 8-10
Celebrate Spring with Peanuts has activities for ages 4-8
Dream Big has lesson plans for kids ages 4-7, ages 8-10 and ages 11-13
Never Give Up, Charlie Brown – guides and activities for ages 8-10 and 11-13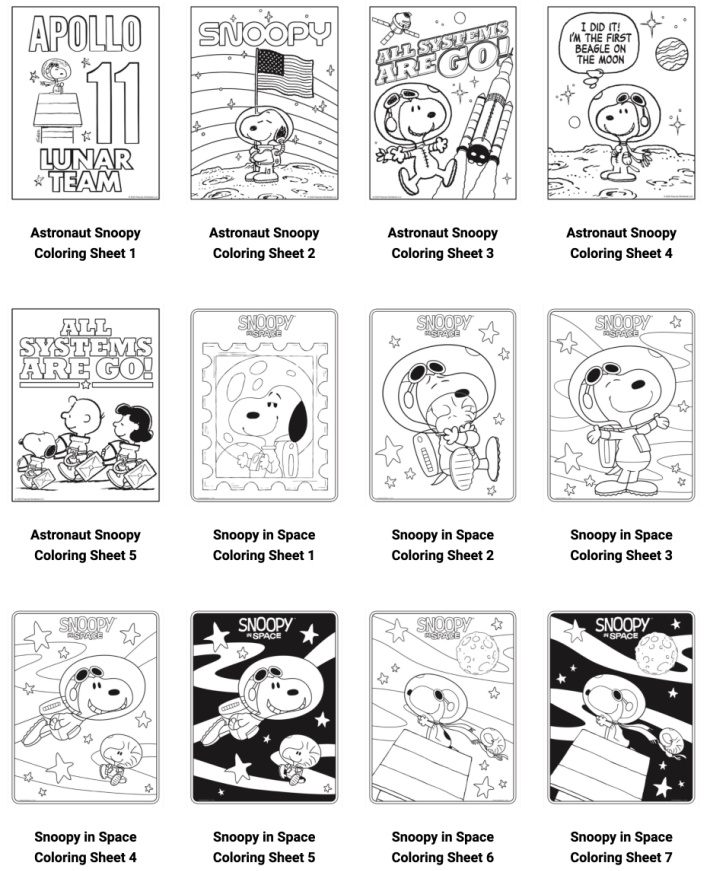 Free Snoopy Coloring Pages
For the kids who love to color, encourage their love of exploring with Snoopy coloring pages. Currently all the coloring pages feature Snoopy, and a couple other members of the Peanuts gang, ready to explore Outer Space.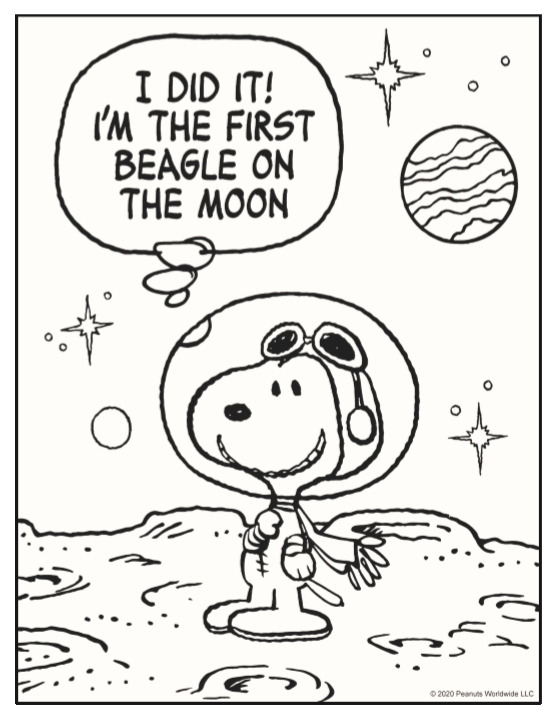 These Snoopy coloring pages are adorable… especially the ones that include little Woodstock, Snoopy's bird.
Free Peanuts Coloring Sheets for Kids
Astronaut Snoopy shows Snoopy on the dog house with Apollo 11 Lunar Team
Astronaut Snoopy shows Snoopy on the moon planting the American flag on the moon surface
Astronaut Snoopy says "All Systems are go!"
Astronaut Snoopy shows Snoopy on the moon saying "I did it! I'm the first beagle on the moon!"
Astronaut Snoopy shows the Peanuts Gang walking to the launch site with the words, All Systems are Go!
Snoopy in Space shows a postage stamp with Snoopy wearing a space suit
Snoopy in Space has Snoopy and Woodstock hugging each other wearing space suits
Snoopy in Space shows Snoopy in outer space
Snoopy in Space has Snoopy and Woodstock playing in outer space with zero gravity
Snoopy in Space is a second version of the Snoopy in Space coloring page #4 with black background
Snoopy in Space shows Snoopy and Woodstock in space suits riding the dog house like a space ship
Snoopy in Space is a second version of the Coloring page #6 with a black background
Check out all the free Peanuts coloring pages here.
More Printable Peanuts Fun
Just in case all those freebies aren't enough, you (and your kids) can get more Snoopy fun with his new TV show. "Snoopy in Space" is free on AppleTV+.
The Peanuts website is also packed with fun info about all the characters. I love their "flashback" series that features old comic strips and when they last appeared. So much great nostalgia for parents, and something fun for kids too.
More comics from creator Schulz are also featured on the official Snoopy Facebook page.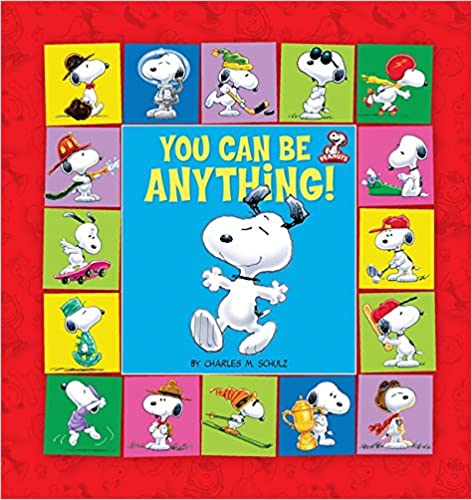 If your kids don't yet know the Peanuts gang, now is a great time to introduce them!
The classic show and comic books continue to be timeless. While some videos of some of the best Charlie Brown scenes are online, there are loads of books featuring Charlie Brown and the gang too.
A personal favorite of ours: "You can Be Anything," which features Snoopy himself wearing many different hats. Because Snoopy will never ever get old!
More Fun with the Peanuts Gang
Check out Home is On Top of a Dog House that presents the heartwarming content that charmed the world, sold millions, and launched the career of Charles M. Schultz.
I love this really fun book of Peanuts Origami: 20+ Amazing Paper-Folding Projects Featuring Charlie Brown and the Gang
This really sweet box set of Peanuts Every Sunday is perfect for home or as a gift.
Grab the Peanuts Dell Archive in hardcover.
The world's most beloved beagle shares his philosophy on life in this beautifully produced gift book for all generations, The Philosophy of Snoopy (Peanuts Guide to Life).
Celebrating Peanuts: 60 Years allows you to join Charlie Brown and the gang for 60 years of Peanuts classics by Charles M. Schultz.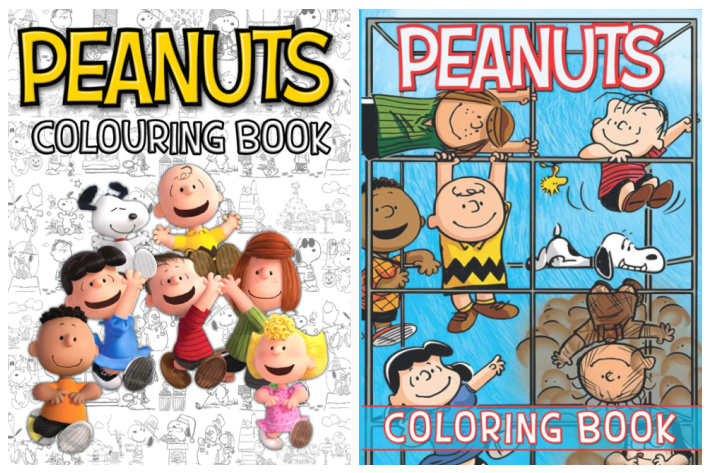 Peanuts Coloring Books for Kids and Adults
Peanuts Coloring Book: Peanuts Adult Coloring Books for Women and Men, Stress Relieving – we love it for kids of all ages too!
Peanuts Coloring Book: Peanuts Stress Relief Coloring Books for Kid and Adult. Perfect Gift for Birthday or Holiday – I love the cover on this book…so much Peanuts and Gang fun!
Peanuts Colouring Book: 60 One Sided Drawing Pages of Characters and Iconic Scenes Illustrations to Relax and Encourage Creativity for Kids Toddlers and Adults.
Peanuts Snoopy Coloring Book – drawing art 8.5x 11″ pages, one side Peanuts Snoopy Coloring Book. Over 50 Great illustration about Peanuts Snoopy Coloring Book. A perfect gift for kids and adults.
Snoopy Birthday Coloring Book: An Incredible Coloring Book for Birthday Celebration with Lots of Snoopy Images.
More Coloring Page Fun from Kids Activities Blog
We have 100s and 100s of free coloring pages for kids and adults…just download & print the pdf file!
These zentangle design coloring pages are perfect coloring pages for adults due to the intricate designs.
Check out the learning tutorials in our cool drawings that you can follow along and draw or color.
Our how to draw series is full of easy printable step by step instructions so you can make your own drawing.
Which is your favorite free Snoopy coloring page or worksheet printable? Did your kids have fun with all the free online Peanuts and Gang fun?