25+ Easter Coloring Pages for Kids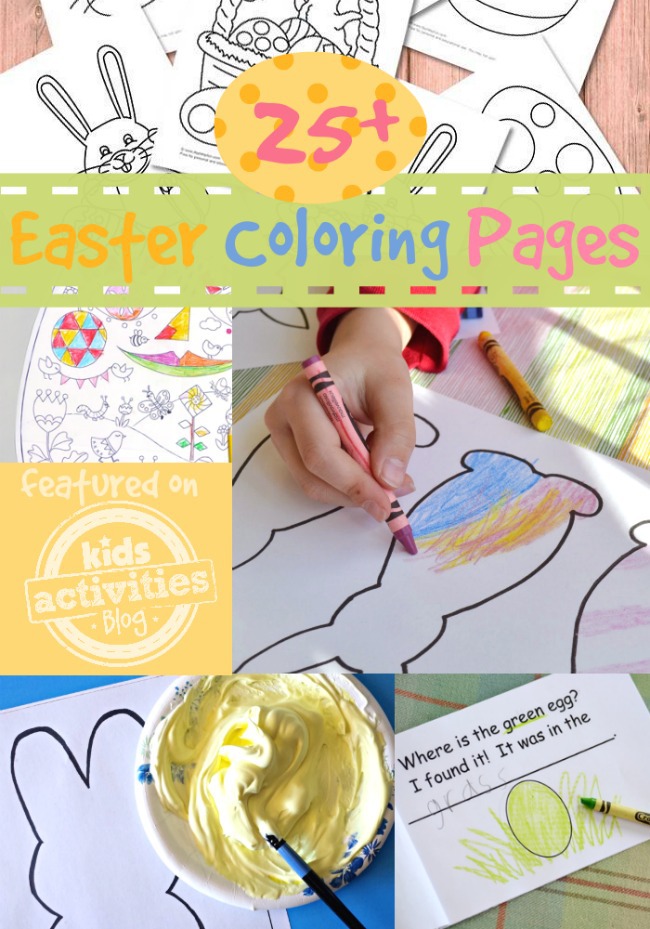 We love coloring pages and are super excited to pull together a whole bunch o' Easter coloring pages for kids!
My boys never liked to "color", but add some paint or glue and coloring pages take on a whole new adventure.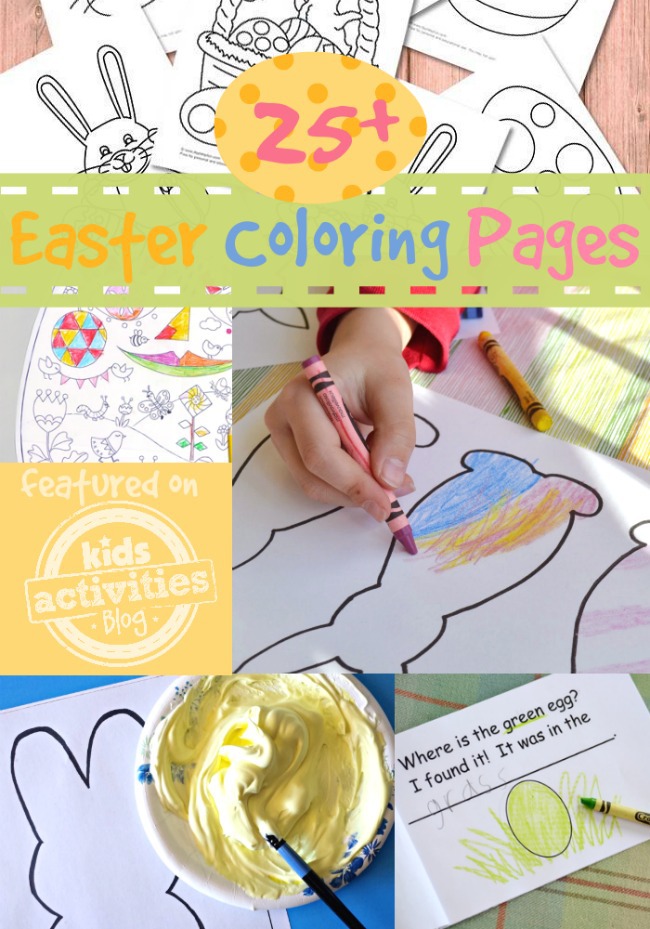 Easter Coloring Pages
Make sure you grab our free Easter coloring packet and Easter activities!
You can even mix it up and grab your paints, glue, and glitter! Cut the pictures out to work on your fine motor skills or even add crafting items like tissue paper, pom poms, googly eyes, make it your own!
Free Printable Easter Coloring Pages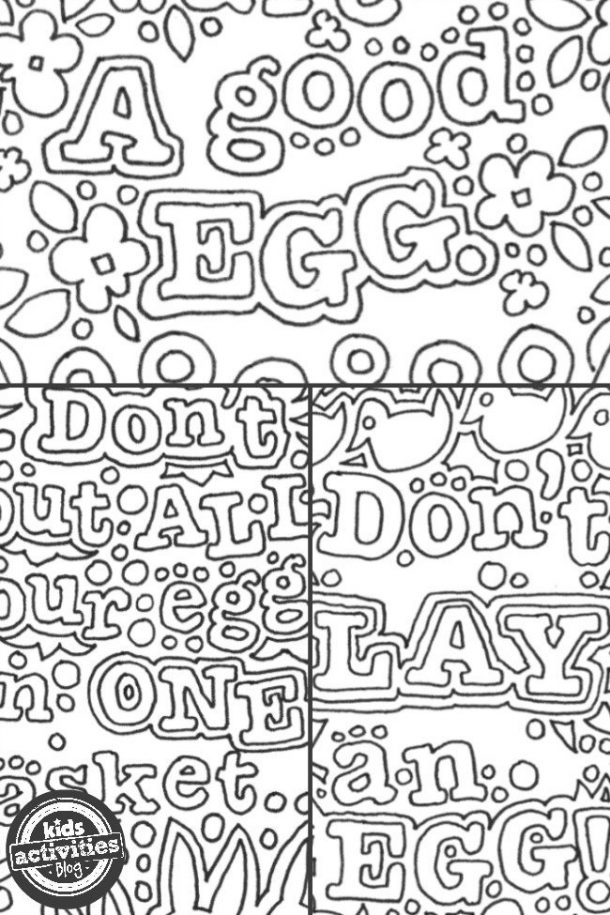 Easter Egg Doodle
This three-pack of of Easter Egg Doodles is a super cute doodle art with silly sayings that are egg-cellent. Colored pencils or markers would be perfect for these pages!
Easter Egg Coloring Pages
These Easter egg coloring pages are PRECIOUS! Create your own custom egg pal by adding accessories and limbs to an egg. You could use glue or you could use a paper fastener and a hole punch to watch it's arms and legs move.
Cute Easter Coloring Pages
Here is a HUGE pack of 25 cute Easter coloring pages. Surely there is something in here that will delight every child. These coloring pages have the Easter bunny, Easter eggs, a little boy hunting for eggs, a little girl holding a giant egg, Easter chicks, and more!
Egg Coloring Page
This set of Easter egg coloring page has some blank eggs to start from scratch decorating or some basic outlines to embellish. There are 3 different Easter eggs to color! Color the one with zig zags, the polka dotted one, or the one with swirls!
Easter Cards
This Happy Easter Printable could be used as a coloring page or as simple Easter cards to send to a friend or relative. The printable is simple and says Happy Easter with cute little bunnies on it! They even have a place to sign your name at the end and send love to the receiver.
Bunny Coloring Pages
These Bunny Coloring Pages are made of big shapes for wide crayons! There are also some simple dot-to-dot activities in this set. These are perfect for preschoolers and kindergarten students who need a little more practice with their fine motor skills.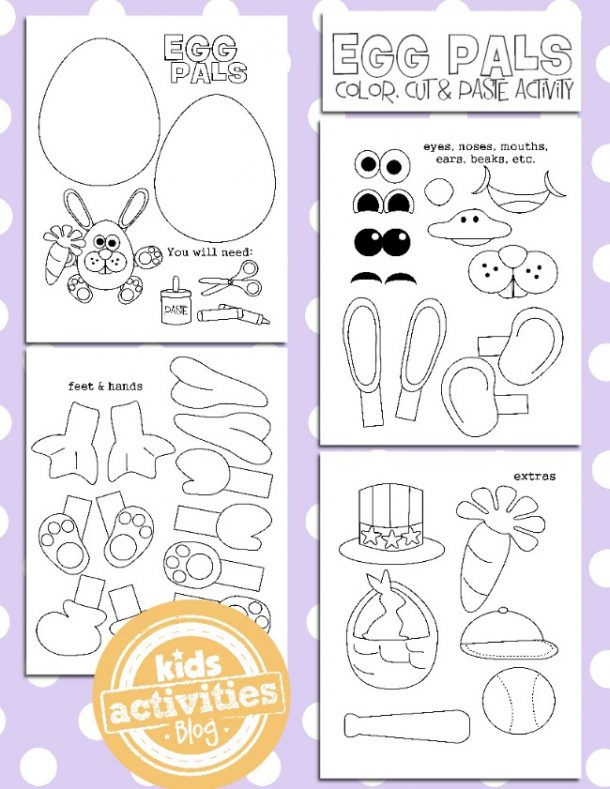 Religious Easter Coloring Pages
These simple Biblical coloring pages are perfect for Sunday school or family time worship from Crystal and Company. These religious Easter coloring pages are a great way to teach your kids about the true story of Easter.
Easter Bunting Printable
This Easter bunting printable can be colored and then strung together into a festive holiday bunting! Use crayons, glue and glitter, or even water color to create a colorful bunting. Don't forget to add a white fuzzy tail! Mini white pom poms work best or go wild and use different colors. What a fun idea from East Coast Mommy.
Easter Coloring Book Printable
Not Just Cute always has fun ideas and this is no exception. This is an Easter Egg coloring book for early readers to read and follow the directions. Using this Easter coloring book printable not only works on your child's fine motor skills, but reading comprehension as well.
Easter Bunny Coloring Page
This simple line drawing from 3 Boys and a Dog would work great for glue and a handful of cotton balls! Your child will love this Easter bunny coloring page as it does include a cute, realistic, looking bunny with a bow and an Easter egg.
Peeps Coloring Pages
Sassy Dealz has created a very unique craft project that starts with a PEEP-like coloring page. It is perfect for Easter time and is also a fun sensory project as the puffy paint is a new and fun texture for your child to experience. I really like these peeps coloring pages.
Jelly Bean Coloring Page
What Do We Do All Day has a really cute spring "rain" coloring page. It is raining jelly beans on umbrella-protected chicks. This jelly bean coloring page I think would be best done in colored pencils or thin markers as the pictures are a little bit smaller and more fine.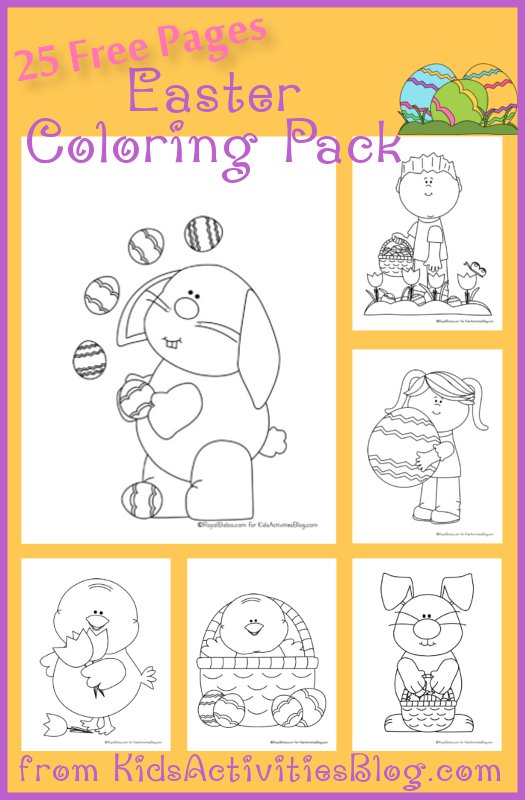 Easter Holiday Coloring Pages
This set of Easter holiday coloring pages has fluffy bunnies toting woven baskets on a hunt for eggs just waiting to be colored. The lines are bigger so it is perfect for crayons! It is from Itsy Bitsy Fun.
Religious Easter Coloring Pages
Here are some coloring pages that celebrate the real Easter story from I am That Lady. There are 25 different religious Easter coloring pages to choose from!
Free Printable Easter Coloring Pages
I love these very creative and intricate designs from Doodle Art Alley. And the best part is, you'll find a coloring sheet for everyone, adults, older kids, even younger kids!
Easter Egg Hunt Poster
Because I love Easter decor, this Easter egg hunt poster is awesome and totally colorable from Teachers Pay Teachers, and it is free! It would make a really cute placemat for Easter brunch.
Easter Bunny Coloring Pages
But as much as I love Easter decor, I adore the Easter bunny. Easter bunny coloring pages depict SO many bunnies to choose from over at Super Coloring!
Easter Egg Coloring Pages
If you like Easter activities as well as coloring sheets, then you'll love these printables! This fun coloring activity from Make and Takes is perfect for the older child who might not embrace the whole coloring idea.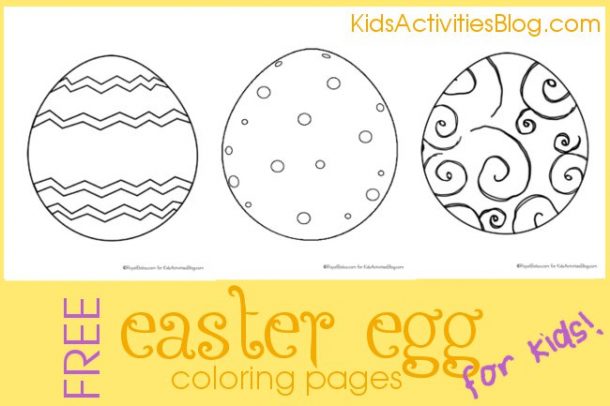 Giant Easter Egg
This egg-shaped coloring extravaganza from Mr. Printables will keep kids busy for awhile…I promise! It is a giant Easter egg that is very similar to a zentangle. Color each picture within the egg. You could even print this off as a poster. I would suggest this for older kids, maybe first grade and up. Colored pencils would be ideal for this as well.
Easter Gift Box
Because we like to hand out gifts for Easter, this coloring sheet can be folded into a box! What a fun way to make a paper craft from Easter Colouring. It is small enough to hold small treats like fun sized candies or stuff like M&M's and jellybeans!
Easter Coloring Sheets
Oh my goodness! How precious are these Easter coloring sheets? Two bunnies holding a basket surrounded by sweets from The Organised Housewife.
Bunny Coloring Page
Need something for your smaller child? This bunny coloring page is super simple and super cute. A big egg and a chick peeking out from A to Z Teachers Stuff. This would be perfect for toddlers, preschoolers, and even kindergarten kids.
Easter Pictures To Color
Easter pictures to color can help your child better understand Jesus, His disciples, and the real story of Easter a little better. Help them learn the Easter story through coloring pages from My Little House.
Easter Elmo Coloring Sheet
Say Happy Easter with Elmo! This simple coloring page is of Elmo holding a very full Easter basket with the Easter bunny! This super cute coloring sheet is from All Kids Network.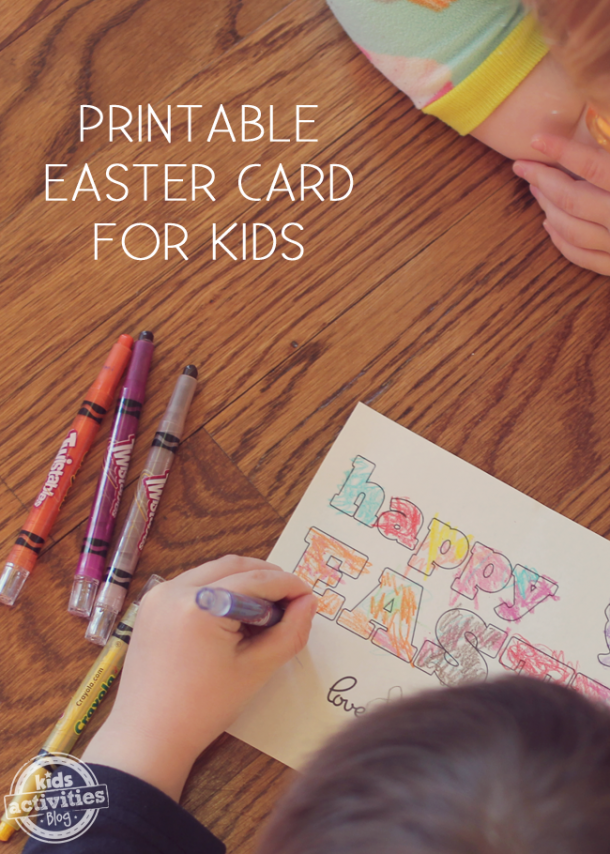 Easter Coloring Crafts
Color something silly like this juggling Easter bunny or this beautiful Easter egg. Don't want to color? No problem! There is also Easter mazes. These graphic coloring pages are from Woo! Jr.
Fun Easter Coloring Sheets
Where does the Easter bunny live? Well, he lives in the forest in a little wooden house of course! This lovely coloring page is a piece of art in itself from Phee McFaddell.
Printable Happy Easter Pictures
Who helps the Easter bunny move eggs around? Thomas the Train does! These printable happy Easter pictures show just that! There are several train Easter coloring pages over at Thomas the Tank Engine Friends.
Easter Egg Printable
Use finger paints, and of course your fingers, to fill up this big Easter basket! I adore this from Sassy Dealz. It is a large scale Easter basket just waiting for finger painting!
Happy Easter Hello Kitty
Hello Kitty is so cute! So is this Happy Easter Hello Kitty coloring sheet! You'll find this Hello Kitty page over at Net Art. Hello Kitty is holding a bird next to a big Easter egg and pretty flowers.
Easter Craft Tree
This is super cute from Sunday School Kids. It is an Easter tree complete with hanging eggs just waiting to be decorated! Colored pencils or thin markers would probably be best here as the lines and spots are a little fine.
Want More Easter Fun?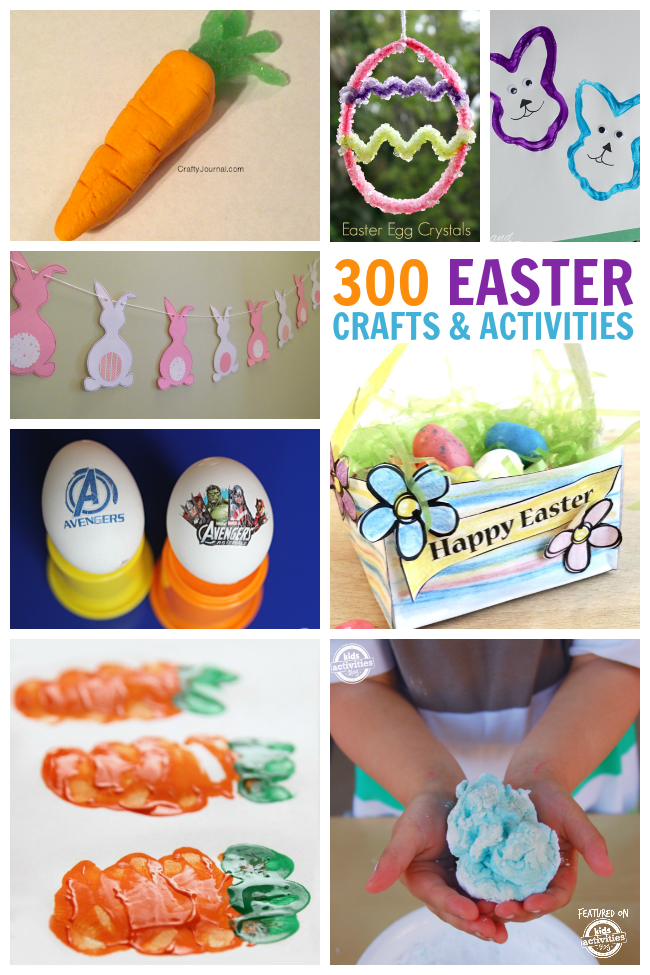 Looking for more Easter activities to do? Then you will love these Easter crafts! There are 300 to choose from.
We have so many different Easter ideas from crafts, activities, recipes, and more!
Just like coloring sheets? That's fine! We have quite a few printable Easter pictures to color.