50+ Printable Flashcards & Awesome Ways to Use Them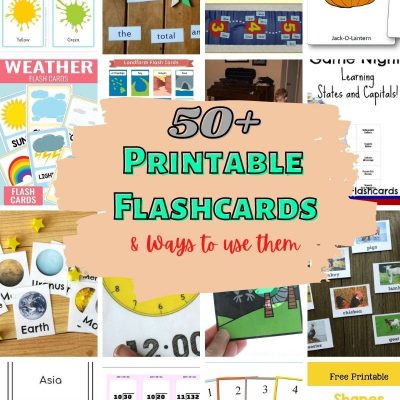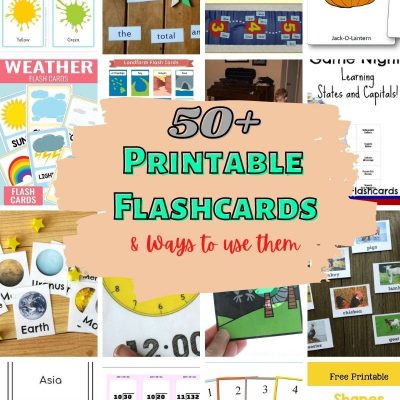 Printable flashcards are powerful tools for kids learning the alphabet, numbers, sight words, and math for kids of all ages starting with toddlers. They are great resources for parents and teachers to make learning simpler and fun.
Plus, they're a great way to reinforce learning and the price is right…these are free printable flash cards you can download and print right now.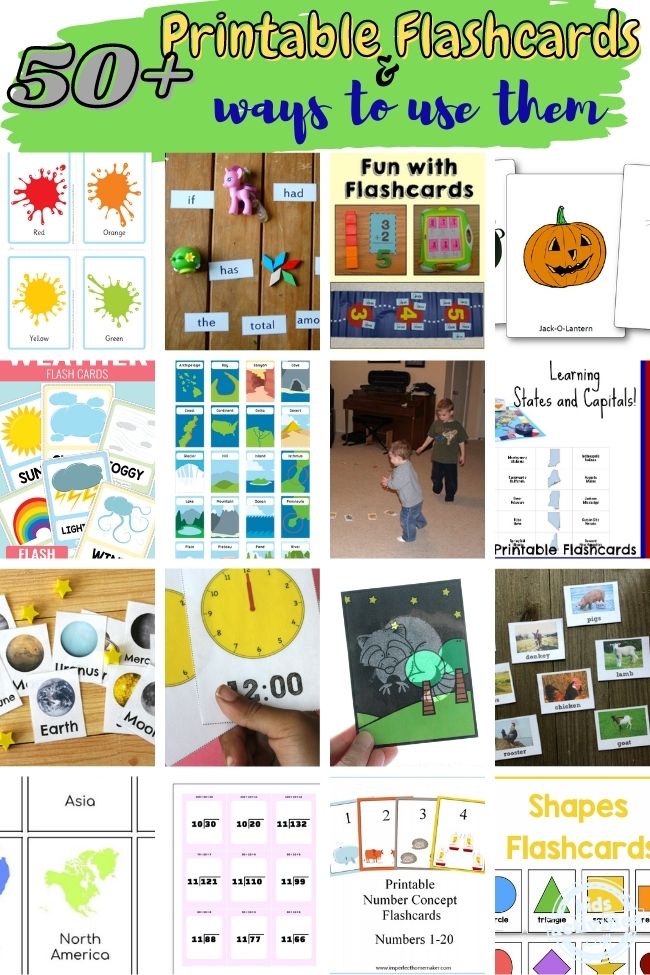 This post contains affiliate links.
Make Your Own Flashcards
Using free printable flashcards makes learning fun and interesting. Using them repeatedly helps kids learn faster through repetition…
It activates a child's "active recall", metacognitive faculties and confidence-based repetition.
Storing Flashcards in Classroom or Home
I love using a photo album to keep up with flashcards. I keep everything in a big book so my children won't lose their flashcards.
If you have a lot of flashcards, separate them by subject binding each set of flashcards with a rubber band or in a small plastic box and then store the packets in a plastic shoe box.
You can also punch these DIY flashcards at a corner and put them in a binder ring for easy access.
Supplies Needed to Create Flashcards
Digital downloadable pdf file – look below for all the options we are sharing today, you can download the flash card templates file on your phone, tablet or computer as long as it has access to a printer.
Printer – this doesn't have to be a fancy one, but a full color printer will make it easier to make your own flash cards
White paper – traditional printer paper is fine if you are planning on laminating the flashcard set, but thicker paper is going to work better and give a better experience without lamination. You will find all sorts of options including perforated sheets or smaller "card size" blank flashcard printer options, but I have found that just plain old thicker sheets and a pair of scissors work the most reliably!
(Optional) Lamination – Laminate your printed flashcards if they are sets that get a lot of use. Also, it serves as an easy way to practice letters and numbers using dry erase markers.
(Optional) For fully homemade flash cards, you can start with blank cards and build with stickers and markers.
Free Printable Alphabet Learning Flashcards
Alphabet Picture Cards
These alphabet cards are perfect for toddlers and preschoolers learning their letters. The cards have realistic pictures to help you remember each letter of the alphabet from Mega Workbook along with lowercase letters and uppercase letter fun flashcards for young learners.
DIY Tactile Alphabet Cards
Younger kids will love this playful set. How fun is it to learn alphabets with sensory play? DIY tactile alphabet cards are so much fun from Playground Park Bench.
Free Printable Color Learning Flashcards
Coloring Color Flashcards
Grab your crayons and print these printable crayon color flashcards to teach your little one, toddler through preschooler colors from From ABCs to ACTs.
Color Flash Cards
These are very simple color flash cards. Learn your colors by looking at the various splats of paint from Tot Cards.
Free Printable Shapes Learning Flashcards
Basic Shapes Flashcards
Basic shapes flashcards is a great way to not only learn shapes, but you could use to them as a template for playing with playdough from The Teaching Tunt.
Free Printable Early Reading Skills Flashcards
Phonic Cards
Preschoolers and Kindergartners…and beyond can learn the basic sounds of the alphabet using these phonics cards from Syncopated Mama.
Sight Word Flashcards
Work on your little one's reading skills using free printable sight words from It's a Mother Thing.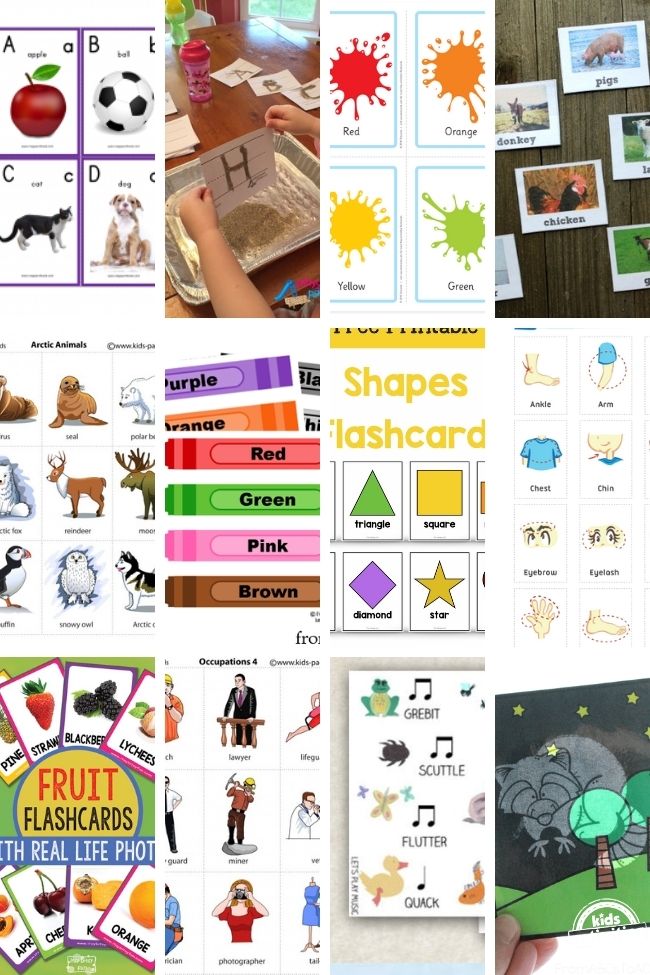 Free Printable Animal Identification & Learning Flashcards
Barnyard Animal Flashcard Set
Moo! Oink, Oink! Farm animal flash cards will have your toddler learning all the names of the animals in no time from Look We Are Learning.
Animal Collection Flashcards
Check out this animal gallery from wild animals to arctic animals. This a complete animals collection of cards from Kid Pages that will appeal to kids of all ages.
Nocturnal Animal Flashlight Cards
These nocturnal animal flashlight cards are so much fun to make and learn about nocturnal animals from From ABCs to ACTs.
Free Printable Life Skills Flashcard Sets
Morning Routine Checklist
Need a routine to avoid chaos on school mornings? Check out these free printable school morning routine checklist cards from Living Locurto.
Body Parts Flashcards
Teach the name of each body part using these body parts printable flashcards from Flash Card Fox.
Occupations Flashcards
These occupations flashcards teach the names of various jobs that people around your child do from Eng4every1.
Emotions Flashcards
Let them know everyone goes through different emotions every day with these emotion flashcards from Games4esl.
Fruit Flashcards
These real life fruit flash cards are drool worthy and a great way to learn the names of fruit from Itsy Bitsy Fun.
Rhythm Flashcards
Learn about different sounds and actions that animals & birds make from rhythm flash cards from Lets Play Music.
Create Flashcards for Math
Numbers Flashcards
Teach them 1-20 with these numbers flashcards from the Imperfect Homemaker.
Word Number Flashcards
Learn words for each number using word number cards from Flash Card Fox.
Math Sight Words Flashcards
Is your child struggling with math equations in sentences? Try these Math sight words flashcards from Kids Activities Blog.
Basic Addition Flashcards
Practice addition using these basic addition flashcards from Kindergarten Printables. This is my earliest recollection of using addition flash cards in school to learn addition facts.
Basic Math Flashcards
All things math! Flashcards for basic math, exponents & more from Dad Worksheets. These printable sets include basic math like addition and subtraction facts on subtraction flash cards, but also go into division facts on division flash cards, multiplication facts with multiplication flashcards and other printable math flash cards.
Fun Math Facts
These are fun ways to learn math facts with flashcards from Tips & Ideas From Anne Garderner.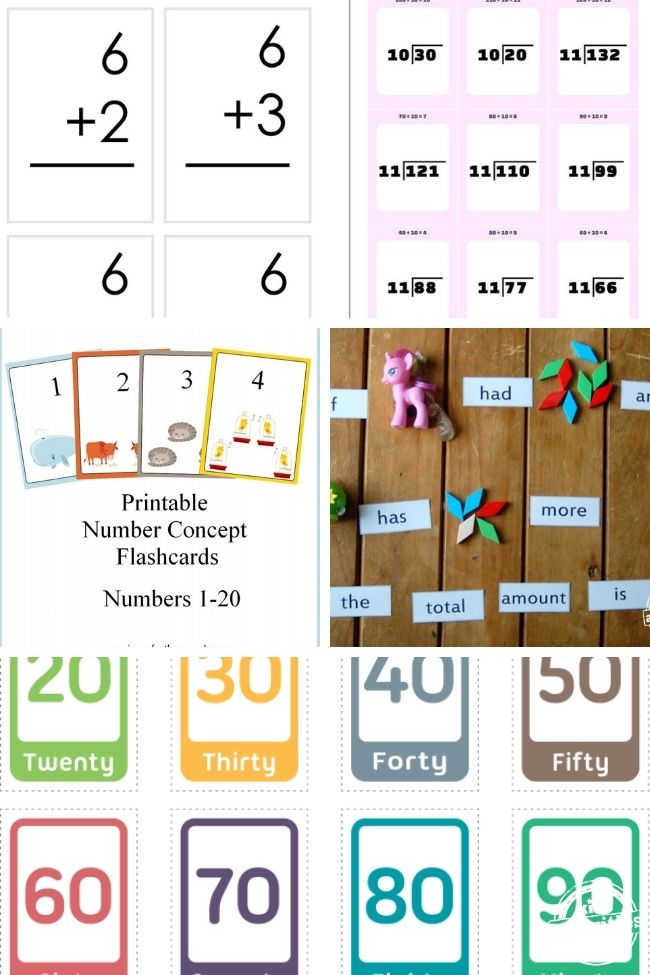 How to Use Flashcards with Kids
Activities With Flashcards
Check out these many activities to do with printable flashcards from In The Playroom.
Make Your Own Flashcards
Learn tips on how to make your own flashcards for anything your child needs with these fun flash card games from Kids Activities Blog.
Print Rich Environment
Exposure to colorful prints helps kid's development in understanding the alphabets, numbers, words & other symbols. Create a print-rich environment for kids to just trip across new words all the time from You Clever Monkey.
Music Alphabet Game
You need to check out this fun game! Your kids will love this music alphabet games from Kids Activities Blog.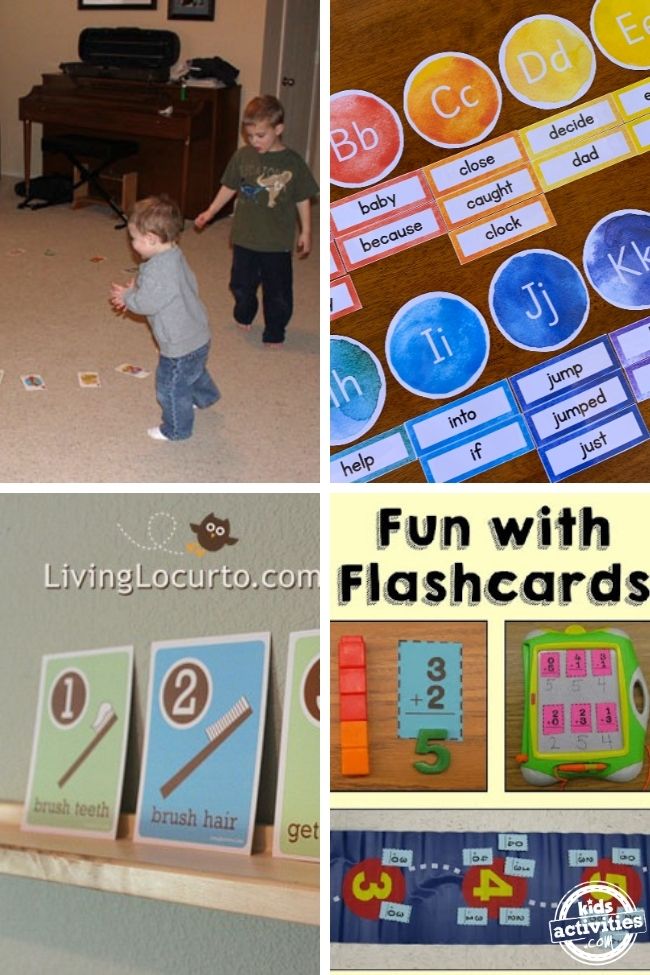 Free Printable Science & Geography Flashcards for Kids
Science & Nature Flash Cards
Explore vintage science and nature flash cards from Our Handcrafted Life.
Solar System Flashcards
Learn about planets using these solar system flashcards from Look We Are Learning.
Months of the Year Flashcards
Teach your kids the names of the months using months flashcards from Flash Cards For Kindergarten.
Days of the Week Flashcards
These days of the week flashcards are simple and straight forward from The Teaching Aunt.
Weather Flashcards
Alex, Siri, ok Google!! What is the weather outside? Teach them about weather using these cards from Easy Peasy Learners.
Telling Time Flashcards
Do your kids know how to read an analog clock? Telling time to the hour cards will teach them how from Look We're Learning.
States & Capital Flashcards
Learn states and capital using these flash cards from 3 Boys and A Dog
Places Flashcards
Talk about the names of places around the world with these places flashcards from Flash cards for Kindergarten
Earth Vocabulary Flashcards
Learn the names of the elements and the various natural phenomena that is part of Mother Earth from earth vocabulary cards from Mr Printables.
Landform Flashcards
On the topic of earth, teach various landforms using landform flashcards from Flashcard Fox.
Continent Flashcards
Learn about our world's continents using these continent flashcards from Etsy.
Periodic Table Flashcards
Love chemistry? Check out these periodic table flashcards from Stemsheets.
Simple Machines Flashcards
How do simple machines work? Learn through these simple machines games from 123homeschool4me.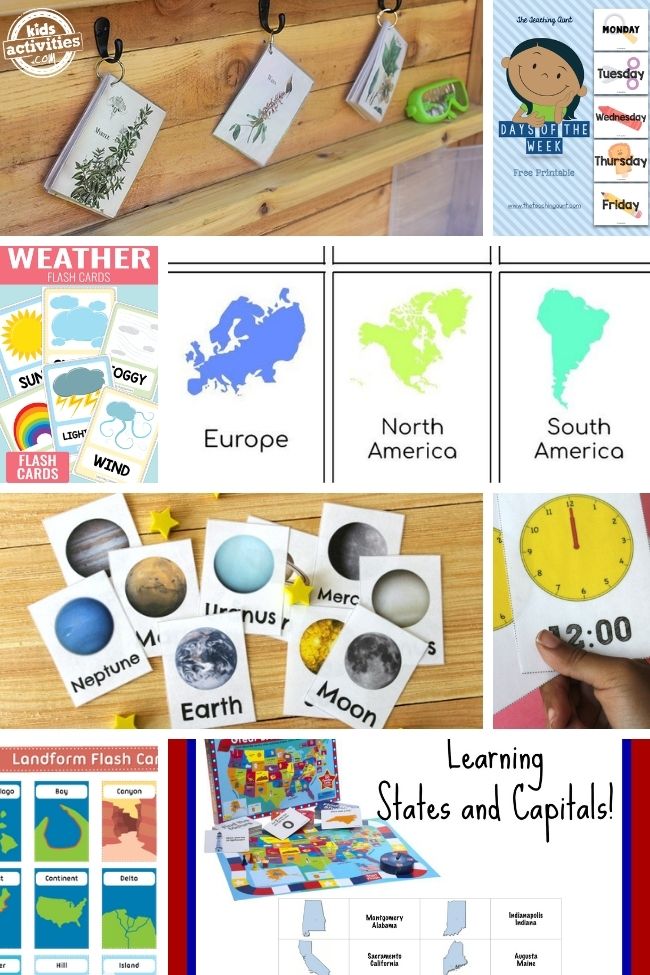 Free Printable Season & Holiday Flashcards
Spring-Easter Flash Cards
April showers bring may flowers! These spring – Easter flash cards are perfect for learning from Tea Time Monkeys.
Summer Flashcards
Bright and eye catching summer flashcards your child will love from Little Owl Resources.
Independence Day flashcards
Learn about the USA using Independence day flashcards from Twinkl.
Fall Flashcards
Color-changing leaves, pumpkin flavored things, this calls for Fall flashcards from iSL Collective.
Halloween Flashcards
Get spooky with Halloween flashcards from Speak and Play English.
Christmas Printable Flashcards
Jingle all the way using Christmas printable flashcards from 3 Boys and A Dog
Winter Printable Flashcards
Cozy up, it's cold outside! You'll love these winter printable flashcards from Kids' Pages.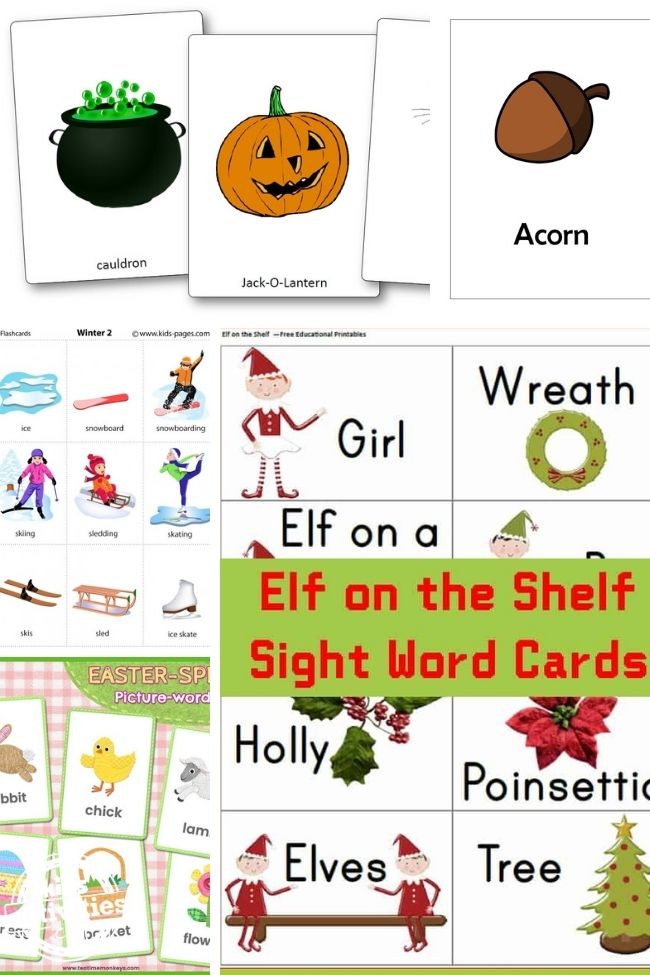 Free Printable Spanish Language Flashcards
Spanish Alphabet Flashcards
Learn el alfabeto en Español using Spanish alphabet flashcards from Mr Printables.
Spanish Color Flashcards
Learn basic colors using Spanish color flashcards from Super Teacher Worksheets.
Spanish Opposites Flashcards
Here are some Spanish printables to teach opuestos from Spanish Playground.
Spanish Emotions Flashcards
Teach emociones using Spanish emotions flashcards from Tea Time Monkeys.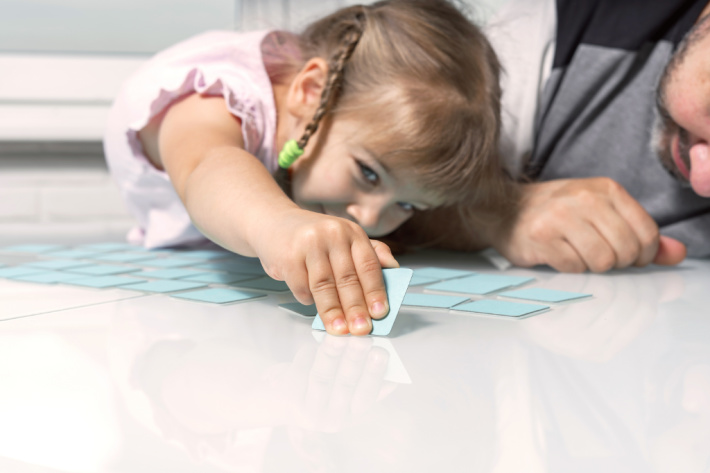 Flashcards Used in a Memory Game
One of the ways you can use any of the flashcard sets you might have or make from printable templates is by creating a memory game:
Pair up concepts within the flashcard set that kids need to match that teaches a deeper level — for instance, you may have color flashcards that you have the kids matching any primary color or geography sets that have kids matching countries from the same continent.
Print two sets of the flashcard set and play a massive (or paired down) game of memory! Big kids can get involved in younger children's learning when the game is so much fun!
More Printable Memory Game Options Beyond Flashcards
If you have a toddler or Pre-K child that isn't quite ready for a full blown flashcard set, start with some printable memory games and see how it goes. Older kids love memory games too, so check these out:
Here is a fun memory game for toddlers that is winter-themed
Check out this free DIY memory game that is insect themes
Make your own travel memory game that doubles as a great quiet time game
This bug game for kids contains printable flashcards of fun
This memory game is one of our printable Christmas games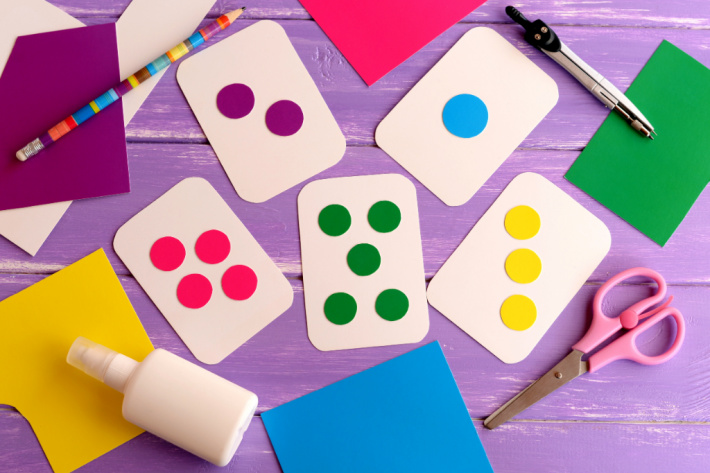 Our Favorite Flashcard Sets for Purchase
OK, I get it…making flashcards can be time consuming or your printer just may be on the fritz. Here are some really quality flashcard sets that will be cut straight, thick and durable and won't take up your DIY time!
Math flash cards for kids

Math flash cards for kids 3-5
Math flashcards for kids 4-8

Alphabet flash cards for kids

Alphabet flash cards for toddlers
Alphabet flashcards for preschoolers

Phonics flash cards for kids
Sight word flashcards for kids – Dolch sight word flash cards
Animal flashcards
Life skill flash cards for kids
Science flash cards
Geography flash cards
Spanish flash cards for kids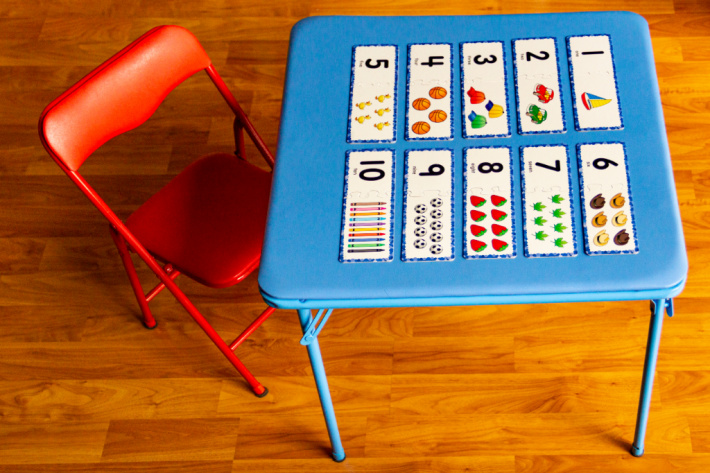 Flashcards are just one of our many free learning activities for kids that you can do together.
If you have a toddler, pre-k'er, preschooler or Kindergartner and haven't found out MASSIVE letter learning resource, go now!
Which set of flash cards are you going to make first?