Free Printable First Day of School Photo Signs Displaying Grades Including UK & Aus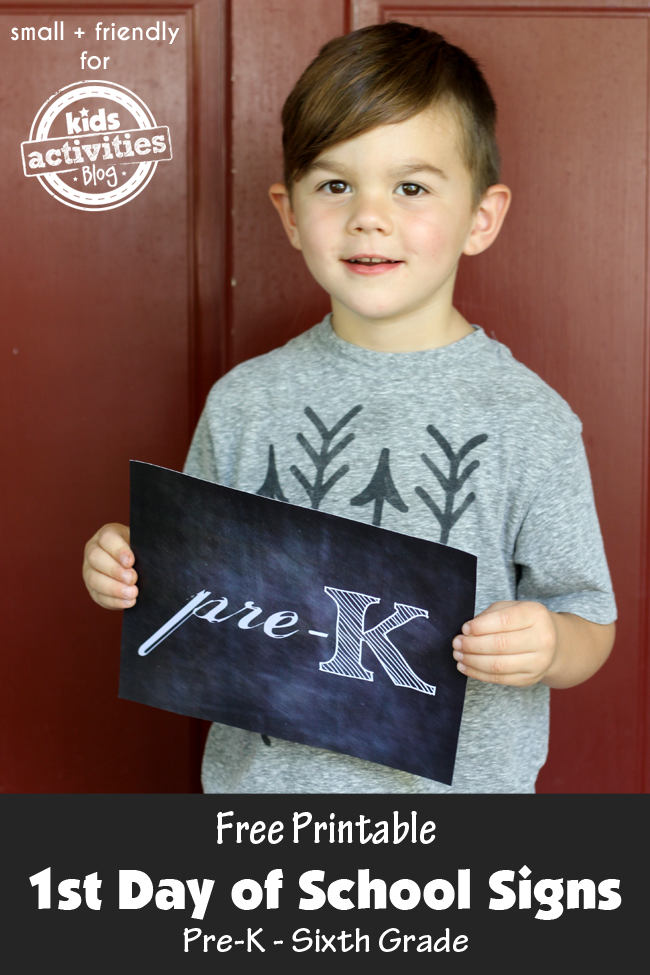 Today we have the cutest free printable first day of school signs to show what grade your child is entering. We have sets for the traditional grades here in the United States Pre-K through 6th grade plus another set that shows the UK grades.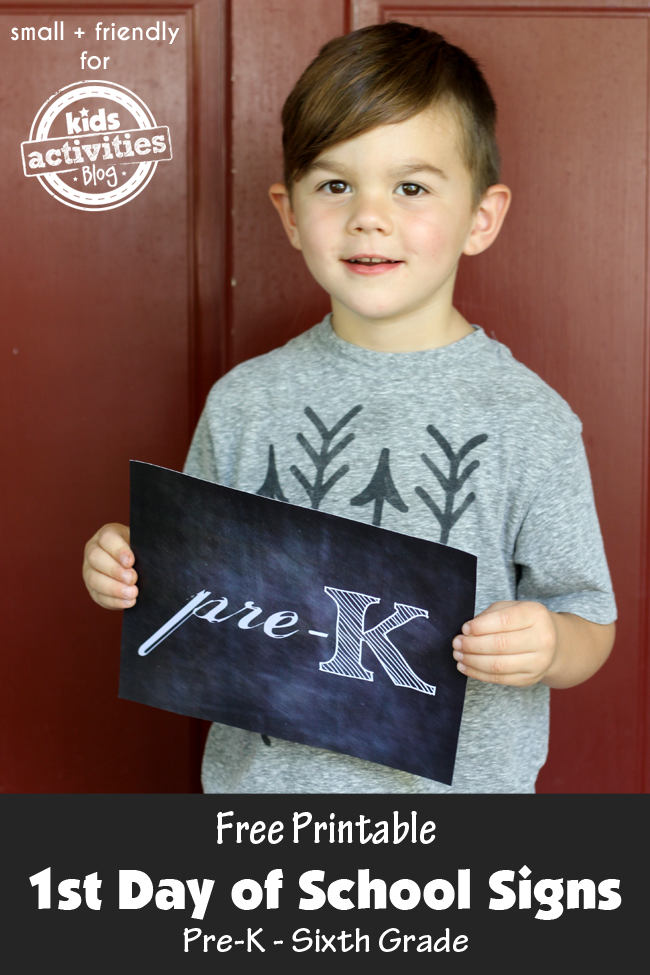 These free printable first day of school signs make capturing that special day simple and adorable.
With grades Pre-K through Sixth you can snap a coordinated shot each year. The first day of school always seems to be a bit frenzied and that's what makes these signs so great: just print out the correct grade, have your kiddo hold it for a quick photo as you step out the door, and you're done!
Free Printable First Day of School Signs
These cool chalkboard inspired grade level printables make taking a cute first day of school photo easy. If you are looking for the first day of preschool signs, look below in the second set of grade level printable photo signs.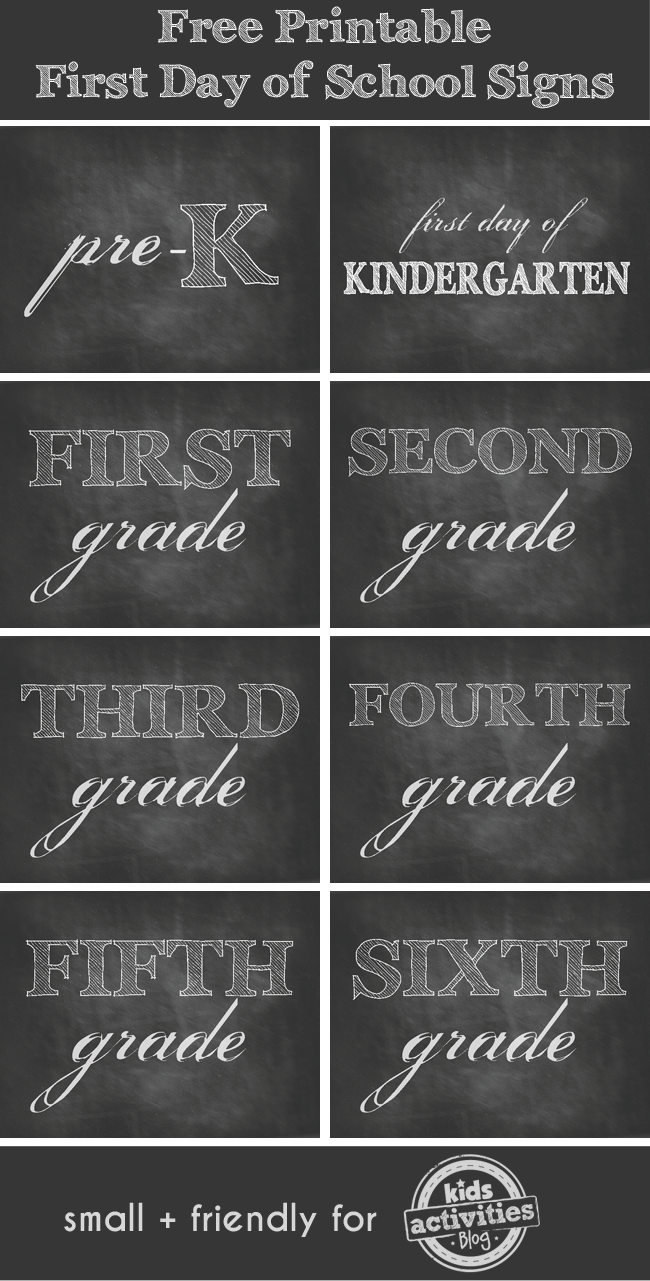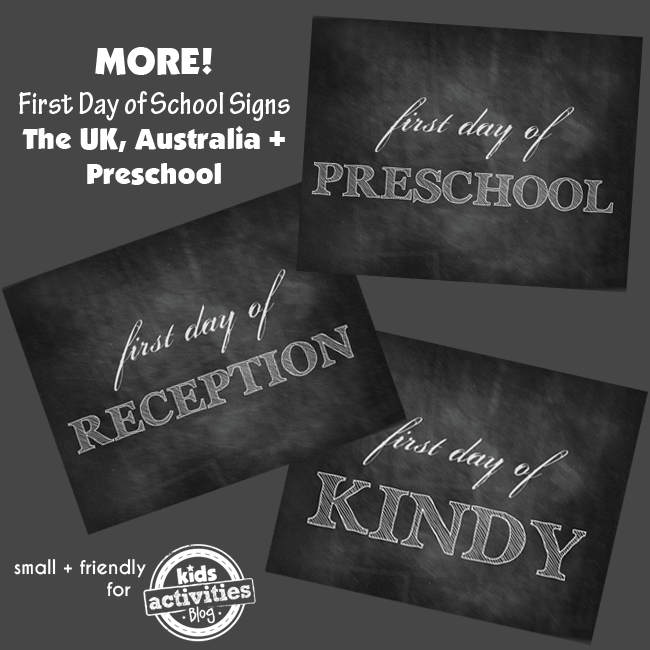 More First Day of School Signs for UK & Australia
You asked and we listened! We added free printable signs with the correct years/grades for The United Kingdom and Australia. Plus, one for preschool!
Download & Print 1st Day of School Picture Signs pdf File Here
Here's to a great first day of school!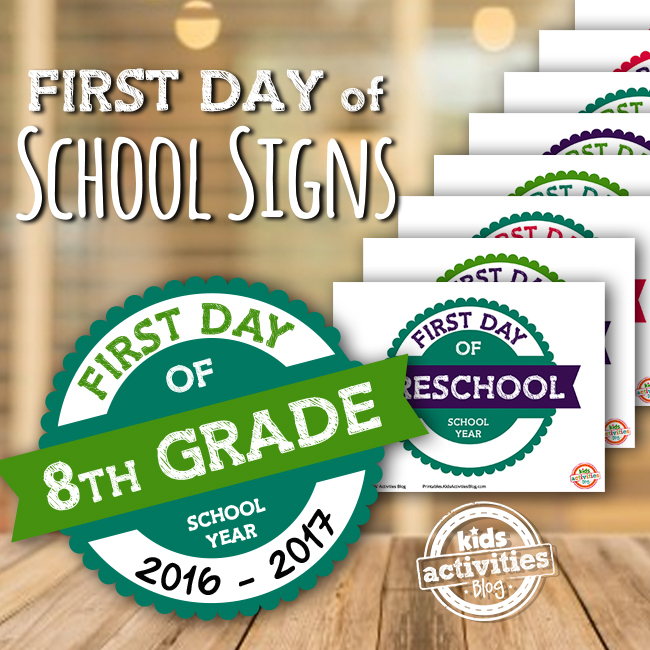 Even More Options for First Day of School Photo Signs
You might also like these other Printable First Day of School Signs for Preschool through 12th Grade seen in the picture above. These are part of the 500+ printables that can be downloaded at any time from the Kids Activities Blog printable library subscription.
Oh so many cute ideas for first day of school pictures! <–Click here!
Need More Back To School Ideas:
Alphabet phonics cards are a great way to prepare your child for the school year.
These animated story books will be a great resource for any teacher this school year.
Check out these free printable math dinosaur puzzles for kids.
These education companies are offering free subscriptions for kids during this pandemic.
Make your child feel special with these back to school notes that are perfect for their lunchboxes.
Help your child learn learn about money and math with this printable wallet.
Make going back to school a little more fun with this back to school word search.
These cute free kids printables are a great way to teach your child math.
This fall tree color pages is great for learning colors and celebrating fall during this school season.
Check out this back to school reading comprehension worksheet to help your child get ahead this year.
Here are some free back to school coloring pages your child will love!
These tracing coloring sheets for kindergarten kids is a fun activity to help them learn while being creative.
Check out these free printable file folder games for preschool kids.
Keep your kids busy with these back to school color by number pages.
These kids activities will help fuel your child's love for science.
We have plenty of fun activities for elementary students that will keep your kids excited for school.
Need more ideas to make your kids first day of school special? Then check out these zentangle art for kids!
Which first day of school picture sign did you print off? How did your back to school photo shoot go?