Brains & Eyes Halloween Sensory Bin Made with Spaghetti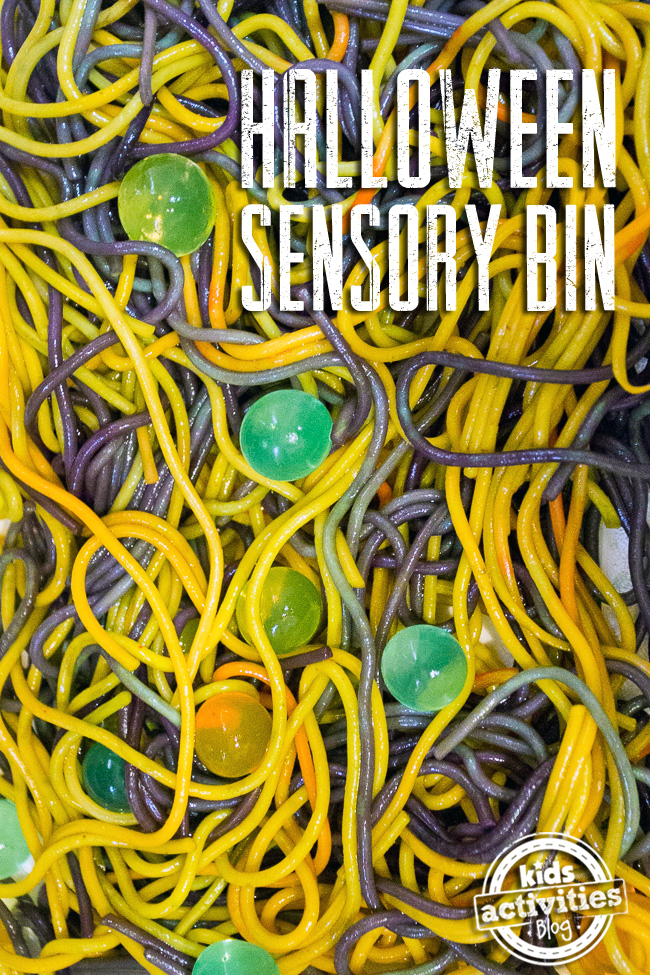 This Halloween touch and feel game works well for a party or as a sensory activity in the home or classroom. With a few simple supplies, you can create a sensory experience that can be described as spooky! While sensory bins are traditionally used with younger kids, this is one sensory activity that kids of all ages will appreciate.
It's time for some spooky play with a Halloween Sensory Bin! Reach in and touch what will feel like slimy brains and eye balls. My kiddo loved how creepy it was.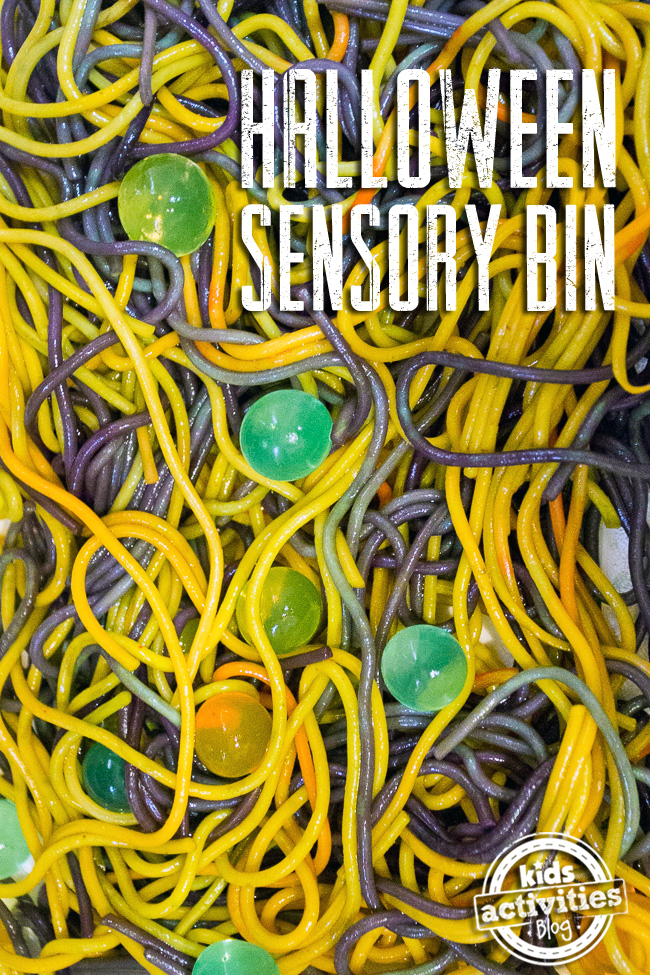 How to Make a Halloween Sensory Bin
Here at Kids Activities Blog we love sensory bins! They are such fun for exploring textures, sights, smells and sometimes even tastes that help kids learn about the world around them and the proper responses to those stimuli. Today this sensory bin is a little different in that we are patterning it after a common haunted house trick…touching brains and eyeballs!
Eww!
Kids will get a kick out of all the fun. I can't wait to hear about your experience with this spooky spaghetti based sensory bin for Halloween.
This article contains affiliate links.
Supplies Needed
Spaghetti Noodles
Black and Orange Food Coloring
Jumbo Water Beads
Medium tub
Directions
Check out our quick tutorial video on how to make this Halloween sensory bin…
Make a Halloween Sensory Bin for Kids
Step 1
Add the water beads to a bowl of water, according to package directions. Let them sit so that they will expand and grow. These beads are so fun because they are super-slimy!
But remember — they can be a choking hazard, so make sure to supervise your children during this fun sensory play, especially if you have little ones that like to explore with their mouths!
Step 2
Prepare the spaghetti noodles, then die the pasta using the food coloring.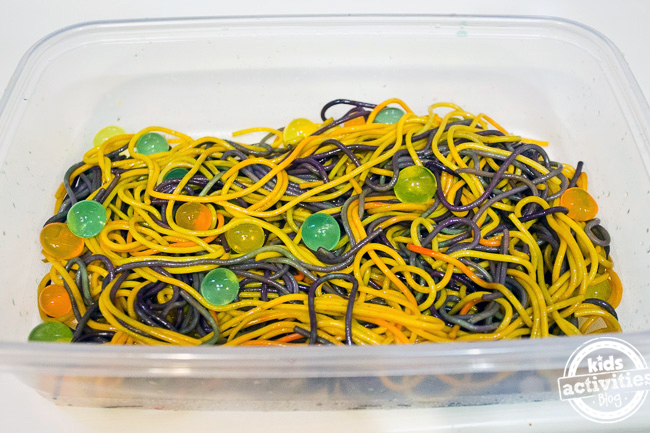 Step 3
Add the noodles and the water beads to your tub, and let your kids explore!
Variation for Sensory Bin Play
If your kid will let you, you could even put a blindfold on them and let them feel the sensory bin with just their sense of touch.
I bet it will especially feel like brains and eyeballs then!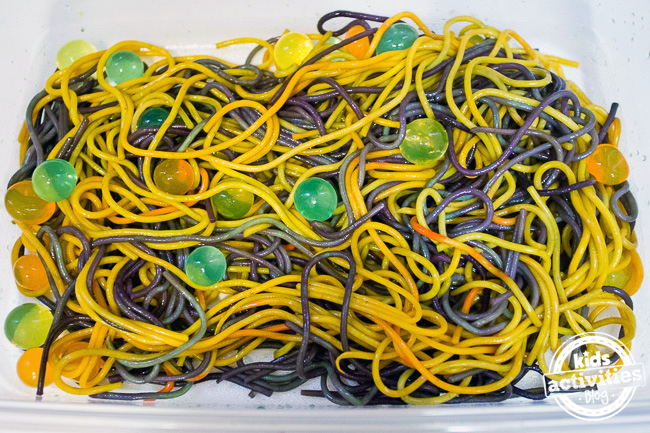 This would also be a really fun project for a Halloween party. Just add it to the other Halloween games for kids that you'll be playing.
More Halloween Activities from Kids Activities Blog
Diy no carve mummy pumpkins is a cute and safe way for small kids to decorate pumpkins.
Want a gross craft for this Halloween? Here is how to make fake snot!
Light up the spooky night with this Halloween night light.
Haunted houses don't always have to be scary. This haunted house craft is super cute!
Throwing a Halloween party? This Halloween bingo printable is a perfect game.
This ghost slime is perfectly ooey gooey!
This pumpkin toss game is another great game for a Halloween party.
Not everyone can have candy. This homemade bug soap is a cute alternative.
Make mummy spoons to make your Halloween party spooktacular!
Let us teach you how to carve a pumpkin! It's super simple!
This candy corn sugar scrub is a great gift for teachers, friends, and those who may have a candy allergy.
Make math festive with these Halloween math worksheets.
No one is too old or too young for Halloween. Try these homemade baby costumes!
Halloween bowling is another awesome party game!
Did your kids love this fun and silly sensory experience? Did it feel like brains and eyeballs when they reached in? What other sensory bins do you like for the Halloween season?