24+ Fun Fall Crafts for Preschoolers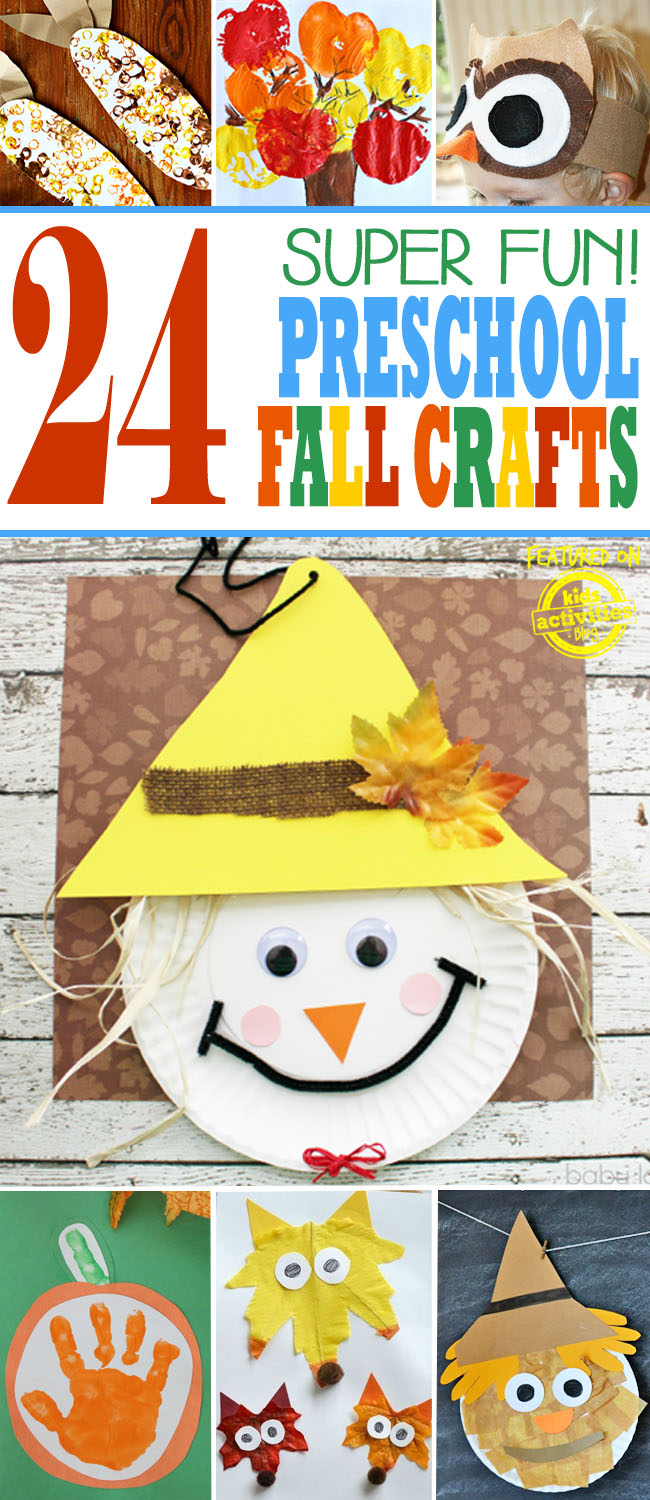 We have a big collection of fall crafts for kids today that are good for kids of all ages, but we had fall crafts for preschoolers specifically in mind when creating the list.
These fall crafts and fall art ideas are great for something fun to do at home or use in the classroom as part of an autumn learning module or fall festival activity station.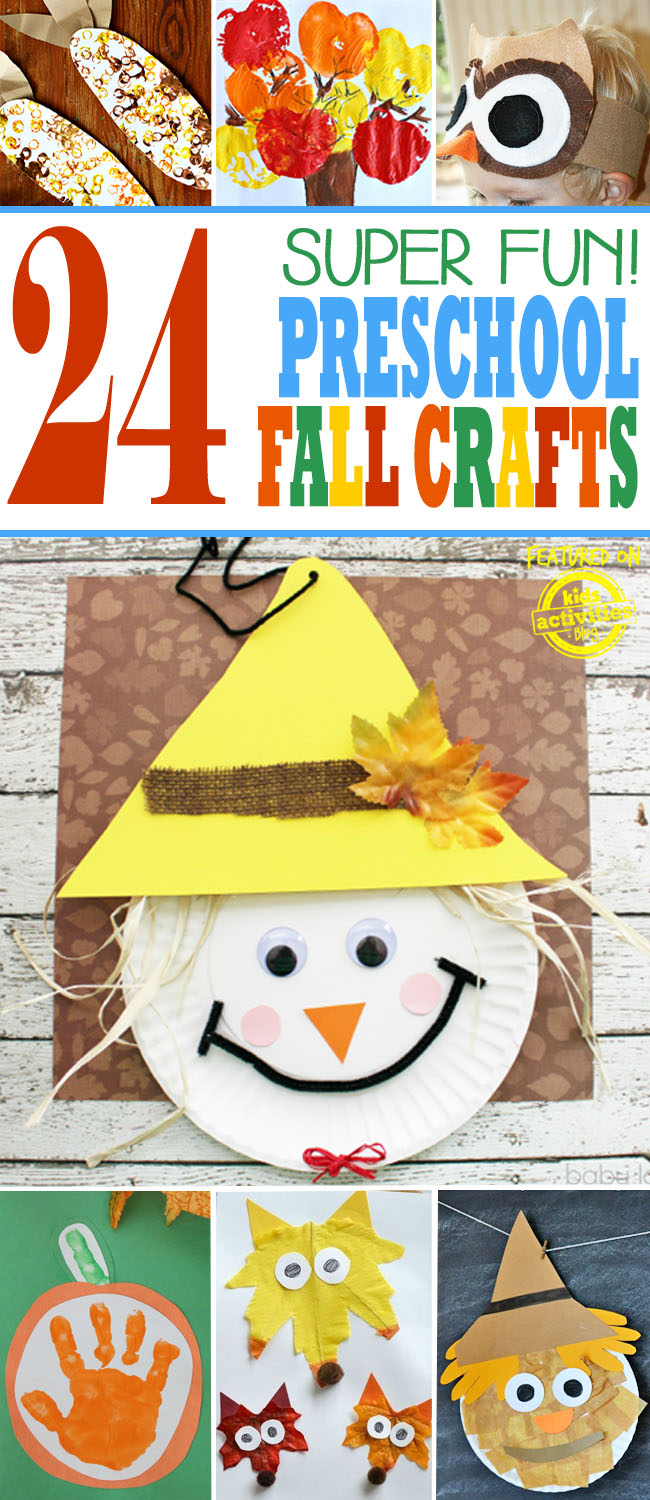 Fall Crafts for Preschoolers
We're big into fall arts and crafts, and we love creating with our little ones.
The best part about these easy crafts for kids is that most of them can be made with things you already have around your house, plus a dash of imagination, of course.
So grab your crafting supplies (and maybe some natural elements, too!), and let's get started.
This post contains affiliate links.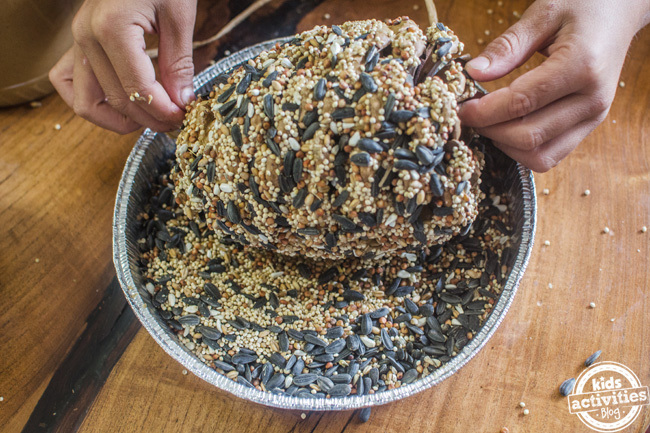 This Fall Craft is for the Birds
Make a DIY Pine Cone Bird Feeder. This is such an easy preschool fall craft and kids of all ages can get into the fun. We like to make these pine cone feeders and hang them with twine in the trees in the backyard to attract birds…and squirrels.
Tissue Paper Autumn Leaves Craft
Tissue paper fall leaves are the perfect autumn kids craft! This traditional crumple craft made of tissue paper uses found objects like sticks from outside to finish the fall art project!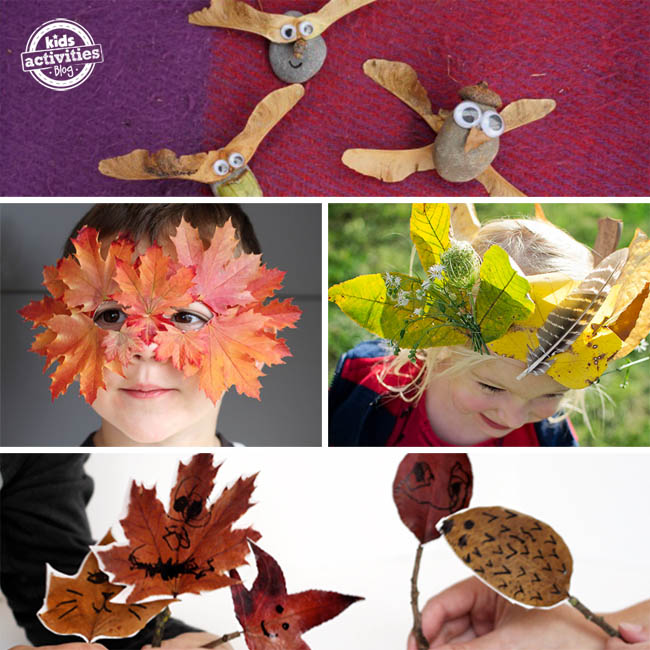 Fall Nature Craft Ideas
Create some fall nature crafts with your preschooler. We have a collection of over a dozen different craft and art projects for kids that use found objects in nature. I love when a craft starts with a nature scavenger hunt!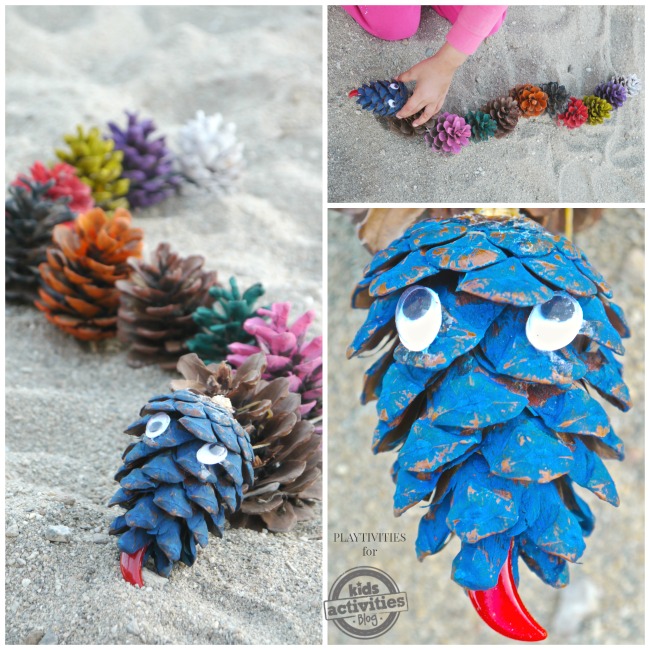 Autumn Pinecone Snake
Turn fallen pine cones into a fun pine cone snake craft for kids of all ages. In fact, even older kids really love this because it can be as simple or elaborate as you desire…what a fun fall craft!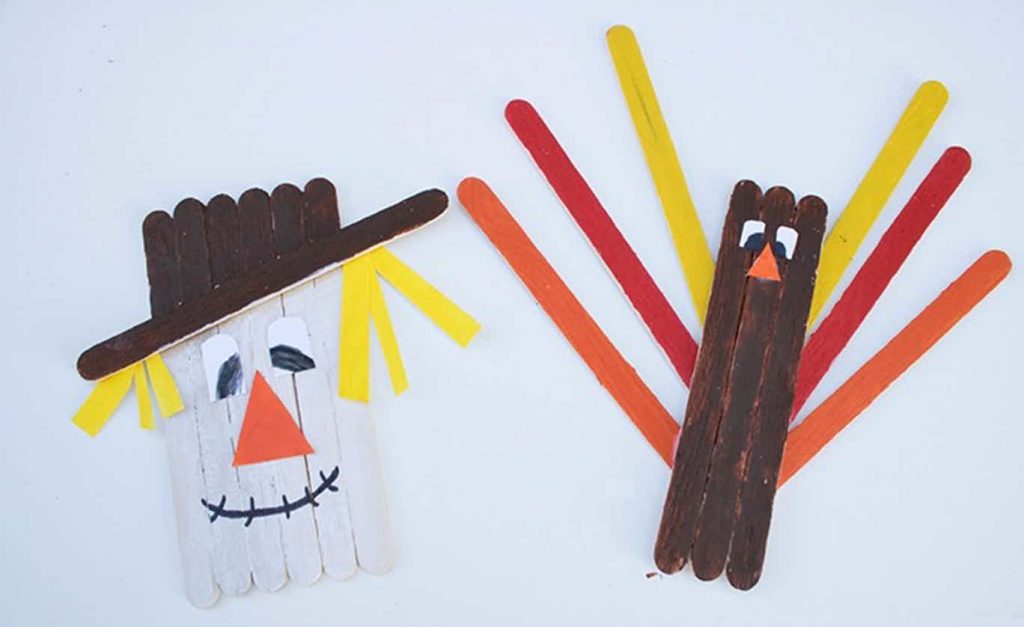 Fall Craft Stick Creations
Create a scarecrow or turkey out of popsicle sticks. This popsicle stick scarecrow craft is full of fun for everyone! And turkeys never looked cuter…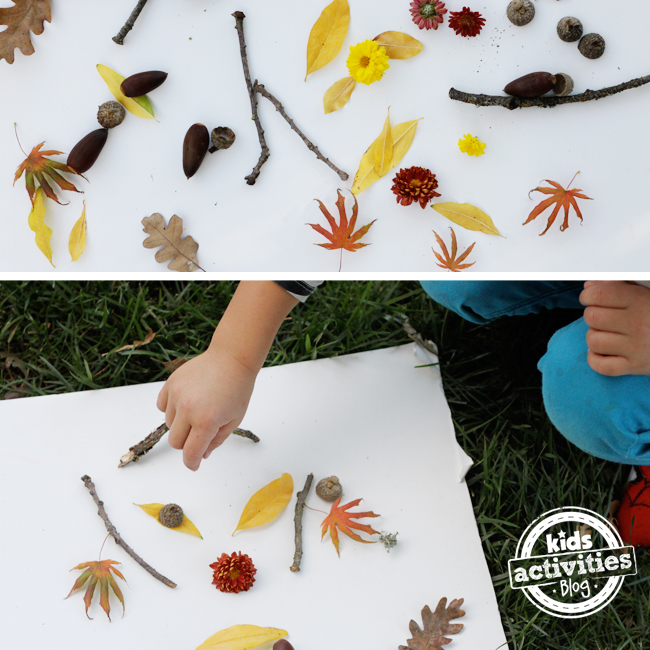 Autumn Art from Nature
Draw with nature is the perfect fall activity for preschoolers! Start with a nature treasure hunt and then create some lovely art projects for kids from the things you found along the way.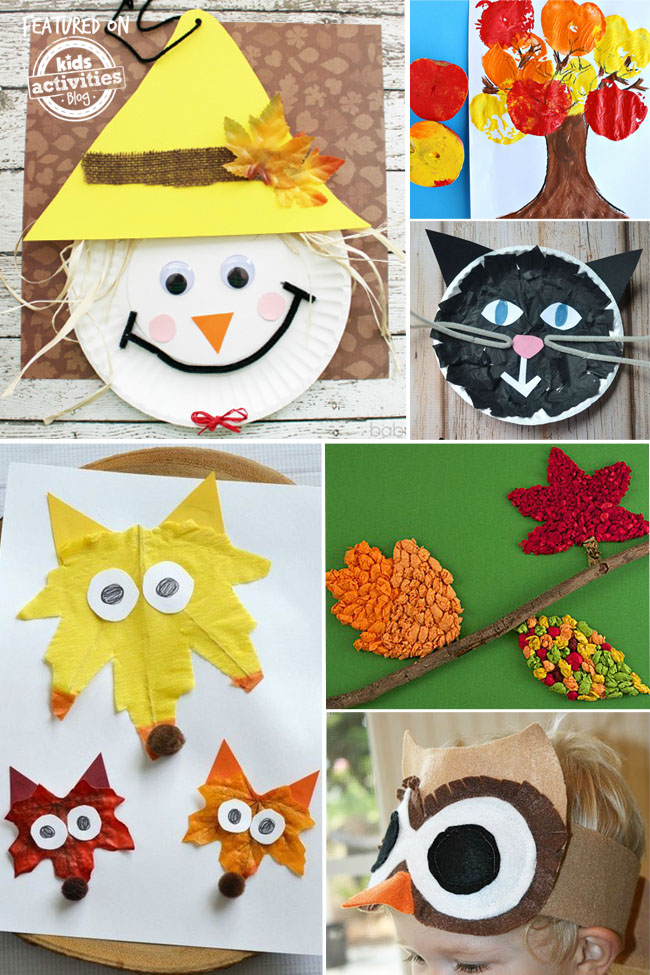 Fall Art Projects for Kids
Owl Mask Craft
Whooooo wants to make this adorable owl mask? via The Educators Spin On It (This preschool fall craft would also be a great addition to a Halloween Costume!)
Paper Plate Scarecrow
Kids will love making a paper plate scarecrow! via Glued to My Crafts
Handprint Acorn Project
This handprint acorn preschool fall craft makes the sweetest keepsake! via Crafty Morning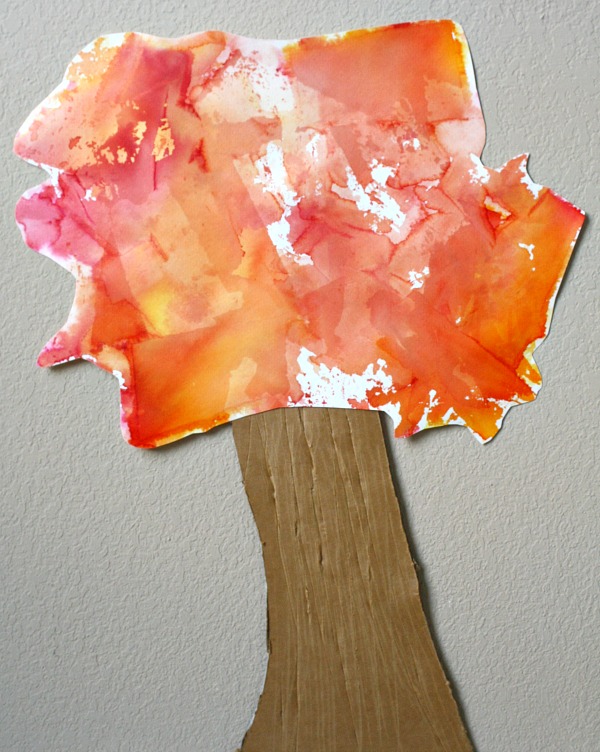 Make Fall Trees with Tissue Paper
I love this tissue paper art technique to make colorful fall trees from Fantastic Fun and Learning. The process looks so fun and I can't wait to try it!
Make Fall Trees Craft
Use fruit loops and toilet paper rolls to make fall trees! via Jessica Holmes Candle In the Night
Fall Leaf Fun
These are some of the best inexpensive fall leaf activities to make with your preschooler. via Carrots are Orange
Toilet Roll Turkey Craft
Make a turkey with tissue paper and toilet paper rolls! via The Resourceful Mama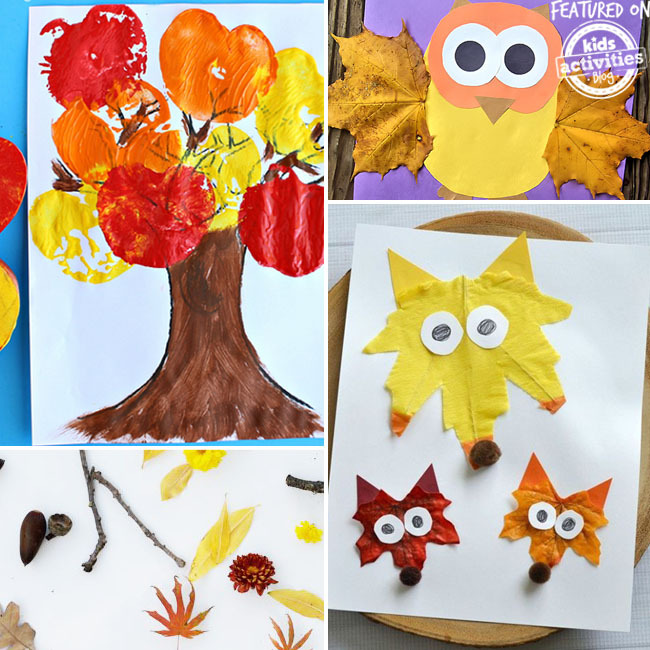 Fall Crafts for Toddlers
More Autumn Crafts for Kids
Check out this Autumn Play Collection: 40 Fabulous Fall Craft Ideas! via The Imagination Tree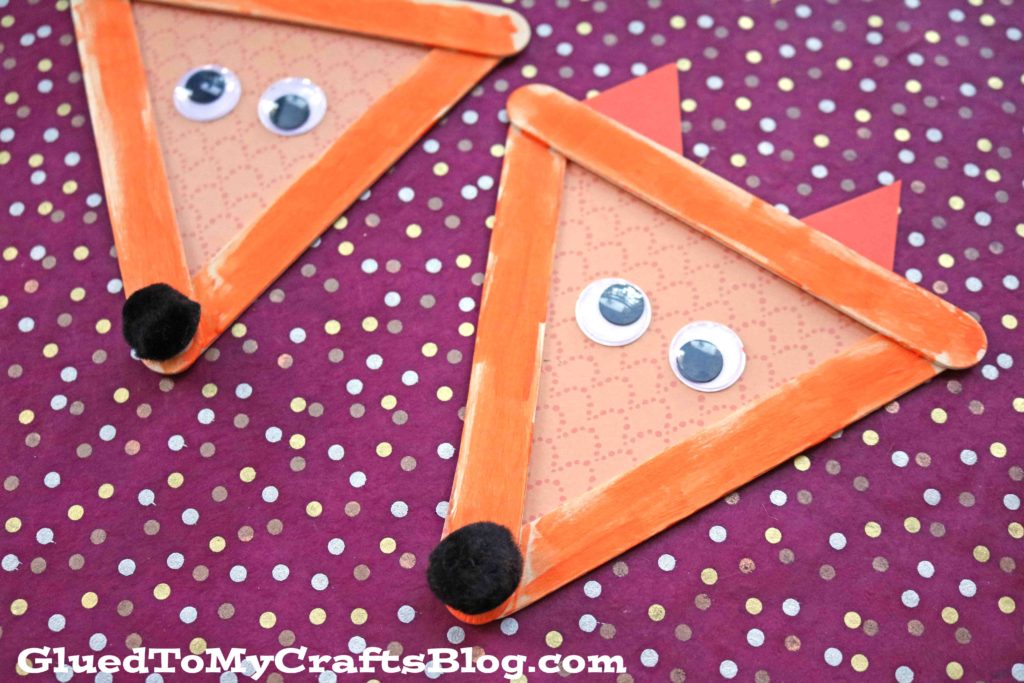 Fall Fox Craft
Use popsicle sticks to create the cutest felt fox with your preschooler. via Glued to My Crafts
If you want to make foxes out of leaves, you can also check out how to do that at Glued to My Crafts – so cute!!!
DIY Autumn Door Wreath
Create a fall leaf wreath with your little one and hang it up on your front door! via Toddler Approved
Leaf Painting Art
We are loving this leaf painting art! via Gigi's Joy Photography
Handprint Pumpkin Art
Here's a cute handprint pumpkin card you can make with your preschooler. via Frugal Fun for Boys and Girls
Scarecrow Paper Plate Craft
Nothing says "fall" like this scarecrow paper plate craft. via Finding Zest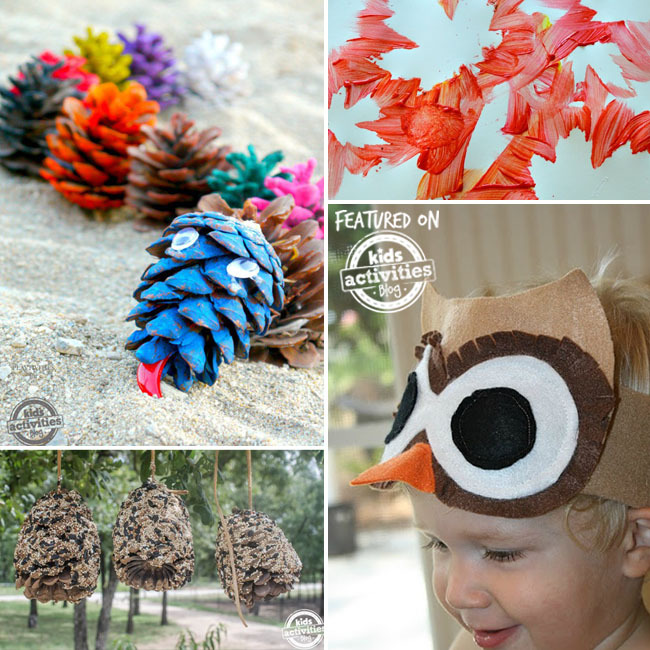 Easy Fall Crafts for Kids
Apple Stamping Art
Stamp with apples in this classic preschool fall craft. via Crafty Morning
Tissue Paper Black Cat Craft
Make an adorable tissue paper black cat with your kiddos. via Glued to My Crafts
Recycled Tin Can Crafts
Salvage empty tin cans from your recycling bin and repurpose them into fall crafts! via Hands On: As We Grow
Handprint Scarecrow Art
Make a handprint scarecrow with your preschooler! via Crafty Morning
Apple Fun
Planning a trip to the apple orchard? Check out these fun apple ideas! via Messy Kids
LEGO Corn Painting
Use Legos to make this Corn painting. via Crafty Morning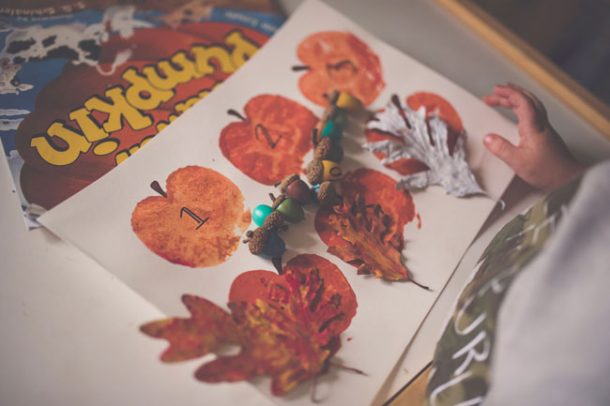 Tips for Crafting with Toddlers
Some of my most treasured toddler moments with my daughter were spent crafting together – but that's not to say that it always went smoothly! Haha!
Toddlers have a mind of their own and if you don't stick to a set schedule, it can be hard to work on any sort of project. I always planned our crafting time around nap and meal times to make sure my little one was well-rested and fed before crafting. It made a huge difference!
Also, set up everything you will need before you start crafting. Whether it's paints, paintbrushes, scissors, glue, wipes, glitter, water, or a paper towel. If you turn your back for even a second, you might wind up with a freshly (but unintentionally) painted wall.
Work in little spurts in order to hold their attention. We would take breaks, get cleaned up, and go work on something else – playing or reading. I loved finding short and easy crafts to do with her at this age.
Anticipate the mess and work around it. I always saved any clean plastic table cloths from my daughter's birthday parties and laid them underneath the crafting table as well as on the table. In addition, I made sure she wore old play clothes or a smock. The mess is half the fun – and part of learning!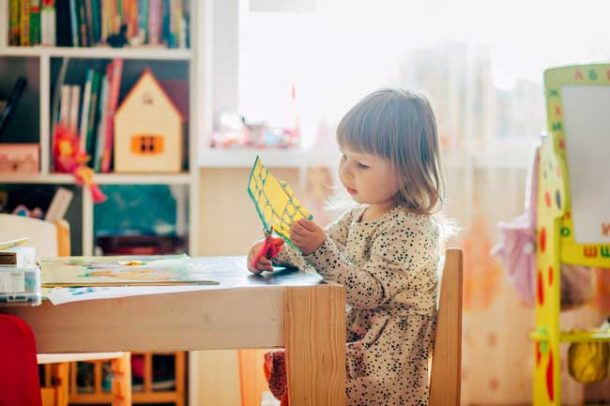 What fall crafts for preschoolers are you creating this season? Comment below!
MORE FALL FUN FOR YOUR FAMILY:
Make apple playdough with this simple recipe!
Go on a fall scavenger hunt in your neighborhood.
Your kids will love these fall tree coloring pages!
Check out these fun Halloween activities for kids!
Whip up Halloween banana pops treats for your kids. They will thank you!
You'll love making these 50+ pumpkin recipes. Bonus: Your house will smell so good!
Play this not-so-spooky Halloween sight word game.
My kids loved making these tissue paper leaves.
Go all out this year and decorate your front door for Halloween!
Browse these 180 Gorgeous Fall Crafts. I know you'll find something you just have to make!
Calling all book lovers! You've go to create your own book pumpkin! They are the cutest!
Which fall craft are you going to start with? What age is your child? Toddler, preschool, kindergarten, elementary school or above?