Let's Make Math Art Inspired by Klee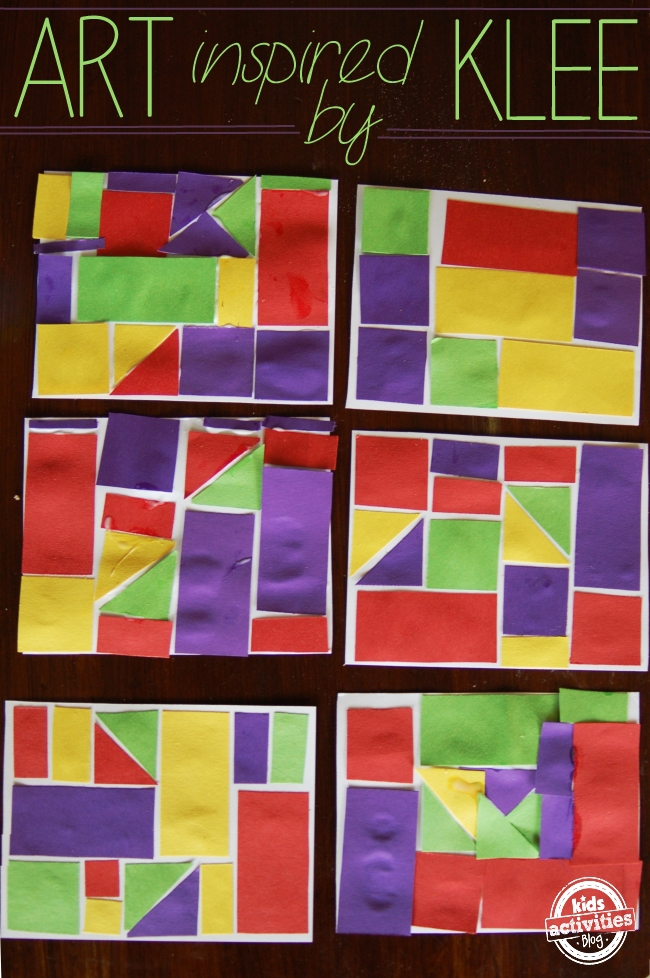 We love all art & craft activities for kids, but especially those that mix learning with art. In shape art project inspired by the artist, Paul Klee, kids innately learn geometry, fractions and measurements while creating beautiful art.
Kids can mix colors and shapes in a way that expresses their artistic flair while absorbing math concepts.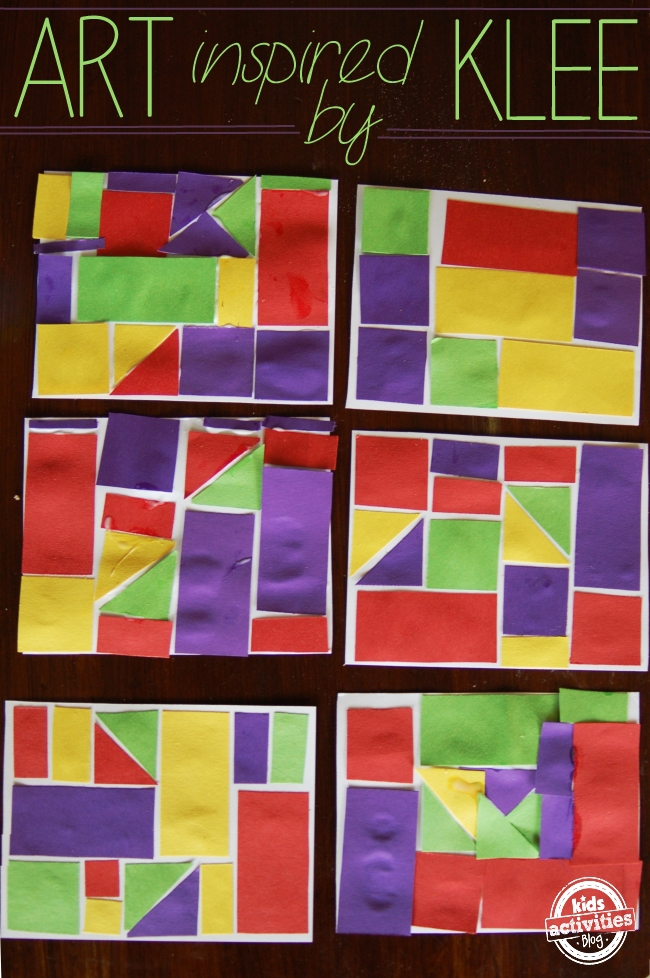 Math Art Project
This art math activity was done with a group of kids ranging in age from 3 years old to 3rd graders. It was fun being able to do a learning activity together, that multiple ages can learn from at the same time. It is literally the perfect math art project for kids of all ages and levels.
This article contains affiliate links.
Shapes Inspired by Artist Paul Klee
We were inspired to create our project by the Castle and Sun work of Paul Klee: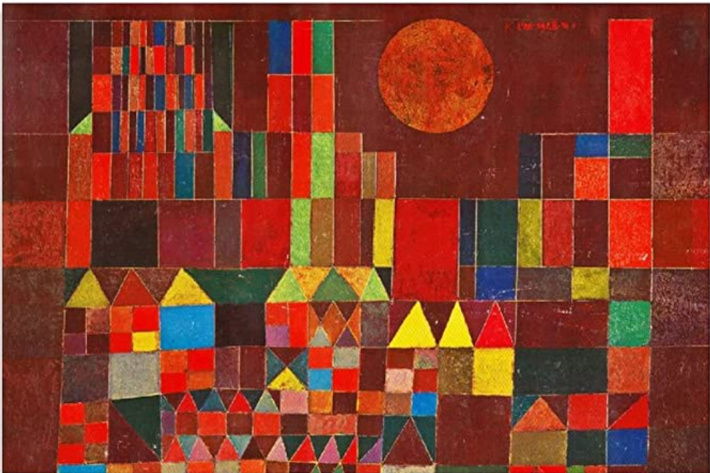 Paul Klee was a Swiss-born German artist. His highly individual style was influenced by movements in art that included expressionism, cubism, and surrealism…His works reflect his dry humor and his sometimes childlike perspective, his personal moods and beliefs, and his musicality.

–Tate
Prep for Kids Math Art Project
Prior to our activity, I cut up a bunch of shapes:
I cut strips of construction paper that were 1 and a half inches thick.
I then made squares from those strips (1 1/2″ x 1 1/2″) and rectangles by cutting double-wide squares (1 1/2″ x 3″).
From some of the squares, we cut them in half to make triangles, mini-rectangles and tiny squares.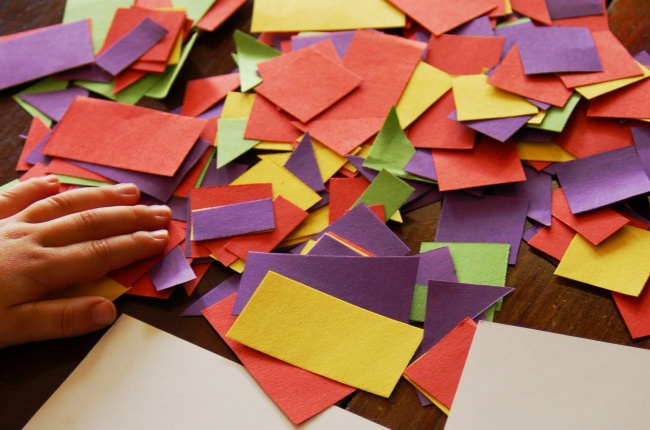 Art Supplies Needed
Multiple colors of construction paper to be cut into shapes
White construction paper to be used as a base of the art project – you can use 8 1/2 x 11 size pages or 12 x 18 size paper for a larger finished project
Scissors or preschool training scissors
Glue or glue stick
Directions for Art Math Project
Step 1
Start by showing the children Klee's work. Discuss how he fit a variety of shapes into a space to create a castle scene.
Introduce that we will be using the principles of creating larger images from smaller shapes and using a lot of visual space. They will be encouraged to completely fill their page with the shapes!
Give each child their base sheet of white construction paper.
Step 2
Give kids access to the variety of shapes already cut from multiple colors of construction paper to glue onto their white construction paper base.
The rule: No overlapping pieces (or try to not have overlapping) and "fill" all the white.
Older students had to use a variety of shapes, they had to have one or more of each shape in their picture.
Younger kiddos could use just squares or squares and rectangles to fill their sheet.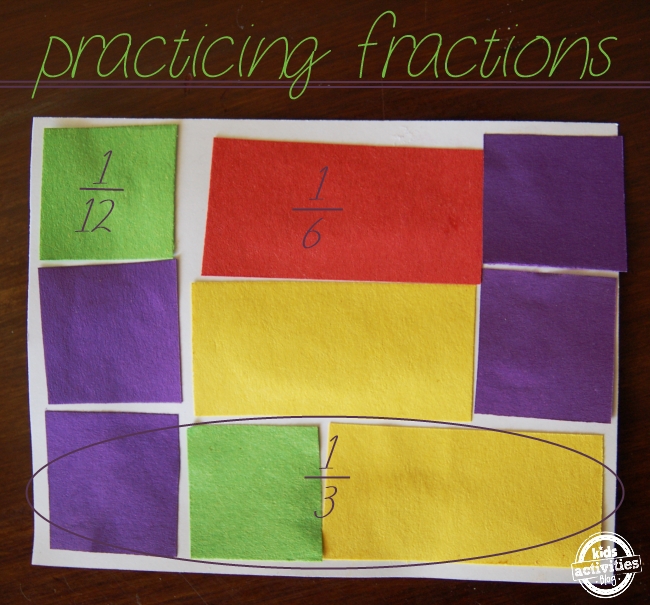 Practicing Math Through Art
Without even realizing it, your kids are learning basic principles of geometry and how shapes and area interact. Show them how obvious some fractions are when the pieces are all the same shape, but notice how other shapes start appearing in fractions as well.
In the example pictured above:
The upper left corner green square is 1/12th of the entire page.
The upper middle red is 1/6th size
And when you combine the 3 different shapes in the lower row, it is 1/3rd
If you want to add another learning element to the page for your older kids, ask them to explain in fractions how much a row or a particular shape or color takes up in the "space" of the image.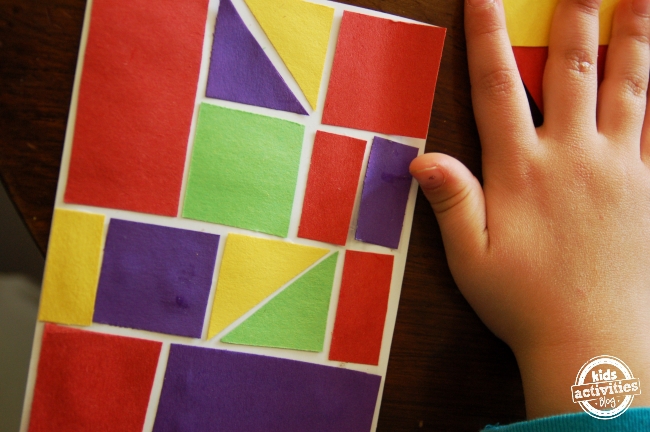 Beautiful Colorful Art
We have our math lessons hanging proudly on our wall as art…isn't this just the best? I am inspired to create more art this way.
More Math Art Resources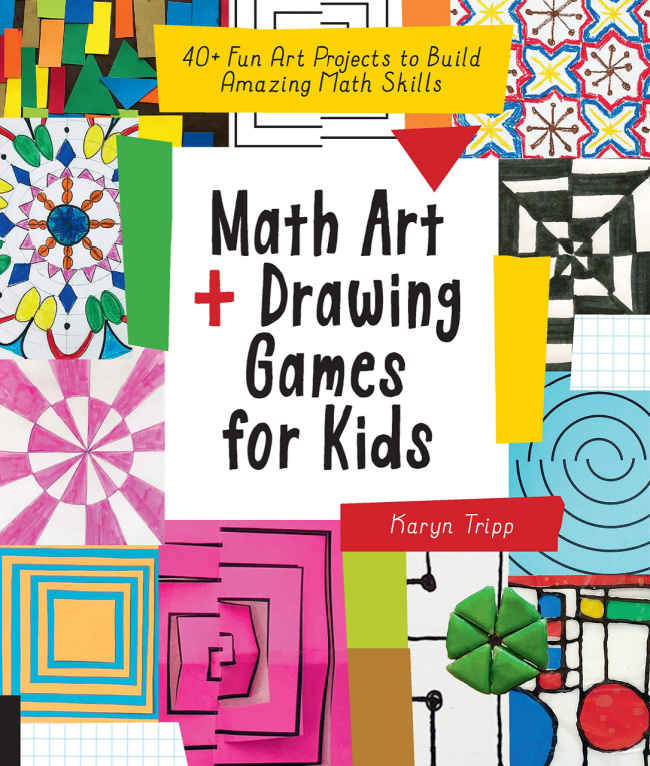 I found a great little book with even more Math Art for Kids! It has 40 fun art projects to build amazing math skills. Some of the projects include making pixel art, explore symmetry art, use equations, counting, addition and multiplication to create Fibonacci and golden rectangle art.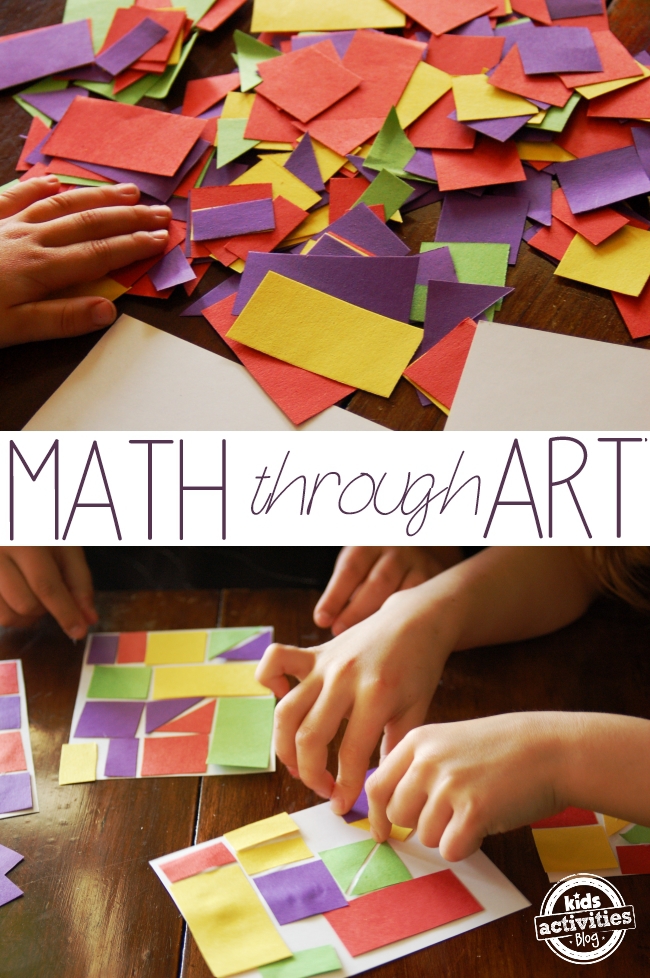 More Math & Art Fun from Kids Activities Blog
Make math much more enjoyable with these fun math games.
Just learning how to add? These simple addition activities will help your child succeed.
Is your child just learning to count? Then they'll love these kids counting games.
Put a twist on subtraction with this subtraction color by number printable.
Check out our kindergarten math games!
Want more educational activities? Check out these easy stem activities for kids.
Check out this list of some of our favorite preschool art projects!
You could use math to determine where the sun is when creating shadow art with kids.
Here are some of the best frame-worthy art projects for kids.
How did your Klee inspired math art project turn out?