10 Super Cute Candy-Free Halloween Foods for Kids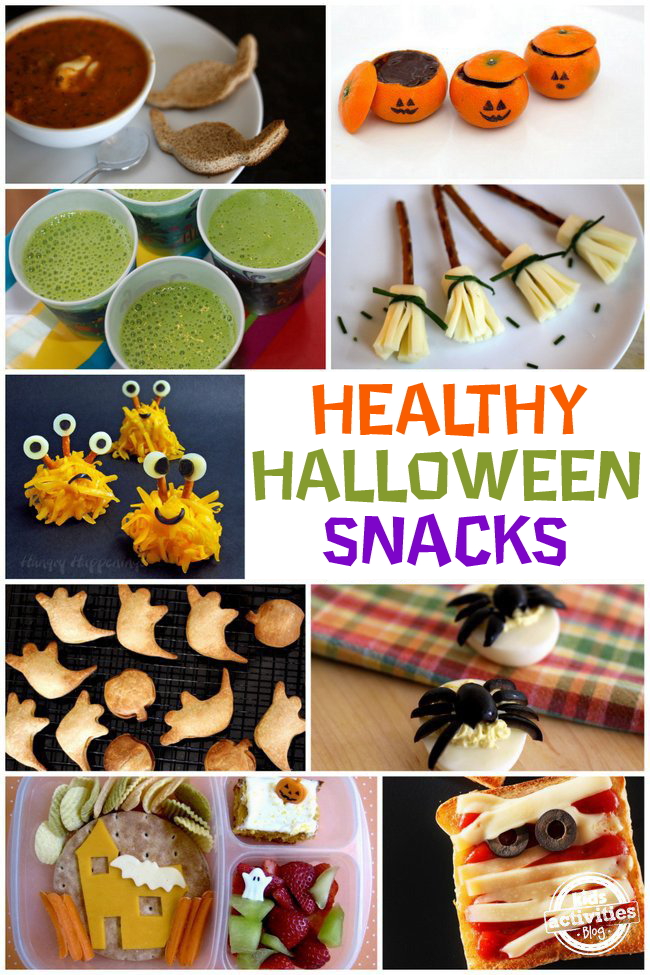 Looking for healthy Halloween snacks for kids? From whole-wheat croutons to string cheese witches' brooms and spooky egg spiders, these 10 Super Cute Candy-Free Halloween Foods for Kids have got you covered!
From Halloween parties to school lunches and creepily-festive snacks at home–all without miniature candy bar in sight!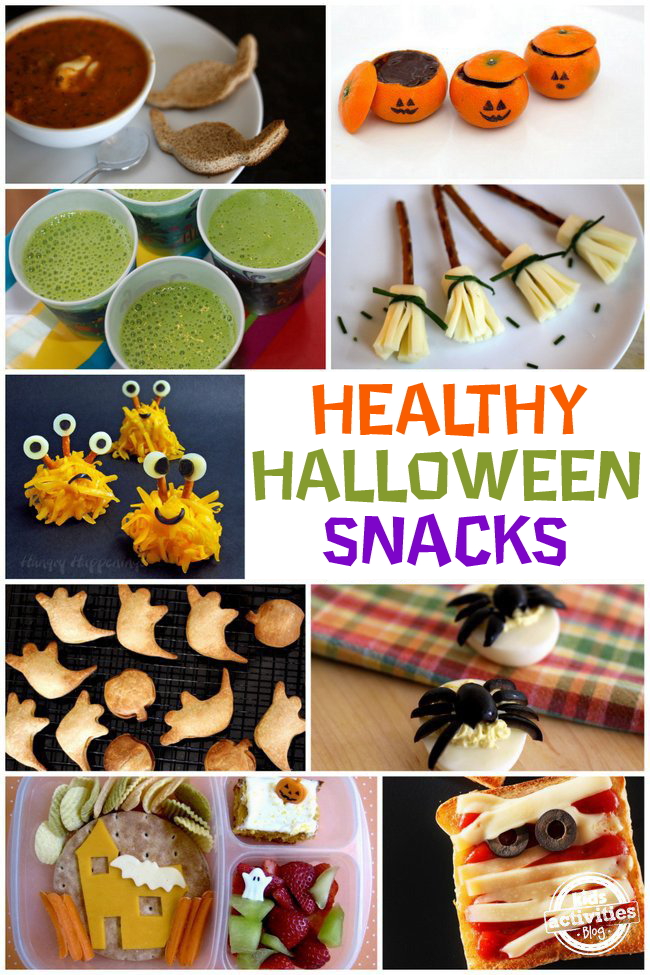 10 Super Cute Candy-Free and Healthy Halloween Foods for Kids
The best thing about these festive Halloween foods for kids? They're all easy to make. In fact, kids can help with almost all of them, and they are the perfect Halloween party snacks! (This post contains affiliate links.)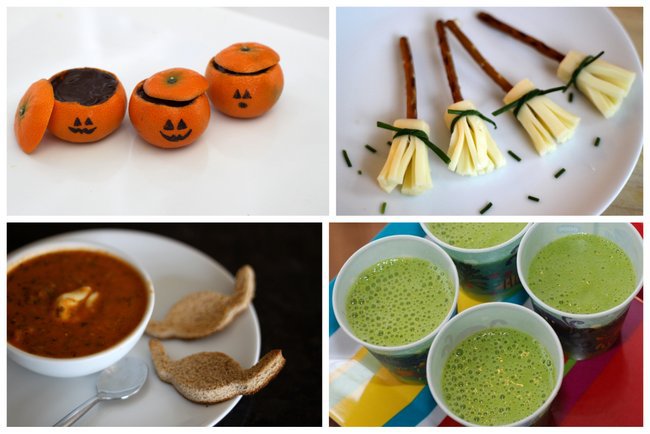 Healthy Halloween Dinner Foods
The last thing that most kids want to do on Halloween is to sit down and eat dinner.
I remember when I was a kid, I just wanted to run outside and get started on Trick-or-Treating!
My Mom knew that the combination of a kid with an empty stomach running around in the cold, and then filling up on sugar, was a terrible idea.
So, she started making fun Halloween themed meals each year, in order to pique our interest! My favorite was Mummy Dogs (hot dogs wrapped in Pillsbury Crescent roll dough, so that they baked around them like mummies. The recipe is below!
Here are some quick and easy ideas to get at least a small snack into your Trick-or-Treater before you head out. They are also perfect for a Halloween party:
Tomato Basil & Tortellini Soup With Bat Croutons
This Tomato-Basil & Tortellini Soup with Bat Croutons, from Foodlets, is a perfect fall soup. We love the festive croutons (courtesy of a bat-shaped cookie cutter).
Green Goblin Smoothies
Real Mom Nutrition's Green Goblin Smoothies are full of bananas, peaches, pineapple, and a secret green ingredient that many kids will find scary enough for Halloween–spinach!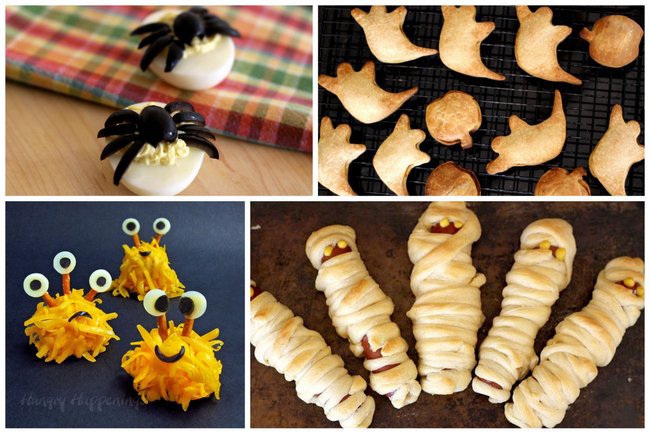 Halloween-Themed Dinner Ideas
Spooky Spider Eggs
Foodlets' Spooky Spider Eggs are a slightly scary take on deviled eggs.
Monster Cheese Balls
These Monster Cheese Balls are basically cheese, in the shape of monsters! Another amazing idea from Hungry Happenings.
Pumpkin Pop Tarts
Foodlets' Pumpkin Pop Tarts are so easy to make! Pie crust + brown sugar + cinnamon + nutmeg + ginger + chia seeds + pumpkin puree = gooey goodness!
Mummy Dogs
Wrap a regular hotdog in crescent roll strips, bake, and apply mustard eyes to make Foodlets' Mummy Dogs.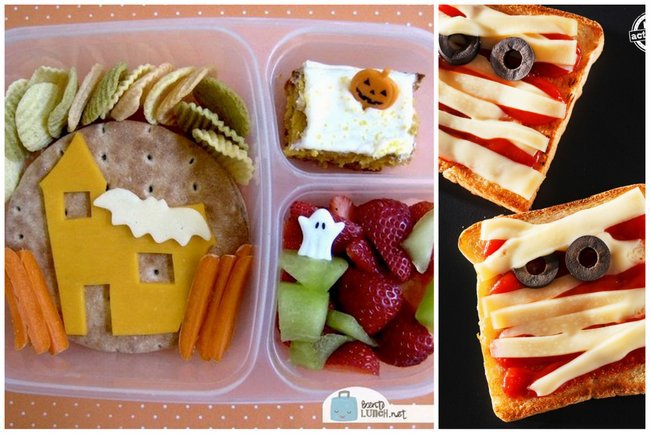 Halloween Lunch Ideas for Kids
Surprise your little one with a fun Halloween-themed lunch at school, or enlist their help (and creativity!) in making their own lunch, or lunch for their brother or sister.
Halloween Jokes For Your Child's Lunchbox
I love finding cute and funny Halloween knock-knock jokes, and writing them on a Halloween napkin, and then slipping a new on in my daughter's lunchbox every day of October! Check out this free Halloween jokes printable from Skip to My Lou!
Sometimes I even switch it out with an educational fact about the history of Halloween.
Haunted Bento Box Lunch
What kid wouldn't LOVE to find this Haunted House Bento Lunch, from bentolunch.net, at lunchtime on Oct. 31?
Mummy Sandwich
This Mummy Sandwich is surprisingly simple to make, with just the right amount of boo!
Pudding Pumpkins
Pudding Pumpkins – Hollow a tangerine into a jack-o-lantern bowl for pudding, with this recipe for Pudding Pumpkins, from Foodlets.
String Cheese Witches' Brooms
Foodlets' String Cheese Witches' Brooms are so cute and so easy to make!

More Ghoulishly Good Recipes From Kids Activities Blog
We have 30 Frighteningly Delicious Halloween Recipes that you must try!
Creepy Banana treats are the best! They're sweet and healthy.
Here are 5 Delicious Halloween Treats for the entire family.
Looking to spook up your breakfast on Halloween?
This Halloween bento box is a scream!
Check out these 25 Halloween cookie recipes that your little monsters will love!
Want a healthy Halloween treat? Then try out this Harry Potter Pumpkin Juice recipe.
Make your Halloween dinner fun with these Jack o Lantern Quesadillas.
Mummy dogs and Pumpkin oranges, yum!
What is your kiddo's favorite healthy Halloween snack, or meal? Comment below!