DIY Shaking Bottles for Toddler Learning and Entertainment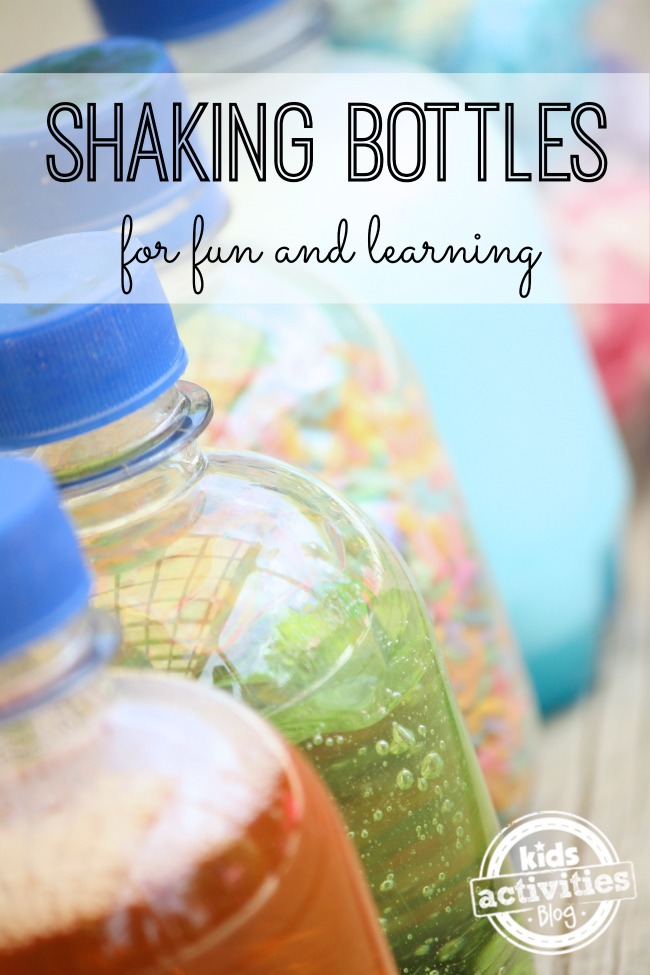 I first found out about these DIY Shaking Bottles from a stay-at-home Dad/friend, who made them for his son to enjoy.  He also makes them and gives them out as gifts.     I love a toddler activity that's easy, looks great and provides opportunities for learning too!
I've had my eyes peeled for a number of weeks, looking for the perfect bottles to make a set of shaking bottles of our own.  I finally found some at during a trip to a salvage grocery store.   Whoohoo!  Hopefully these will help entertain our youngest during a long road trip coming up.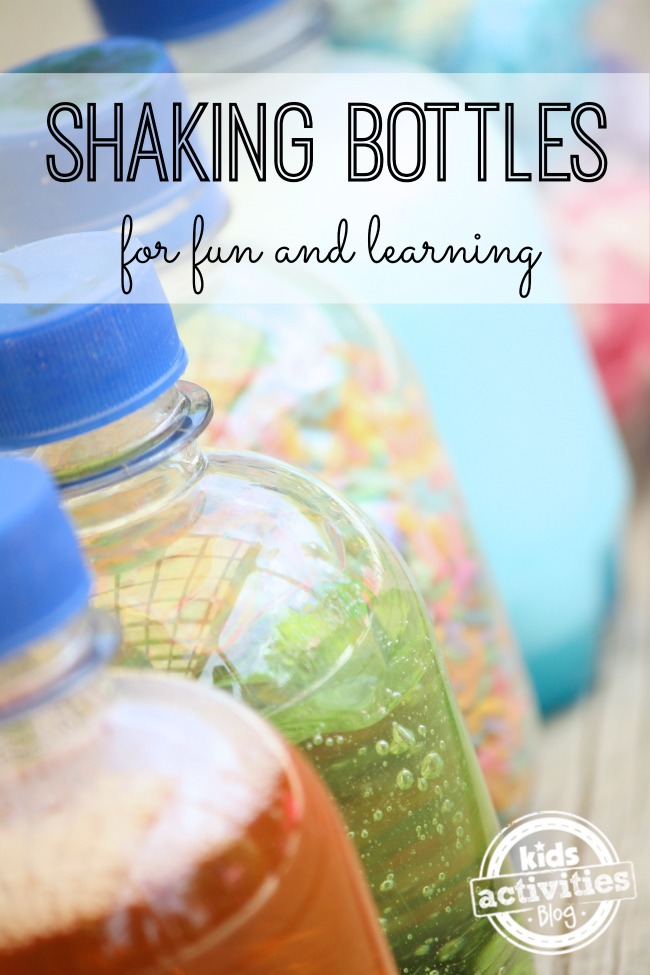 What you need to make your own Shaking Bottle Toddler Toy:
Some small, fun bottles
Gorilla Glue
a variety of "fillers": water, food colouring, hair gel, dish soap, oils, silica balls, coloured rice, tissue paper etc.
Collection of stuff to put in your bottles: charms, beads, glitter, small plastic toys, buttons, etc.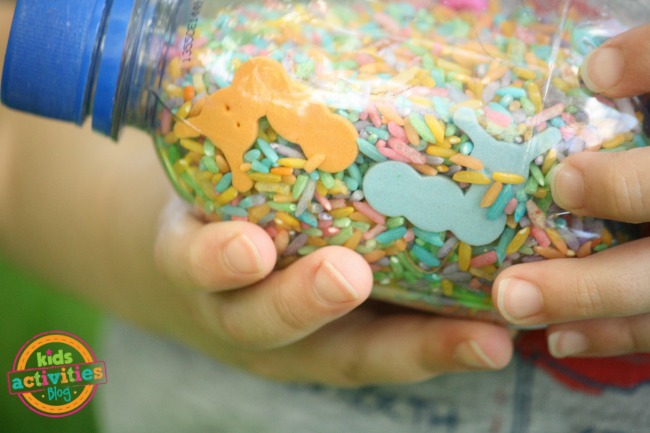 Bottle filled with coloured rice and craft foam pieces.
How to make your Shaking Bottle:
Add the charms, beads, etc.
Top off your bottle with water/liquid or whatever filler you've chosen
Glue the lid back on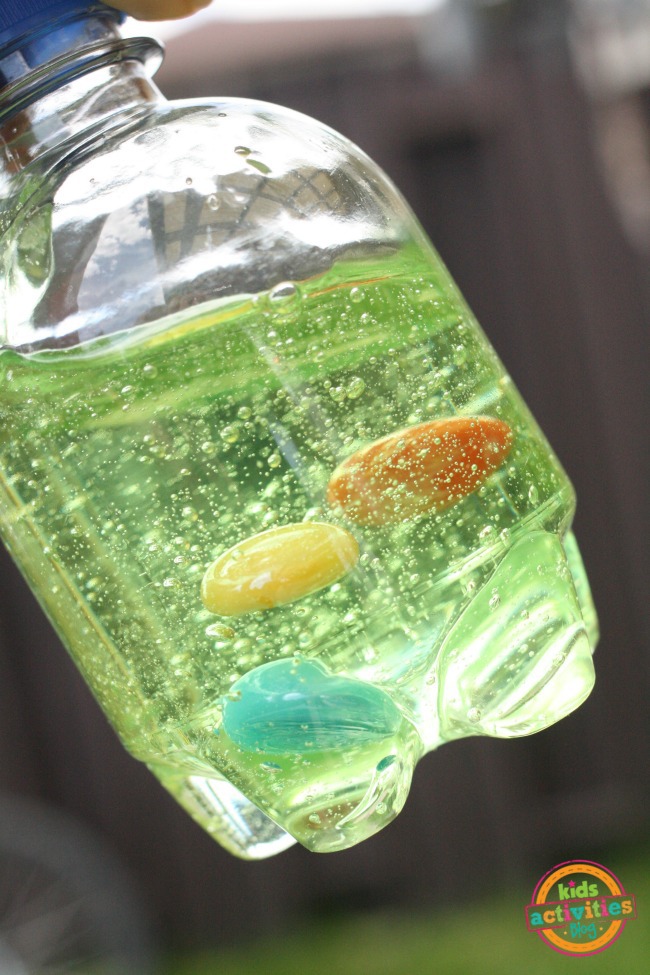 Hair gel and glass vase fillers or beads.
I had used hot glue before and rubber cement, even super glue, for our "I Spy Rice Jars".   The problem with hot glue and rubber cement is that it is malable.   The problem with super glue is its ability to crack.   My son was able to open the jars given enough time and boredom (both in abundance during road trips) using all those other glues.   Gorilla Glue is really tough!   So far we've used it to put back together magnets, plastic doll heads, toy cars, etc.   Its great stuff.     I think I've finally found a glue that works!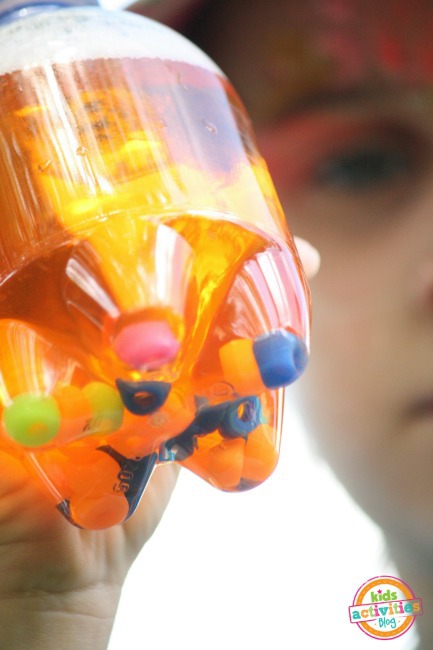 Water, food colouring and craft beads.
Hand your toy to your toddler to shake, bang and bite to their hearts content!   Even my older preschoolers enjoy these bottles!   We play can you find the "dime" or whatever, it is a great way to keep them active on a trip.   Hopefully, these will remain in one piece.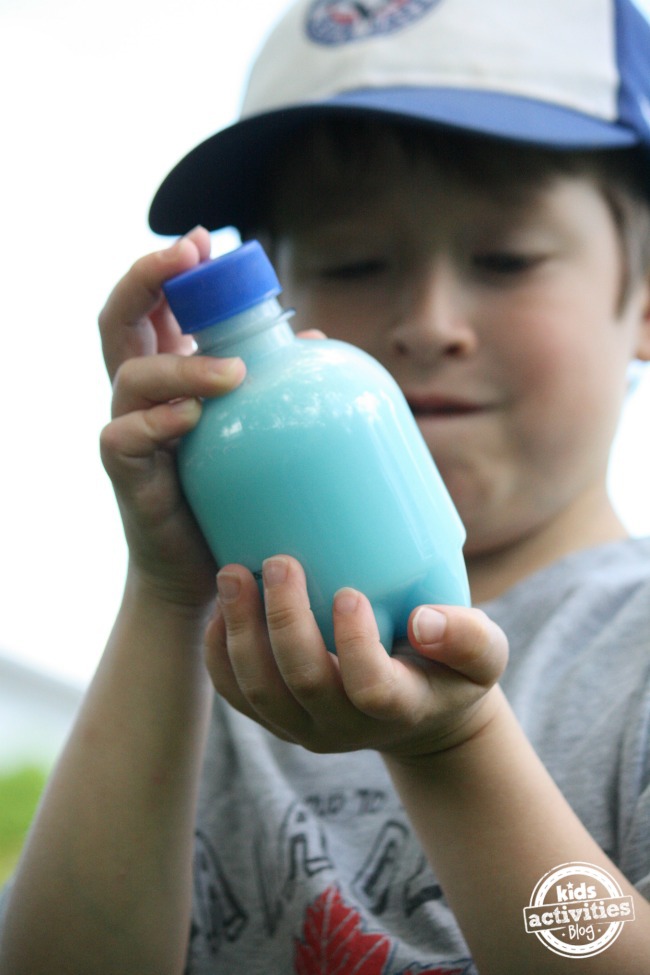 Water, blue food colouring and dish soap.
 I know these are pretty popular.   Have you made one?   Feel free to leave a link to your shaking bottle in the comments and I'll include it in an updated version of this post!