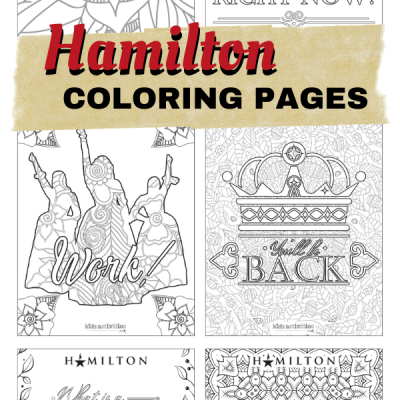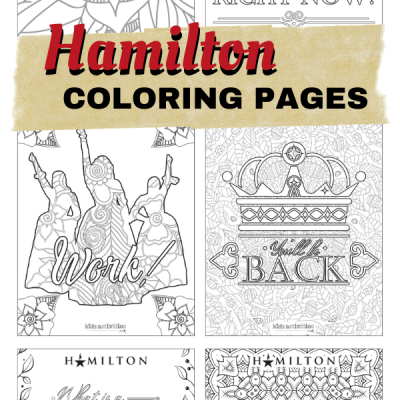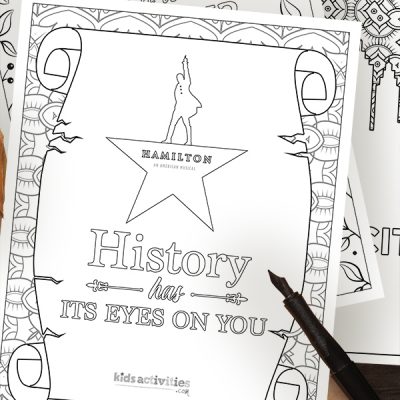 Download and print free Hamilton Coloring Pages with quotes from Alexander Hamilton, George Washington, the Schulyer Sisters, and even King George III.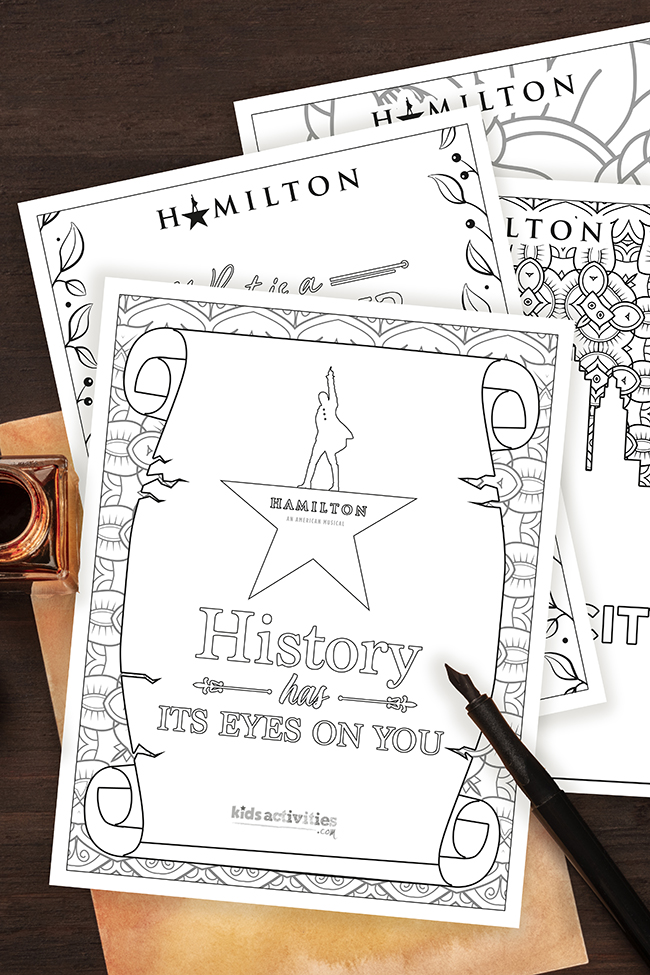 My son is obsessed with Hamilton (we even took him to see the touring show when it came to Dallas). So, of course, he can't wait for Hamilton on Disney+.
Hamilton Quotes Coloring Sheets
The free printable activity pack contains seven pages of black and white coloring sheets (plus an additional full-color cover!) with beautiful, intricate designs surrounding quotes from the Broadway stage production of Hamilton by Lin Manuel Miranda.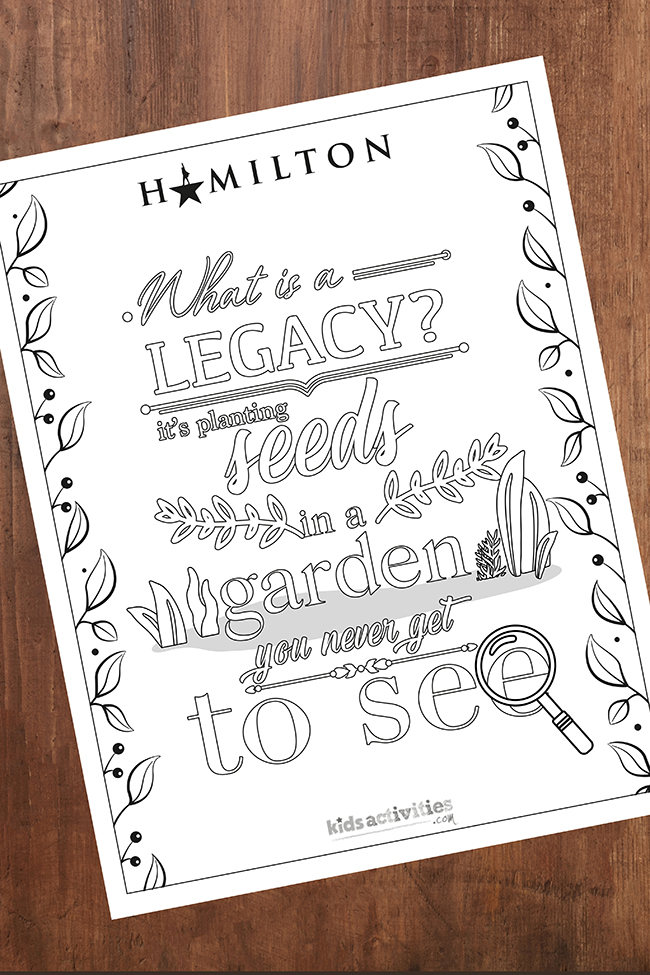 We've included several iconic lines:
"History has its eyes on you."
"How lucky we are to be alive right now!"
"In the greatest city in the world."
"You'll be back."
"Work!"
"What is a legacy? It's planting seeds in a garden you never get to see."
"Just like my country, I'm young, scrappy, and hungry."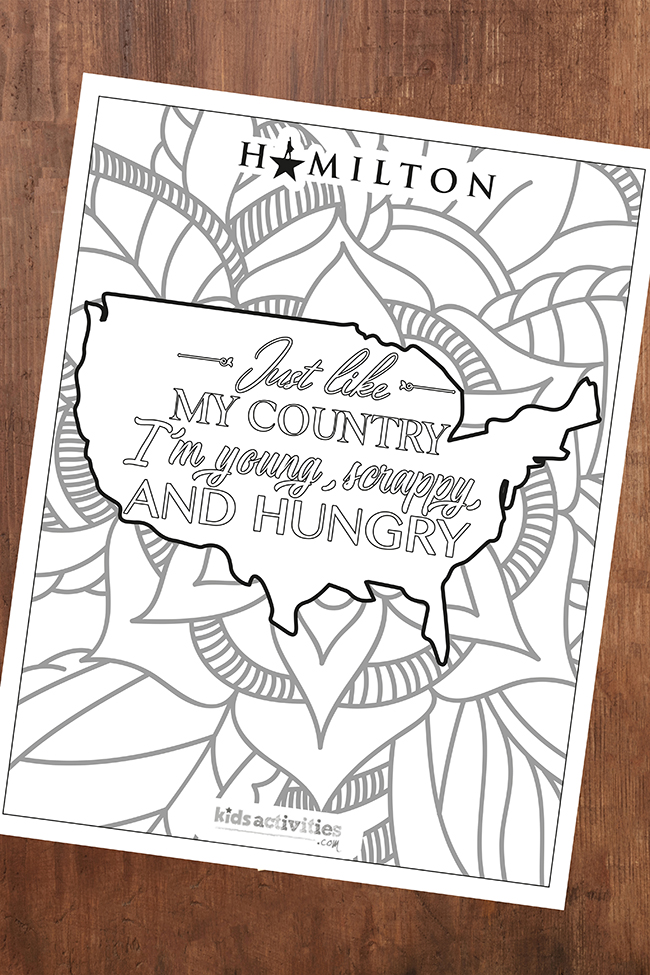 Free Printable For Teachers and Educators
For Hamilton creator Lin-Manual Miranda education is of utmost importance.
Teachers and educators can incorporate Hamilton into their U.S. History lessons, using coloring pages for middle school to enrich their lessons. Coloring sheets also make great options for morning work as students come into the classroom and get ready for the day ahead.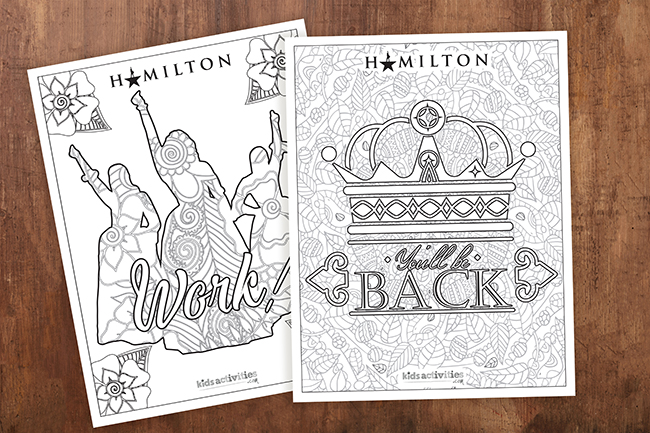 Download, Print, and Color These Free Coloring Pages
This pdf packet is ready for some color! Grab your crayons. Or a box of watercolor paints! What about some glue and glitter?
I am getting carried away with all the printable coloring sheet fun…
Great Gifts for Hamilton Geeks!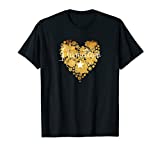 Your very own very special edition of Hamilton: The Revolution!
This gorgeous Hamilton poster would make any room revolutionary!
Elegant as Elizabeth Schuyler Hamilton herself is this "Rise Up" Bracelet!
Brighten your day with Little Pep Talks from Lin-Manuel Miranda.
Historical and hysterical is the Deal or Duel card game based on Alexander Hamilton!
As an Amazon Associate, kidsactivitiesblog.com will earn a commission from qualifying purchases, but we wouldn't promote any product we don't love!
More Hamilton Fun
Make some patriotic crafts inspired by the Founding Fathers.
Pretend you are a Revolutionary soldier as you make this flag craft.
Or maybe you want to be a red coat and make a British flag craft instead.
Learn more about history with some of the best books for kids about America's birthday.
Serve our favorite red, white, and blue desserts as you stream the musical.
Discover how to make paper and try to write your own version of the Declaration of Independence.
We adore these Hamilton party printables from Carrie Elle.
Make sure to come back and let us know if your family enjoyed our Hamilton Coloring Pages! We always love to see the creations our readers make using these printable designs.