Organizing Life for School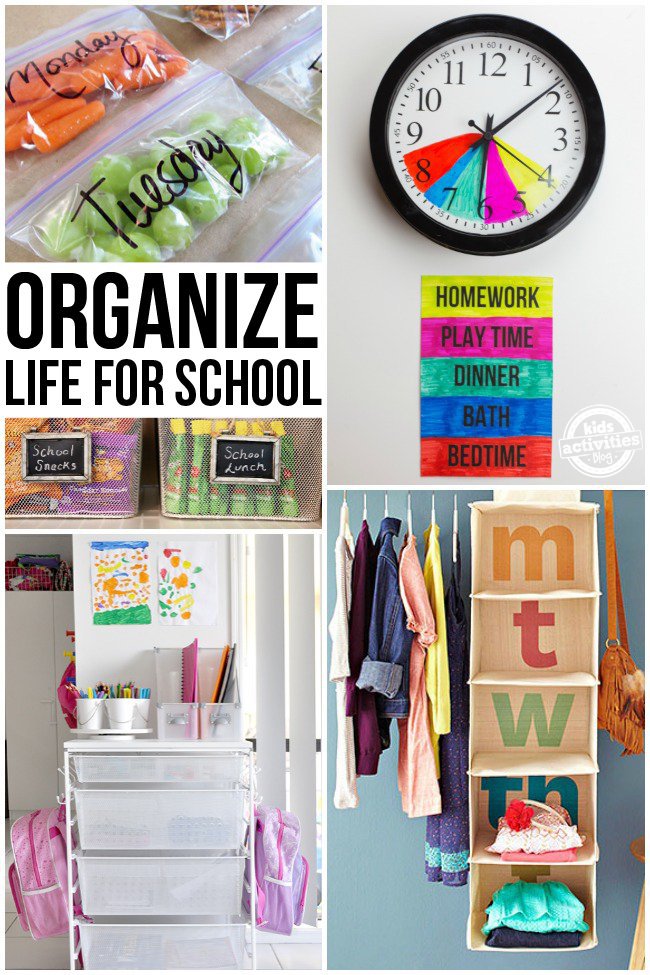 We are only a couple weeks into school and it's already super busy around here. I have been trying to focus on organizing life for school, to make things go more smoothly.
Organizing Tips for Back to School
I'd love to tell you I have our back to school routine down, and that I am perfectly organized, but I'm not!
This past week, I scoured the Internet in search of tips to help us as we adapt to a life of learning with kiddos in preschool and kindergarten. Here are a few of the "must-try-one-day" tips and amazing items I have found. (This post contains affiliate links.)
School Lunch Organization Ideas
School Lunch Hacks
We have 20 genius lunch hacks to make getting your child's lunch together a little easier.
Organize Your Fridge
Care has some great ideas on how to organize your fridge so that you can easily get lunches together in the morning!
School Lunch Organization
Tidbits Cami points out the fridge is only the start! Organize your silverware, Tupperware, and even lunch boxes to ensure making lunch is stress free!
Organizing School Snacks
Snack Bin Ideas
I Heart Organizing has a great snack system. In her fridge, she keeps a basket full of snacks for lunches and for after school treats.
Smart Snacking Shopping List
DownTown created a list of healthy snacks. We are on the go a lot more during the school year, and snack more often. So many great suggestions to tide us over!
Organizing School Snacks In Fridge and Pantry
Keep all of your snacks organized together in the fridge or pantry with this idea from Blooming Homestead.
How To Organize Kitchen Pantry
A Bowl Full of Lemons keeps their school snacks and lunch items separated in the pantry.
Organizing School Paperwork
Bins and Baskets
Paper can take over the house if you let it! As soon as your little ones get home, have a basket, or hanging bins ready for them to empty their folder in. This way, the papers can stay in an assigned spot until you have time to go through them and organize them. I try not to let papers accumulate anywhere else than this basket or bin.
File Folders
Use a file box and color-coordinated hanging file folders (designating each child) to store school papers, with From Overwhelmed To Organized's school hack.
Household Notebook
Organizing for school really means organizing my life. Use a household notebook to keep things in order.
School Clothes Organizer Ideas
Kelly Leigh Creates uses a hanging clothes organizer to prepare school outfits. Use one shelf for each day of the week.
School Supply Station
The Organised Housewife created an organized school supply station with a place to hang backpacks!
Art Supply Organizer
Our crafting closet is busting at the seams! I love this idea from I Can Teach My Child to use a hanging clear shoe holder to organize supplies. No more hunting for colored chalk!
School Closet Organization
…and lastly my favorite! Organize your "school" closet with these simple tips! And don't forget to use the space under your child's bed to organize any items that don't fit in the closet.
Back to School Organization Printables
Morning Checklist For Kids
School mornings can be a struggle! This free printable school morning checklist makes it easier for your little one to manage their time, and cross items off their list. Laminate it, and then use dry erase markers so that you can wipe it clean and use it over and over every day.
Chore Chart For Kids
It can be hard to manage time when it comes to homework and chores, but these printable chore lists for kids (by age) help to keep everyone on the same page!
Printable School Coloring Pages
These free printable back to school coloring pages are a great activity to do with your child, to encourage conversation about their day!
Kids Activities Blog's Favorite School Tips and Tricks To Make Life Easier
When you're organizing, creating a schedule, or trying to figure out lunch, we can help make life a little easier with these awesome back to school posts.
Simple Back To School Organization With Free Printables
After School Routine Clock
15 Classroom Organization Hacks
Back To School Strategies To Save Money
5 Back to School Afternoon Snack Ideas
15 Back to School Lunch Ideas
Back to School Tips Every Mom Should Know
Apple Bookmark Craft for Back to School
What school organization tips do you have? Comment below!