15 Radical Letter R Crafts & Activities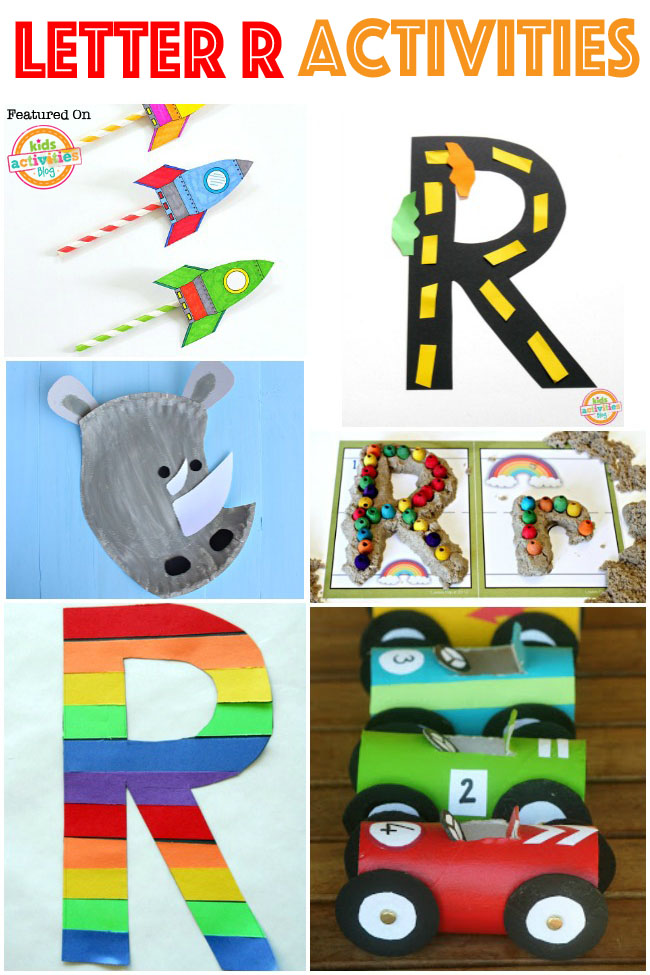 Ready for radical Letter R crafts? Roads, rockets, rhinos, rhinestones, rainbows, races, are all really radical r words!
We are moving on to the Letter R in our preschool alphabet learning series.
This letter is all about rainbows, roads, and rockets. Fun, right?!
These awesome letter R crafts and activities are perfect for kids ages 2-5. These fun letter alphabet crafts are a great way to teach your toddler, preschooler, or kindergartener their letters.
So grab your construction paper, glue stick, popsicle sticks, googly eyes, and crayons and start making this collection of letter r crafts! (This article contains affiliate links.)
Letter R Crafts For Kids
R Is For Rainbow
R is for rainbow with this colorful letter craft. This is one of my favorite letter crafts. via Meaningful Mama
Letter R Road Craft
Create a road out of the letter r with this simple letter craft. via Kids Activities Blog
Letter R Activities
Use rocks to draw a letter r (and some other fun ideas)! via The Measured Mom
Rainbow Craft
You can do so many things with this letter r play dough mat! via In My World
Race Car Craft
R is for race car — make race cars out of toilet paper rolls! via Croissant and Lavender
Rainbow Cloud Craft
Create a rain cloud with cotton balls in this letter r craft. via 123 Homeschool 4 Me
3D Rainbow Craft
Make a 3D rainbow with this fun and simple craft. via The Nerd's Wife
Rocket Craft
R is for rockets — how cute is this simple letter r craft?! via First Grade Blue Skies
Robot Craft
Build a robot using the letter r. What a creative way for little artists to learn the letter r and have so much fun. via Proverbs 31 Woman
Letter R Craft
Have children cut out construction paper to create a letter r road and add car stickers! via No Time for Flash Cards
Rocket Printable
Color printable rockets and shoot them high in the air with a straw! via Buggy and Buddy
Handprint Rainbow Craft
Break out all the rainbow colors for this letter of the week crafts This R is for rainbow handprint art is adorable. via Crystal and Comp
Rice Craft
Glue rice to the letter r for a fun way to explore. via Teach Preschool
Letter R Handprint Craft
Make a rose with this adorable letter r handprint art. via Mommy Minutes
LETTER R WORKSHEETS
Learn about the uppercase letters and lowercase letter r with this fun educational activity pack. They are a great activity for practicing fine motor skills as well as teaching young learners letter recognition and letter sounds. These printable activities has a little bit of everything needed for letter learning.
MORE LETTER R CRAFTS & PRINTABLE WORKSHEETS FROM KIDS ACTIVITIES BLOG
If you loved those fun letter r crafts then you'll love these! We have even more alphabet craft ideas and letter r printable worksheets for kids. Most of these fun crafts are also great for toddlers, preschoolers, and kindergarteners (ages 2-5).
Free letter r tracing worksheets are perfect for reinforcing its uppercase letter and its lower case letters. This is a great way to teach kids how to draw letters.
Rabbit starts with R and we have a fun craft to make a cute little rabbit.
We also have rabbit coloring pages.
Make your very own mosaic rainbow with this colorful craft.
Print off these free rainbow hidden pictures games.
Here are 15 facts about rainbows for kids.
MORE ALPHABET CRAFTS & PRESCHOOL WORKSHEETS
Looking for more alphabet crafts and free alphabet printables? Here are some great ways to learn the alphabet. These are great preschool crafts and preschool activities , but these would also be a fun craft for kindergarteners and toddlers as well.
These gummy letters can be made at home and are the cutest abc gummies ever!
These free printable abc worksheets are a fun way for preschoolers to develop fine motor skills and practice letter shape.
These super simple alphabet crafts and letter activities for toddlers are a great way to start learning abc's.
Older kids and adults will love our printable zentangle alphabet coloring pages.
Oh so many alphabet activities for preschoolers!
Which letter r craft are you going to try first? Tell us which alphabet craft is your favorite!