Ball Art for Preschoolers & Toddlers – Let's Paint!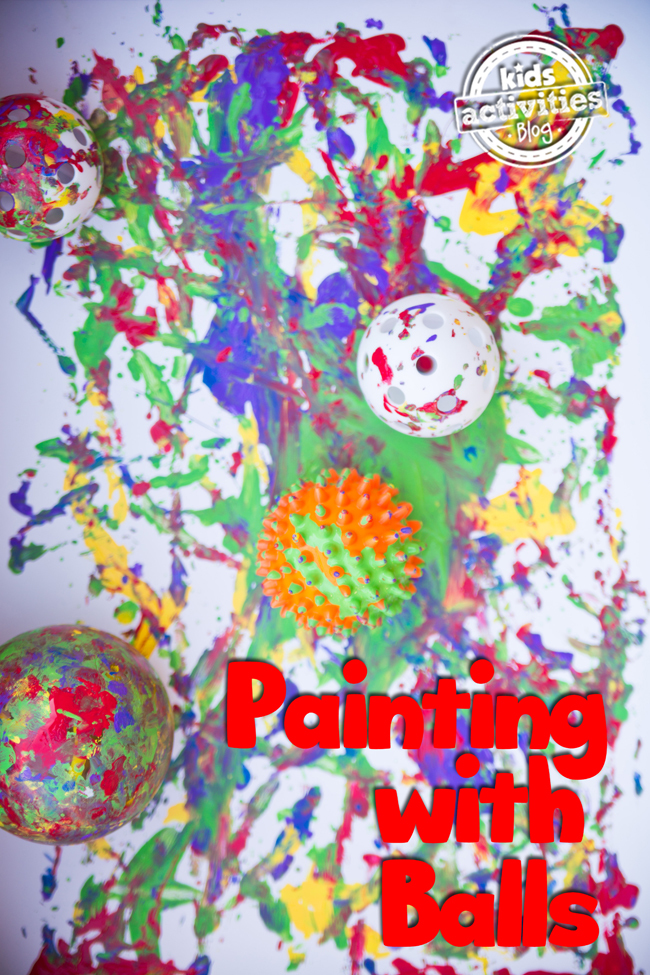 If you have ever walked through a modern art museum and thought…my toddler or preschooler could have painted this, we have the perfect ball art project for you! I love this easy art idea for kids of all ages using balls to paint.
Do your kids enjoy making a mess? I know that mine do! And one of our favorite ways is Painting With Balls.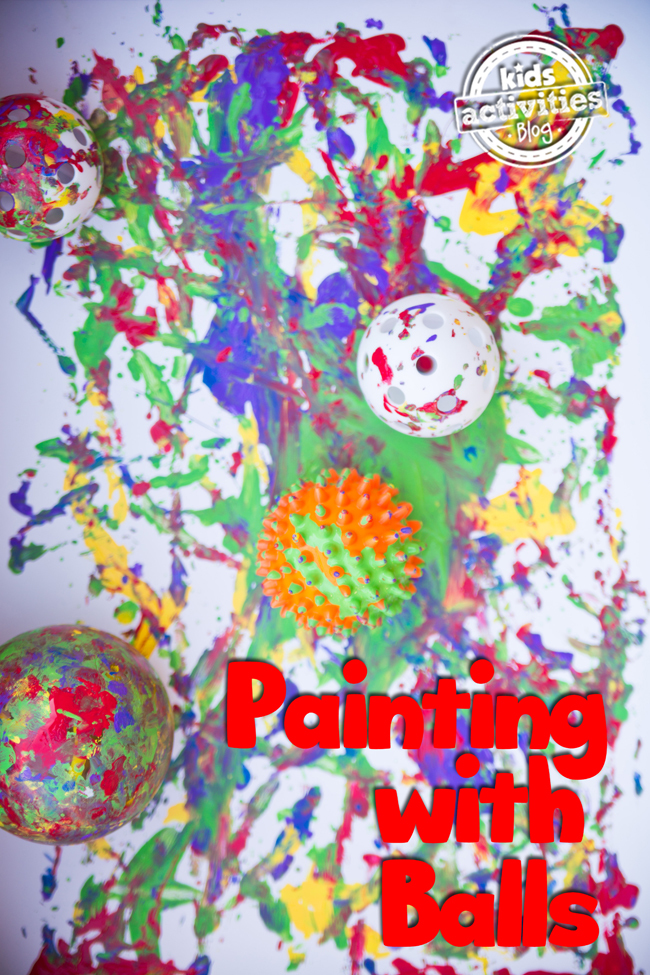 Grab some balls you have around the house: golf balls, tennis balls, Whiffle balls, marbles, sensory balls, dryer balls…whatever you can find because we are going to do a painting project with all those balls.
This article contains affiliate links.
Painting With Balls Project
Supplies Needed
canvas (or poster board)
acrylic paint
paper plates to put paint on for dipping the balls
old box to make a tray to set your canvas in
variety of balls (or marbles)
paint shirts, apron or smock
This project was messy — no kid can resist squeezing or smooshing the paint!
Directions for Art Project
Watch Short Video Tutorial on Painting with Balls
Set-Up
Put puddles of paint onto a paper plate and the canvas or poster board in the bottom of the cardboard box.
Step 1
Dip a ball into the paint puddle. Start with covering at least part of the ball.
Step 2
Place ball on canvas or poster board and start rolling the ball around leaving trails of paint.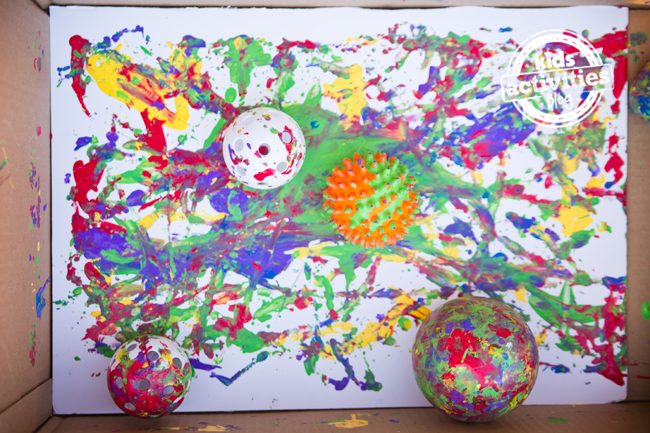 Step 3
Repeat with the same ball, other balls, the same color of paint or other colors of paint.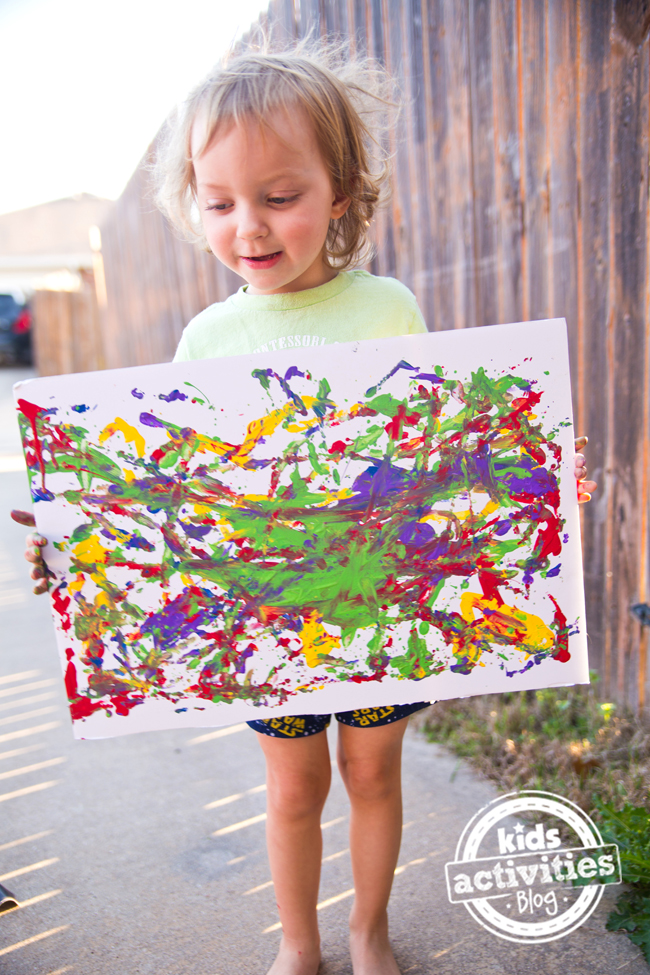 Learning Opportunities with this Art Project
Try these conversations and little art experiments while you are painting with balls:
Race between two similar balls. Dip one in plain paint and dip the other in paint mixed with either flour or cornstarch. Guess which ball would roll faster. Why did you make that guess?
Does a ball roll faster if the canvas is tilted slightly or at a steep slant?
What happens when a ball dipped in red paint rolls over a ball path of yellow or blue paint? What happens when all the colors smear together?
Which ball spreads the most paint? Which one spreads the least? We found that the tennis ball had the most coverage, while the dryer ball just left speckles.
Messy Art Projects for Kids
I got to thinking about the importance of being messy with kids sometimes from the book, Mess: The Manual of Accidents and Mistakes, by Keri Smith. This is such a fun book filled with activities and ideas of ways to make art from messes, or rather to appreciate mess as a form of art (I am starting to wonder if by her standards I have some budding Rembrandt's).
The "manual" encourages us as the reader to destroy the book with our mess art. The part of me who married a librarian cringes at that thought. Our copy is pristine, but we had fun making a mess on a canvas we had lying about.
One of the entries suggested that we make a mess by rolling and smearing. This reminded me of the activity I read about on where the kids experience physics and gravity by rolling marbles on a canvas. We didn't have marbles, but we did have a giant canvas and a variety of different types of balls!
This was a blast!
More Recommended Art Projects for Kids
Let's make math art inspired by the artist, Klee.
Oil and food coloring art videos that are a bit mesmerizing!
We have a collection of the best preschool art projects.
Let's make shadow art!
Let's take these art ideas outside.
Make this marbled milk paper art at home.
Over 150 ideas for handprint art!
This art is also science: baking soda and vinegar reaction.
I love this teeny tiny magnet art!
Create this texture rubbing art.
Have your kids made a mess lately? What did they think of this painting with balls project? How did your art turn out?