How to Make Personalized Tie Dye Beach Towels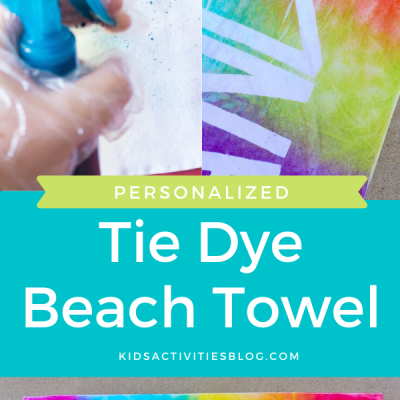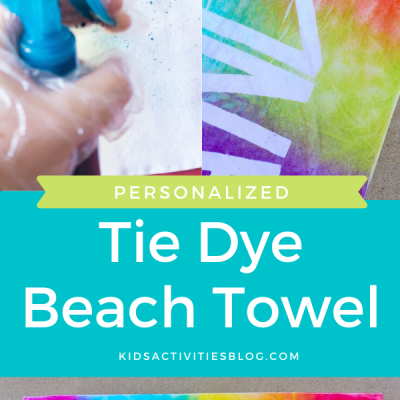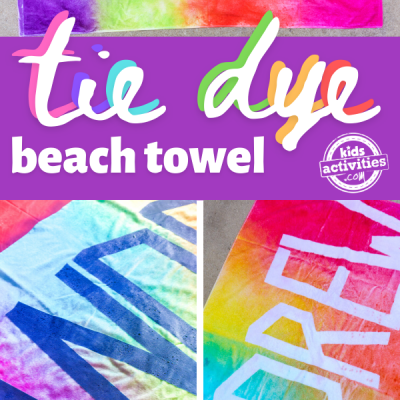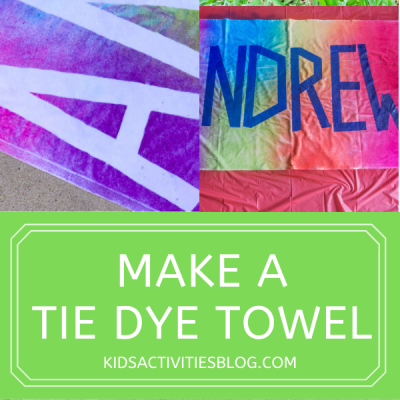 Nothing says summer fun like personalized tie dye beach towels! These kids towels are perfect for the pool or a beach outing. Kids will love tie dying these colorful towels and will be so excited to use them.
This DIY tie dye project is so easy that the kids can get involved. You can customize the name on the towel and make one for every member of the family with different tie dye pattern colors.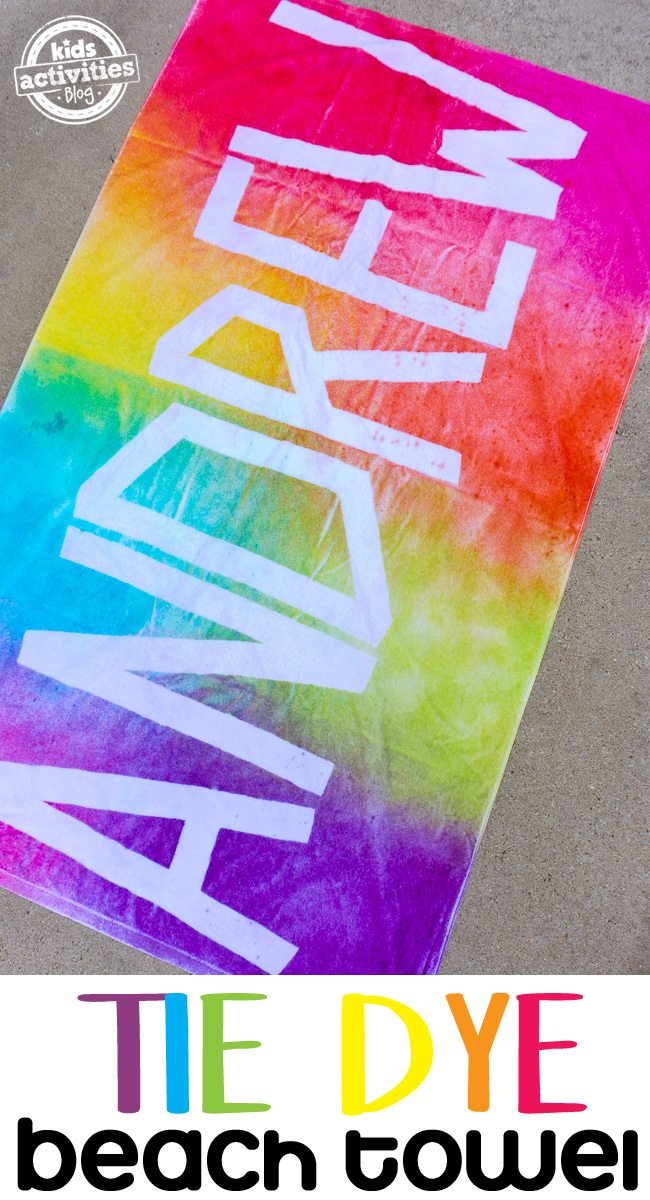 At first, I was sure making a tie dye towel would be too difficult. Back in the 'olden days' of tie dye it was often incredibly messy and the results were unpredictable. What I love about today's tie dye is that when you get the right tools, you will end up with something that you love and it is surprisingly easy.
That is one of the reasons why we love this tie dye idea to do with your kids. They will love the process fabric dye. Check out the live video tutorial we did a couple of years ago for this project (look below). It has been seen by almost 300K people! This personalized beach towels project has become one of our most popular DIY ideas on Kids Activities Blog.
This article contains affiliate links.
DIY Personalized Tie Dye Beach Towels
Supplies to Make a Tie Dye Towel with Your Name
Tulip One-Step Spray Dye Kit 7-Pack
White terry cloth beach towel
Duct tape
Scissors
Disposable table cloth -or use plastic garbage bags to cover surface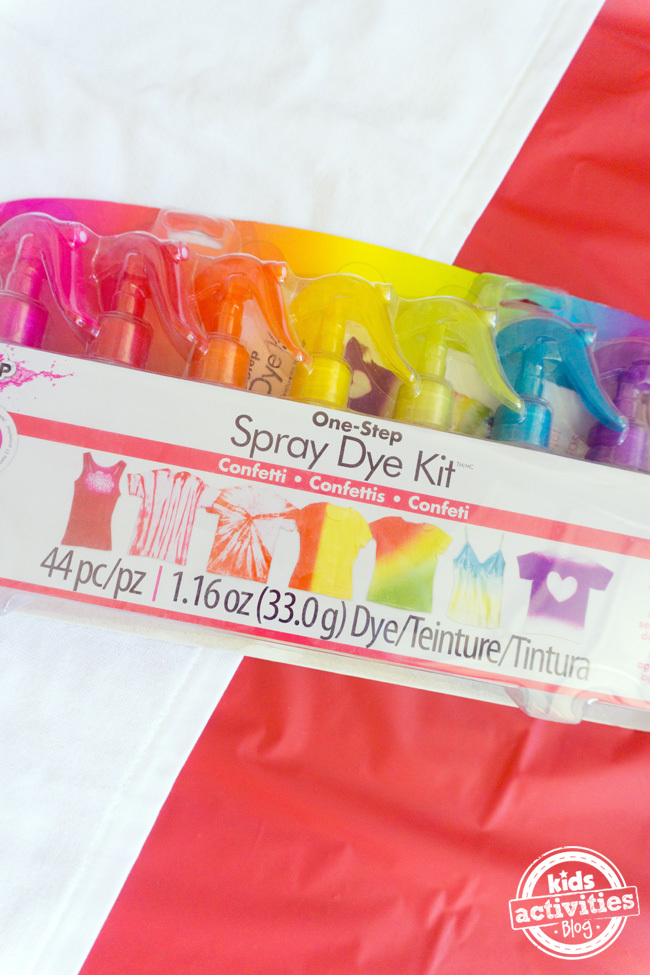 Spray Dye vs. Tie Dye for Personalized Towel
We used the Tulip One-Step Spray Dye Kit for this project.
Spray tie dye is incredibly kid-friendly. You just spray fabric dye right where you want the color to appear.
This spray dye kit has everything you need for tie dye projects, including gloves and rubber bands.
With a traditional tie dye, it would be harder to control the color and the mess. I am a big fan of the spray dye for tie dye projects like this personalized name towel.
What Towel is Best for Name Tie Dye?
We went to the source and asked Tulip Tie Dye what the best towel would be:
"White 100% cotton towels" work best.

—Tie Dye Your Summer
We have always used 100% cotton white towels. The second thing that is very important is the size of the towel. Traditionally, beach towels are larger than 30 x 60 inches to be officially beach towels. I like mine to be a little larger than that.
Here are some of our favorites from Amazon:
100% cotton 3 pack beach towels – 30 x 60 inches
Oversized 100% cotton 3 pack beach towels – 35 x 68 inches
If you prefer a beach blanket, check out the 100% cotton white bath throw blanket – 71 x 32 inches (the techniques will be a little different since this is a thinner cotton blanket vs. a thicker beach towel)
Instructions for Making Your Name Tie Dye Beach Towel
Step 1
Cover your work surface with the disposable table cloth. This makes clean-up so easy because tie dye can get a little messy.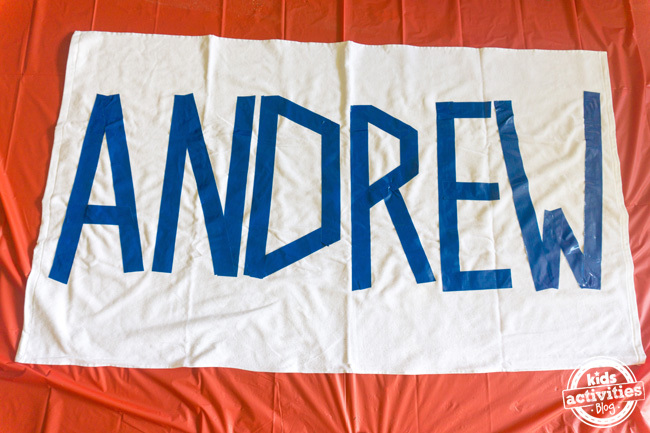 Step 2
Lay your white cotton towel out and use the duct tape to write your child's name across the front.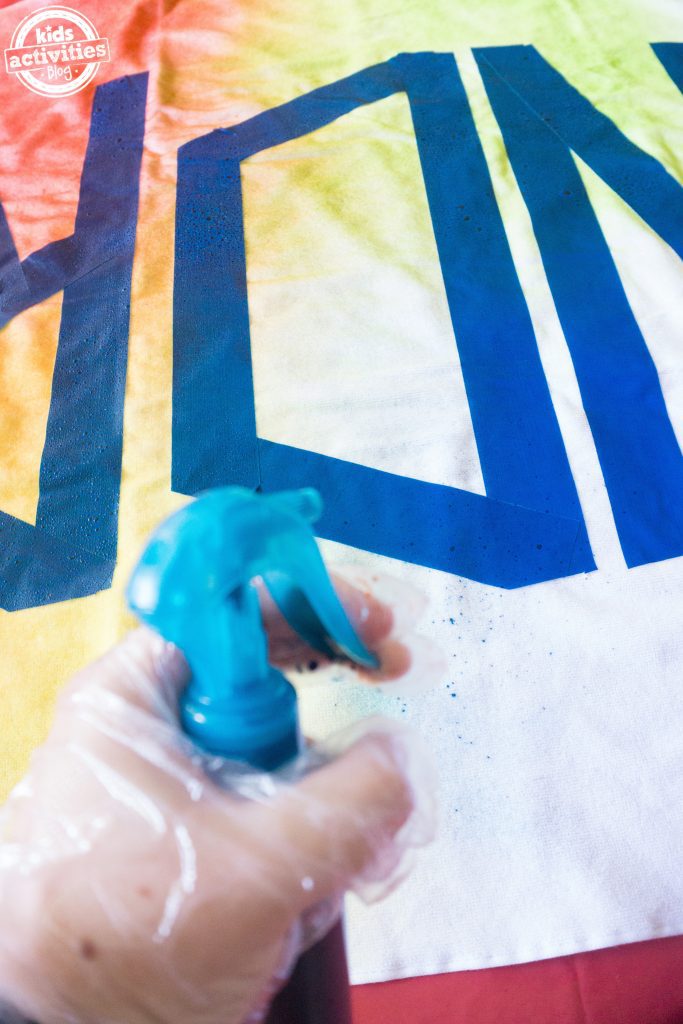 Step 3
Now comes the fun part! Put on your gloves and start spraying the fabric dye colors onto the towel.
Tie Dye Tip: We wanted a rainbow look for our towel, so we started in one corner and moved from color to color. The kids tie dye kit we used had all the colors in one package to make it really simple.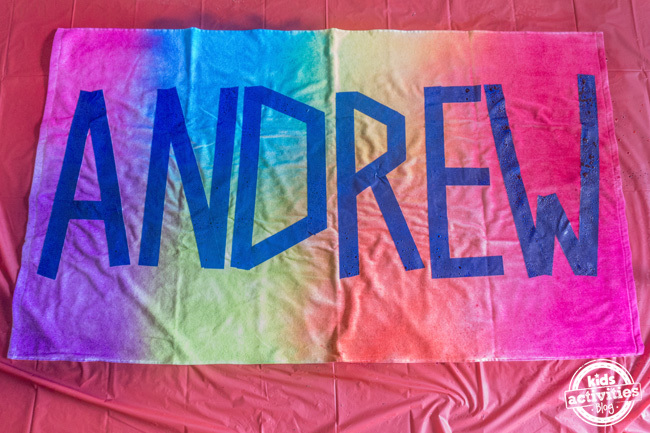 Tie Dye Tip: We sprayed pretty lightly so that it would have more of an ombre look.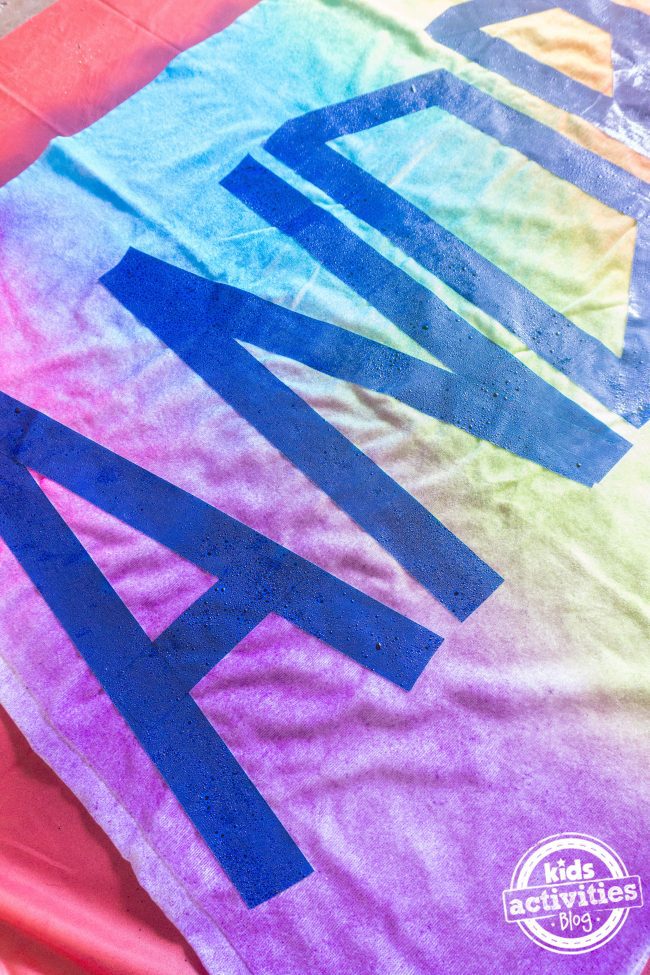 (Optional) Step 4
If you have a thick cotton towel, the colors may not bleed through the towel. In that case, turn the towel over and repeat spraying the colors on the back in the same pattern.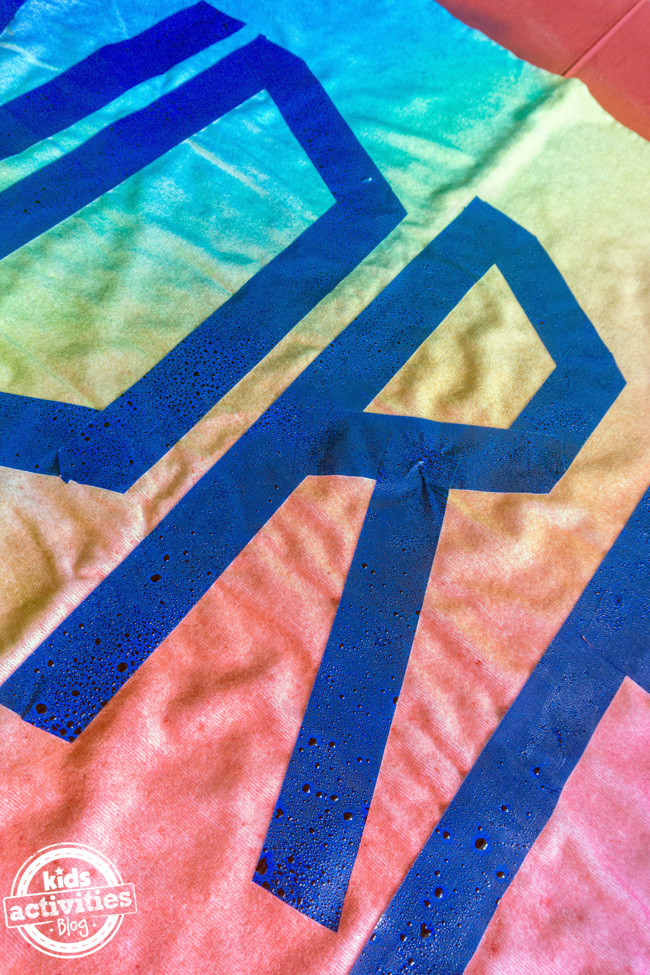 Step 5
Allow to air dry.
Step 6
Once both sides are dry, remove the tape and rinse the towel in cold water.
Some of the color will run onto the white letters — that's ok! It will still be much lighter than the rest of the towel and it looks really cool!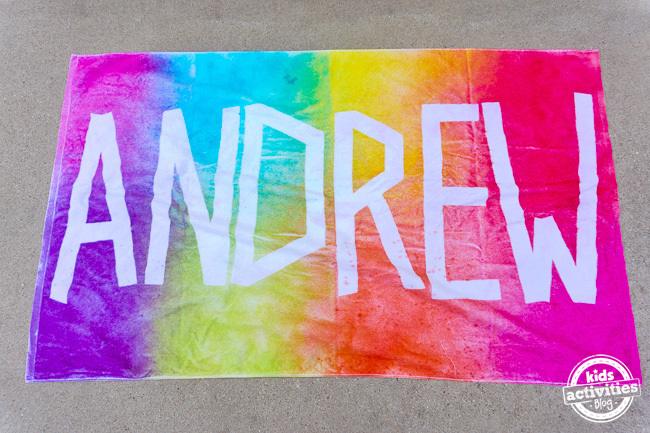 How to Wash Your Tie Dye Towel
Wash separately in a large load of hottest water suitable for fabric and a small amount of laundry soap.
Dry separately.
Wash and dry separately for the first few washes.
Watch the Video to See the Steps for Making Name Beach Towel
We had so much fun making this personalized tie dye beach towel over at our Quirky Momma Facebook page! <–If you would rather watch the video on FB, just click!
More Tie Dye Fun from Kids Activities Blog
Now that you're ready to rock the beach with an awesome tie dye towel, check out these other colorful things to tie dye!
Or check out our big list of tie dye patterns that are simple enough for kids!
Tie dye art meets science in this cool ph science fair project.
Did you know you could tie dye with sugar? This sugar tie dye technique turns out really cool on a kids shirt.
Tie dye with food coloring! Love this idea to use what you have on hand for tie dye.
Make tie dye Mickey Mouse shirts…these are perfect for the entire family.
Make tie dye 4th of July shirts!
Looking for an easy and awesome project? Check out this dip dye idea!
What name will you put on your personalized tie dye towel?