Colorful Silly Straw & Bead Threading Activity for Preschoolers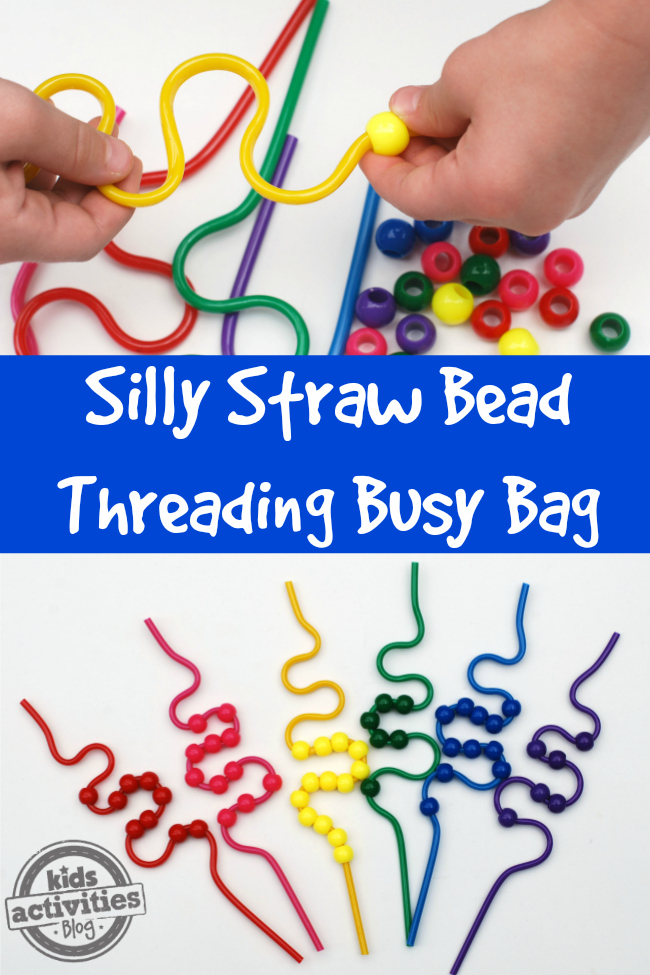 Create an easy threading busy bag activity for preschoolers that will increase their coordination and fine motor skills while keeping them entertained during a sorting activity that will help them learn their colors. Oh, and it uses a lot of common items you may already have around the house or classroom.
This Silly Straw Bead Threading Busy Bag is sure to keep preschoolers busy while teaching them how to sort colors and strengthen fine motor skills.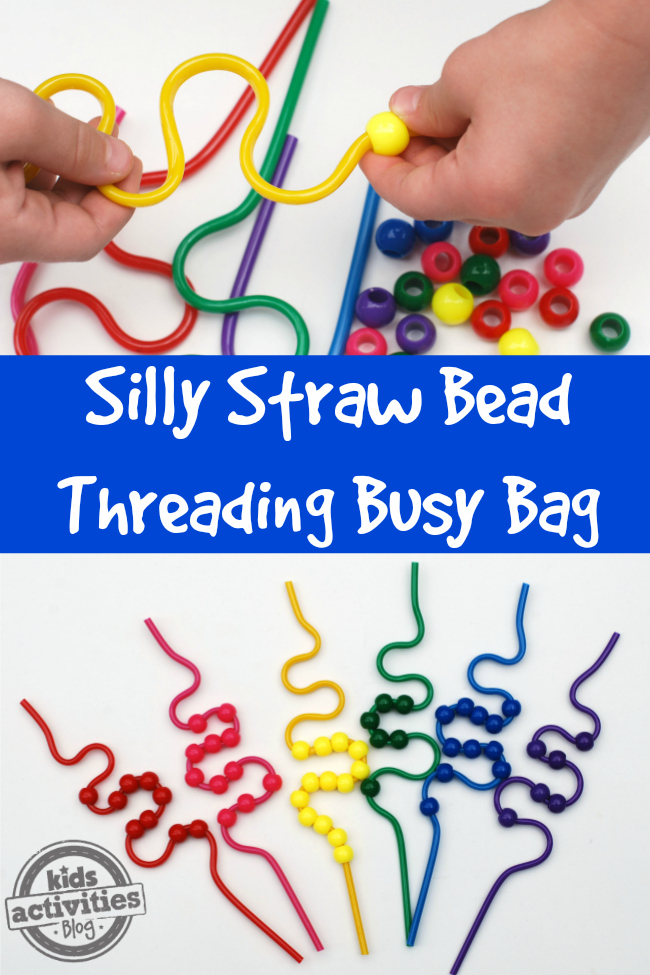 Busy Bags are a great way to keep preschoolers occupied whether you use them while eating out, during appointments, or just a quick activity to have on hand for those moments when you need a little quiet time or a chance to cook dinner.
This post contains affiliate links.
Make a Simple Threading Activity with Silly Straws
When you create this beads activity for preschoolers, you can keep the silly straws and beads together for future use in a bag creating a busy bag. This busy bag is easy to put together since it only uses two items.
This stringing beads activity packs two early learning skills into one activity–kids will sort beads by color and they will work on fine motor skills at the same time.
This is a simple and straight-forward threading activity with little prep time.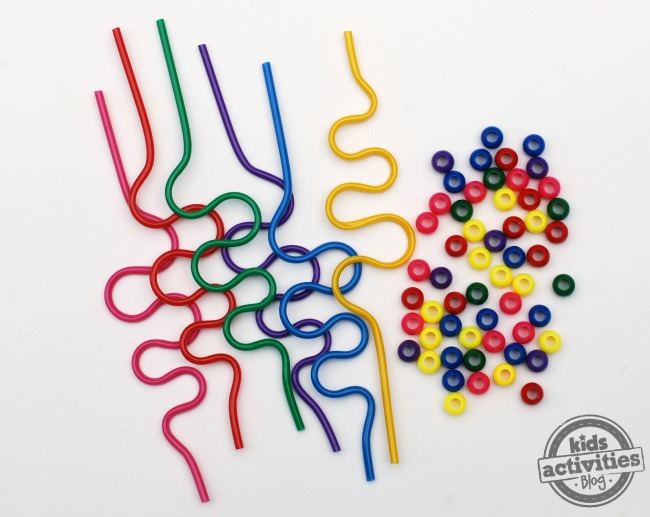 Supplies Needed
Silly Straws (I found a pack of 6 at the dollar store)
Large hole round beads (Pony beads are too small, find beads with a larger opening. I found mine at Hobby Lobby.)
Directions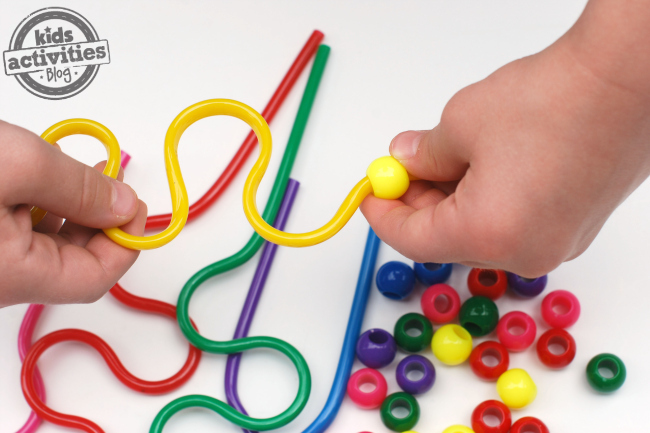 Step 1
After gathering your supplies, invite the kids to place the beads on the silly straws.
Step 2
Encourage them to sort the beads by color and place the same color bead on the corresponding straw.
When the kids are all done with threading the beads on the silly straws, you'll have a fabulous rainbow of fun! Kids will be proud of themselves for finishing this task, perfect for strengthening little fingers' fine motor skills.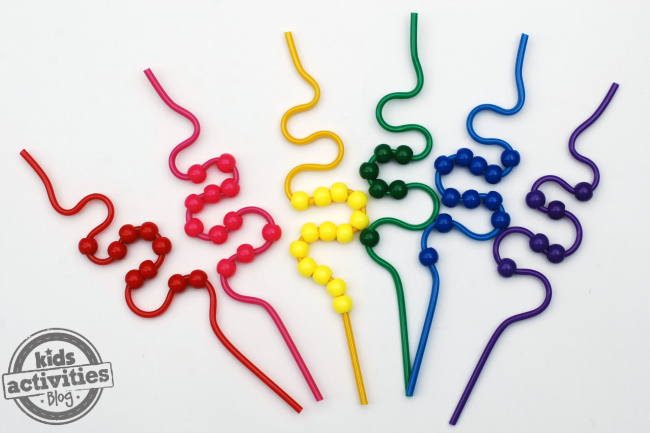 More Preschool Busy Bag Activities
For more fun busy bag ideas, check out the book Busy Bags Kids Will Love: Make-Ahead Activity Kits for a Happy Preschooler and a Stress-Free Parent by Sara McClure.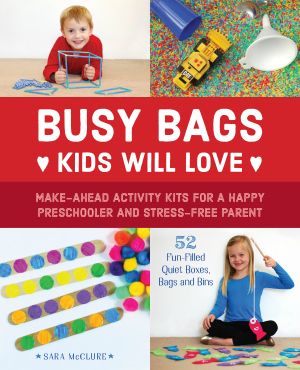 This book is packed with easy-to-make activities to make skills of math, literacy, fine motor skills, and fun…well, fun! It is 128 pages with 52 busy bag ideas (one for every week of the year) AND each section of the book (math, literacy, fine motor skills, and just for fun) has an explanation of early childhood development in each of these areas.
Plus, there's an explanation of busy bags and their uses, information about how to host a busy bag swap, and a list of 100 Things Kids Should Know Before Entering Kindergarten. Be sure to grab your copy today!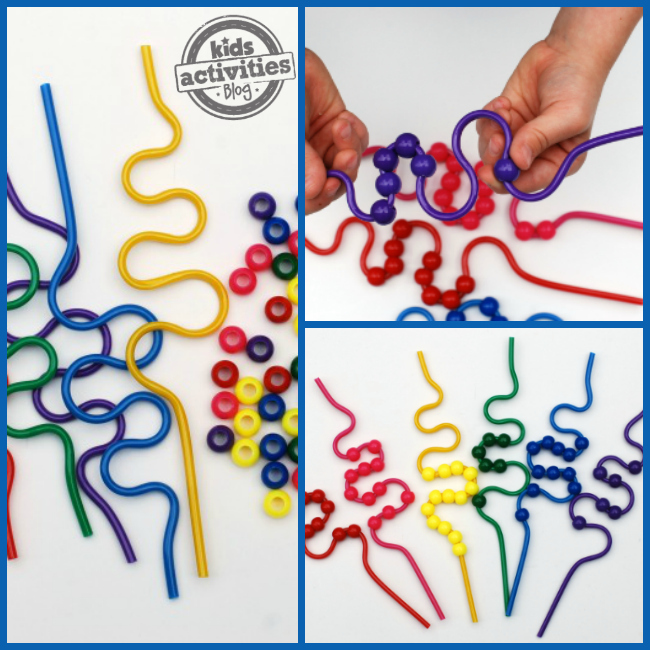 More Preschool Activities from Kids Activities blog
These no prep kids games will keep your preschooler busy for hours!
Want some educational activities? We've got them! Check out these free math activities for preschoolers.
Get crafty with these fall crafts for toddlers.
Fuel your child's creative side with this amazing preschool snow painting craft.
These gifts for preschoolers are great for keeping your little one busy.
Get technical with this build a robot worksheet.
Need a quick activity to hold your child's attention? We have plenty of short activities for preschoolers that are quick to set up.
These flower ideas for preschoolers are a fun way to be creative and make flowers that will last forever!
This tape painting for kids helps them create beautiful works of art.
Your little one will "bug" out for this caterpillar craft for toddlers.
Make delicious jewelry with these tasty fruit loop bracelets.
Sometimes days are just too hectic. We have your back. You will love these quiet time for kids activities.
Need more quiet time? No problem, we have even more quiet time activities.
Still need more? Here are some quiet time playtime ideas.
This felt button chain train will provide you with the quiet time you need!
Don't forget we have tons of cool drawings to color as well.
How did your silly straws threading activity turn out? Did your kids love sorting beads and threading them onto the crazy patterns of the silly straws?